Eric Rupert knew instantly he had made a mistake.
It took him a while before he realized that what he thought was a botched batch of candied pecans for a salad could be transformed into a business on one of the city's hippest corridors.
Ten years after accidentally dunking a pound of pecans into the wrong pot, Rupert, a Madison native with a long resume as a chef, has a storefront, online orders and buys his pecans by the pallet.
Rupert has turned his culinary faux pas into Nutkrack — hand-crafted, small-batch caramelized pecans that come in cans featuring an old-school surfer dude hanging 10 on one of the oblong ridged nuts.
The Nutkrack storefront and commercial kitchen opened in late May at 2086 Atwood Ave. and for now is open only on Saturdays and Sundays. Rupert is hoping to eventually be open on weekdays once his online orders make it feasible to have someone working full time packaging orders and minding the shop, located about 30 feet west of the Barrymore Theatre.
"I like to think I've made a bunch of good food over the years, and I've watched people react to it, but I've never seen people react to anything I've made they way they've reacted to Nutkrack. Not even close," Rupert said recently as he sat on a stool in his shop and watched the passing traffic.
"I'm really used to making mistakes, but I do have a pretty keen sense as to when I'm on my path and when I'm not. When I walked in here, I knew this where we were supposed to be."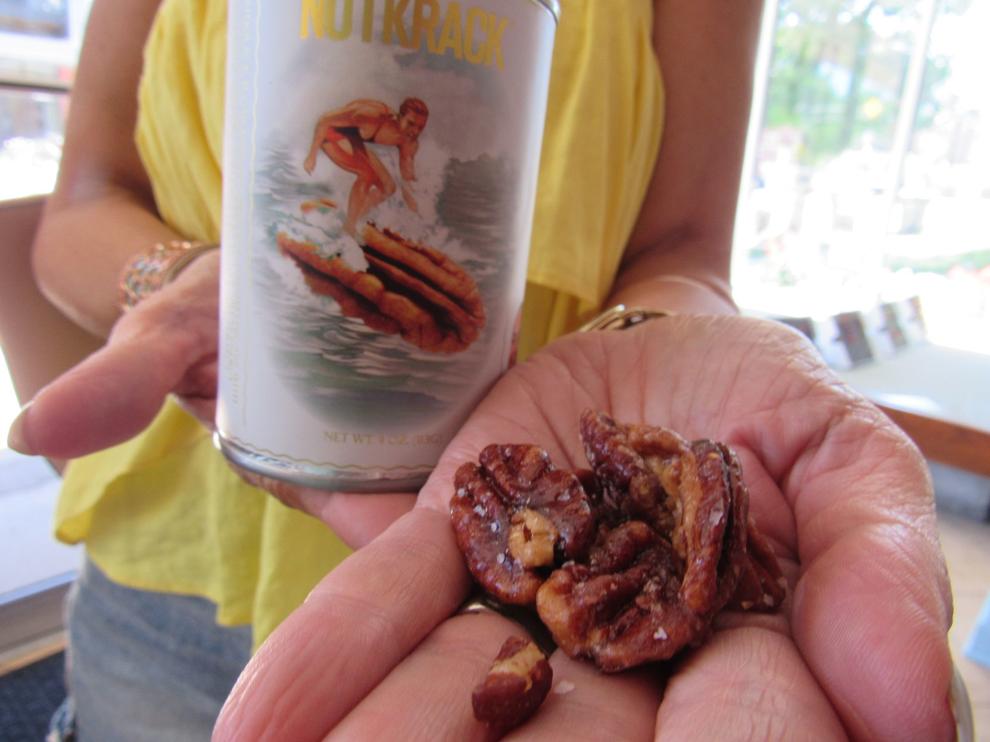 The shop is the latest addition to the Schenk-Atwood-Starkweather-Yahara neighborhood, which features a growing number of restaurants, brewpubs and retailers, but which also suffered a setback when fire in February destroyed much of the building that housed the Chocolaterian and Vault Interiors, at the corner of Atwood and Winnebago avenues. Nearby, the East Washington Avenue corridor continues to boom, plans for a Public Market at First Street and East Washington Avenue are moving forward, while Union Corners has begun to attract more residents and businesses.
Nutkrack is located in what for 12 years was home to Gail Ambrosius Chocolatier. When Ambrosius outgrew her space, she moved just over a year ago into the ground floor of a new building across the street. That opened the door for Rupert, who had been selling his pecans online for a few years but who made the decision late last year to expand the business into its own quarters. After touring the space, Rupert walked across the street to speak with Ambrosius and get her thoughts about her former location and the neighborhood.
"It was just fun to talk to another business owner that was getting started," said Ambrosius, who launched her business in a 600-square-foot spot at East Main and First streets in 2004. "I'm thrilled that there's someone in (the Atwood Avenue space) and that he left my window boxes and that there's flowers in them. It's nice to see that place alive."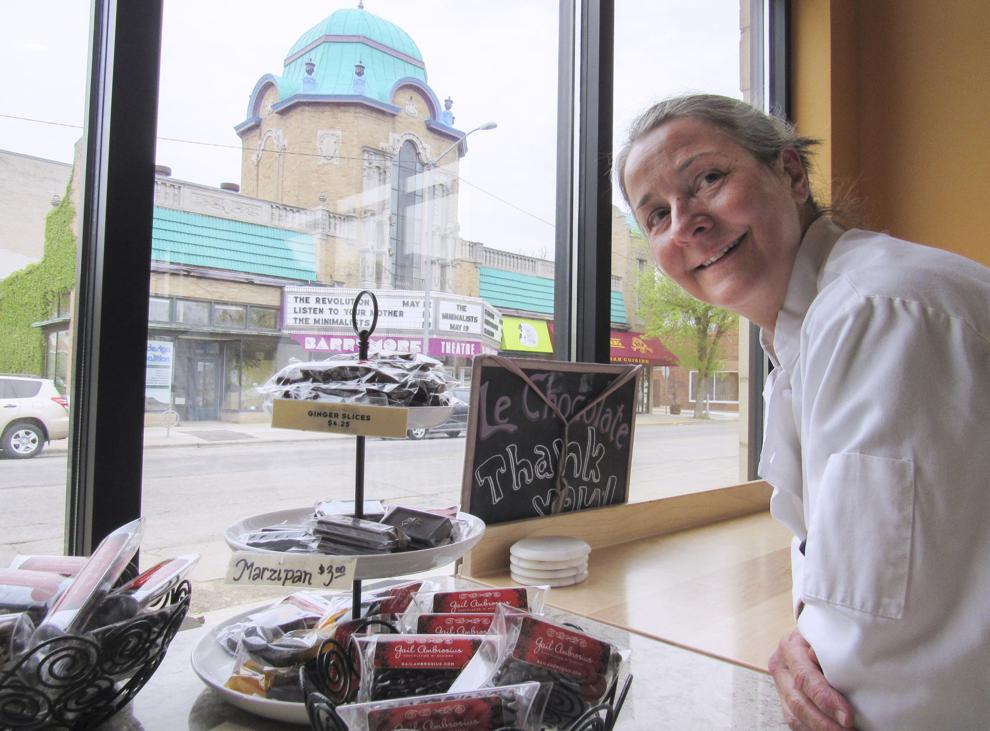 A history in restaurants
Rupert's caramelized pecan venture comes after a 41-year culinary tour of some of Madison's most notable eateries.
He grew up in the Monroe Street neighborhood and, when he was 14 years old, began weighing hamburger and forming hamburger patties at Dotty Dumpling's Dowry, at the time located at Monroe Street and West Lawn Avenue. He attended both West High School and City High School before it merged to become Malcolm Shabazz City High School, and studied Chinese at UW-Madison.
While in college, Rupert worked as a baker and pastry chef at Ovens of Brittany on Monroe Street and later helped the company open a location on Fordem Avenue on the East Side. That led to a similar gig at the Madison Club in the mid-1980s. But after seeing "Babette's Feast" at the Majestic Theatre, Rupert had a revelation. The movie, which won the Oscar for Best Foreign Film, tells the story of a refugee from Paris who arrives in Denmark and cooks for a pair of sisters for 14 years. After winning a lottery, she spends all of her winnings making a meal for a church congregation.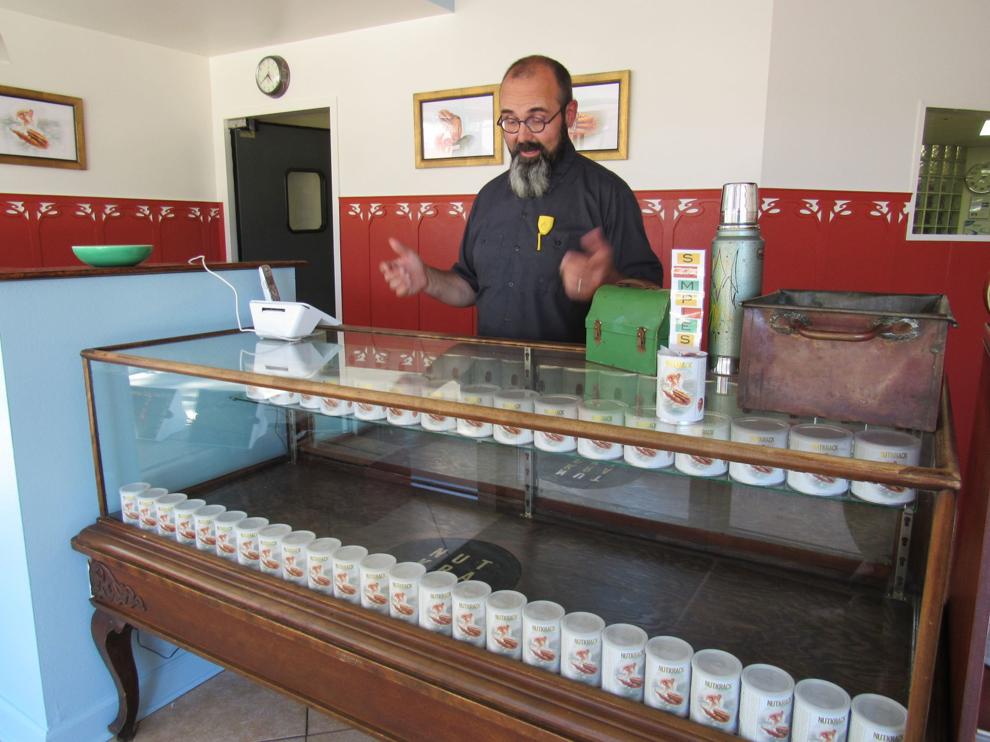 The next day, an inspired Rupert demanded to his boss at the Madison Club that he be allowed to cook. Remarkably, there was a position open.
"I think cooking makes my baking better and baking makes my cooking better," Rupert said. "Nutkrack is kind of a mix of both. It draws from both skill sets."
But less than a year later, after a tip from his mother, Rupert landed a job at L'Etoile. Four months into it, he was named co-chef working alongside Odessa Piper, a position he would hold until 1994 when he opened his own restaurant in the train depot on West Washington Avenue. A year later, he was back on Monroe Street at Atlas Pasta & Deli, followed by a stint at the Opera House and then back to L'Etoile for two years before getting a corporate gig at Sub Zero Wolf, where he trained dealers how to use the company's stoves, ovens and refrigeration units.
But when the economy crashed in 2008, he was out of a job. That led him to Epic Systems Corp., where he was the 29th employee in the company's culinary department. At that time, there were just 2,500 employees and two food venues. He was named executive chef in 2010 and oversaw 209 employees who worked at seven food venues, serving 8,000 meals a day. The menus change every day and are created two months in advance.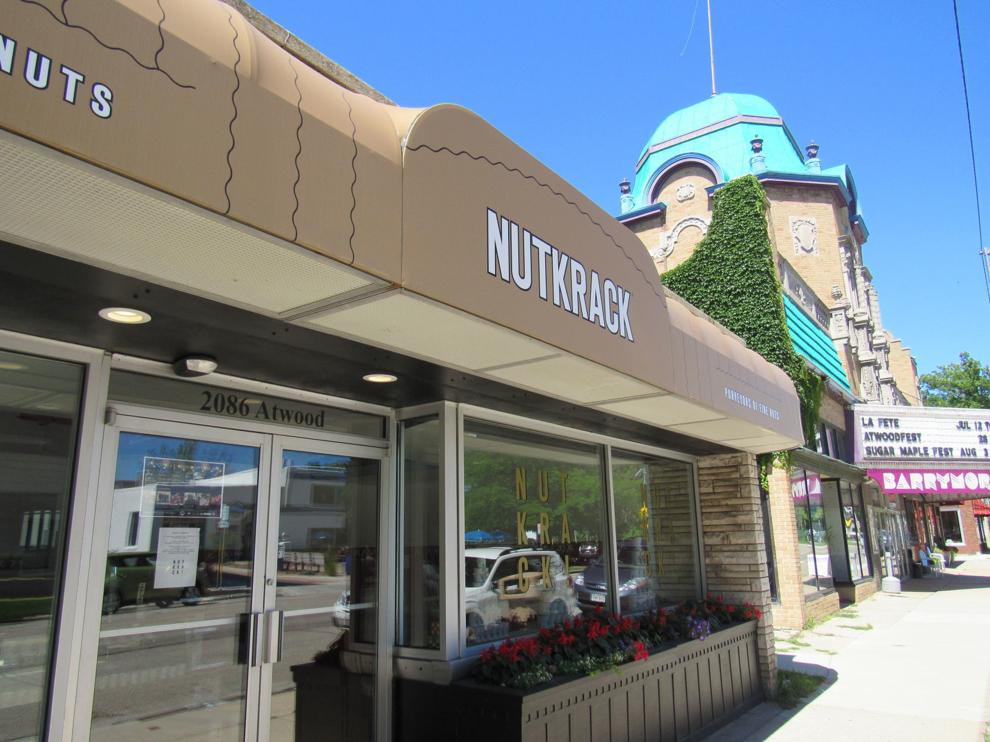 Rupert still works at Epic, but in January stepped down from his salaried position to go hourly, where he leads a culinary float team that has him doing different jobs each day — oftentimes cooking, something that was limited in his role as executive chef.
"In my heart of hearts, I love to cook," Rupert said. "It's the one thing I know I'm good at. And now I do a lot more of it, and I absolutely love it."
The new position is giving him the opportunity to expand his entrepreneurial drive into pecans and find more time to chase northern pike through the ice on Lake Mendota.
Started as Christmas gifts
At first, he just gave the newfound concoction out as gifts at Christmas. But an annual family trip to Washington Island, about five years ago, convinced Rupert to turn the mistake into a business. He and three others were relaxing in a yard and, before they knew it, had devoured a 3-pound bag of the caramelized pecans. After some nudging by his family, Rupert created a simple website so customers could find him. But last year, he made the decision to expand into a retail space with a commercial kitchen, a move financed with $50,000 of his own and a $50,000 loan from the Wisconsin Women's Business Initiative.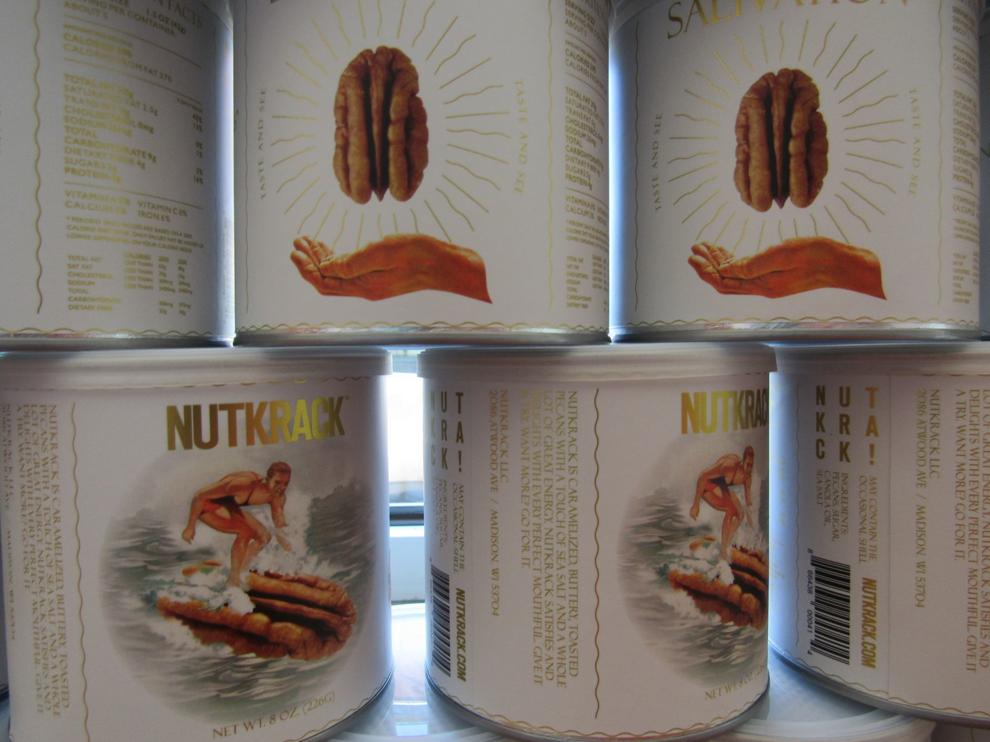 "It just kind of grew," Rupert said. "I loved my job at Epic. It was super fun and super challenging, and we were growing at this super-fast speed, so there was no motivation to leave. But this idea kept growing and growing and growing."
Rupert is being assisted on the project by his sons, Kellen, 23, and Colson, 14, and Jessica Benish, who left Epic to spend more time with family but is now the Nutkrack operations guru.
The pecans, which cost $9,000 for a single 1,200-pound pallet from New Mexico, are caramelized in a three-step process that involves coating the nuts with sugar, toasting and sprinkling with salt. Rupert has tried 40 other brands of candied pecans from around the country and believes his ranks among the best. A 4-ounce can goes for $7, an 8-ounce can sells for $13, and a 16-ounce can is $25. They're also available at a growing number of retailers in Madison such as Table Wine and Fraboni's on Regent Street and at eight retailers in Door County.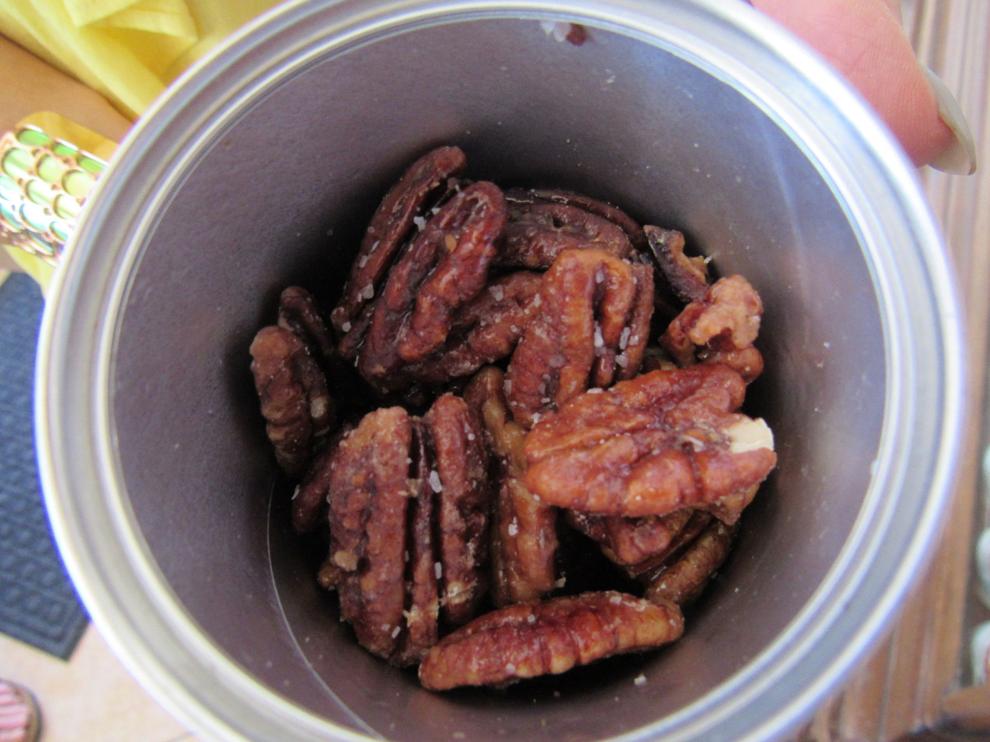 And yes, Rupert believes he can make a business out of a single item. Ambrosius, who makes a wide variety of truffles and other chocolates, agrees. At one time, she thought about expanding into other products, but pulled back.
"I think a lot of times if you try to do all of these other things you can get too spread out," Ambrosius said. "There are so many good foods that people love, and if someone can put their own unique spin on it, that's great. If you've got a good product and you do it well, I think it can work."