Madison's newest hotel is intended to immerse guests with a European experience.
Pastry dough is flown in from France and baked fresh daily into croissants as part of the $15 continental breakfast on the 10th floor. The sleek rooms have state-of-the-art amenities, floating beds and rain-style shower heads. Artwork includes imported crystal from the Czech Republic. Some of the public spaces even have a signature scent — black leather and white musk.
The views, however, are all Madison — and prolific.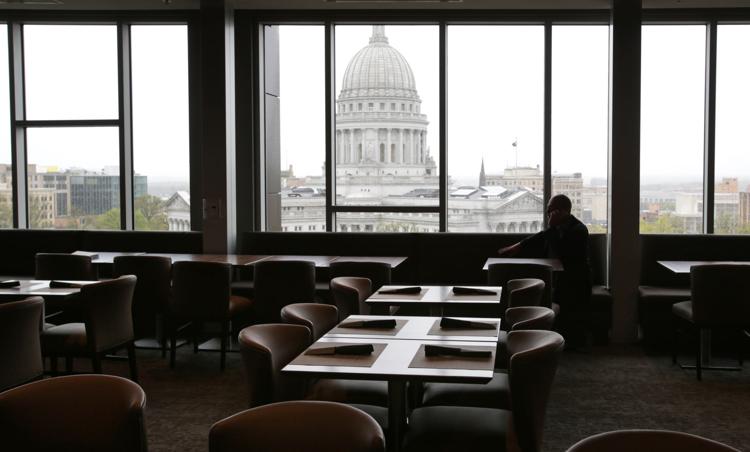 There are few places in the 165-room AC Hotel Madison on the corner of East Washington Avenue and North Webster Street that don't offer some sort of eye-catching scene. That's why developers of the project from Middleton-based North Central Group feel that, combined with the European design, they have created a unique offering, which on Monday will join the growing and competitive Madison hotel market.
"There isn't a product like this in Downtown Madison today. Contemporary, boutique, lifestyle are the words we use to describe it," said Jeff Lenz, president and chief development officer of NCG. "Madison is a thriving economy and is continuing to grow, and we want to grow with it."
More than 400 hotel rooms are scheduled to open this year in the Madison area, with nearly 1,000 more under construction or in planning. Recent large projects have included the $100 million renovation and expansion of The Edgewater on the west end of Wisconsin Avenue, the $12 million renovation of the Park Hotel on Capitol Square and the overhaul of the 72-room Campus Inn, 601 Langdon St., now known as Graduate Madison.
Creating an experience
The AC Hotel brand was founded in Spain in 1998 and became part of the Marriott International portfolio in 2011 when the AC brand began expanding into France, Italy, Portugal, Denmark andthe U.S. The AC in Madison, squeezed onto a one-third-acre site that had been home to Pahl Tire, is the 20th AC Hotel in the U.S. and one of nearly 100 worldwide. When the grand opening is held May 19, Arne Sorenson, president and CEO of Marriott, will be on hand to help cut the ribbon.
North Central Group, founded in 1981 by Dave Lenz, has 29 hotel properties in six states and is building a $5.8 million, 106-room, four-story Tru by Hilton hotel at 8102 Watts Rd. on the Far West Side. The AC is the company's 10th hotel in the Madison area and its the most expensive project to date.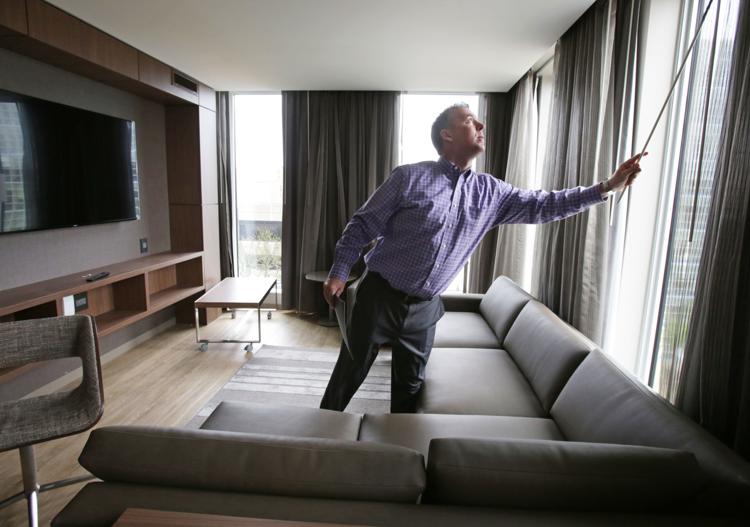 "It's a design-centric hotel with a higher level of finishes. It's more contemporary," said Andy Inman, North Central's vice president of development. "From a development standpoint it's a much more efficient development. A third-of-an-acre site is unique to Madison."
The AC includes a first-floor lounge where drinks range from $7 for a beer to $13 for a cocktail or glass of wine. A nightly ritual will include a small history of Madison and toasts to the state Capitol and to Lady Forward, a statue at the top of State Street.
You have free articles remaining.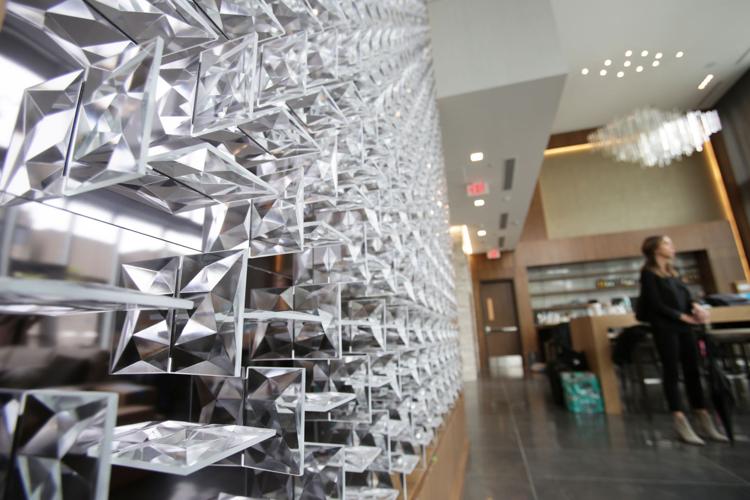 The hotel also includes decorative stacked stone throughout the interior, wood floors, porcelain tile with the look of marble and a second-floor librarywith two Apple computers and a smart TV.
Two levels of underground valet parking combine for 39 stalls, but each is equipped with a $7,000 lift that allows two vehicles to be parked on top of each other in a single space, doubling the capacity to 78 vehicles. Another 80 spaces are leased for more valet parking during evening hours in a city parking ramp a block away.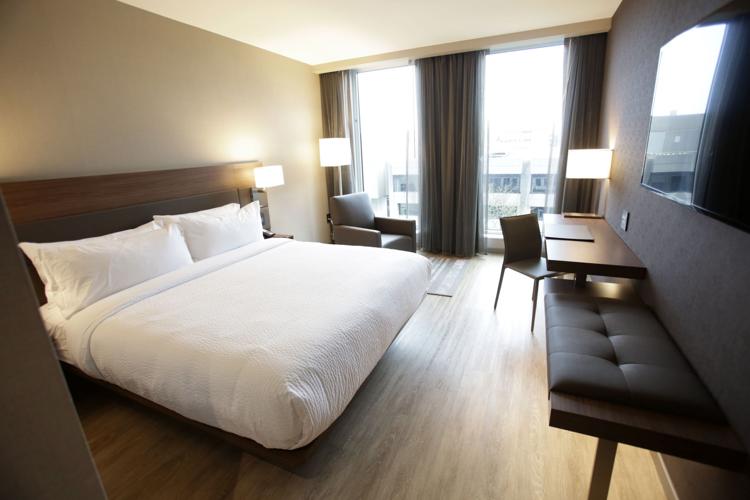 Instead of a concierge, the hotel's 45 employees, many of whom live Downtown, are all being trained to offer recommendations and advice on everything from shopping and entertainment options to where to find the best deep-fried cheese curds. Local businesses, including Overture Center representatives, have been brought in to help educate staff, said Holly Breidel, North Central's regional senior sales manager.
"We just want all of our employees to be able to provide a full experience for the guest when they come in," Breidel said. "They're creating a whole experience, not just (a single) recommendation. Every single employee will be knowledgeable so they are their own concierge. It's an experience they may not get somewhere else."
A standard guest room starts at $229 and goes up to $389 for one of four king suites or one of two queen suites. The suites can host business meetings since the bedroom area of each suite is separated from the common area. Each suite has a spectacular view of the Capitol.
'Views are what make it'
But the hotel's top two floors provide some of the most stunning views of the city and will rank among the best of any hotel property in the area.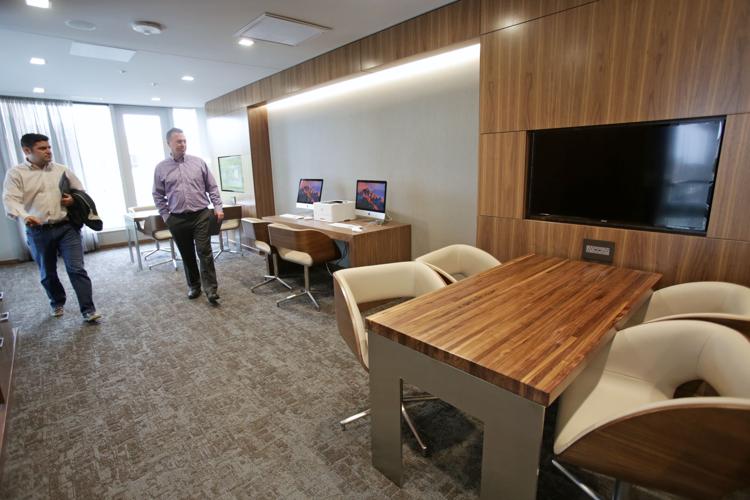 Floor-to-ceiling windows on the 10th floor provide a panoramic view of the state Capitol from Eno Vino Wine Bar & Bistro, scheduled to open May 8. It also includes a glass wine case that can display 400 bottles of wine while around the corner, a fireplace with soft seating offers views of the isthmus and beyond.
The floor is also home to the AC Kitchen, which serves breakfast and can be used for private events, as can the neighboring 924-square-foot Isthmus Room. Both, along with the women's bathroom that includes floor-to-ceiling windows but fully enclosed toilet stalls, have views of Lake Mendota.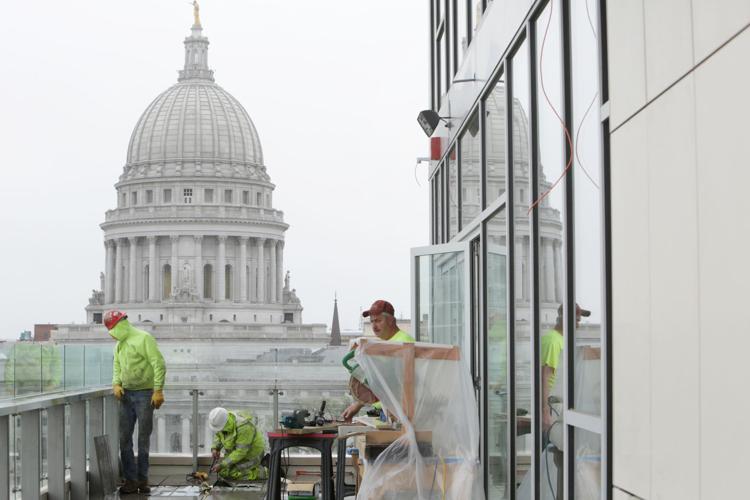 One floor below, which can be accessed via elevator or staircase accented with a crystal rod chandelier, the Skyview Terrace Bar features an outdoor patio with radiant floor heat, comfortable seating, a drink rail lined with stools and a double-sided fireplace that can be enjoyed from inside or outside. A fitness center, also on the ninth floor, offers inspirational Capitol views.
"I think the views are what make it," Inman said of the hotel's design. "People are looking for a unique experience and certainly the views, particularly on nine and 10 but also throughout the hotel, are going to be a big driver."