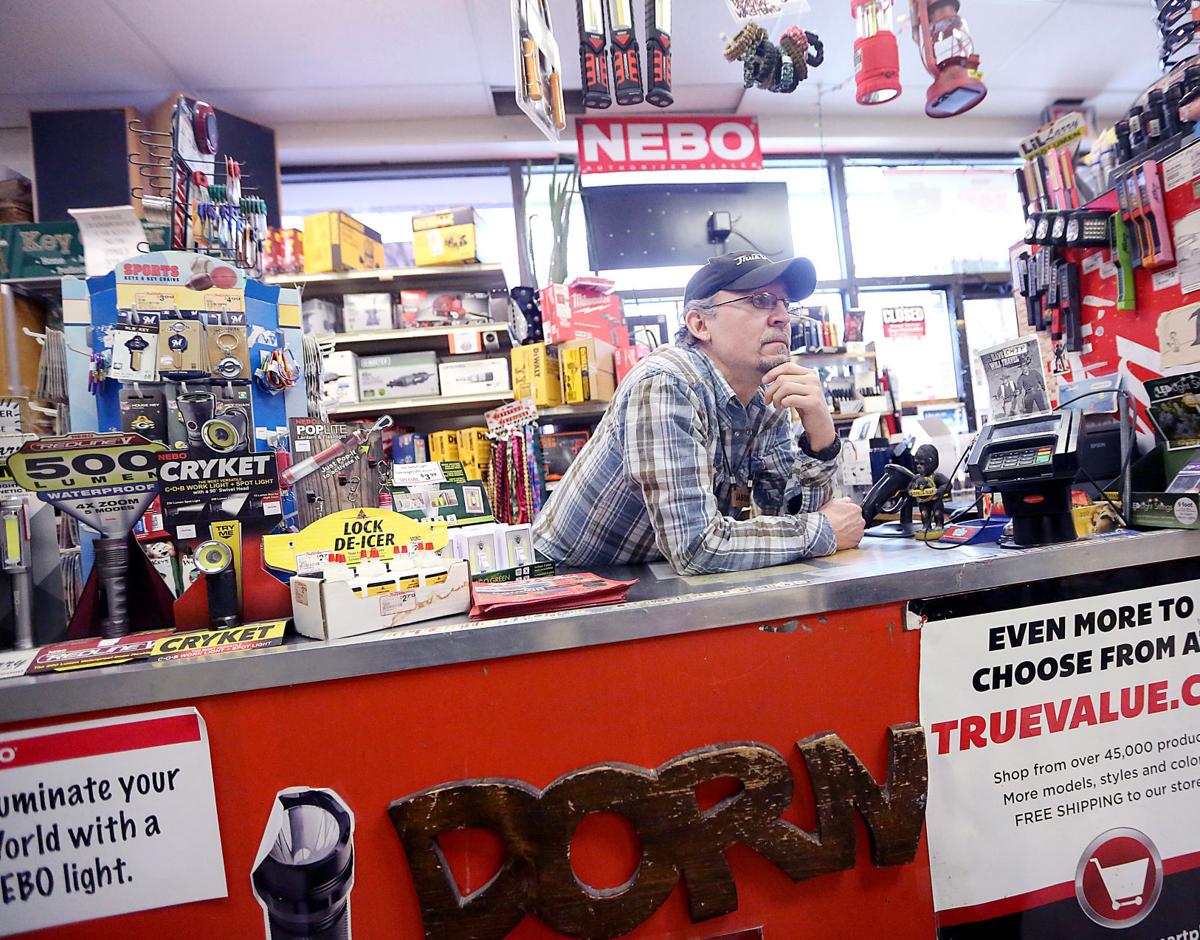 The aisles are short and narrow and jammed with what you would expect to find, even though it's one of the smallest hardware stores in the city.
The selection at Dorn True Value Hardware, 127 N. Broom St., includes hammers, pliers, paint, sidewalk salt, screws, nails, plastic garbage bags, space heaters, oil, sunglasses and mops.
The store is where maintenance staff working on Downtown apartments and condos come for supplies and college students gravitate for tubing and funnels and, after the party, spackling mix to repair the walls of their apartments. Last August, the store made 997 keys, most of them for students.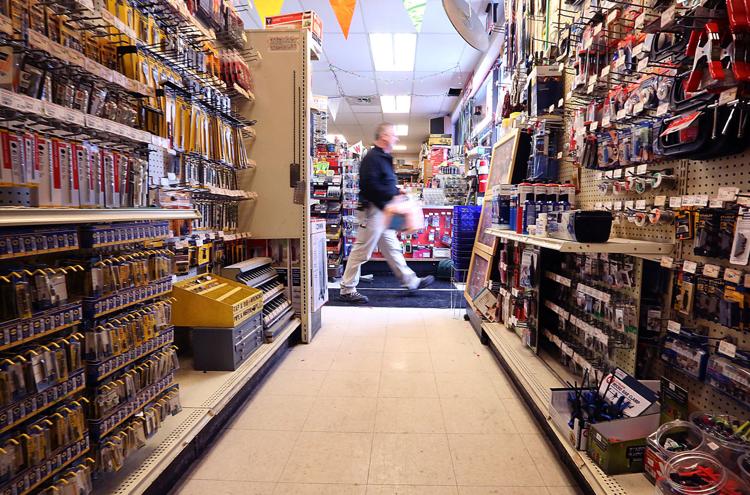 "We try to have everything. If we don't, we'll find it for you," said Jason Shaw, who has worked at the store since 1995 and has been its manager for the last two years. "It's compact. We use floor to ceiling. It's a game of Tetris everyday trying to find room and make everything fit for an urban setting."
But inventory that fills the shelves and peg board walls isn't all that has enamored so many to the only hardware store in the city's Downtown.
The staff of seven has been known to fix the walkers of the elderly, replace watch batteries for those whose fingers have lost dexterity,make a quick lamp repair or simply listen to customers over a free cup of coffee as an eclectic mix of music pumps through the American Acoustics Labs cabinet speakers powered by an old-school Tandberg stereo receiver.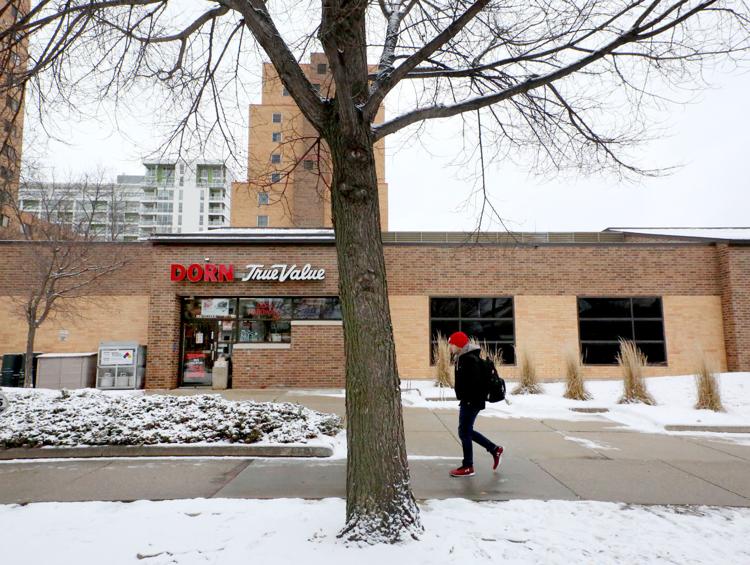 Only those days are nearly over.
The hardware store, a staple in this neighborhood since the early 1980s, will close Feb. 16 to make way for an expansion of the adjacent Capitol Centre Market grocery store. The hardware inventory will be dispersed to the other four stores owned by the Dorn family, while the grocery will add a full-service bakery and deli, expand its produce, dairy and beer departments, and increase its hot food offerings.
The moves come as the Downtown population continues to grow and as grocery stores try to meet the changing demands of customers. Although, for hardware, they'll now likely need to drive to the Quality True Value Hardware, 1201 S. Park St., the Ace Hardware Center, 1398 Williamson St., or to a big box store miles away.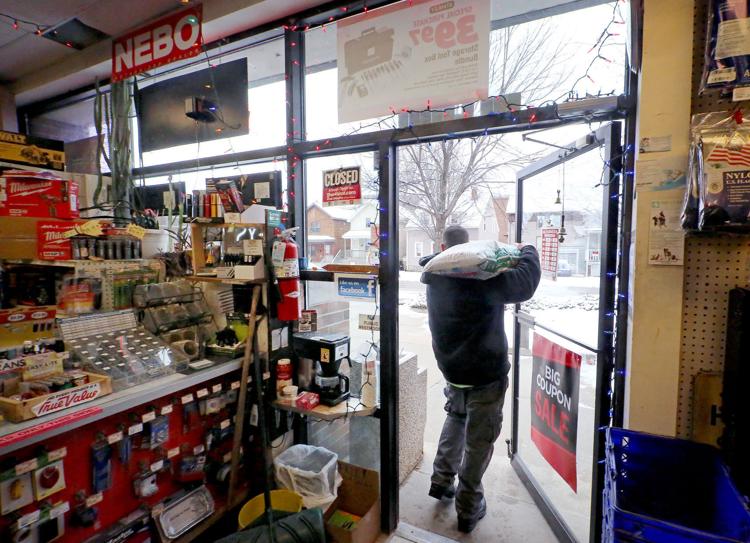 Among those who will miss the hardware store is Matt Hendricks, who does maintenance for Hovde Properties, which owns several buildings in the Downtown area. Hendricks came into Dorn on Tuesday to have a key copied and to buy paint rollers.
You have free articles remaining.
"This is big news to us," said Hendricks, 53. "This is really valuable to us, this hardware store," he said. "When you need a certain screw with the right thread, I can come right here."
Mitch Eveland, who purchased the 11,000-square-foot Capitol Centre Market in 2007 and in 2014 built a 48,000-square-foot grocery store in Lake Mills, bought the hardware store building Dorn was leasing in January 2017. His project, estimated at about $2 million, could begin in April and be completed this fall.
The grocery store's aisles were rearranged about five years ago but the latest project will move and expand the deli to the back of the store, more than double the space for prepared and hot food, and nearly triple the space for storing and prepping produce. The number of checkout lanes will be increased to seven with four of them self-service. Offices will be moved and a meat preparation and storage area will be created underneath what is now the hardware store, but the footprint of the new grocery space will be within the footprint of the hardware store space, which will mean little exterior changes.
"Everybody wants to be able to pick up things that are quick and easy and this will give us an option to please more people and expand our business," Eveland said. "More and more people are moving Downtown and we want to be able to serve them the best we can."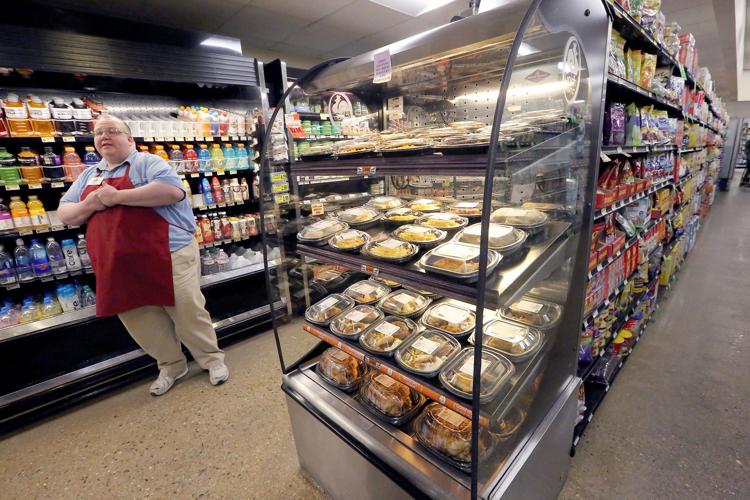 Tom Dorn, president of the hardware company, said he tried to find another space Downtown to relocate the hardware store but he couldn't find the right property to buy that would be profitable and fit his business model that needs a store to be at least 15,000 square feet.
"The numbers just didn't work," Dorn said. "We're not going to be a high-priced retailer down on State Street. It just doesn't fit for us. Madison's a tough market. It's a battle every year to get better, sharper and run more efficiently."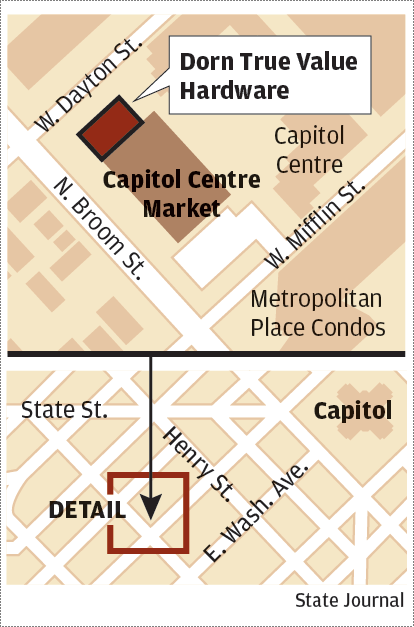 The Dorn name is synonymous with hardware in Dane County. Victor Dorn opened his first store in 1955 on University Avenue in Shorewood Hills but that store closed in the early 2000s. The family's Monona store closed in 2007, while its 13,000-square-foot store in the Northgate Shopping Center on the city's North Side closed in 2013 after 51 years. The company has its headquarters on the lower level of its store at Midvale Boulevard and the Beltline and has stores in Oregon and Sun Prairie. This spring, Dorn will open a store, in what had been an Ace Hardware, in downtown Verona.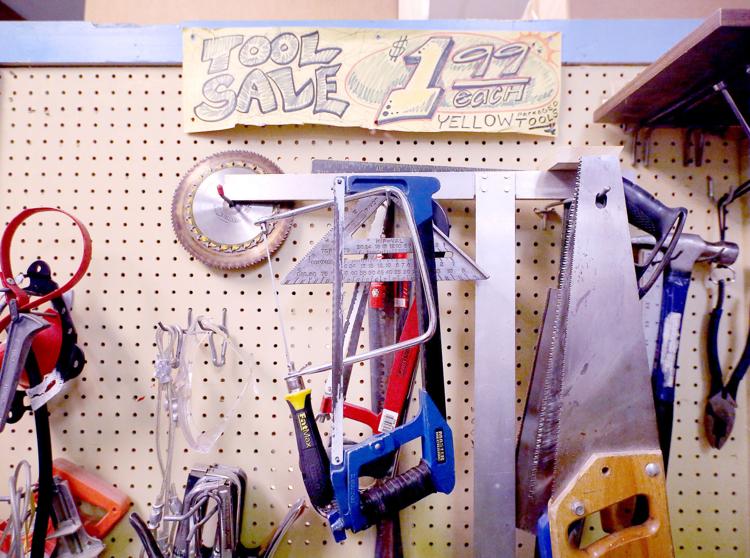 Dorn, who helped his father set up the Broom Street store in the early 1980s, said the hardware and food stores were added to the Downtown as a part of a planned urban development that includes apartments and a senior center. The rents of the businesses were subsidized so that residents could have convenient access to those products and services. The subsidies expired in the early 2000s, Dorn said.
Both businesses have grown into staples for the neighborhood. The departure of the hardware store, however, will leave a void.
"It's really convenient. I can walk here and grab lunch over at the Indian buffet," said Jake Malesky, 26, who works out of his house on East Wilson Street and stopped in Tuesday to buy a set of pliers and a bag of screws. "Having the supplies that I need and having them really close is really what it's all about."