Madison's Downtown hotel boom is coming to State Street.
A development team is proposing to demolish a six-story, largely vacant building at 122 State St. and a two-story bar next door for a $30 million-plus, 120-room boutique hotel that would stand four stories tall on State Street and rise higher at the rear of the parcel that faces Carroll and Dayton streets.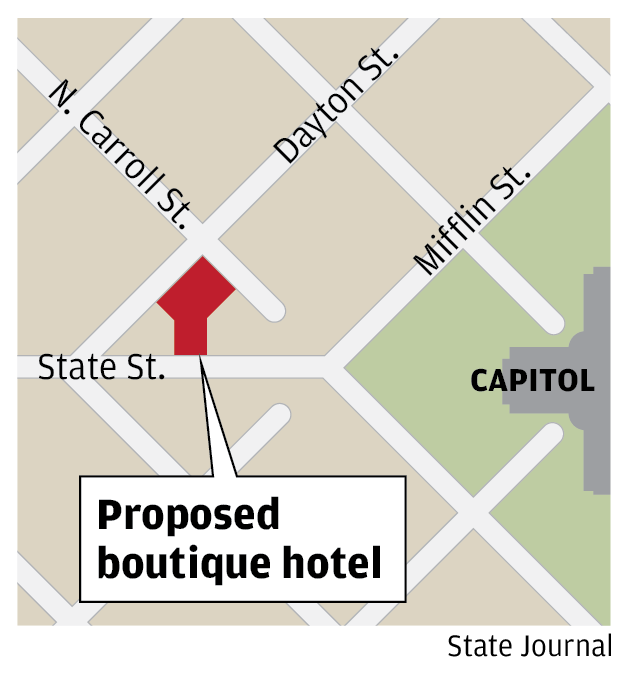 The project would be a partnership between Provenance Hotels of Portland, Oregon, which specializes in creating unique spaces — often in historic buildings — that draw upon local ambiance for art and dining, Ascendant Holdings Real Estate of Madison and Milwaukee, and Central Properties of Madison.
Provenance — which runs independent hotels in Portland, Oregon, Seattle and neighboring Tacoma, Washington, as well as Nashville, Tennessee, and New Orleans — chose Madison for its creative vibe and, like other cities where it operates, intends to spend time to understand the community before making choices on design, art, furnishings, and a bar and restaurant, company president Bashar Wali said.
"What we will do will be one of a kind," Wali said. "There will be no other."
The development team owns the building at 122 State St., which was built as the city's original YWCA in 1917 but has undergone multiple remodeling projects over the decades.
The ground floor currently holds The Fountain bar and restaurant and the upper floors are mostly vacant office space. Harold Langhammer, who runs Central Properties, has owned the building for decades.
The team has an option to buy the adjacent building at 118 State St., which has hosted restaurants and is currently a spot for drinks and events called Winedown.
The proposed redevelopment would cover the footprint of both buildings, team members said.
"It's a great piece of real estate at a great location," said Eric Nordeen, a principal at Ascendant Holdings.
Ascendant Holdings and Central Properties explored the feasibility of reusing the properties, but much of the original exterior of the old YWCA was removed for a new facade in 1971 and the interior of the building has no historic architecture that can be preserved, Nordeen and Prescott said.
"It was a pretty cool, interesting building" when first constructed, but it has lost its identity inside and out, Prescott said.
A new structure would be contemporary yet timeless, and be "something appropriate to the street," Wali said. "We are not going to try and fake other things."
The fate of a pedestrian bridge connecting the YWCA building and a parking garage is uncertain, but there is a strong chance it will be removed.
The hotel would not provide new on-site parking spaces, but is in initial discussions with the city about leasing spaces in the garage on West Dayton Street.
City Council President Mike Verveer, 4th District, who represents the area, said, "At first glance, I'm extremely supportive of the concept of a hotel there. It's a great land use at that location. Height and parking are the main concerns related to the project."
You have free articles remaining.
Register for more free articles
Stay logged in to skip the surveys
Many people would welcome the removal of the pedestrian bridge and opening the view to Overture Center, Verveer said.
The Downtown Core Zoning District allows a variety of uses, with a maximum height of four stories on State Street, and following a 30-foot setback after the fourth story, six stories on the rest of the site.
Provenance is likely to seek some relief from height limits on the site so it can build the number of rooms needed to make the project economically viable, spokeswoman Kate Buska said.
The building, Wali said, would have a pedestrian entrance on State Street and a vehicle entrance on North Carroll Street.
"You have two front doors, one for people and one for cars," he said, stressing that both will be attractive, clean and well-lit. "It allows vibrancy on both streets."
But more important is the interior, Wali said, which will have a marquee restaurant, meeting space and a rooftop lounge. It will complement the nearby Overture Center and Madison Museum of Contemporary Art, he said.
"It's about creating an interesting experience," he said. "How do we get that experience? We look at the DNA of every community we go into."
The cocktail bar and roughly 70- to 100-seat restaurant could be an opportunity for a top Madison-area chef to run his or her own operation or for a local restaurateur to open a new establishment, Buska said.
"It won't be snooty," Wali said. "It will be approachable but it will be high-quality."
Samantha Negrin, vice president of Capitol Neighborhoods Inc., had a positive first-blush reaction and agreed with Verveer that residents will have questions about height and parking.
"This is definitely an exciting addition to Downtown," she said. "I'm looking forward to the neighborhood meeting and seeing more details of the project."
The project would neatly follow W. Jerome Frautschi's recent $11.6 million redevelopment that brought new storefronts, restaurant and office space through a mix of new construction and historic preservation on the other side of the 100 block of State Street, said Susan Schmitz, president of Downtown Madison Inc.
"To have a small, local boutique hotel on the 100 block of State Street is absolutely perfect," Schmitz said. "It think it's a great fit."
The hotel would need an advisory recommendation from the Landmarks Commission because it's next to a landmark building at 114 State St.
It would also need approvals from the Plan and Urban Design commissions, and perhaps the City Council, depending on final plans that are submitted. The team hopes to open the hotel in 2018.
"It's about creating an interesting experience. How do we get that experience? We look at the DNA of every community we go into." Bashar Wali, president of Provenance Hotels of Portland, Oregon, one of the partners in the State Street proposal