Developers have provided additional details on a massive proposal that envisions a hotel, housing, office and retail space at the Hill Farms property on Madison's West Side.
Smith Gilbane is looking to turn a 14-acre property adjacent to the under-construction state office building at the Hills Farms location into a collection of mixed-used buildings. The proposal, called "Madison Yards," would have four roads built to divide the land into five blocks.
The project could likely total hundreds of millions of dollars.
The developer intends to submit an application in October to turn the land currently zoned "suburban employment" into a "planned development" zone and hopes to begin construction in late 2018.
The area is bounded by University Avenue to the north, North Segoe Road to the east and Sheboygan Avenue to the south, and it would largely replace a surface parking lot.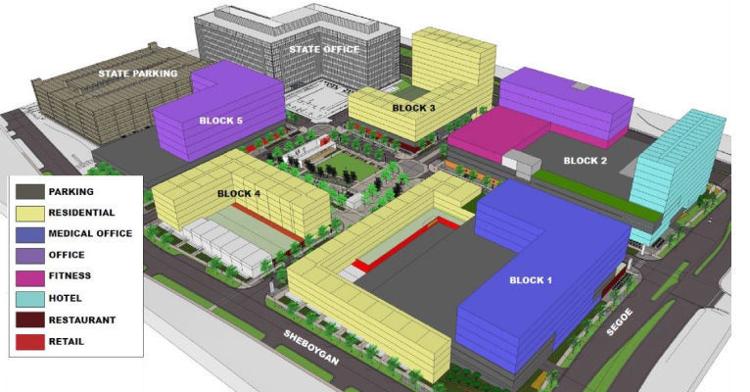 Smith Gilbane, a joint venture of Milwaukee-based Summit Smith Development and Providence, Rhode Island-based Gilbane Development Co., is constructing a $150 million, nine-story, 600,000-square-foot office building and a $36 million parking structure for the state.
Once the new building is complete, a roughly 60-year-old state office building at Hill Farms will be demolished, and its land used for the private development.
More than 100 people turned up at a community meeting Wednesday at Covenant Presbyterian Church to hear about and weigh in on the proposal.
A major concern for attendees was the density and any parking spillover into the surrounding neighborhoods. On the University Avenue side, buildings could reach up to 15 floors.
Sean Roberts, vice president of development for Summit Smith, said the height would be comparable to two nearby 12-story condo buildings off North Segoe Road. Residential buildings on the Sheboygan Avenue side of the development would stand three stories.
"The massing we're going to show is based on the concept now," Roberts said. "None of those projects are fully cooked."
Smith Gilbane also plans to create a one-acre green space in the center of the Madison Yards project, but several residents criticized the amount of area dedicated to open and green space compared to the overall size of the property.
Others pressed the development team to make strong commitments to sustainable architecture and renewable energy components, such as solar panels.
Roberts said those ideas would be explored, but he noted any finalized designs would go through a separate city approval process if the rezoning is allowed.
The business news you need
With a weekly newsletter looking back at local history.