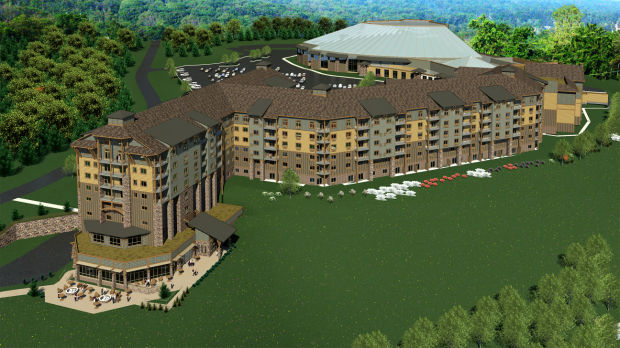 A Wisconsin Dells company is building a $163 million waterpark resort, but it's not in the "Waterpark Capital of the World."
Waterpark Ventures Management Services (WVMS), a resort and waterpark development and management company, partnered with Camelback Mountain Resort in the Pocono Mountains of Pennsylvania to develop a 453-room resort, including a 125,000-square-foot indoor waterpark.
The eight-story Camelback Lodge & Indoor Waterpark, which will include conference space, dining and spa facilities, is scheduled to open in February of 2015 at the base of Camelback Mountain in Tannersville, Pa. Camelback Mountain Resort, located 85 miles west of New York City, drew 400,000 skiers last season and its outdoor waterpark attracted another 400,000 people this past summer.
"We like to go to locations that are well-established family tourism markets, and that's what we find with the Poconos," said Pete Helland Jr., one of four WVMS owners. "It reminds us very much of the Wisconsin Dells area."
The Poconos is already home to a Great Wolf Lodge while Lake Delton-based Kalahari broke ground this fall on a $230 million, 457-room resort that includes a 100,000-square-foot indoor waterpark and 65,000-square-foot convention center. The resort, on 15 acres, is scheduled to open in 2015, according to its website, and would become the third resort for Todd Nelson, who opened his Kalahari Resort in Lake Delton in 2000 and his Sandusky, Ohio, location in 2005.
WVMS, founded in 2011, is working on a 104-room hotel project next to State Fair Park in West Allis, and its members developed and own the Wilderness at the Smokies in Sevierville, Tenn. That property, which opened in 2008, has 700 rooms and 200 time-share units, a 70,000-square-foot indoor waterpark, and next door, 200,000 square feet of city-owned convention space.
You have free articles remaining.
The WVMS ownership group has years of experience in the waterpark industry.
Tim Gantz was a co-owner of Noah's Ark since 1994 before he and his brother sold the Lake Delton outdoor waterpark in 2012 to a California company.
Helland and his cousin, Tom Lucke, who is not part of WVMS, managed and developed the Wilderness Resort in Lake Delton, while Helland's brother, Pat Helland, grew up in the tourism industry and at one time operated a Wisconsin Dells amusement park.
A fourth WVMS owner, Tim Lucke (a cousin to Tom and the Hellands), is a graduate of the University of Nevada-Las Vegas hospitality program and spent several years working at the Wilderness in Lake Delton. That resort has grown over the years to 1,200 rooms, 200 time-share units and 250,000 square feet of indoor waterpark space spread throughout several buildings
The Poconos project, a partnership composed of WVMS and Arthur Berry III and Ken Ellis, co-owners of Camelback Mountain Resort, is on 15 acres and will have rooms ranging in size from 400 square feet to more than 1,000 square feet, Helland Jr. said. WVMS will oversee the development and will manage the waterpark resort and a reservation call center in Wisconsin Dells.
The planned waterpark at Camelback is believed to be the largest single indoor waterpark under one roof ever built in the U.S. and will include 45,000 square feet of indoor family entertainment space like arcade and redemption games, laser tag and a laser maze. Guests will be able to ski in and out of the hotel, Helland Jr. said.
The Pocono Mountains region attracts 23 million visitors annually, who generate more than $2 billion in tourism business with skiing, golfing, a casino and a NASCAR track among the offerings.
"We're ecstatic," Helland Jr. said. "These things are very difficult to get going given the size and scale. We feel, given the size of that market, that there's plenty of business to go around."