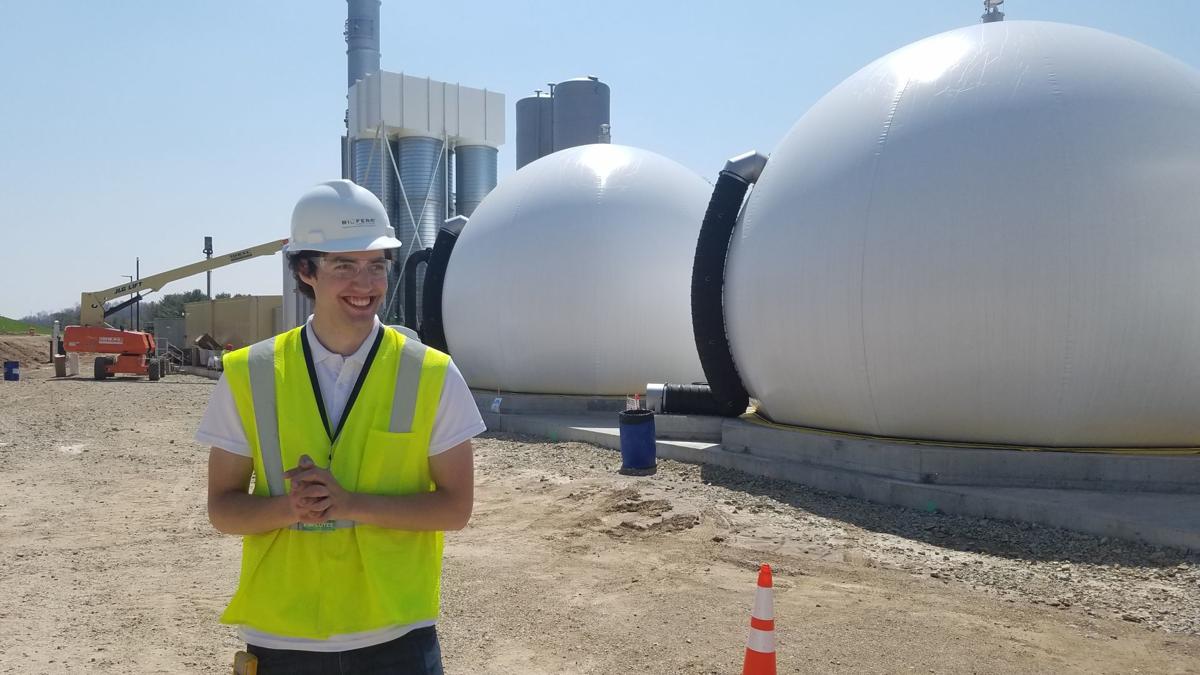 A California-based waste and energy company has purchased an anaerobic digester in Dane County that converts manure from dairy farms into biogas, which is considered a more environmentally friendly replacement for natural gas.
Brightmark Energy, based in San Francisco, will use the digester — located northwest of Madison in Dane — to convert about 90,000 gallons of dairy waste per day into biogas that can be used for heating, electricity production or vehicle fuel.
The digester, 6321 Cuba Valley Road, was previously owned by Clean Fuel Partners, of Dane, which was acquired by Brightmark. Clean Fuel Partners will continue to provide operations and maintenance support for the digester moving forward.
Following the installation of upgraded equipment, the company expects to produce at least 50,000 MMBtus of gas each year at the digester. If converted into compressed natural gas for vehicle fuel, that could power a bus for about 1.27 million miles.
Biogas, also called renewable natural gas or biomethane, utilizes methane that would already be emitted from sources such as manure or landfills, and it can be used in place of traditionally sourced natural gas from fossil fuels, according to the U.S. Department of Energy.
You have free articles remaining.
The biogas from the digester will be taken to the Dane County Landfill, 7102 Highway 12-18 in Madison, where the county has created an injection point into an interstate natural gas pipeline run by ANR Pipeline Co. That injection point opened this spring along with a landfill gas processing facility that refines gas from the landfill into commercial-grade natural gas for sale.
"This project is ... good for the local environment, good for the regional economy, and good for the climate," Brightmark Energy CEO Bob Powell said.
Brightmark will source the manure from three local dairy farms, two in Dane and one in Waunakee, and is open to accepting waste from other area farms.
The county had long been trapping the methane and other gases emitted from the heaps of garbage at the landfill to be used for electricity, but the county is now using that resource to create and sell compressed natural gas (CNG), a more eco-friendly vehicle fuel than gasoline and diesel. 
"This agreement will help local farms continue to be environmentally friendly to our community and help us to stay in compliance with environmental regulations," said Chuck Ripp, of Ripp's Dairy Valley, one of the farms involved with the digester. "We have always taken pride in being excellent stewards of land conservation and ensuring our land is a safe environment for our neighbors."
Manure emits methane, a powerful greenhouse gas, but Brightmark expects to reduce the net greenhouse gas emissions from the manure by 16,000 metric tons per year. The digestion process also recovers most of the nitrogen and phosphorus from the manure, which would otherwise pollute local waterways through runoff from the farms. Instead, those nutrients can be used again as fertilizers for crop fields.
"This community digester represents a victory for family dairy farms, cleaner air and cleaner lakes," Dane County Executive Joe Parisi said.
Brightmark is also developing similar digester sites around the country, including in South Carolina and Washington.