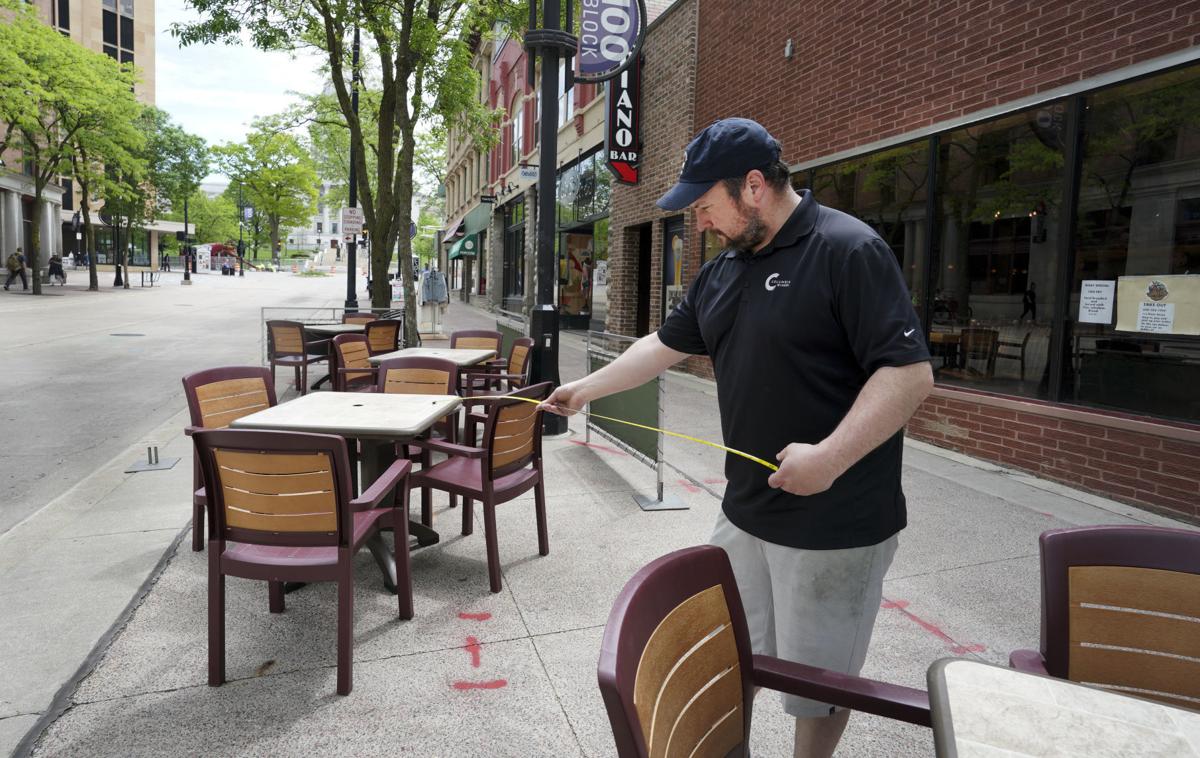 Eager to do enough business to actually stay in business, but responsible for keeping patrons safe amid a pandemic, Dane County's "nonessential" economy began a slow reopening Tuesday after more than two months of coronavirus-related government shutdowns.
Under the public health department's phased reopening plan, known as Forward Dane, most businesses, including gyms, retailers and restaurants, were allowed to begin operating Tuesday at 25% capacity and with certain public health requirements and physical distancing in place.
But not everyone was rushing to take advantage.
At West Towne Mall, a few dozen shoppers — most of them wearing masks — browsed among a smattering of open stores. Buckle, Finish Line and Vans were among those open, while Hot Topic, American Eagle and J.C. Penney remained closed. The food court's seating area, many counter-service restaurants and the mall's play area were also off-limits.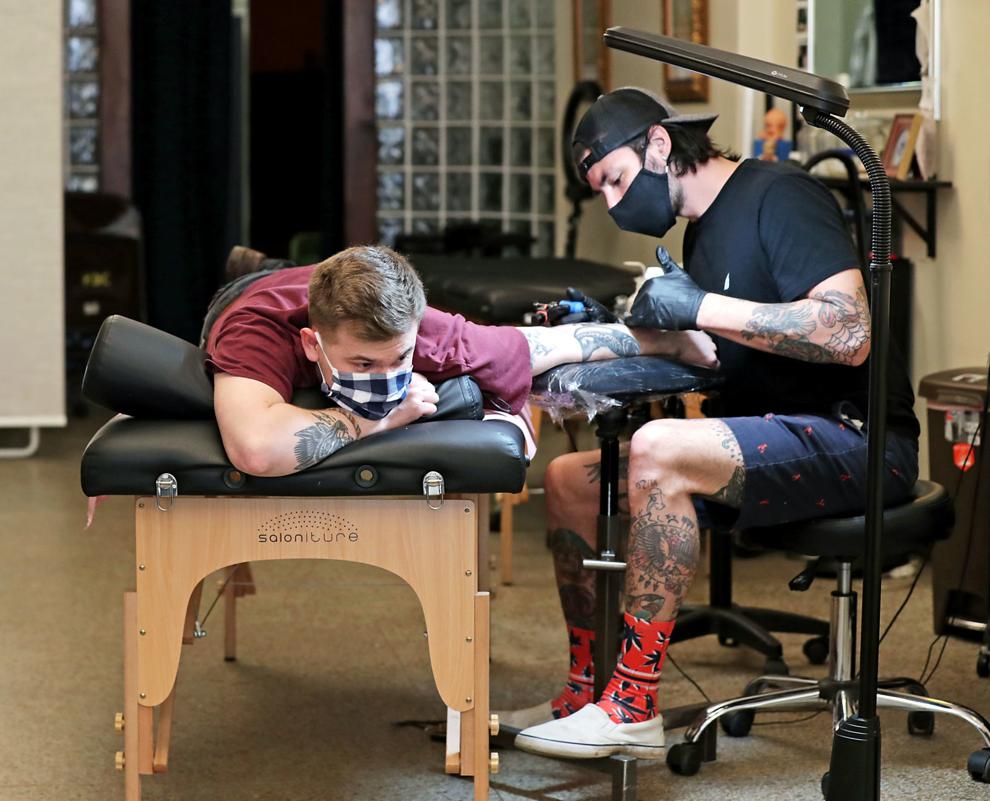 "If they want people to shop at their store, they should have masks for people to wear," said Alyce Haskin, who lives in Madison and had brought her own mask to shop.
Just before 1 p.m. at Ford's Gym on Madison's East Side, owner Ford Sheridan sold a day pass to a customer, went over the safety measures the gym has put in place and handed the man a towel and a bottle of red-tinted sanitizer in place of the communal bottles typically scattered around the gym floor.
"We go over that stuff when people come in to kind of retrain people," Sheridan said of the safety measures, which include encouraging the use of face masks.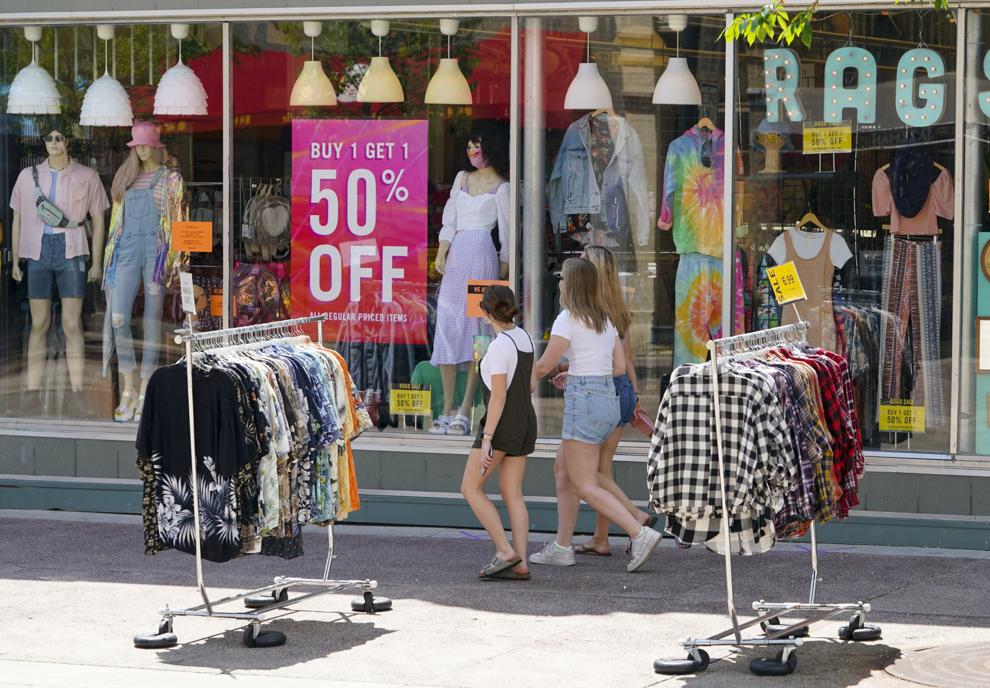 Sheridan said his gym had been "pretty busy" so far, estimating 50 users in the five hours since local restrictions lifted at 8 a.m. Visitors were spaced out and the gym was within its capacity limit, Sheridan said, or about 40 to 50 people at any one time.
"People are very happy to be back and excited to be working out again," he said amid the clang of metal equipment.
Inside Ten Pin Alley in Fitchburg, two groups bowled on a couple of the lighted lanes, while several others remained dark. It was a similar story at Schwoegler's Park Towne Lanes on Madison's West Side. There, the lanes were idle, but general manager Marcia Bloxham said a few bowlers had been in earlier.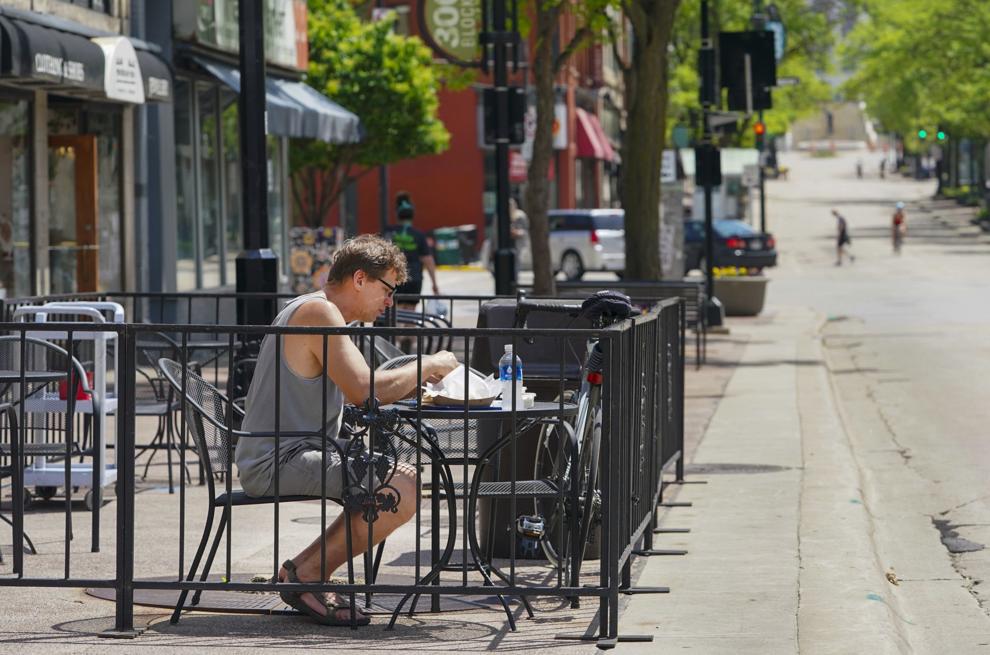 At both places, bowlers and other visitors will have to follow an extensive set of rules that include keeping the same set of house-owned bowling balls near the same lanes so they can be cleaned after use. Schwoegler's is limiting groups of bowlers to families, but it hopes to start leagues again in mid-June, though they'll be limited to 18 teams because of the spacing required between lanes.
Finally getting to bowl again after a few months off, 13-year-old Landon Kelling, of Madison, said he felt rusty. His thumb wasn't releasing the ball quite right, keeping his score below what he'd like to see.
"I'm definitely excited," he said, taking a break after rolling a smooth hook to pick up a spare on the tenpin.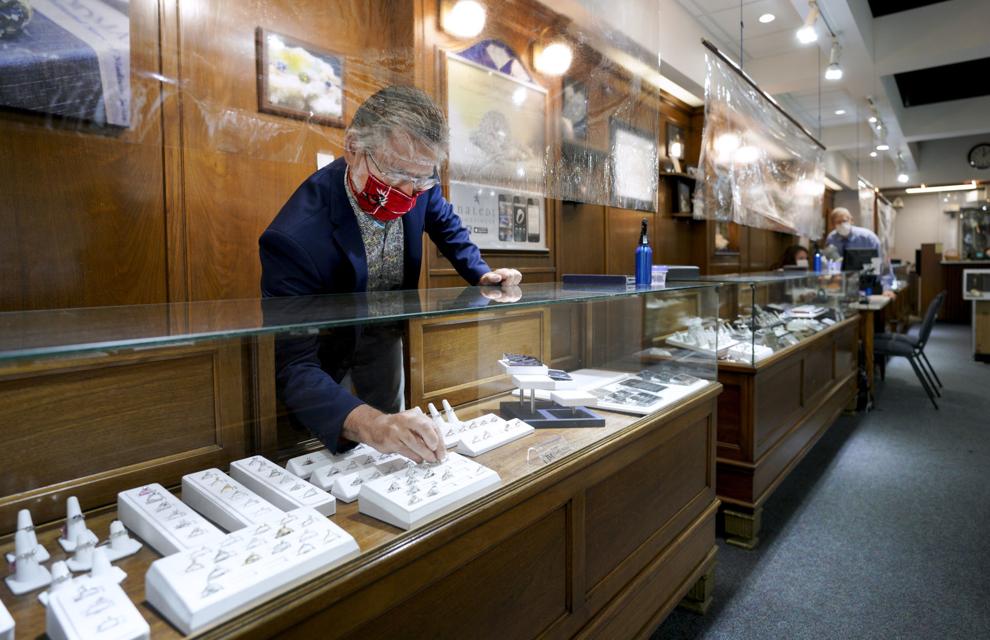 Tattoo parlors are among close-contact businesses, including salons and spas, that had few to no options for serving customers while their physical spaces were closed. As of Tuesday, all were able to take customers by appointment.
On Madison's North Side, Lost Lakes Tattoo opened with only a few clients allowed into the store at one time. Although most of the stations for the seven artists are at least six feet apart, general manager Kiara Libnoch said the business is being extra careful by staggering their schedules.
Tattoo shops generally follow strict sanitation procedures, which will continue, according to staff at Lost Lakes and Isthmus Tattoo and Social Club, with the addition of masks for artists and clients.
Isthmus Tattoo, on State Street, reopened with just a couple of the tattoo artists working at a time, owner Cory Correia said. He said two artists were tattooing Tuesday while another was in a back room working on drawing designs for clients.

Two months ago
Democratic Gov. Tony Evers' original "safer at home" order closing "nonessential" businesses went into effect March 25 and was originally set to expire April 24. It was extended in mid-April to run through Tuesday until the Republican-leaning state Supreme Court overturned it on May 13, when Dane County put into place its own stay-at-home order.
Without the local order, businesses in Dane County would have been able to open without restrictions on May 14.
Under Phase 1 of the county's reopening plan, gatherings at commercial properties and outdoors are limited to no more than 50 people at a time, with the expectation that people remain 6 feet apart. That apparently is still too restrictive for Dane County movie theaters, many of which remained closed Tuesday.
Marcus Theatres, AMC Theatres, Flix Brewhouse, New Vision Theatres and Silver Cinemas all say on their websites or in phone recordings that they are closed because of COVID-19.
Still closed
Madison Children's Museum closed to the public in mid-March and will likely not reopen until September, at the earliest, museum president and CEO Deborah Gilpin said.
Gilpin said staff have been exploring ways to take elements of the museum into the community, including sidewalk events that will launch next week and other events for children at as many as 200 sites around the city.
Other museums in the community, including the Chazen Museum of Art, the Wisconsin Veterans Museum and the University of Wisconsin System's UW Geology and Physics Ingersoll museums, also remain closed to the public.
At Madison's performing arts center, the Overture Center, all scheduled events through June 30 have been canceled.
"Moving forward we will continue to closely monitor the situation so that when we do re-open, the decision will be based on what is in the best interest of our performers, resident organizations, guests and staff," Overture said in a statement.
If some businesses were opening Tuesday, government-owned attractions were moving more slowly.
No zoo, swimming
The county's Henry Vilas Zoo is making preparations to reopen no later than July 1, perhaps earlier if all new safety measures are in place, marketing manager Kristin Moala said.
"Our No. 1 priority is making sure our guests, staff and animals stay safe," she said. "In order to ensure we are meeting the (Centers for Disease Control and Prevention's) recommended social distancing guidelines, we are making some major modifications to the zoo grounds. The biggest change will be having only the Randall Avenue gate open and having guests use a one-way path throughout the grounds during their visit."
Buildings, except for restrooms, will be closed and the Children's Zoo area will also be closed. The Glacier Grille will serve food, but only through the takeout window on the side of the building, Moala said. "We have several other modifications we are working on for the Chocolate Shoppe and the gift shop," she said.
Josh Schmitt, Madison aquatics and park ranger supervisor, said a decision should be made in the next few weeks on whether to open the city's Goodman pool and public beaches.
"We're looking for what we would have to do to make people safe to use them," he said.
Each phase of the county's three-phase Forward Dane plan is expected to last at least 14 days, or the incubation period for the coronavirus. Phase 2 will allow for up to 50% capacity at most businesses and the lifting of other restrictions. Phase 3 will allow for up to 75% capacity.
Last week, a group of Wisconsin residents filed a lawsuit asking a federal judge to invalidate local stay-at-home orders and cease their enforcement.
State Journal reporters Elizabeth Beyer, Emily Hamer, Shelley K. Mesch, Dean Mosiman, Chris Rickert, Mitchell Schmidt, Ed Treleven and Logan Wroge contributed to this report.