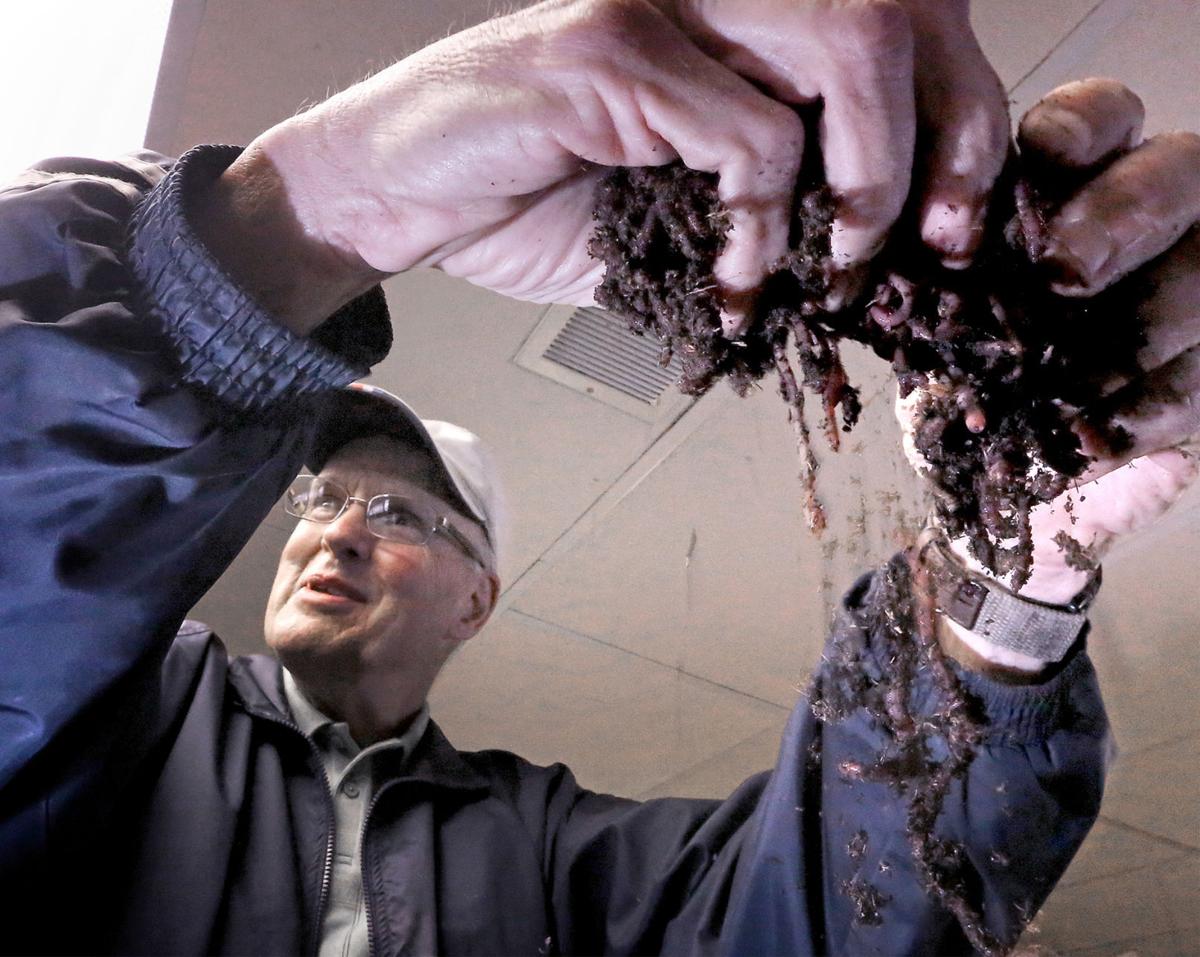 RICHLAND CENTER — The hermaphrodites on Coop Woods Road have it made.
The manure they devour in the town of Willow northeast of here is from grass-fed beef cattle and comes out the other end as fresh-smelling, finely-ground mulch.
But that's not the only job for eisenia fetida. When the mature, three-inch red worms are not eating, they're busy getting busy to grow their community of hardy eaters who live part of their lives in dirt piles near Little Willow Creek in rural Richland County about an hour northwest of Madison.
Very few of the worms are skewered with a fishing hook and gobbled up by a blue gill, perch or the resident brook trout.
Some are shipped to bait shops and anglers, but the majority are delivered around the country and occasionally Canada to live out their years in compost where they eat and continue their busyness.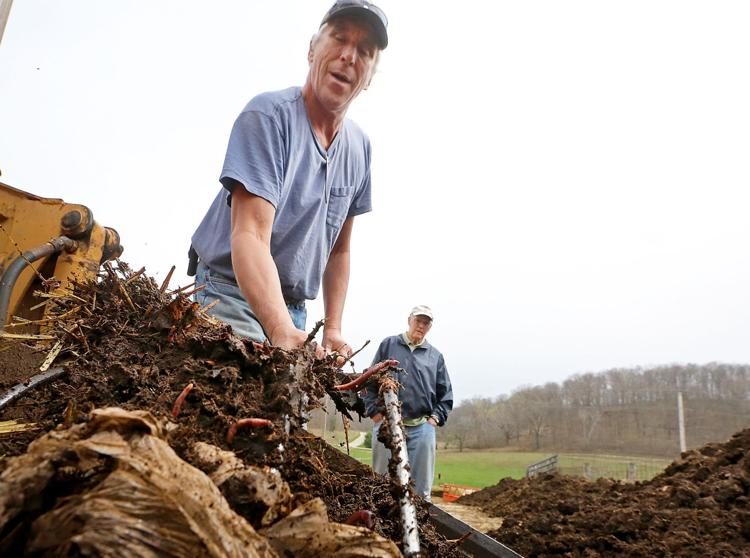 Some find homes in small food scrap containers beneath a kitchen sink while others churn through coffee grounds, egg shells, vegetable matter and other food waste in larger backyard compost bins creating worm poop to enrich flower and vegetable gardens.
Larger clients have included the Urban Worm Girl in Chicago, who bought in bulk to sell to her own customers, and Worm Power in Avon, New York, which buys worms in 50-pound lots for the organic vermicompost it sells for $8.95 per pound.
"This is the worm most people want when it comes to composting," said Dan Corbin, 74, who started Wisconsin Red Worms two years after retiring from the Riverdale School District in Muscoda. "How in the world I ever picked that out out of a thousand species behooves me but I read about it and thought I'd take a chance."
The promiscuous, ravenous red worms have helped build a side business for Corbin and Ed Uhlenhake, both former basketball stars.
Corbin, an Illinois native, played college basketball at Southern Illinois University in Carbondale in the 1960s. Uhlenhake led Burlington High School to the WIAA state tournament in 1974, was a four-year starter at UW-La Crosse in the mid-1970s and then played professionally in Austria and Belgium.
The two men met while playing morning basketball about 12 years ago at Richland Center High School. Corbin had the worms, and Uhlenhake the farm.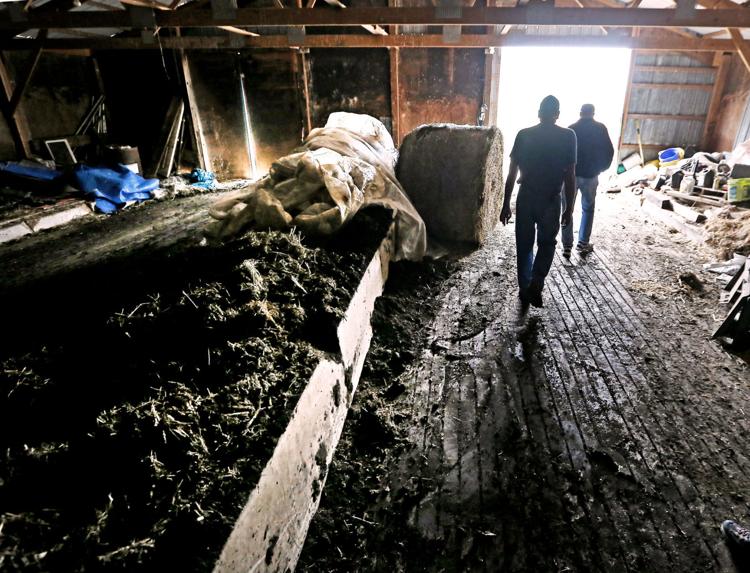 In 2015, they shipped about 1 million worms in what was their 10th year of business together.
"It's a good way to diversify," Uhlenhake said of the addition of a commercial worm operation to the farm he bought in 1993. "At the time I wasn't using the building, it was just a storage building and I always had a supply of manure."
Wisconsin is home to several worm farms and vermiculture supply companies. There's Castings Happen in Racine that sells organic fertilizer and Clark County Crawlers in Neillsville that sells worms and castings. Peaty's in Appleton sells worm castings in 10-, 20- and 50-pound bags, while Unco Industries in Union Grove not only sells worm castings and worms, but also systems for people to start their own vermiculture business.
Corbin started from scratch after he became bored with retirement. The avid hunter and angler wasn't sure how else to fill his time, so he said a prayer in search of guidance.
That was followed by nearly three weeks of thoughts about worms. He put his trust in his Lord, did a little research and in December 2003 ordered a pound of worms from a farm in Georgia.
They arrived on a day when the temperature outside was minus 10 degrees and he was at the coffee shop.
"I came back and it was hanging on the mailbox," Corbin said of his $25 order from the South. "I took them in and put them in the beds in the basement and from that time I thought that if they can survive this they can survive anything."
And that was the last time he ordered worms. That one order eventually outgrew Corbin's basement and outdoor mulch piles around his house on East Preston Drive in Richland Center. Corbin still packages and ships the worms from his basement but the growing operation since 2005 has been on Uhlenhake's 160-acre farm, a 16-minute drive from Corbin's home and in some of the prettiest country our state has to offer.
There are deep valleys and steep hillsides populated with turkey, deer, sandhill cranes, eagles and the occasional bear. The creeks are full of trout and, at this time of the year, the barnyard between Uhlenhake's steer pen and metal shed is jammed with dirt and manure. It's organized in 20 foot-long and 3- to 4-foot high piles topped with manure to feed the red worms below.
"We've got quite a few tons (of manure) stockpiled from over the winter," Uhlenhake said. "We use that to draw the worms out of the existing piles."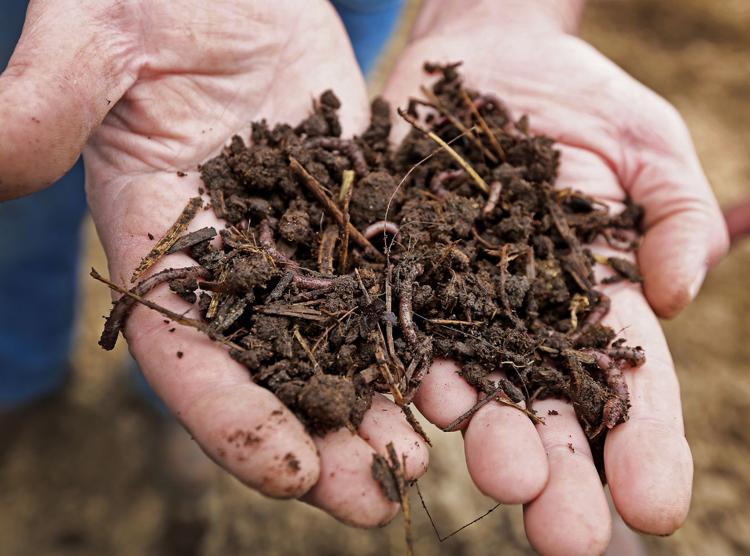 Uhlenhake runs about 20 head of beef cattle, five or six hogs a year and has eight horses. He and his wife also own and operate two group homes in the area for people with developmental disabilities, something they've done for more than 20 years. The couple have large gardens where they grow much of the food used at the homes.
"You find a zucchini that's 3 feet long so you cut it in half (lengthwise) and you lay it on the worm pile," Uhlenhake said. "You come back in two weeks and it looks like there are two newspapers on top of the pile. That's the skin of that zucchini. And then you peel that back and the seeds are laying there in the dirt. They've consumed every bit if it except the skin (which has little moisture) and the seeds."
The worms spend the winter in the shed in a 4-foot-high, 40-foot-wide and 100-foot-long pile of dirt and manure. The material was recently moved by skid steer to the outdoors for better access during harvest season and to encourage eggs to hatch, which requires temperatures above 40 degrees.
The red worms are hermaphroditic, meaning they have reproductive organs normally associated with both male and female sexes. They hook up at their collars and form a tube between them where the sperm and egg meet up to form an egg, which is then released.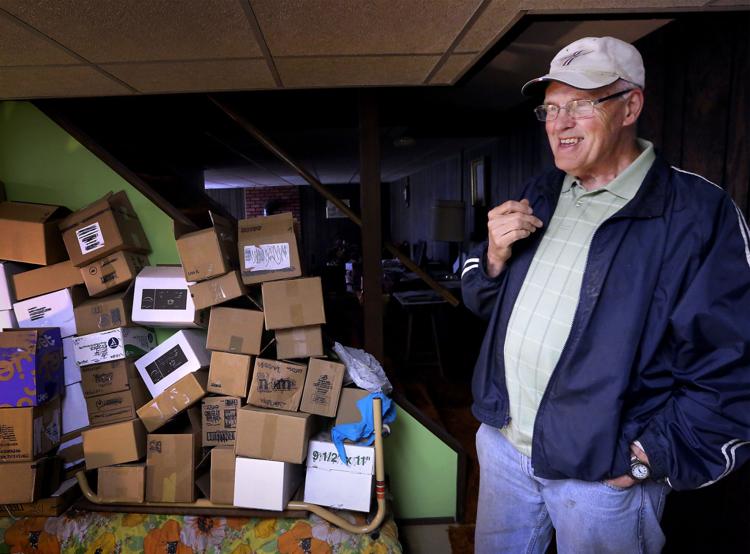 "We sell down about 80 percent of what we have and keep about 20 percent for reproduction every year," Corbin said.
The harvest involves digging into the edges and top layers of the piles with a pitchfork and then feeding the material into an old electric corn and grain gleaner that looks like a cement mixer with screening. It was purchased about 10 years ago for $175 from a local farmer and works surprisingly well.
Larger dirt chunks and worms come out the back of the machine, while the fine mulch and tiny golden worm eggs fall through the screen to form a pile underneath the churning mesh barrel. Each egg can hold up to four worms.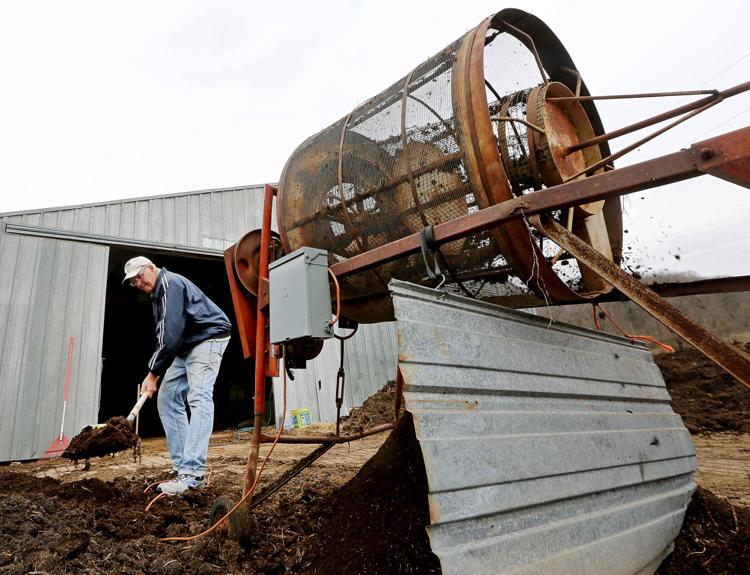 The eggs and some of the mulch are returned to the piles, while the worms are packed in Canadian peat moss and shipped by the pound. Depending on their size, a pound of worms can be anywhere from 900 to 1,200 worms. A single pound of worms is $36 but 5 pounds of worms can be had for about $100. The company also sells worm castings for $5 per pound, but the bulk of the revenue is in worm sales.
"We put a little water into (the peat moss) so it's not super dry when people order their worms," Corbin said. "These are very nice worms because we fed them quite well last fall. They're in really good shape."
Barry Adams covers regional news for the Wisconsin State Journal. Send him ideas for On Wisconsin at 608-252-6148 or by email at badams@madison.com.
The business news you need
With a weekly newsletter looking back at local history.