A new tenant at StartingBlock will be growing its own business while also helping other startups in the entrepreneurial hub.
Business management consulting firm Lean Focus moved into a 5,000-square-foot suite in StartingBlock, 821 E. Washington Ave., last month and held the office's grand opening Thursday. It's the first office for Lean Focus, which will celebrate its third anniversary in February.
Lean Focus works with companies in fields such as private equity, medical devices and manufacturing. Since its launch, Lean Focus has worked with companies including Honeywell, JB Poindexter, Polaris, Roche, General Electric and more.
The firm specializes in improving three different aspects of companies, which founder and CEO Damon Baker called growth, leadership and lean. Growth involves scaling up a company's product development, marketing and sales; leadership trains managers and supervisors in better ways to lead employees; and lean boosts efficiency and productivity of a company.
"I think of 'lean' as the continuous elimination in waste by engaging your team to improve their work performance," Baker said.
The office at StartingBlock will feature workshop rooms that will allow clients to work with Lean Focus without the commitment of a specialized consulting contract. Companies interested in learning new management or efficiency strategies on a shorter-term basis can attend a workshop at the office along with other companies.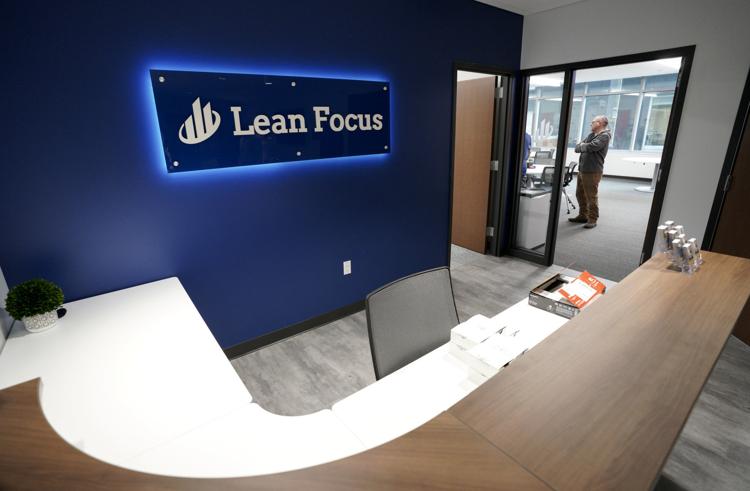 "It's a great entry point for prospective clients," Baker said.
Current clients will also be able to use the space for trainings related to their specific needs, such as employee development.
StartingBlock members will also be able to tap into Lean Focus' resources. Startups that have office or desk space in StartingBlock will be able to attend workshops free of charge.
"It's a value add to being part of the StartingBlock community," StartingBlock executive director Chandra Miller Fienen said.
Other consulting firms may specialize in different aspects of management strategy, but Baker said Lean Focus creates a one-stop shop for improving the whole company. The businesses that hire Lean Focus can tap into the resources and expertise of Baker's team.
You have free articles remaining.
"If they were to start doing this on their own, it could take a decade," Baker said. "We help them accelerate that process."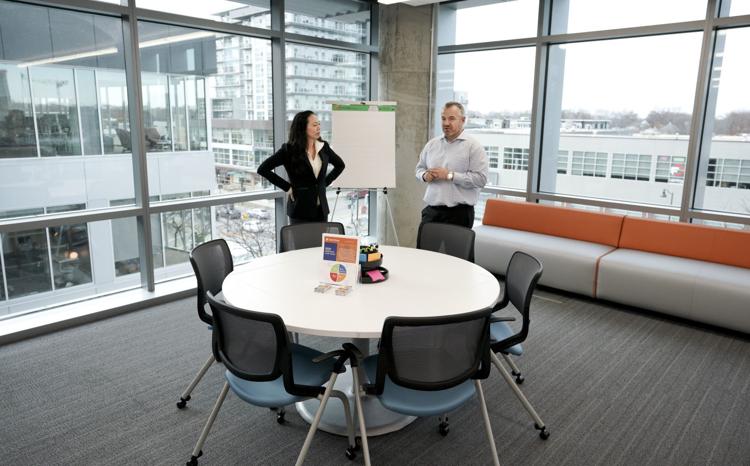 Baker boasts the employment histories of the consultants at Lean Focus. Consultants come with years of experience at Fortune 500 companies, according to Baker. Lean Focus has 22 employees based in different cities around the world.
"These are seasoned practitioners," Baker said.
Only two employees are based on Madison, but Baker said Lean Focus hopes to hire more.
Success for StartingBlock
StartingBlock, a nonprofit, was founded in 2013 to create an entrepreneurial hub in Madison that would foster startups.
Since opening up its space in June 2018, Miller Fienen said there has been steady demand from local companies looking to lease their first space.
"Because the companies grow quickly at the early stage, there's a lot of turnover," Miller Fienen said.
Dozens of companies currently work out of StartingBlock, and each can select a different amount of space to rent — from just a desk to a few thousand square feet. Lean Focus, tech and software firm Hardin Design and Development and eco-friendly transportation platform Zerology are considered the anchor tenants.
Miller Fienen said the organization also works to tailor space and support for each company that becomes part of StartingBlock's community. Other benefits from StartingBlock include networking opportunities that arise from sharing space and a wide array of informational events.
Several small-business support organizations and companies also keep offices in StartingBlock, including business accelerator gener8tor, incubator for military veteran entrepreneurs Bunker Labs and female entrepreneur mentoring organization Doyenne Group.
Fave 5: Business reporter Shelley K. Mesch shares top stories from 2019
The business news you need
With a weekly newsletter looking back at local history.