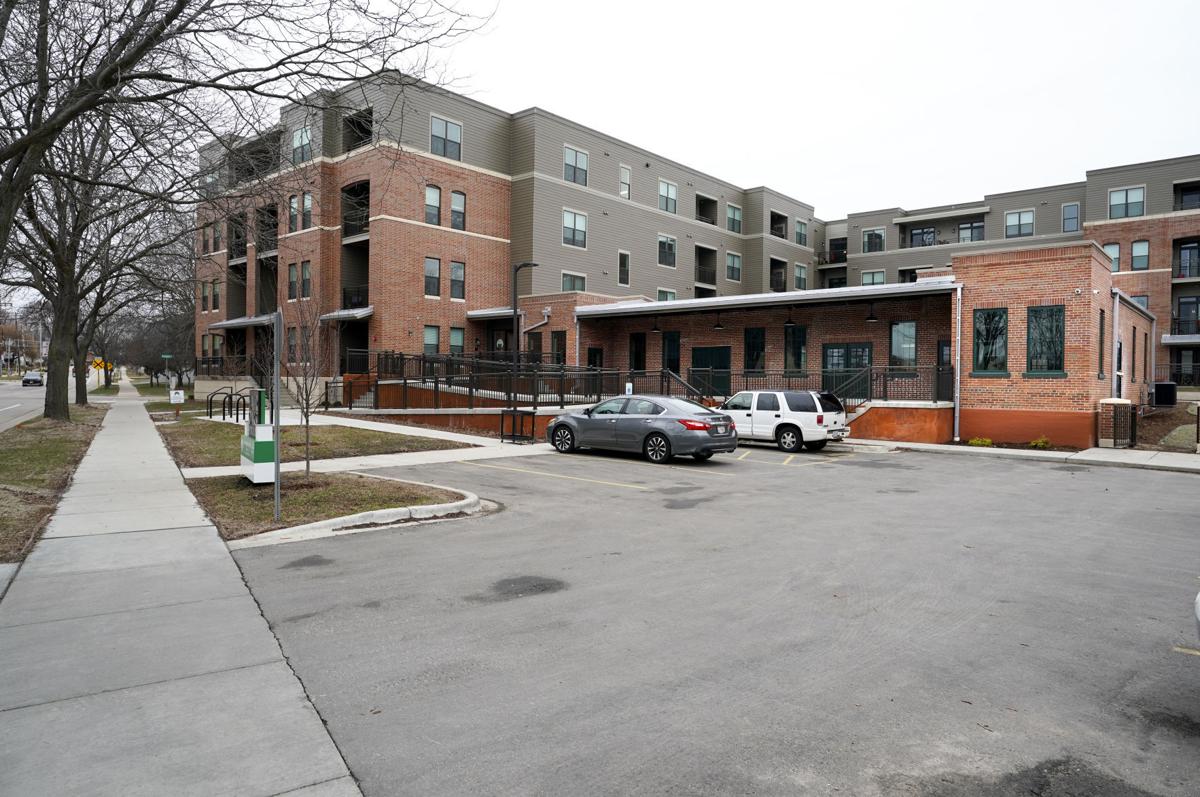 Following the lead of Room of One's Own bookstore, Community Pharmacy has plans to move from Downtown to the East Side.
The property for the pharmacy and the bookstore near the corner of West Gorham and State streets is being eyed for a major redevelopment project and now both longtime businesses will be on the move later this year.
The bookstore, a Downtown staple since 1975, announced last month that it was moving into a historic building at 2717 Atwood Ave. And now the pharmacy has unveiled plans to move to 134 S. Fair Oaks Ave.
The 2,200-square-foot commercial space is adjacent to the recently constructed Fair Oaks Apartments and will be housed in a restored brick building that had been home to a landscaping company. Unlike the Downtown, it will have parking for cars. The property also has an ADA accessible ramp, bike parking and is just yards away from a bike trail.
Issy Bilek, who has worked at the pharmacy for the past year and is among those spearheading the move, said a number of locations were considered. But with many of their customers on the Near East and East sides of the city, the move made sense for customers and for the business. The rent on the space, which is about 1,700 square feet smaller than the Downtown location, will be about 60% less.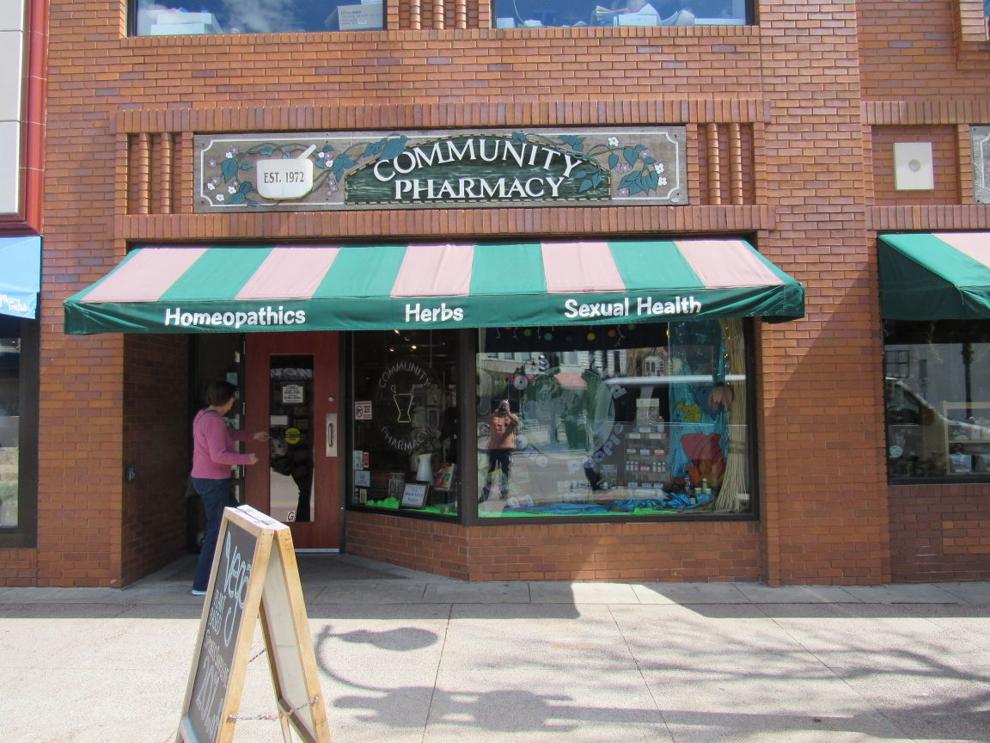 "That space, in particular, immediately caught our eye. Everyone on staff that toured it was like, 'this space really stands out,'" Bilek said. "It's just such an old beautiful building with the exposed brick and everything and we knew immediately it fit the look that we wanted to go for."
The pharmacy also has a Middleton location to serve its customers to the west. The East Side location also includes a spot outdoors for the pharmacy to grow its own herbs and other plants like lavender, lemon balm, mint, Hawthorne and Tulsi.
"These herbs would be grown and maintained by their staff and sold exclusively to Community Pharmacy's clientele," Ross Treichel of Sketchworks Architecture wrote in a letter of intent to the city. "The garden is also meant to be a learning experience with customers."
Plans were presented to city planning and zoning staff on March 12 for initial feedback on the project and staff response was "supportive and unwavering," Treichel wrote. If a conditional use permit is approved by the city, the $200,000 build out could begin in June and be ready for occupancy by the end of July.
The layout includes a 1,105-square-foot sales floor, herb counter, and, in the rear of the store, the pharmacy counter and offices. The business would be located near Garver Feed Mill and just a block from Starkweather Creek. The Atwood Avenue business district is just a few blocks to the southwest.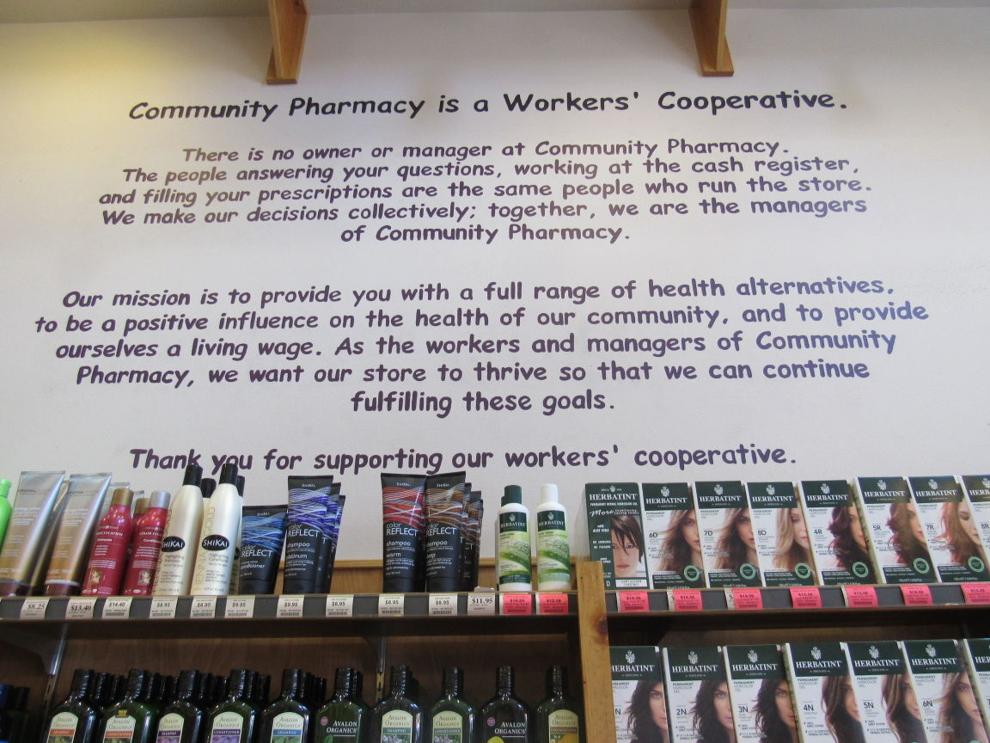 The buildings in which Community Pharmacy and Room of One's Own are located are slated to be removed to make way for a more than $100 million, 10-story building with 481 housing units, retail space and parking for the property on which the bookstore now resides. The project has not yet received city approvals.
49 years
Community Pharmacy was founded in 1972 at 666 State St. as Wisconsin Student Association Pharmacy and switched to a workers collective model in 1974. The business moved to its current location in 1984 and became a worker cooperative in 1995.
The 3,942-square-foot pharmacy, with an address of 341 State St. but which fronts West Gorham Street, has struggled in recent years. Customer counts have continued to drop and declining reimbursements from insurance companies are failing to cover costs. A lack of parking, an aging customer base, a shift to online shopping and the departure of other longtime retailers from the State Street area have also added to the pharmacy's woes.
In 2016, employees began handing out purple pamphlets to customers asking them to buy more products. The effort appeared to work for about a month before sales continued to drop.
The move of the book store and the pharmacy are blows for the State Street area, which has been hammered by the pandemic and violent protests that left some businesses looted, many with broken windows and, in the aftermath, plywood covering windows and doors for months.
"While we will miss Downtown dearly, we are looking forward to being in the new space," the pharmacy wrote on its Facebook page. "There will be parking, garden space, and we'll be right near the bike path. Our Downtown location will be fully open until we move, so don't worry about switching prescriptions or having access to your much needed supplements, those will continually be available throughout our whole moving process."
A rarity
Community Pharmacy is believed to be the only, or one of the very few, pharmacies in the country that's a worker-owned co-op — a cooperative model in which the business is owned and controlled by employees, rather than customers.
According to the Center for Cooperatives, worker members directly benefit from the business' success with profit distribution based on some combination of job position, hours worked, seniority and salary. Examples locally include Isthmus Engineering & Manufacturing and Union Cab.
Bilek said the pandemic has resulted in the loss of business in some categories as there are fewer people out shopping. But there have been upticks in other segments like immunity and comprehensive health sections.
"It was definitely a hard decision (to move from the Downtown), but part of that is that State Street is much more expensive that when we first moved here," Bilek said. "It just costs a lot more to rent spaces here."
Community Pharmacy is believed to be the only, or one of the very few, pharmacies in the country that's a worker-owned co-op.