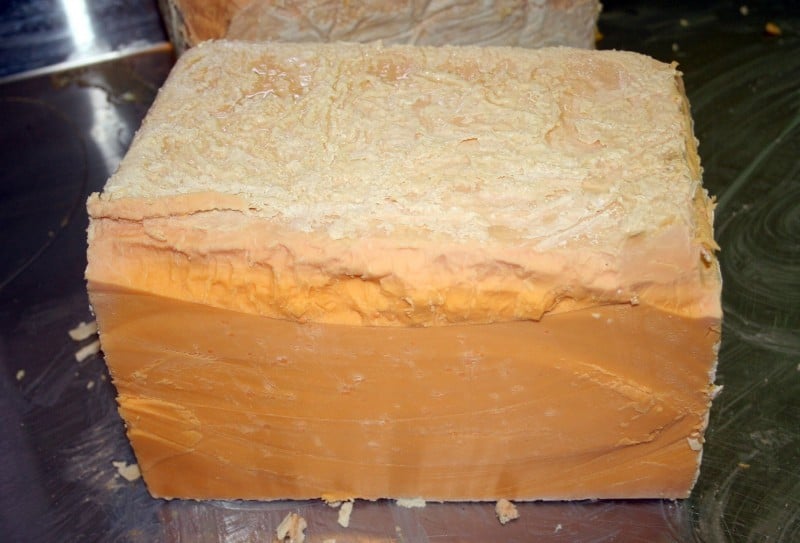 When Edward Zahn decided in May to close his cheese shop in Oconto, he made a discovery that is going to drive cheese lovers more bonkers than the 15-year-old cheddar released by Hook's Cheese in Mineral Point in 2009.
In the back of his walk-in cooler, Zahn, 73, found several wooden boxes of cheddar cheese from the now-closed County Line Cheese in Oconto that over the years had repeatedly been buried by incoming cheese products.
The result is 40-year-old cheddar that makes up part of what is likely the oldest collection of cheese ever assembled and sold to the public, according to experts.
"It just got overlooked," Zahn said. "It looks just like the others except it's just a lot sharper. It's got character."
The others? Those would be the boxes of 34-year-old and 28-year-old cheddar.
The cheese, some of it made when Richard Nixon was president and the Watergate break-in happened, will go on sale Oct. 6 and be featured in what is billed as the "Ultimate Cheddar Flight," a cheese tasting event at Wisconsin Cheese Mart on Old World Third Street in downtown Milwaukee. The tasting will begin with 1-year-old cheddar and culminate with cheese made in 1972, two years after the death of Vince Lombardi and two years before an 18-year-old Robin Yount joined the Milwaukee Brewers.
Ken McNulty, president of Wisconsin Cheese Mart, said he has about 20 pounds of the 40-year cheddar and 120 pounds of 34-year cheddar, though the 34-year cheddar will be saved for a later date. The 40-year cheddar will not be sold online but only in the store, and not by the pound. Instead it will go for $10 per ounce so more people can try the unique cheese.
"It's the sharpest cheese I've ever tasted," McNulty said. "Although what you'd expect is that it would be really dry but it's actually very creamy."
On a typical cheese that is aged for years, a half-inch of cheese can crystallize on the outside of the block. But because of the extreme age of the cheese from Zahn, each slab had almost an inch of inedible crystallized cheese.
"It looks like it went through a nuclear accident. It's just unbelievably grotesque," McNulty said. "But once you get through the exterior, it's OK."
The 28-year-old cheddar will go for $96 a pound compared to the $60 a pound McNulty sold Hook's 15-year cheddar for in 2009.
Mark Johnson, who has taught cheesemaking for 32 years at the Wisconsin Center for Dairy Research in Madison, said he tasted an experimental 2-pound batch of 37-year-old cheddar at Washington State University in 2010 and said it had the consistency of Parmesan cheese but was "great." He believes the cheese from Zahn is the oldest ever sold and, because of the fermentation process involved, said there should be no safety concerns for those who try the rarity.
"It's a way of preserving food," Johnson said. "If there was a pathogen or a bad bug, they tend to die out."
Jeanne Carpenter, executive director of Wisconsin Cheese Originals, an organization that promotes artisanal cheese, said Hook's cheddar is aged by design and is carefully monitored. The company is scheduled to release a 20-year cheddar next year.
"We know (Hook's) cheese is going to be absolutely stellar," Carpenter said. "This other (Zahn's cheese) just happened to get lost in a cooler. So no one has really been taking care of it. So it will be very interesting to see what it's like and the quality of it."
Zahn began making cheese in 1958 while a senior at Peshtigo High School. He worked at County Line until 1989 when a back injury forced him to quit cheesemaking. That's when he opened Z's Cheese Shoppe and acquired much of the cheese that had been made at County Line. Health problems forced Zahn to close his shop last month in Oconto, located about 35 miles north of Green Bay.
Zahn started with about 85 pounds of the then-39-year cheddar and in May began selling it under the radar to locals for less than $50 a pound.
But when Zahn's son sent an email to McNulty telling him of the historic cache of cheese, McNulty agreed to buy it all, sight unseen. The purchase also included cheese made at Springside Cheese Corp. north of Oconto Falls in 1989, 1990 and 1992 and also stored in Zahn's 19-foot by 28-foot cooler.