Even if a controversial power line across southwest Wisconsin is never built, Midwestern utility customers could be stuck with some of the costs.
Federal regulators have approved what's known as "abandoned plant" incentives for American Transmission Co., ITC Midwest and Dairyland Power Cooperative, which are jointly proposing to build a $500 million transmission line between Dubuque, Iowa, and Madison.
That means if plans for the line are canceled for reasons beyond their control — such as rejection by state regulators or any of several federal agencies — the owners would be allowed to recover all "prudently incurred costs" through the rates they charge utilities to move power across their lines.
The abandoned-plant incentive is frequently granted by the Federal Energy Regulatory Commission, or FERC, but comes into play only when a project is canceled, said Rich Heidorn Jr., editor of RTO Insider, a trade publication that covers the nation's electricity markets.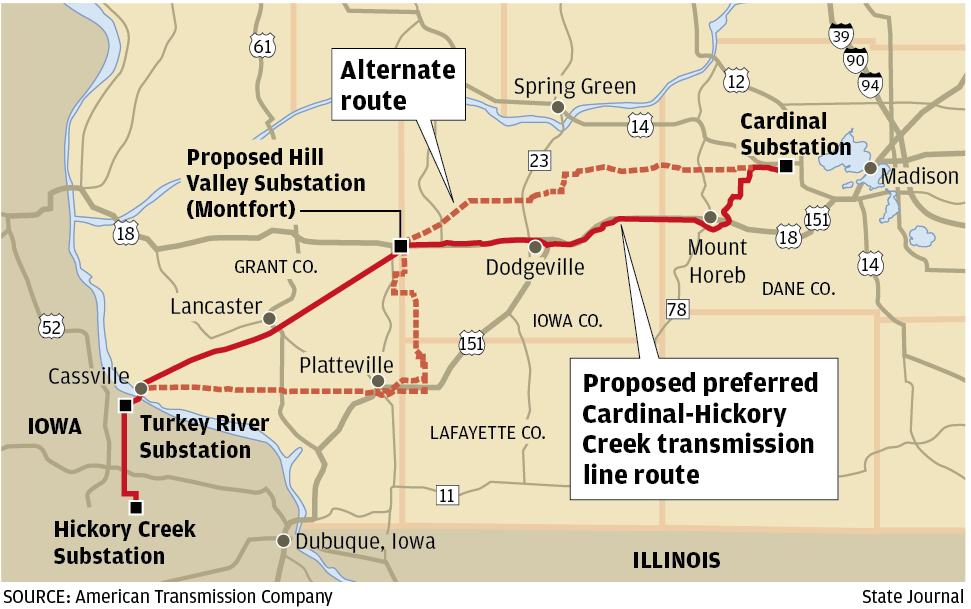 The proposed power line, known as Cardinal-Hickory Creek, needs approval from utility regulators in Iowa and Wisconsin. The Wisconsin Public Service Commission has until April 2 to determine if the project is needed and in the best interest of the state's electricity customers.
The project will also require federal permits and easements to cross the Upper Mississippi River National Wildlife and Fish Refuge.
ATC, ITC and Dairyland argued the project could be shut down or delayed if they are unable to secure the permits and say that acquiring easements from landowners "may be contentious" and could result in delays or increased costs.
FERC agreed, saying "the abandoned-plant incentive is an effective means of encouraging transmission development" by reducing the risks involved.
If the project were canceled, it would be up to FERC to determine what costs could be passed on to customers.
In 2012, the developers of a proposed transmission line between West Virginia and Maryland sought to recover $121.5 million the company had spent before grid operators decided the $2.1 billion project was no longer needed.
FERC later told the utilities they were ineligible for at least $7 million of the $121.5 million requested, including $6.2 million in advocacy, advertising and lobbying expenses.
The project owners and some clean energy groups say the line will help deliver low-cost wind energy and save Wisconsin ratepayers between $23.5 million and $350 million over the next 40 years.
If built, the costs would be split between ratepayers in 15 states. Wisconsin's share would be about $72 million.
Since 2010, the Wisconsin PSC has approved 41 transmission projects with a combined price tag of $2.2 billion. Four lines — including the recently-completed Badger Coulee between La Crosse and Madison — account for more than half those costs.
ATC did not seek abandoned-plant incentives for the Badger Coulee line.
ATC spokeswoman Kaya Freiman noted Cardinal-Hickory Creek requires approval from two states and the federal government, while Badger Coulee was entirely in Wisconsin and didn't cross the Mississippi River.
"This request is not unusual for large, complex projects," she said. "We continue to see significant electric reliability, economic and public policy benefits for the customers, communities and states we serve, and we are working to secure the needed approvals to ensure that the project is built."