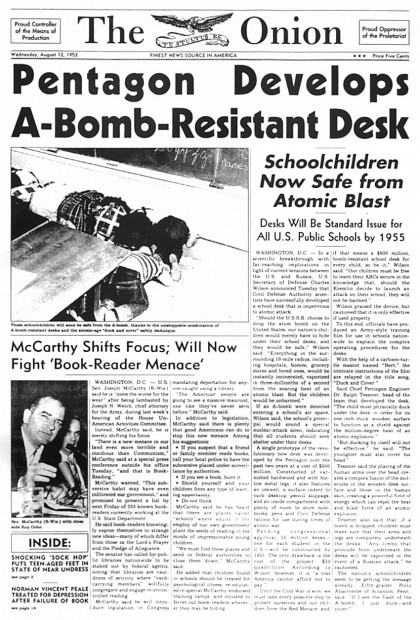 Capital Newspapers announced this week it is ending its contract with The Onion. The company had sold advertising for, printed and distributed the satirical weekly newspaper founded by two UW-Madison students in 1988.
Capital Newspapers, which publishes the Wisconsin State Journal and The Capital Times, entered the agreement involving the printed version of The Onion in the fall of 2010. At that time, Steve Hannah, CEO of The Onion, said similar partnerships were being established around the country.
"Our contract allowed us to end the agreement," said Todd Sears, general manager for Capital Newspapers. "We love The Onion, but the advertiser support was just not there. We tried several things to make it work, but it just didn't make financial sense to continue."
Capital Newspapers contracted with The Onion for its content, then sold the ads in the print edition, along with printing and distributing about 30,000 copies in the local
You have free articles remaining.
The July 25 edition will be the last print edition under the Capital Newspapers contract.
Mike McAvoy, president of Onion Inc., said Friday he was unsure if The Onion would continue to appear in print form in the Madison market.
"If we found another partner, great," he said. "But we're really focused on our digital stuff and creating great content for the
10 million people who read us online every month."