Brett Favre was starting to mold, Jerry Kramer was soaked and Lynn Dickey was worthless.
But it wasn't just former Green Bay Packers. Some of the biggest names in Milwaukee Brewers baseball history were also trashed along with thousands of other cards and memorabilia that once had value but are now headed to a landfill.
The torrential rains of last month didn't discriminate between homes, businesses, vehicles and prized possessions. And at Westgate Mall on Madison's West Side, the Baseball Card Shoppe along Whitney Way took a direct hit. Nearly four feet of water filled the 1,200-square-foot store that has been one of the few staples of the shopping center since the early 1980s. But the store's future is in doubt and a sizable chunk of retirement is gone for Tom and Anita Daniels.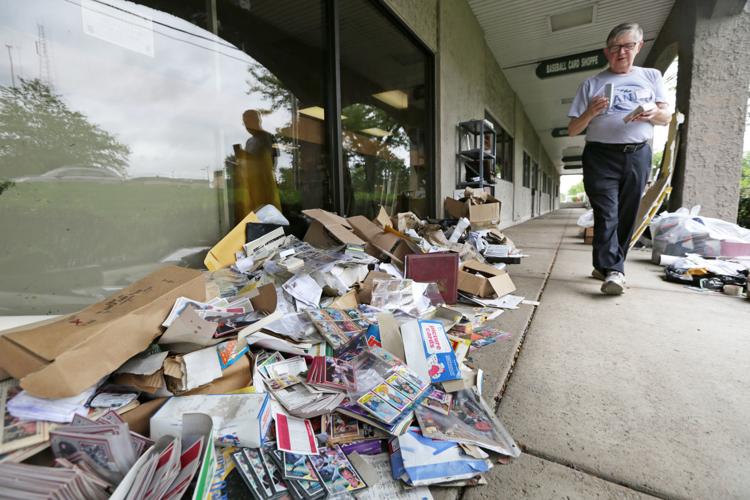 Their business had been insured against floods for 35 years but last year the Daniels' insurance company, Travelers, stopped offering flood protection to card stores.
Damage to the Baseball Card Shoppe is estimated at over $300,000.
Most of that is in the form of soaked Major League Baseball, NFL and NBA trading cards along with autographed photos. They became submerged when on the night of Aug. 20 stormwater filled the nearby street, poured down an embankment, broke through the window of a neighboring veterinary clinic and busted through a wall of the card shop.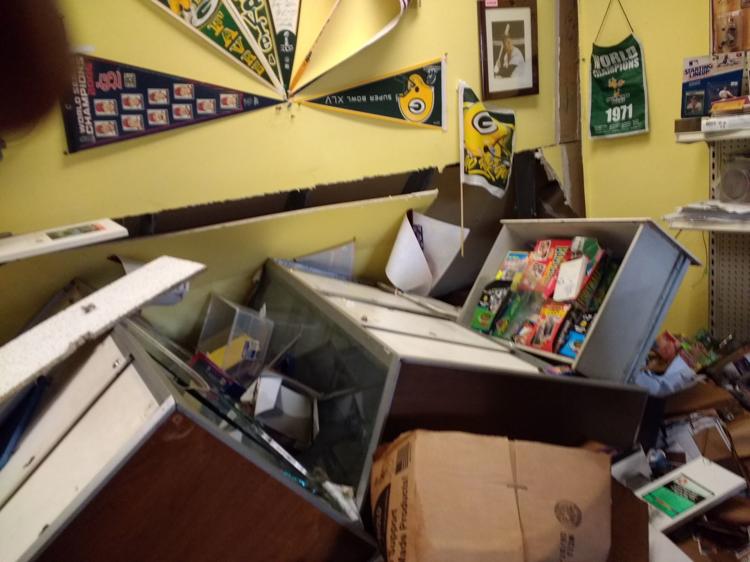 "Everything was paid for so at least we don't have a ton of bills," said Tom Daniels, who turned 72 on Wednesday. "It would have been nice to sell it but the good thing is that no one was in here. Had you been in here your legs would have been smashed or you would have been killed."
The rushing water came in about three hours after closing, toppled 300-pound display cases and shoved others into different locations within the store. Albums stuffed with football cards from the 1950s became soaked along with dozens of boxes of baseball cards that had never been opened. Also water-logged were pennants, posters and special sections of the Chicago Sun-Times that came out when the Chicago Bulls won their 70th game of the 1995-96 season. Nearby a sleeve of four baseball cards waited in a trash pile outside. They were of Brewers Ben Oglivie, Ed Romero, Jim Slaton and Gorman Thomas. A lone Rollie Fingers card, wrinkled and damp, lay nearby.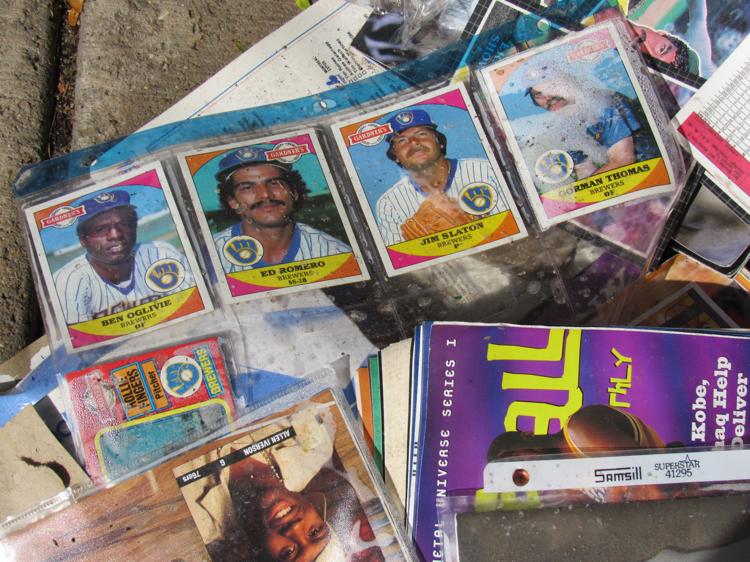 You have free articles remaining.
Register for more free articles
Stay logged in to skip the surveys
Daniels estimates that he will be able to salvage about $40,000 to $50,000 worth of inventory but he also has 900 cases of cards and memorabilia in a 2,400-square-foot warehouse in Richland Center. However, much of it is of lower value than what he had in his shop.
The store's computer was submerged and over 200 garbage bags of debris and inventory were removed from the shop with the help of family, friends and customers. On Wednesday, Anita Daniels, 70, sat a table in the shop and, while wearing rubber gloves, carefully peeled apart paper registration forms in an attempt to recover lost e-mail addresses from customers. She recorded the information by pen in a spiral notebook.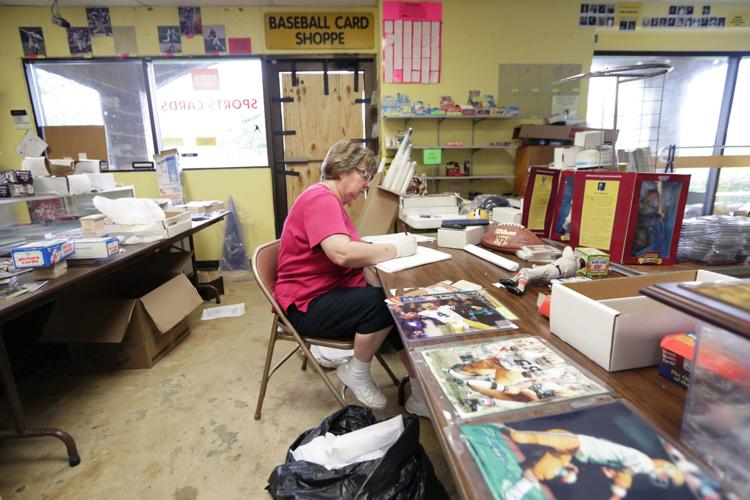 "You just have to go with the flow, but I worry about him," Anita said, pointing at her husband.
The Daniels were high school sweethearts in Rib Lake, a village in Taylor County about 200 miles north of Madison. After college, Tom took a job as a high school business teacher and assistant baseball coach in the Weston School District in the rural Sauk County community of Cazenovia. The Daniels began selling and trading cards via mail order in 1973 and opened their shop in 1982 at Westgate. At first it was only open on weekends and located in an H&R Block office. But in December of 1983, the Daniels moved to a larger location a few doors down.
At one time, the Madison area was home to nearly 30 card shops but today only a few remain, including Jim's Card Corner on University Avenue. Tom Daniels said he will likely have a flood sale but he's not sure yet when or where it will be held. A GoFundMe page has also been established by Jon Arias, a customer of the shop who is the play-by-play radio voice of the Wisconsin Badgers women's basketball and volleyball teams. He saw the damage first-hand on Monday and had just gotten back into card collecting this summer.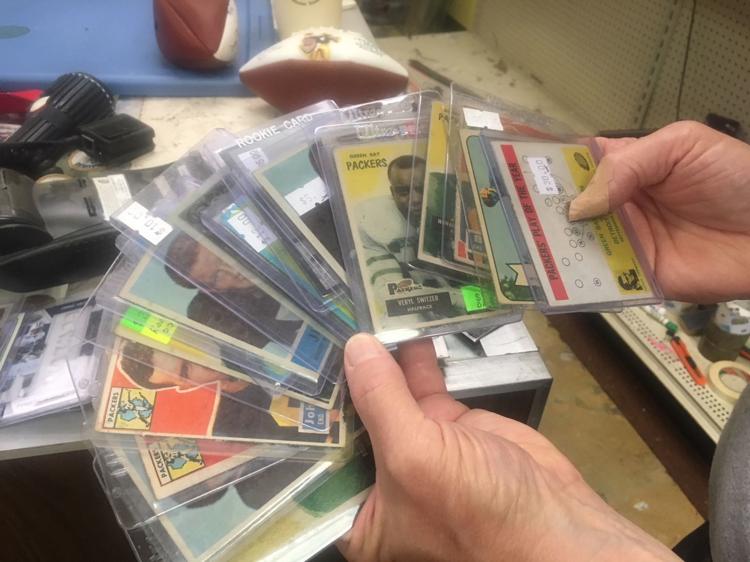 "I was crushed," said Arias, 38, when asked to describe the damage. "I thought it was a really fun spot. It was like going back in a time machine. There was a lot of stuff in there but once it got exposed to the water it was instantly done."
The disaster for the Daniels came when they were in Reno, Nevada, where Tom was taking part in the Reno Senior Games. He placed first in his age group in the 50-yard dash, took second place in the 100-yard dash and took first in the softball throw with a toss of 91 feet. They had departed Madison Aug. 16 and after learning about the flood couldn't get a flight home until Aug. 22.
This week, the couple is also celebrating their 50th wedding anniversary. It's unclear if retirement will be added to the event.
"I don't know what we're going to do," said Tom Daniels. "Baseball sales were fantastic this year. Prices were high on all the baseball products so we did really good this year."