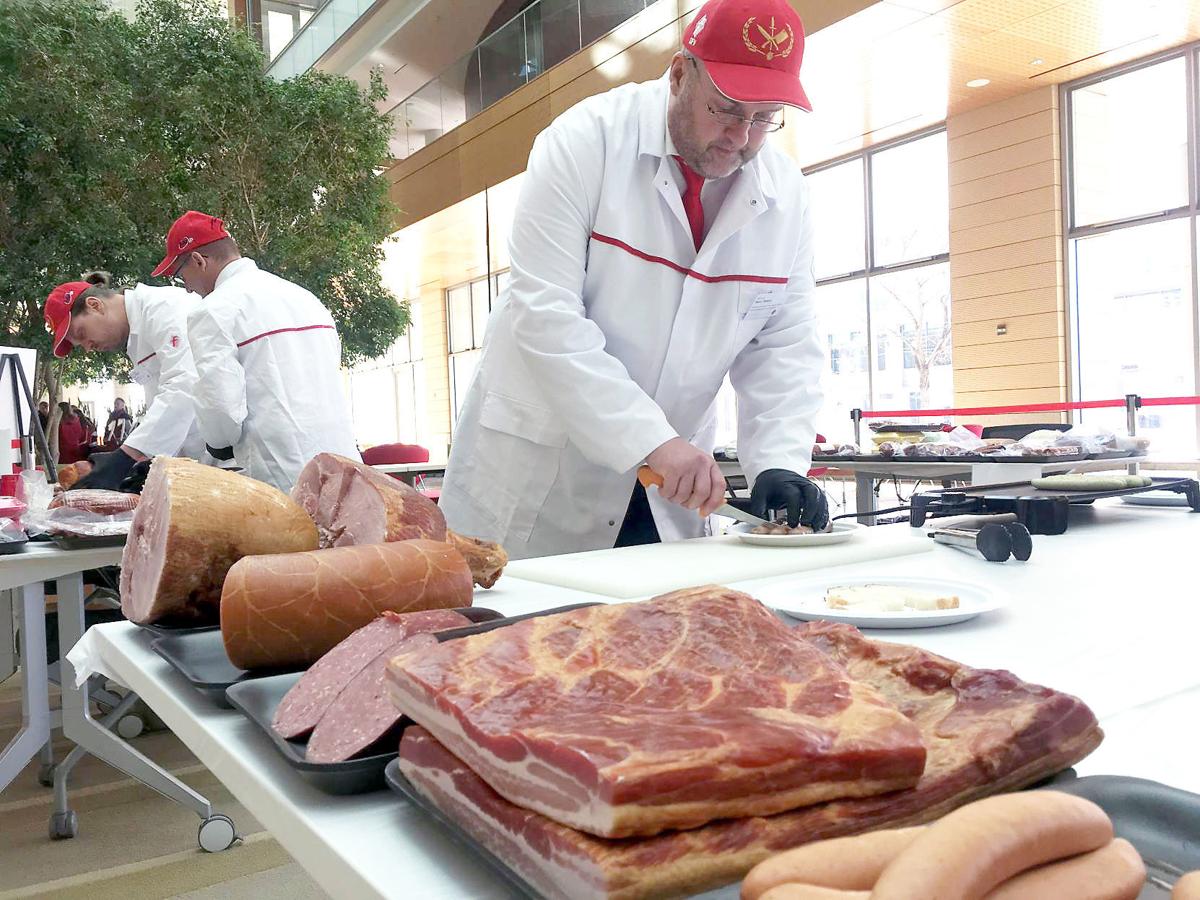 There are white jackets and red hats, an international feel and lots of smelling and tasting.
And while some of the stars of this week's international competition at UW-Madison hail from Wisconsin, there is not a cheddar, Gouda or mozzarella to be found.
Instead there is veal bologna, smoked Italian sausage, ham, bratwursts, rings of kielbasa and scores of other cured meats.
And bacon. Lots of glorious bacon.
For just the second time in the long history of the German Butchers Association, a team of judges has ventured outside of Germany to critique and score meat. The four days of judging in the atrium of the Wisconsin Institutes for Discovery includes more than 460 entries from 42 butcher shops and meat plants from around the United States and Canada, and serves as a satellite contest for the GBA's international competition held every three years in May in Frankfurt, Germany.
The Madison event, which is free and open to the public, and includes plenty of samples, is designed to increase North American entries in the competition without the difficulties of trying to ship meat products to the European Union.
"They either get lost in customs or get rejected," said Chris Young, executive director of the American Association of Meat Processors. "It's a great opportunity for our members because it allows them to compete on an international level without ever leaving the country."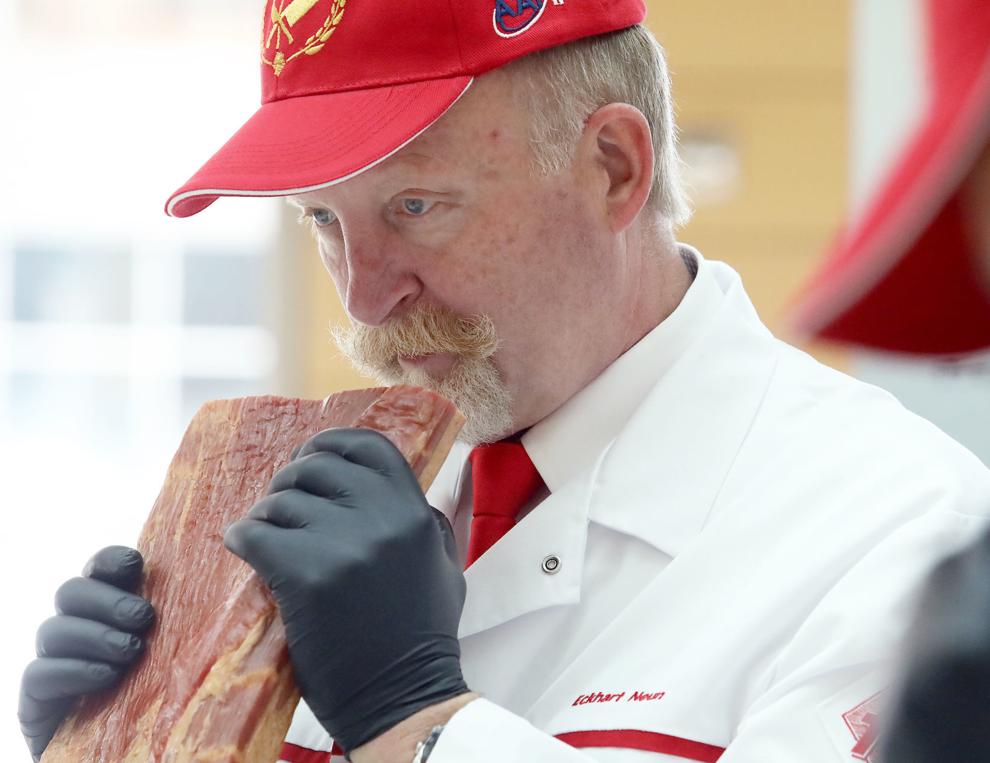 A growing industry
GBA's competition in Frankfurt draws about 2,500 entries from around the world, including the entries judged in Madison by the German judges. Like the World Championship Cheese Contest, held every two years at Monona Terrace, the meat contest also provides a glimpse into the growing industry of local meat production. Wisconsin, for example, thanks to settlers from Germany, Lithuania, Switzerland and Poland, is home to a wide array of butcher shops, meat plants and sausage factories.
They include national players such as Jack Links in Minong, Johnsonville Sausage in Sheboygan County, Usinger Sausage in Milwaukee and Nueske's in Wittenberg. There are family-owned butcher shops such as Lodi Sausage Co., Eden Meat Market, Wyttenbach's in Prairie du Sac and Knoche's in Madison. Specialty butchers, such as Conscious Carnivore in Shorewood Hills and Underground Meats in Madison, are also making a push.
In addition, UW-Madison is building a nearly $50 million Meat Science and Muscle Biology Laboratory scheduled to be completed this fall. It will include a meat-slaughtering-to-packaging facility, lecture and demonstration space, research labs and a retail store that will be open six days a week.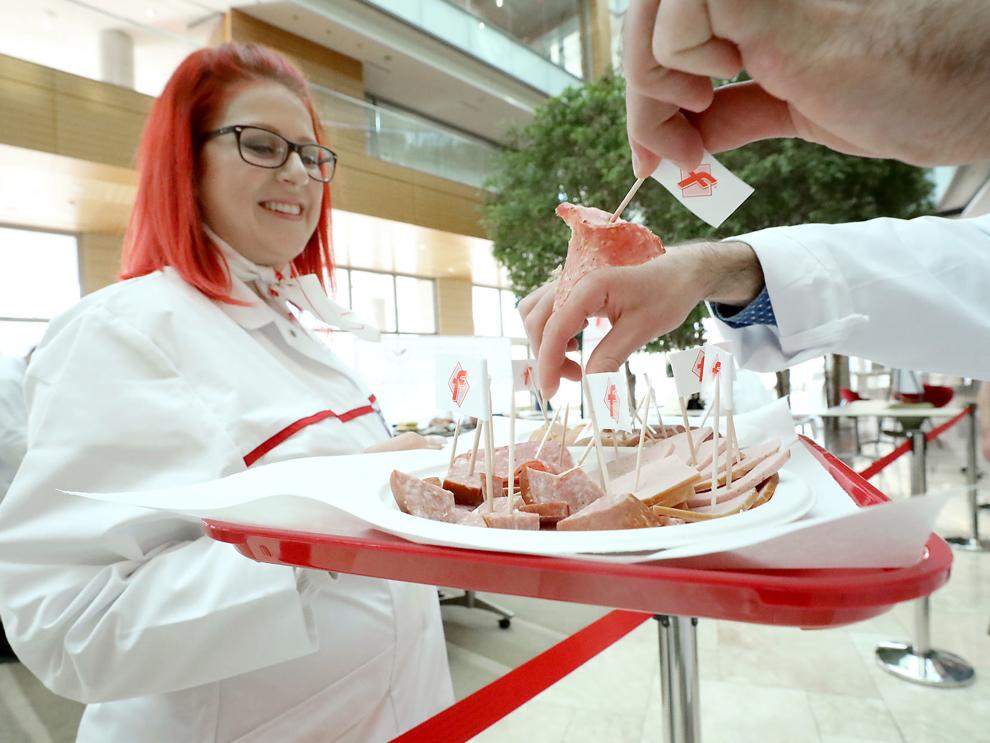 "There are just so many new plants or additions to plants. It's really remarkable," said Jeff Sindelar, a UW-Madison associate professor and UW Extension meat specialist in the Department of Animal Sciences. "Wisconsin is so unique because we have this history. People know how to make good products."
Going for the gold
The GBA contest is divided into three categories: sausage; bacon and ham; and other, which includes items such as beef jerky, something not widely produced in Germany but a multibillion-dollar industry in the United States. Instead of meats going head to head, the GBA judges don't compare the entries to one another and can award multiple gold medals in a single division. In 2016, for example, 200 of the 320 entries were awarded gold medals.
On Monday, judges used steel to sharpen butcher knives, sliced sausages by hand and in some cases used a deli-grade meat slicer. Some meats were also heated on a griddle or in a microwave to help the judges better understand the flavor profiles.
"They do very well," Gero Jentzsch, a spokesman for the GBA, said when asked about how products from the United States compare to those in Europe. "As I've learned, lots of the AAMP members have their roots in Europe and they came over here and continued to be craft butchers and so they have lots of traditional recipes."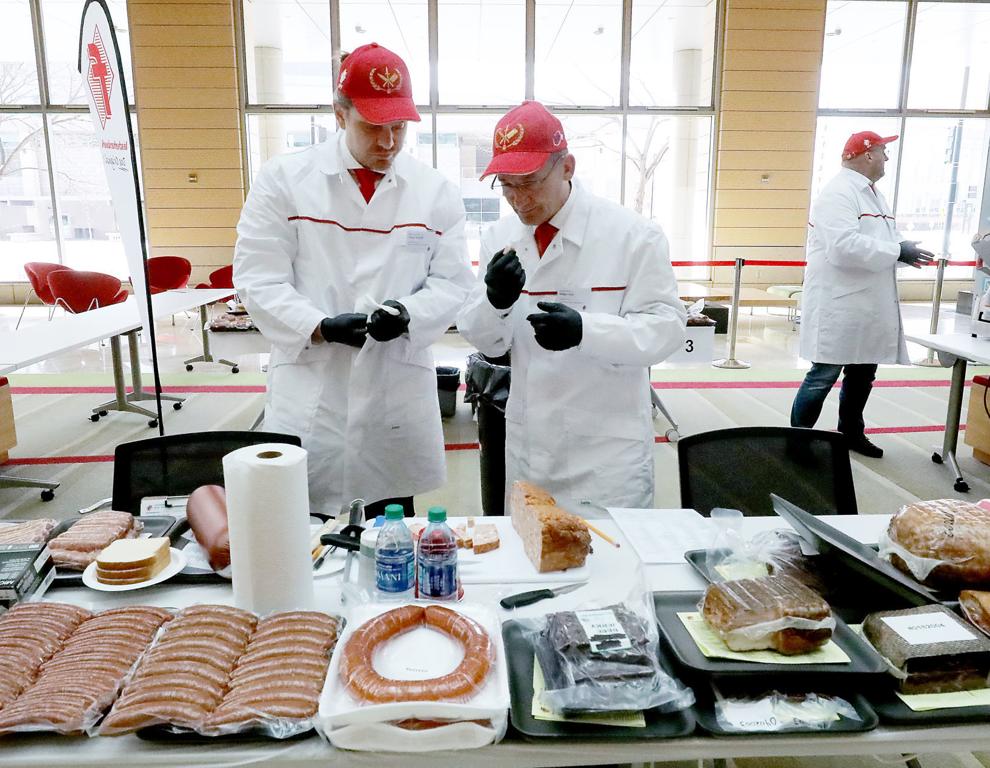 Tourist time-out
On Wednesday, the German entourage will get a taste of Wisconsin and give their taste buds a partial break, although meat will be central. The day will include breakfast at Mickies Dairy Bar and a tour of LeRoy Meats in Horicon and the company's new facility in Fox Lake. There will be a stop at a Culver's followed by a tour of Haen Meat Packing in Kaukauna, a business founded in 1959 that has expanded several times to keep up with demand.
This week's contest is open to AAMP's 1,300 members, but when UW-Madison hosted the GBA's first satellite contest in 2016, there were only 320 entries. Sindelar believes the GBA contest could one day easily attract more than 1,000 entries from North America, given that the Wisconsin Association of Meat Producers competition in April will likely draw over 900 entries just from the state of Wisconsin.
By comparison, the World Championship Cheese Contest, which is dominated by Wisconsin cheesemakers, had just 212 entries in 1980. It grew to 1,033 entries by 2000 and in 2018 drew a record 3,402 entries from around the world.
However, only 13 meat plants in the state have entered this year's GBA contest.
"This should be bigger than it is," Sindelar said. "But it takes time for these competitions to develop and grow."