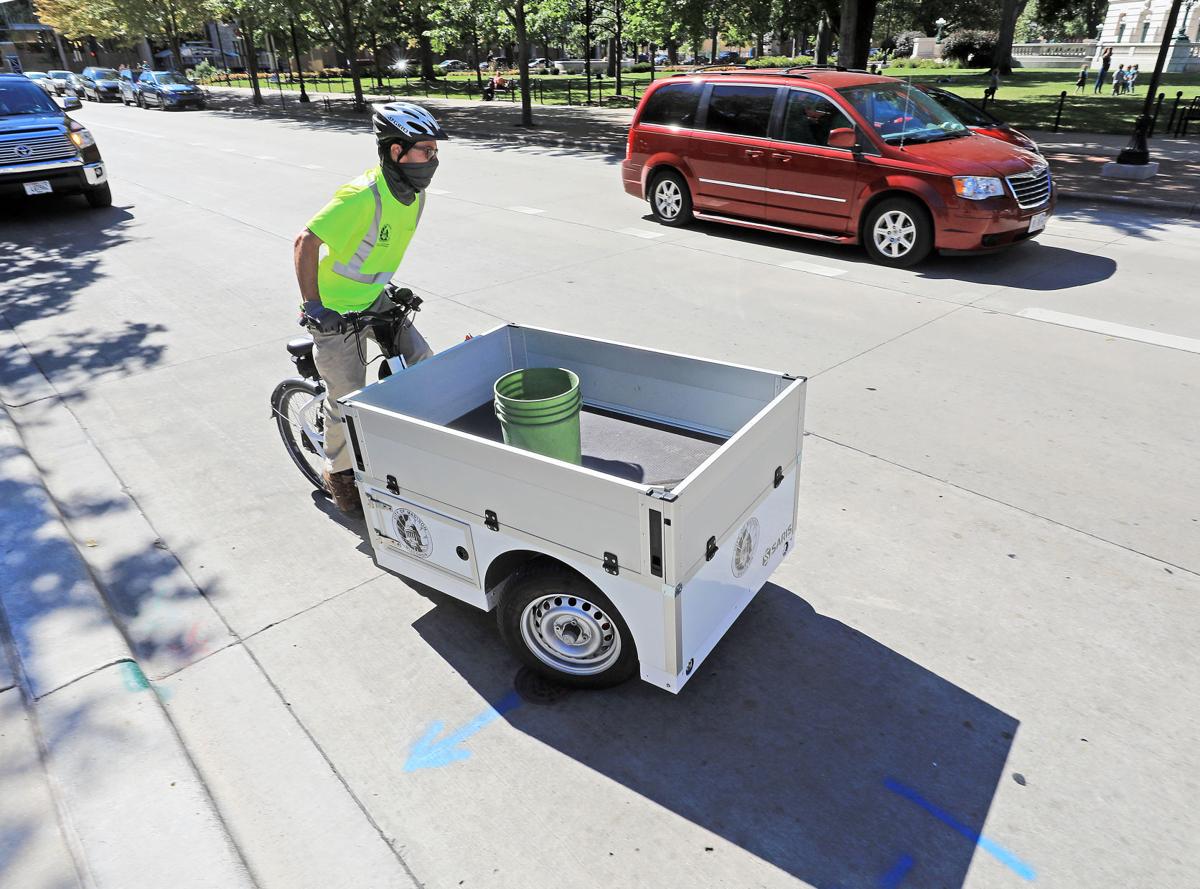 As Madison's greenway vegetation coordinator, Maddie Dumas is responsible for groundskeeping at some 2,000 acres of public land throughout the city.
For a couple of weeks this summer, she traded her Chevrolet Colorado pickup truck for something less typical in her line of work: a bike.
Dumas was among a handful of city workers to test an electric-assist cargo bike developed by local accessory maker Saris for government work.
Technically a trike, with one big wheel in back and two smaller ones under the front cargo bin, it can carry up to 660 pounds — not including the rider. A 1,000-watt Bosch motor powered by twin batteries does most of the work, but only when someone is turning the pedals.
Smaller and more nimble than a truck, the bike is also cheaper to operate and maintain and can go places other vehicles can't. It has no tailpipe emissions, uses far less energy, and it provides users a little exercise.
Mike Basarich, director of Saris Infrastructure, believes it could complement the traditional fleet of government vehicles, especially in cities that are trying to promote sustainability and active transportation.
With bags of weeds and piles of brush in the cargo bin, Dumas said she could pedal up hills with no more effort than riding her own road bike.
"I was able to load that baby down," she said.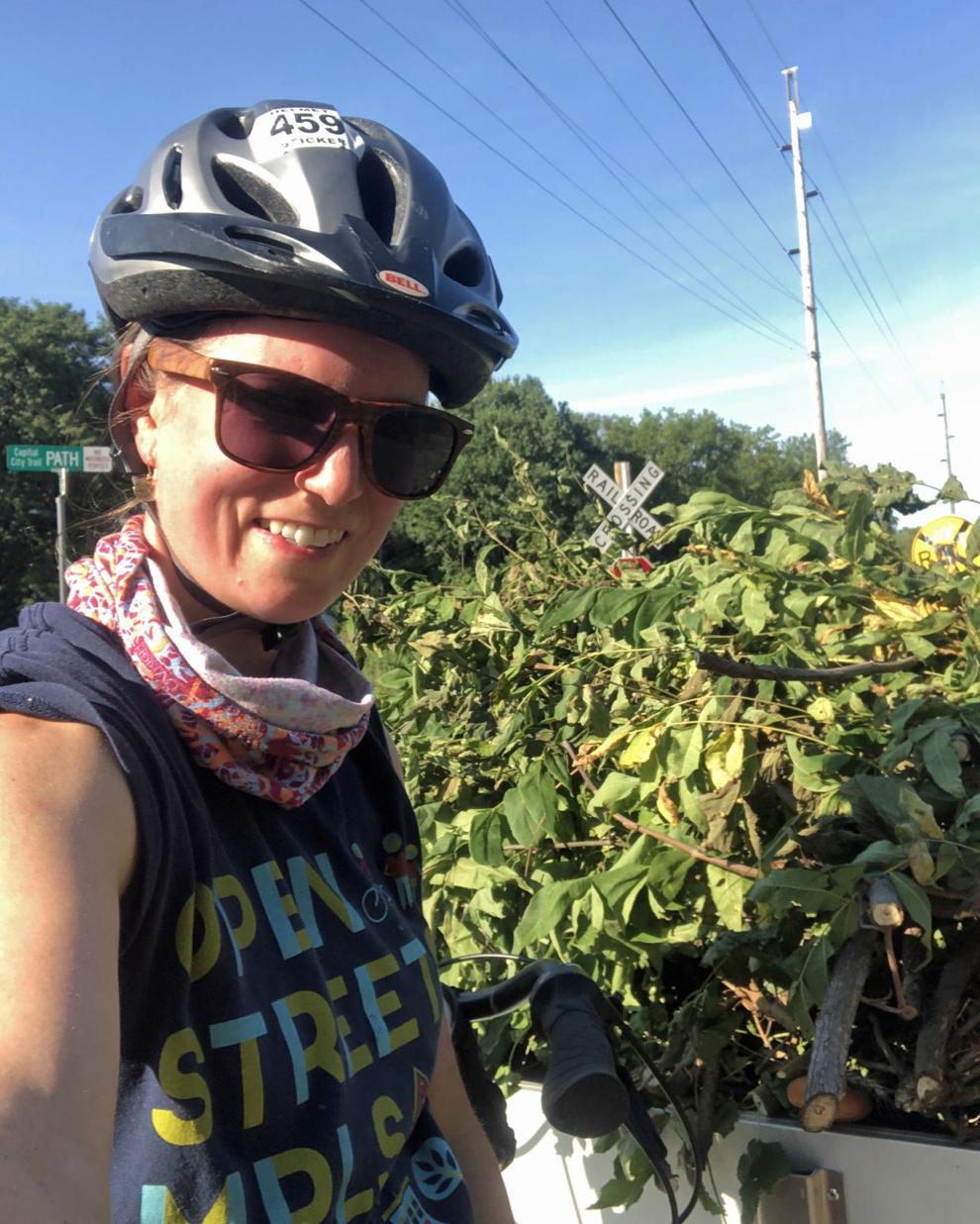 While not practical for sites on the outskirts of town, Dumas said the bike was ideally suited for shorter trips and doing maintenance along the city's many bike paths.
"You always feel like a bit of a jerk driving a big vehicle on the path," she said.
The bike itself is made by Urban Arrow, a Dutch cargo bike manufacturer.
Designers with Saris' infrastructure division — whose other products include bike lane dividers and ramps — worked to come up with different cargo configurations that can be fabricated at the company's Verona Road factory.
It will be the first actual bike in the Saris product line.
"It's a pretty easy fit," Basarich said. "Saris Infrastructure is all about making communities more bicycle friendly."
Madison is the first city to test the bike. Saris plans to deliver a second to Portland this fall and hopes to begin mass production by early next year.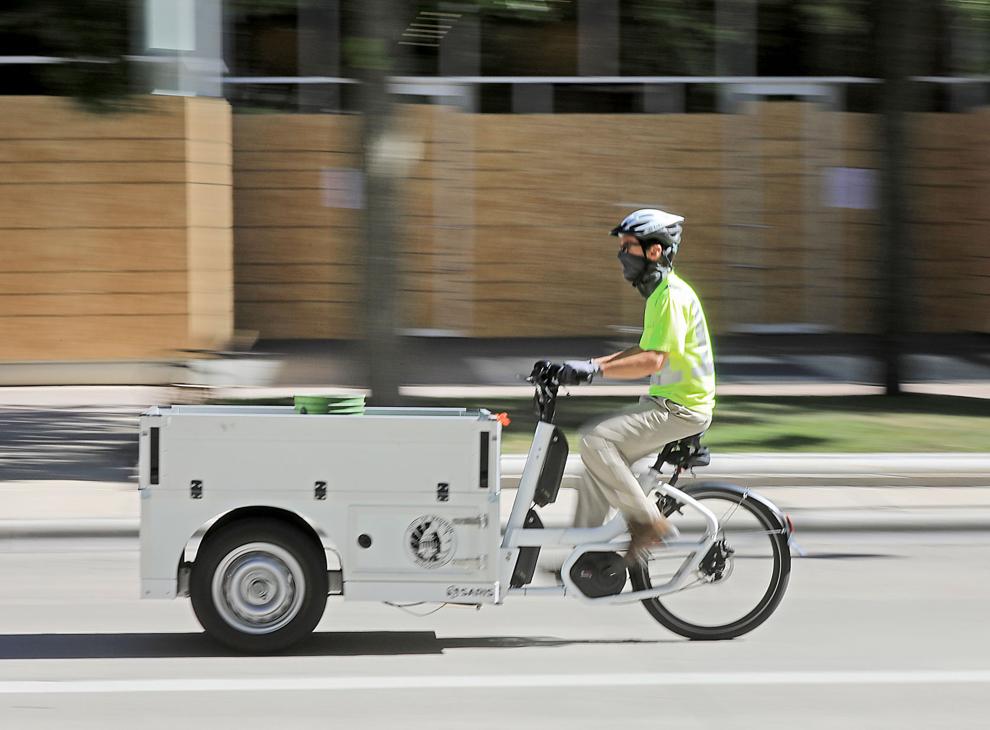 Basarich estimates the bikes will cost somewhere between $10,000 and $12,000 — a lot more than your basic Schwinn but on par with small utility vehicles.
"The competition is Toyota, GM and Ford, Polaris and John Deere," Basarich said. "There isn't any bicycle or e-cargo bike in this space. We're the first to take a municipal-centric approach."
While Saris is targeting the public sector now, Basarich said there is also a commercial market, especially for "last mile" delivery.
"It's about using a bike to move things," he said.
Saris sales manager Patricia Kampos said she used the bike to deliver hundreds of pounds of goods to food banks this spring and said she was able to go up to 50 miles a day on a single charge in the "economy" mode.
"It's a foreign concept to a lot of people — even me a year ago," Kapinos said, gesturing at her Toyota Tacoma pickup truck.
But the cargo compartment is the same size as her truck, and Kampos points out that you don't need a driver's license to ride the bike.
"No truck. No insurance," she said. "This could be revolutionary."
As part of the trial, the city is passing the bike around between departments — park workers are now using it for cleaning and maintenance on Capitol Square and State Street — and tracking the mileage and user feedback that will help both the city and Saris better understand how it could be most useful.
Superintendent Mananth Joishy said he's interested in adding some of the bikes to the city's vehicle fleet.
During a test this summer, Joishy said the bike proved useful for ferrying parts between buildings or even within the 10,000-square-foot main garage.
"You could walk," he said. "But if you're carrying a bunch of boxes it would be less practical."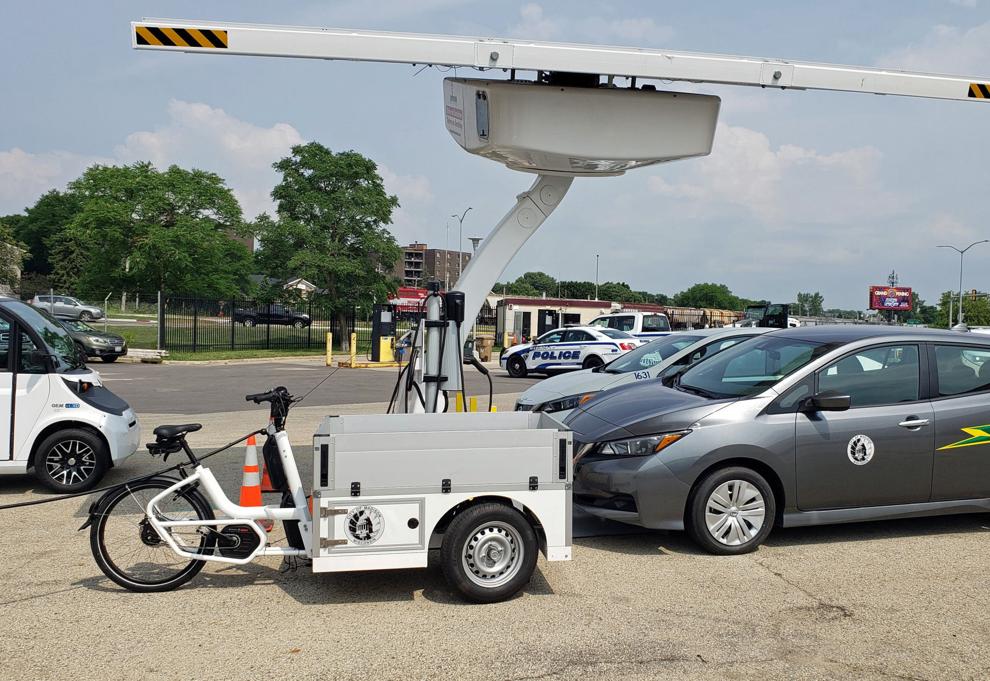 He notes the bike uses less energy than the city's 30 electric vehicles..
"If I drive a Chevy Bolt, it's still driving a car," he said. "It's better to use a cargo bike than a car."
While she appreciates the lower carbon footprint, Dumas said the bike was also just fun, often provoking interesting responses from the public.
"A lot of people ask if they could buy some ice cream. Children asked if I was carrying dogs around," she said. "I got a bit of a mood boost from biking around."