Racks of clothing, shelves of housewares and other used items take up the majority of the space, and at this time of the year, there's even a section dedicated to Valentine's and St. Patrick's days.
But the Bethesda Thrift Store, 201 Cottage Grove Road, has also over the past three years delved into selling new furniture. And now, after an expansion, has more room for new sofas, love seats, bookcases and mattresses. The challenge is getting the word out about the nearly 1,000-square-foot showroom that most don't expect to see in a nonprofit thrift store setting.
"It's a slow process. You have to teach the customers," Ken Ehmpke, the store's manager said as he assembled a $385 bookshelf. "They were thinking we were getting the rejects or the overstock and finally I explained to them that we get the same stuff Steinhafel's gets. Because we're a nonprofit, we get a good deal."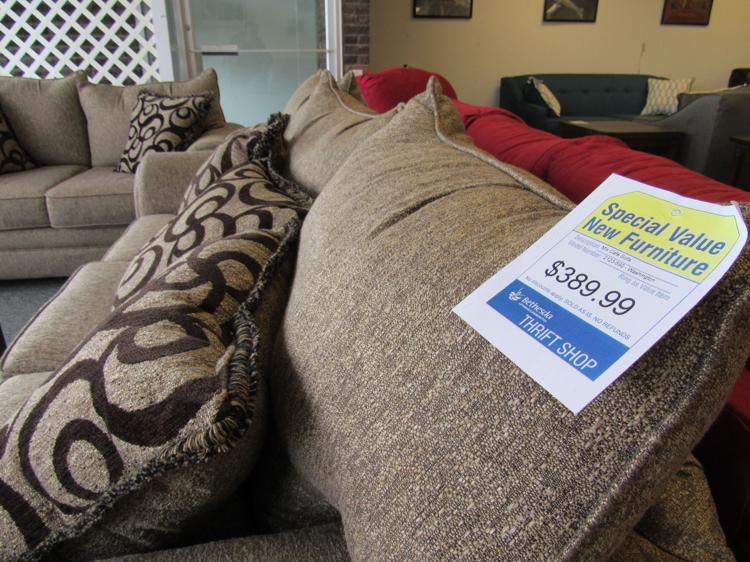 Ehmpke, manager of the thrift store for the past six years, said he can sell a $600 sofa found at traditional for-profit furniture stores for about half the price. A love seat at his store had a price tag of $359, a sectional sofa was listed for $639 and full-size mattresses can range in price from $164 to $238.
The 6,000-square-foot store is located in the same strip mall as the Ace Hardware store and is a block off Monona Drive. The shop is one of 18 stores in eight states operated by Bethesda Lutheran Communities, a Watertown-based organization that cares for those with intellectual and developmental disabilities.
For decades, Bethesda operated a large campus institution in Watertown but now cares for its clients in group homes around the country. Profits from the thrift stores help fund Bethesda programs that also include camps, intermittent support, day programs and employment support services.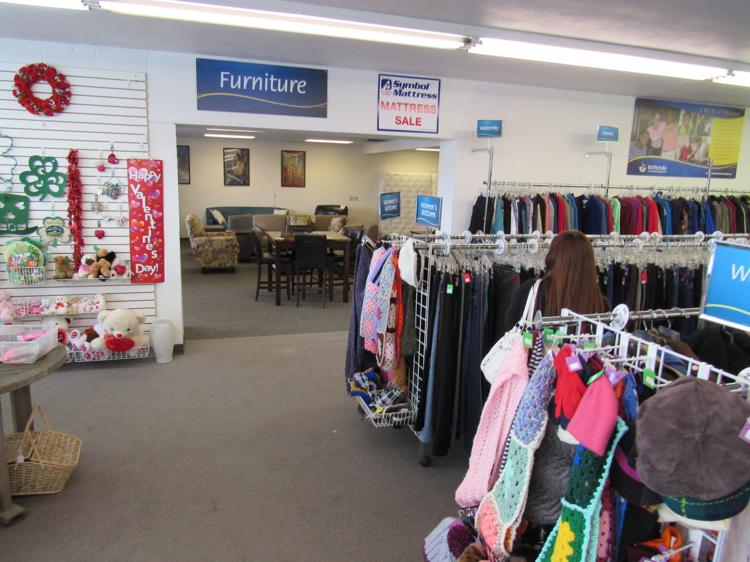 The addition of furniture came after a survey of customers about six years ago and in some locations new socks, underwear and bedding are also being sold. All 12 of the Wisconsin stores carry new furniture but selection can vary based on space. Each store also has a catalog that offers more inventory, said Jack Vater, corporate director of Bethesda Enterprises.
"We do not offer a delivery service. Customers must make those arrangements for any of their purchases," Vater wrote in an e-mail last week. "We also have two standalone furniture stores open from January through April in Horicon and Sheboygan."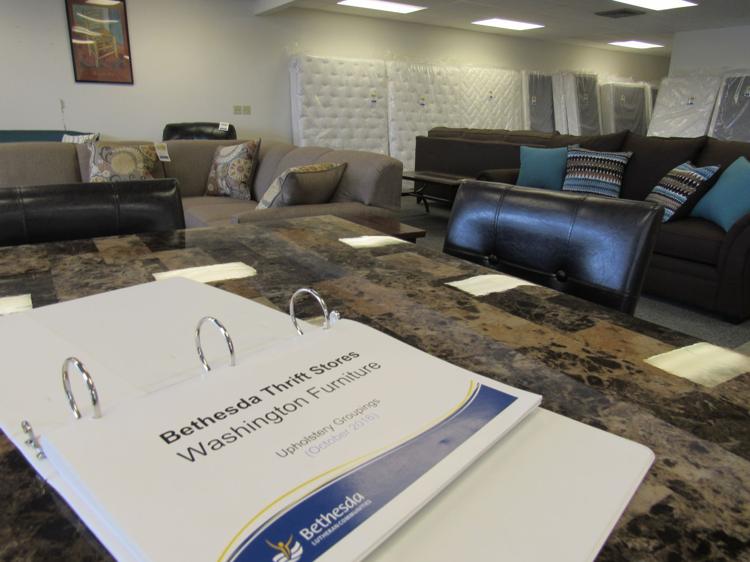 The Bethesda Thrift Store in Madison has been around since 1986 when it was located on North Sherman Avenue.
In 2006, the store moved to its Cottage Grove Road location and was expanded last year to accommodate more furniture with the opening on Black Friday.
Ehmpke said profit margins on furniture at Bethesda Thirft are around 40 percent compared to profit margins at for-profit stores that can exceed 150 percent.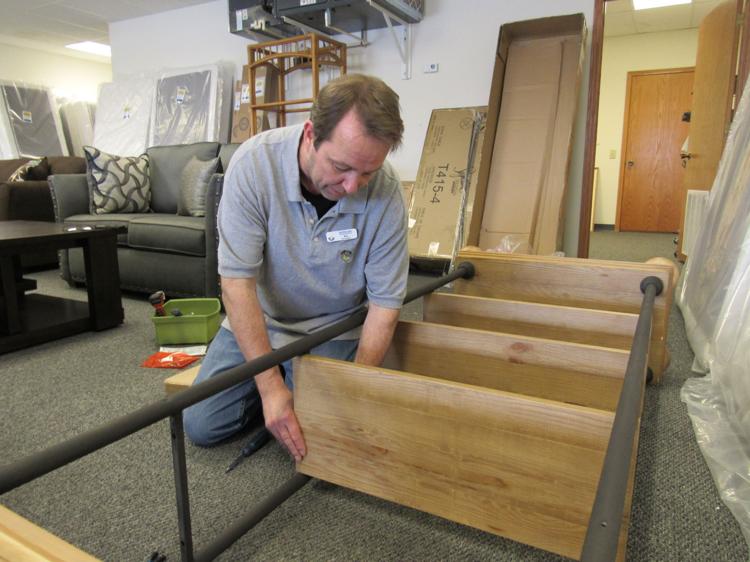 Ehmpke, 53, grew up in Mokena, Illinois, has a psychology degree from Eastern Illinois University and for 20 years worked managing a video store.
Ehmpke and his family moved to Madison when his wife transferred here in 2011 for a job. Ehmpke, the father of three children, was hired six months later by Bethesda. Since he came aboard, sales have increased by 175 percent, thanks in part to adjusting the hours of the store to more regular times and remodeling efforts.
The store is staffed by 35 volunteers who work 700 hours a month along with three part-time employees.
All items sold are donated. The exception is the new furniture made at Washington Furniture in Mississippi and Symbol Mattress manufactured in Watertown.
Ehmpke said his crew of volunteers and small staff are what make the store profitable and a place at which it's enjoyable to work.
"I believe in what it represents," Ehmpke said of the store's mission. "I hope this takes off."
Len's E-bikes moving
to larger location
The electric bike business has taken off for Len Mattioli and is forcing a change to bigger quarters.
Mattiloi started a moving sale Tuesday at his 3,600-square-foot Crazy Lenny's E-Bike store at 6107 Odana Road. He's hoping to be in an 8,900-square-foot space at 6017 Odana Road by the middle of March. The space was formerly home to the Pink Poodle, which moved late last year to the Market Square Shopping Center at Odana Road and Grand Canyon Boulevard.
Mattioli believes his store is the largest standalone seller of electric bikes in the country and one of the largest vendors overall.
About 40 percent of his sales are to customers outside Wisconsin.
"I've never had a product where universally its 100 percent satisfaction," said Mattioli, the former longtime appliance and stereo retailer. "It's an incredible product."
Mattioli took over American TV & Appliance from his ailing brother in 1970 and built the business into a retail empire before retiring and selling the business in 2009.
In 2014, the business closed its 11 stores in Wisconsin, Illinois and Iowa, plus a warehouse and distribution center in Pewaukee.
Mattioli came out of retirement in 2013 to open what he initially called Len's Electric Bikes. Since that time he has built an inventory that includes more than 12 brands and 200 unique bikes on display.
In almost four years Mattioli's shop has sold more than 4,000 of the bikes that can be powered by pedal or a battery pack.
The move to a larger facility will allow Mattioli to reduce his four warehouses to one and for him to display more bikes on the retail floor.
The location is also next to a bike trail, which will allow customers to easily test drive his products.
East Towne to fill spaces
We now have an explanation for several empty store and restaurant fronts at East Towne Mall.
H&M, a clothing retailer for men, women and children, has announced plans for a 21,000-square-foot store in the mall that will take the place of six empty store fronts. The retailer has four other locations in Wisconsin, including a store at West Towne Mall. The new store is expected to open in the fall and employ 20 people, according to a news release.
Four restaurant spaces in the food court will also be replaced with a Lucky's 13 Pub, a national chain based out of Minnesota. The company was founded in 2007 and now has eight sit-down restaurant locations in Minnesota, North Dakota and South Dakota. The East Towne location would be its first entry into Wisconsin and include entrances from the food court and the mall's exterior.
To make room for the Lucky's, which is not affiliated with Lucky's 1313 Brewpub on Regent Street, a Taco Bell and Kato's Cajun will be relocated within the food court while the McDonald's and Subway restaurants have left the mall, said Tiffany Schultz, marketing director for East Towne and West Towne.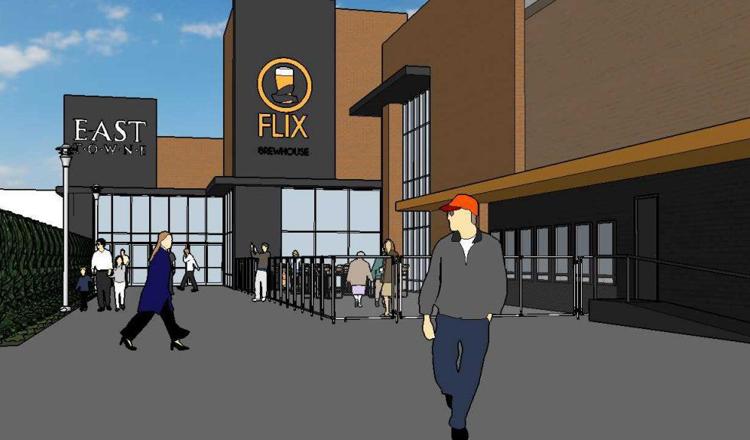 Schultz also announced that a 31,150-square-foot Flix Brewhouse facility that will include eight movie theaters and a 134-seat restaurant is scheduled to open in November or December. The project, announced in July, will be located on the site of a former Steinhafel's furniture store between Dick's Sporting Goods and Boston Store on the back side of the mall. The project would include a new entrance into the mall and an entrance on the building's exterior.
"Malls go through transitions, and this is definitely taking East Towne to a different level," Schultz said of the new projects. "It will be an awesome addition for the (Far) East Side."