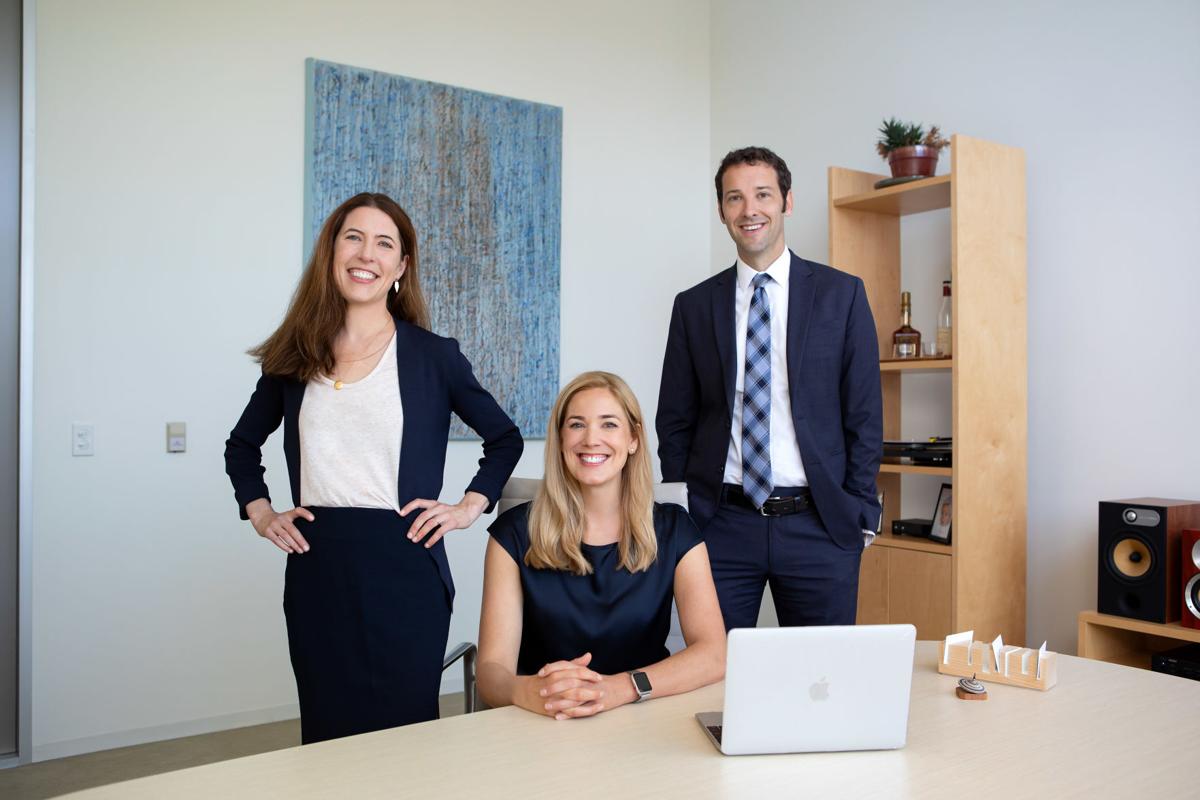 When walking down a grocery aisle, looking at paper towels or cereal or ice cream, there are several options to consider — the most environmentally friendly brand, the cheapest, the healthiest.
The founders of the app Goods Unite Us give consumers another point to consider: How much money does each brand pump into partisan politics?
Goods Unite Us, founded in Madison in 2017, allows consumers to search through thousands of brands — from fast-food chains to coffee shops and clothing retailers — and see about how much money those brands give to political action committees (PACs) and which political party those donations support.
Lawyers Abigail Wuest and her husband, Brian Potts — who also founded LegalBoard, a company that designs keyboards with shortcuts for common legal terms and symbols — wanted to bring awareness to the amount of corporate money being spent in politics to influence elections, and the pair teamed up with Amy Jo Miller, who has worked with other startups in the past, to develop a free app that aligns with their mission.
"After the last election, what really drove the formation of this company, was the unprecedented amount of corporate money that went into that election," Wuest said. "Our hope at Goods Unite Us is to really … raise awareness about corporate money affecting politics first and then also our role in that with the things we buy."
The app launched in November 2017 with about 3,000 brands and has been regularly updated as more brands are researched. The company's researchers look through public records of political contributions through the Federal Elections Commission and other sources to identify which party or parties are supported by these donations. They break down the percentage of those donations made by senior employees with the corporations compared to the corporate treasuries.
If a company is listed with "high" or "very high" spending on the app, the donations made by both the company and its senior employees combined are in the millions of dollars.
When a user searches for a brand that has been tracked by the app, the user will see one of four icons:
A blue donkey for Democratic-leaning companies.
A red elephant for Republican-leaning companies.
A gray donkey and gray elephant for companies that contribute to both parties.
A green thumbs-up for companies that hardly donate to political issues.
Goods Unite Us wants more companies to earn that green thumbs-up, Wuest said. To her, corporations shouldn't be spending in politics at all.
"Corporate money aggregates a lot of people's money, and it's not spent in a way that is consistent with all those people's votes and voices," Wuest said. "It distorts the power of (the company's) voice. It exaggerates (the company's voice) and allows them to have a larger impact."
Corporate spending in politics was bolstered by the U.S. Supreme Court's 2010 Citizens United ruling, which allowed corporations and unions to spend unlimited amounts of money to support or oppose political candidates.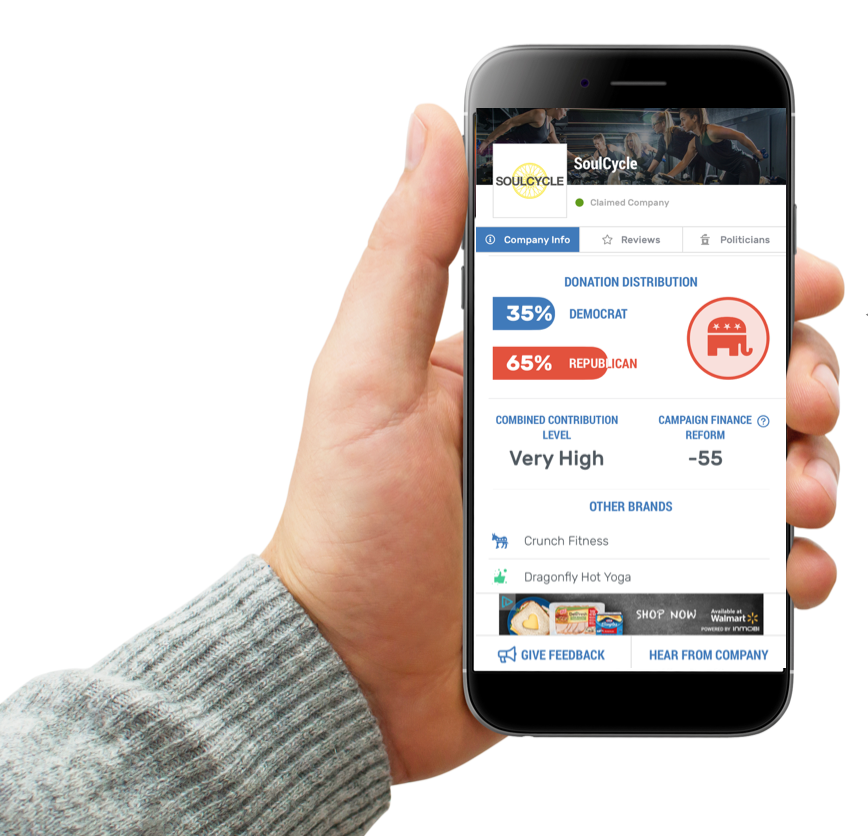 Consider some of the top toilet paper brands. Angel Soft donates a lot of money to political campaigns, according to Goods Unite Us, and those contributions support mostly Republican candidates and causes. Cottonelle doesn't give much to politics, but when it does, that money supports Democrats. Charmin, on the other hand, spends a lot, but the money goes to both sides of the aisle.
Good Unite Us began as a website for consumers to purchase products from companies that donate to political causes that align with the consumers' politics. When products were selected, the users were then linked to those products on Amazon.com.
The purchasing aspect was stripped away from the site early in the process.
"Very quickly, it was obvious that people wanted the data," Potts said. "They wanted a reference more than to go to a different shopping site."
As with many web-based startups, the app has evolved in the years since it launched. Politicians were added so users can see who is supported by corporate donations. A short survey rates the impact a user's purchases have on corporate spending. More recently, a discussion forum has been added for users to debate with each other.
Potts said the debates have been more civil than expected, and no users have been banned.
Goods Unite Us's users — about 100,000 a month — have been fairly split down the middle in terms of party affiliation, the founders said.
"It's definitely closer to 50/50 than I would have expected," Wuest said.
The founders have heard many stories of people changing their spending habits to either pick brands that support their personal beliefs or brands that don't spend money in politics. Miller said she's even heard of a user switching banks after looking at the app.
Advertisements displayed on the free app drive revenue, though users can pay a subscription fee to use the app without ads. Ultimately, the target source of revenue is the corporations themselves.
The plan is for companies to pay to claim its page, which would allow the company to include its brand logos and also add some descriptions about its political spending. Those companies would not be able to change the underlying data on the app.
Some companies have lashed out at Goods Unite Us, bristling at the political exposure. First reported by Forbes, Goods Unite Us has been receiving cease and desist letters from companies wishing to be removed from the app or have their data changed.
One retail company, Chico's FAS, brought in a national law firm to seek changes to its page.
"As part of our charitable giving, Chico's FAS does not endorse any political affiliation or group, nor do we support organizations that discriminate against anyone," spokeswoman Pashen Black said. "Donations employees make privately are not an accurate reflection of Chico's FAS philanthropic and community efforts."
Miller said Goods Unite Us responded to Chico's ask inviting the company to claim its page an add the brand's own messaging — so long as the donation data wasn't altered. Goods Unite Us hadn't heard back, she said.
Fave 5: Business reporter Shelley K. Mesch shares top stories from 2019