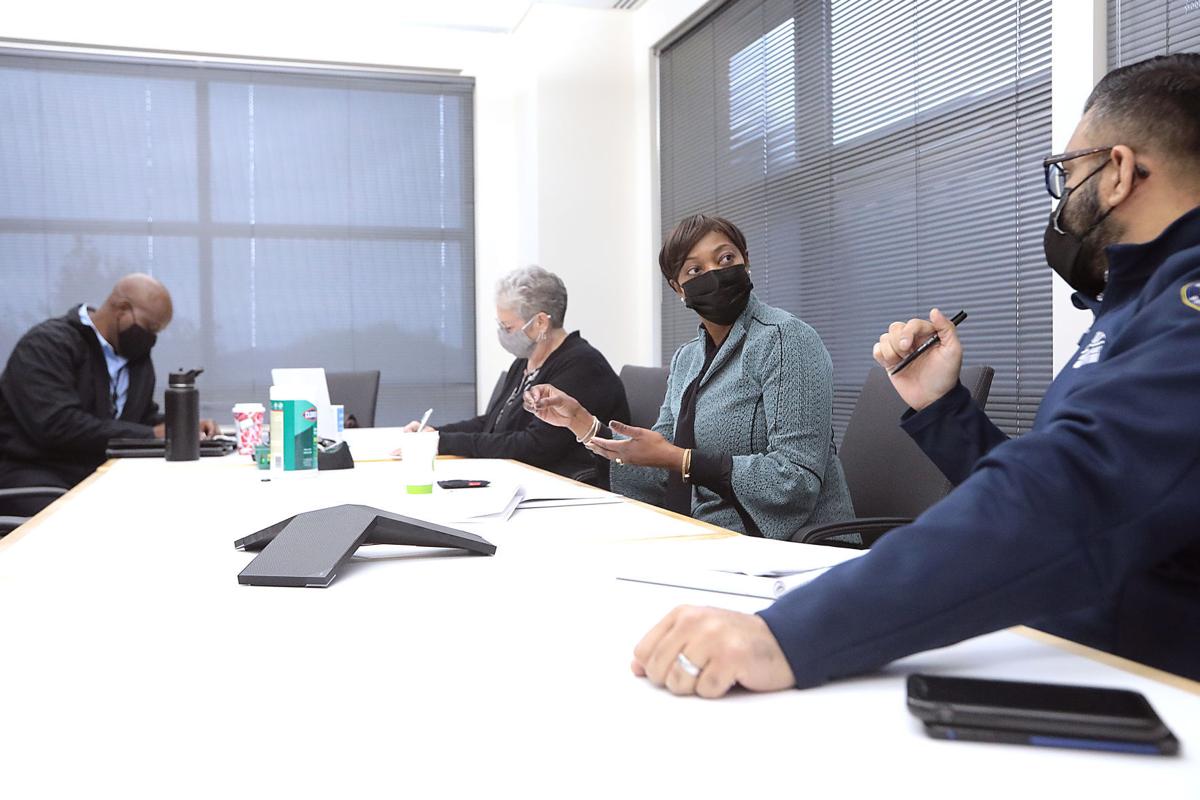 The proportion of both women and people of color in top leadership positions has "increased by an average of 2.5%" each year from 2016-2021, Madison Region Economic Partnership workplace diversity and inclusion survey findings state. The survey mainly covers MadREP's eight-county region.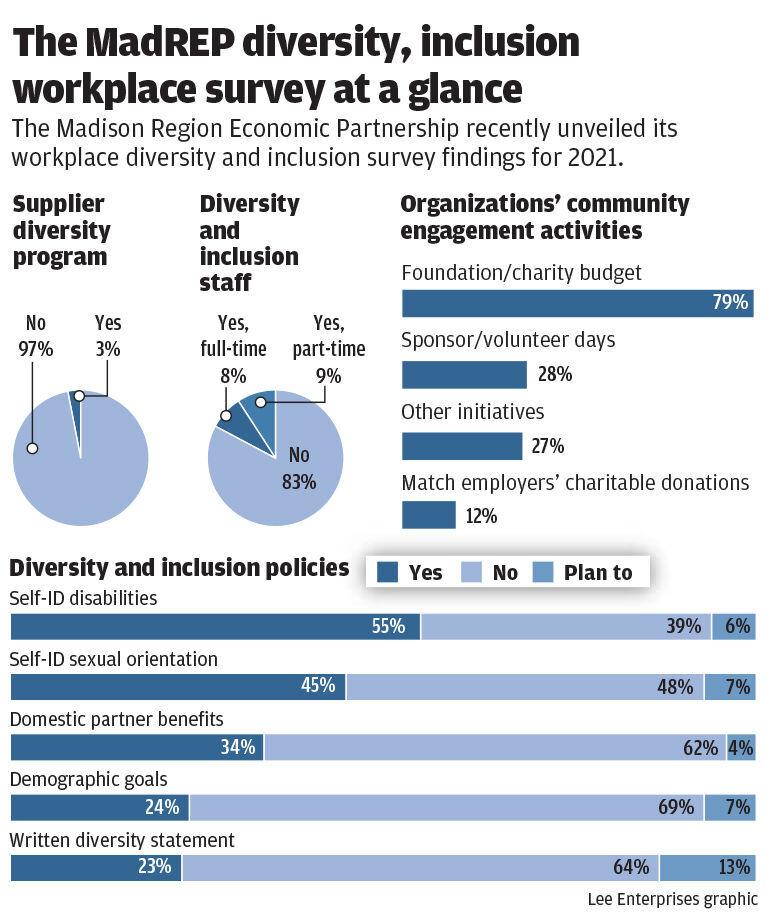 While that number is good, said MadREP vice president of talent and education Gene Dalhoff, "it's not enough." The goal of the survey for the last six years has been to help people understand that, he said, which will hopefully lead to more minority groups being represented in the area's workforce.
"When we have a study that affirms what we believe, but also disarms the skeptics who believe we've already done a good job, we've done okay," Dalhoff said. "But we have more work to do. Without the metrics that we are after here, then it is mere speculation."
There has been a collective effort among employers, as evidenced by survey findings — and what company presidents and diversity leaders within firms have told the Wisconsin State Journal over the last month — to understand what led to the racial justice protests of 2020, as well as how that comprehension can fashion more inclusive workplaces.
That's even if the employer said they were already working to address diversity and inclusion years ago.
The roster of signers includes businesses that have gained recognition for their diversity and inclusion initiatives, such as American Family and Summit.
A "high proportion" of companies reported the implementation of various diversity initiatives in 2021, survey findings indicate.
Members of American Family Insurance's Inclusive Excellence team meet at the company's headquarters in Madison. Pictured from left are Leslie …
In partnership with MadREP, the UW River Falls Survey Research Center reached out to 1,895 randomly selected employers with 10 or more staff members in February 2021.
A total of 270 businesses completed the survey in and around MadREP's region.
Initiatives — among survey respondents and companies that spoke with the State Journal — include hiring a staff member with diversity and inclusion responsibilities, donating to charities that support marginalized groups and creating a partnership with the Urban League of Greater Madison that seeds employment.
Taking action
Gee said being involved in the conversations about race led some CEOs and their staff to attend a class offered through Nehemiah.
The nine-week course, costing $300, is titled "Black History for a New Day," which delves into slavery, Jim Crow and how that past continues to pervade Black people's lives today.
Sponem said she took the course with some of her Summit team.
Like American Family Insurance, Summit is known for its extensive history of inclusive practices within and outside the workplace — including the creation of support groups for employees who are minorities.
"In terms of my own takeaways ... we need to change from a systemic perspective," Sponem said of taking the course. "The more we can learn about history the better we can be at creating meaningful change."
Vice president of inclusive excellence Yasir Kamal said the insurance company also has the goal of increasing the diversity of its teams "up to 50% by 2024," among other efforts.
Florin said Hiebing has become "more intentional" about recruiting a more diverse workforce, too, but he didn't offer specifics.
Along with American Family and Summit, WPS Health has joined in on signing the CEO Action Pledge, said Hamerlik.
"I think it was an awakening that I haven't seen in my career," Hamerlik said of how George Floyd's killing impacted him as a CEO. "I happened to be in Minnesota at the time. It set off action from a lot of (business leaders) about ... we need to do something about this."
Within the last year, WPS held listening sessions for employees engaged in the topic of diversity and inclusion. From there, the health insurance company created an employee diversity council, hired a vice president of diversity and inclusion — Jihan Bekiri — and formed several community partnerships.
One of the partnerships started in 2020 with Madison Area Technical College, Bekiri said, was to provide scholarships to students from underrepresented groups for a chance to earn an insurance certificate. The Urban League of Greater Madison worked to enroll the students, she said.
Exact Sciences has a similar relationship with the Urban League, having started looking at ways to create a more inclusive workplace just nearly five years ago.
Lander Brown, Exact Sciences director of talent, strategy and inclusion, said the biotech giant worked with the Urban League to hire cohorts of local high school students into the company's customer service and lab departments.
Of Conroy's involvement in the Nehemiah discussions, he said they do nothing but "add value" to the work Exact Sciences has already been doing. The biotech company also has a podcast that features stories from employees coming from all backgrounds, Brown said.
Survey specifics
The MadREP survey found slightly less than 10% of board of director positions in 2021 were held by people of color, while 40% were held by women, the survey report states.
People of color make up 15% of the total workforce of the organizations in the 2021 dataset and 12% of the regional population. Women were 54% of the workforce, according to the survey findings.
People of color held 8.9% of the top leadership positions in 2021, while 42% were held by women.
The survey also takes a glance at the kinds of diversity and inclusion initiatives responding companies implemented in 2021.
A large majority of organizations said they engage in diversity and inclusion activities through a foundation, a budget or charitable giving.
But fewer than 20% of organizations said they have a full- or part-time staff member with diversity and inclusion responsibilities, according to survey results.
About one-third of companies said they offered benefits for domestic partners, and a quarter said they have "demographic hiring goals" or a written diversity statement.
Few companies said in the survey they have a "supplier diversity program," or a commitment to buying supplies from businesses owned by people from marginalized groups.
"What the (survey's) data shows is that (the region) is not a place where we assume it doesn't value diversity," said MadREP CEO Jason Fields. "You can see that the numbers are trending upwards. That's something for someone like me to become a cheerleader ... here's a place you can come and thrive. We have the data to show there's a commitment to changing the culture."
"I shared this with a lot of people as a Black man coming to lead (MadREP)," Fields added.
---