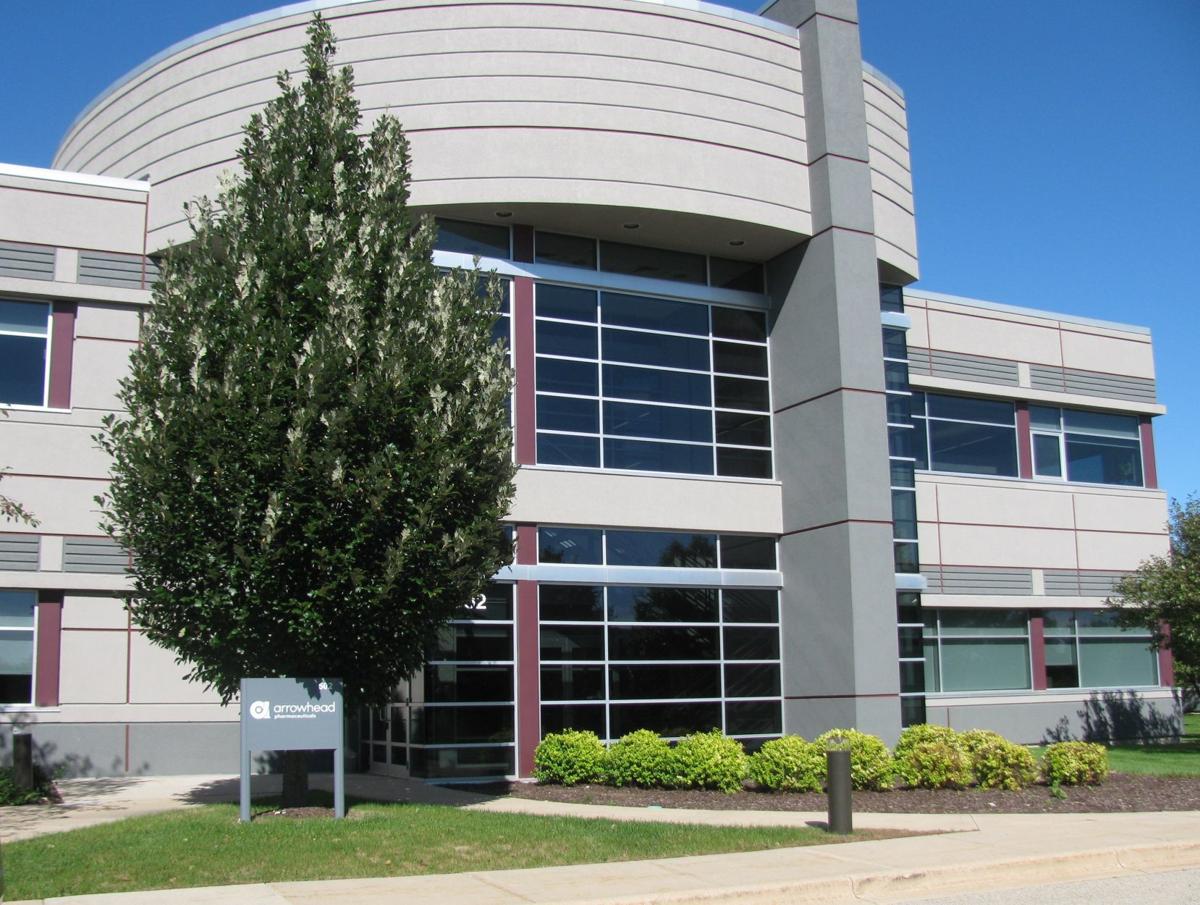 A $267 million stock offering last week by Arrowhead Pharmaceuticals, which has its main employment base in Madison, could help the company bring experimental drugs to market and lead to the purchase of other businesses.
The offering of 4.6 million shares of stock at $58 per share, announced Monday and closed Friday, was estimated at $267 million in gross proceeds, or $250 million after deducting underwriting discounts, commissions and other expenses.
Arrowhead — based in Pasadena, California — has 110 of its 150 employees at University Research Park on Madison's West Side.
The company's stock, which started the year at about $13 a share and has been gradually rising, reached nearly $72 on Tuesday but fell to $67.27 by Friday.
The company is developing several drugs based on RNA interference, or RNAi, a technique that aims to silence disease-causing genes. Most are for liver disease.
The stock sale "gives us a lot of financial certainty for at least a couple more years, to make sure the products that are in (clinical trials), that we can take them forward," said Robert Teigen, a vice president and associate general counsel for Arrowhead.
A statement about the sale said Arrowhead intends to use the proceeds for "general corporate purposes," such as working capital, research and development, and clinical trial expenses.
But some of the proceeds could be spent on "the acquisition of complementary businesses, products and technologies," the statement said.
You have free articles remaining.
Teigen said he couldn't provide more information on any possible strategic investment. "It's just one of the things that we're looking at," he said.
Started as Mirus
Arrowhead's Madison operation, based on UW-Madison research, started in 1995 as Mirus Corp. In 2008, the Swiss pharmaceutical giant Roche purchased the RNAi portion of Mirus for $125 million. Arrowhead Research Corp. acquired Roche Madison three years later.
A separate part of Mirus, which makes and sells research tools, split off to form Mirus Bio, which also remains at University Research Park.
Arrowhead has nine RNAi-based drugs in development. Two — one for hepatitis B and one for a genetic condition known as Alpha 1 liver disease — are in phase 2 clinical trials.
Janssen Pharmaceuticals, part of Johnson & Johnson, bought the rights to the hepatitis B drug last year in a deal that gave Arrowhead $250 million at the outset.
In May, Arrowhead got an additional $25 million milestone payment from Janssen. Under the deal with Janssen, Arrowhead could eventually receive as much as $3.7 billion if the hepatitis B drug and additional drugs aimed at up to three more disease targets are successful.
Three of Arrowhead's drugs are in earlier phase 1 clinical trials. They are for elevated triglycerides, elevated lipids and cardiovascular disease.
An application to begin a clinical trial for another drug targeting liver disease is expected to be submitted soon, Teigen said.