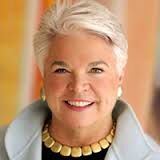 Toy Industry Hall of Fame inductees are nominated and voted on by members of The Toy Association "in recognition of their significant contributions to the industry and the impact they have had on the lives of children through a lifelong commitment to toys and play."
American Girl produces the famous line of American Girl historical educational dolls. Rowland founded the Middleton-based company in 1986 and sold it to Mattel in 1998.
Rowland was born in Chicago. After graduating from Wells College in Aurora, New York, she became an elementary-school teacher. "Reading is at the heart of all achievement," she once said. "Without it, the American dream is out of reach. With it, anything is possible."
Rowland founded American Girl after a trip to Colonial Williamsburg in 1986, when she combined her love of American history and her commitment to high-quality educational products to create The American Girls Collection, a line of historically accurate books, dolls, and accessories representing pivotal times in America's past, The Toy Association said in its announcement.
"As a trailblazer in creating purposeful play, Pleasant expanded her vision with the launch of a contemporary line, now called Truly Me, that celebrates girls' individuality with dolls featuring a diverse array of face shapes, skin tones, eye colors, and hairstyles, as well as a line of advice books, Smart Girl's Guide, which has sold 12 million copies," the association said. "She went on to create the Girl of the Year line, featuring contemporary characters who experience modern-day issues, and Bitty Baby, a nurturing line of diverse baby dolls."
Mattel acquired the brand in 1998 and shortly thereafter, Rowland fulfilled her dream of opening an experiential retail store, American Girl Place-Chicago, where fans could shop the product in person and immerse themselves in unique dining, theatre, and salon experiences with their dolls, the association said.
"To date, American Girl has welcomed 100+ million visitors to its popular stores and has been recognized as a premier model for experiential retail," the association said.
The other 2021 inductees are William C. Killgallon, who transformed the Etch A Sketch into a household name; the late Margarete Steiff, inventor of the world's first stuffed animal; and Phillip Bloom, founder of "The Bloom Report," who was inducted for his work as a toy news pioneer.
The inductees will be honored during the virtual 21st annual Toy of the Year Awards on Feb. 12.
"This year's Hall of Fame inductees have made an enduring mark on the toy industry and in the hearts of countless millions of children worldwide," Steve Pasierb, president and CEO of The Toy Association, said in a statement. "Phillip Bloom, William C. Killgallon, Pleasant T. Rowland, and Margarete Steiff are changemakers and innovators whose careers and inventions are an inspiration to us all. If these past months of the pandemic have taught us anything, it's that toys and play have the awesome power to comfort, heal, and bring hope to kids both young and old. So, it is with great pleasure and pride that we announce their induction and celebrate their myriad achievements."
Founded in 1984, the Toy Industry Hall of Fame can be found alongside the National Toy Hall of Fame in a special exhibit at The Strong National Museum of Play in Rochester, New York.
The business news you need
With a weekly newsletter looking back at local history.