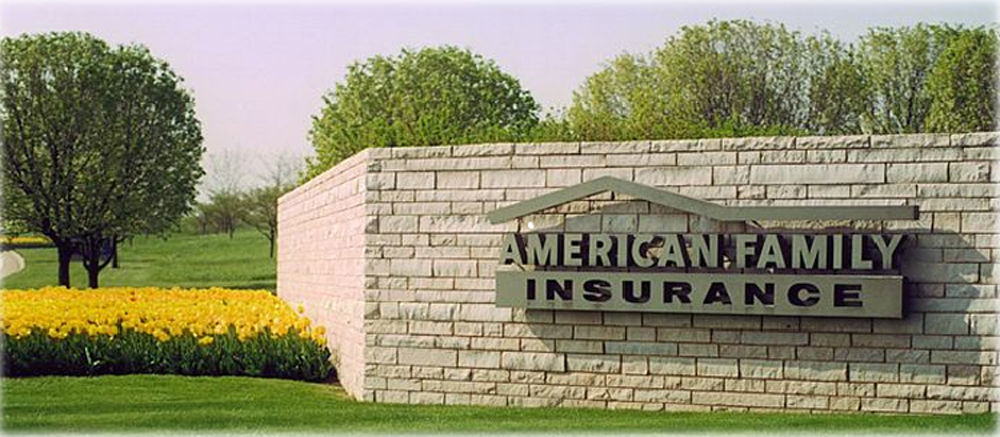 Damage claims from severe weather battered American Family Insurance Group's coffers at a record-high level last year, but the Madison-based insurer still pulled out a profit in 2017 thanks to investment gains and new policy purchasers.
American Family reported net income of $155.6 million for 2017, just under half of its earnings of $325.6 million in 2016.
"It was a busy year for American Family," said Jack Salzwedel, chairman and CEO.
Storm losses hit an all-time high of $1.5 billion for American Family in 2017, up from $883 million in 2016.
"We plan for storm claims, but we exceeded that number by about $400 million or so," chief financial officer Dan Kelly said.
A storm last June that hit parts of Wisconsin and Minnesota with strong winds and hail resulted in $362 million in damage claims — the largest single weather-connected loss in 2017.
American Family Mutual Insurance — which writes 80 percent of the group's premiums and serves customers in 19 states — did not face claims from the devastating hurricanes of 2017, the second most destructive hurricane year on record, with an estimated $200 billion in damage from Hurricanes Harvey, Irma and Maria in Texas, Florida and Puerto Rico.
But two of its subsidiary insurance companies — Homesite, a direct homeowners insurance business based in Boston, and The General, a direct non-standard auto insurance provider based in Nashville — did have hurricane-related claims totaling $20 million.
Homesite was affected even more by the wildfires in California, resulting in $60 million worth of claims for damage there.
Part of the weather-related claims was offset by $391 million American Family expected to recover through reinsurance — insurance policies that American Family buys that kick in when claim levels soar.
Auto claims — including those damaged in storms — also hit a record of $3.1 billion, up from $2.6 billion in 2016. For every dollar earned in auto premiums, the company paid more than $1.12 in claims. That reflects an industrywide trend over the past few years because of more miles driven; higher speed limits; distracted driving; a growing number of customers; and increased medical and auto repair costs, American Family said.
When a car gets rear-ended, it's not just a matter of taking the dents out, there are back-up cameras and computer functions to check, as well, CFO Kelly said. "A lot of that technology is an expensive proposition to repair," he said.
Across its property and casualty insurance lines, American Family reported a net underwriting loss of $554 million in 2017, a sharp jump from its net underwriting loss of $56 million in 2016.
Even so, American Family policyholder equity ended the year at $8.1 billion, an increase of $292 million in 2017. Policyholder equity is the difference between assets and liability, and indicates the company's net worth.
"This is really important for us; it's a measure of our financial strength," Kelly said. "It allows us as a company to make sure we're there for our customers ... and to invest strategically in the future."
American Family had 10.5 million policies in force as of Dec. 31, up 3.2 percent over the year before, and capital gains on investments amounted to $531 million, more than twice as much as the $247 million in 2016.
The company's Dreams Foundation handed out $6.5 million in grants, major gifts, hurricane relief, scholarships and other charitable donations.
American Family also bought two software companies in 2017 — Networked Insights, a Chicago data analytics software company that gathers insights from comments on social media, and HomeGauge, a home-inspection software business in Asheville, North Carolina. Terms of the deals were not disclosed.
The year-end results were reported Tuesday at American Family's annual policyholders meeting at company headquarters, 6000 American Parkway.
Across its group of companies, American Family has 11,300 employees; of those, 4,500 are in Madison.
One business deal announced just last week is likely to be included in the insurance company's 2018 figures. American Family was one of the investors in Ring, a California company that makes smart doorbells and other home security technology, and has offered discounts to homeowner policyholders who buy the Ring doorbell and other smart-home devices.
Amazon said it is buying Ring – the whole company — in a deal valued at more than $1 billion, according to a report by Reuters.
American Family officials would not disclose the company's potential profits from the Amazon acquisition. "It was a good investment for us" in terms of learning more about the impacts of smart-home technology and earning financial returns, spokesman Ken Muth said.