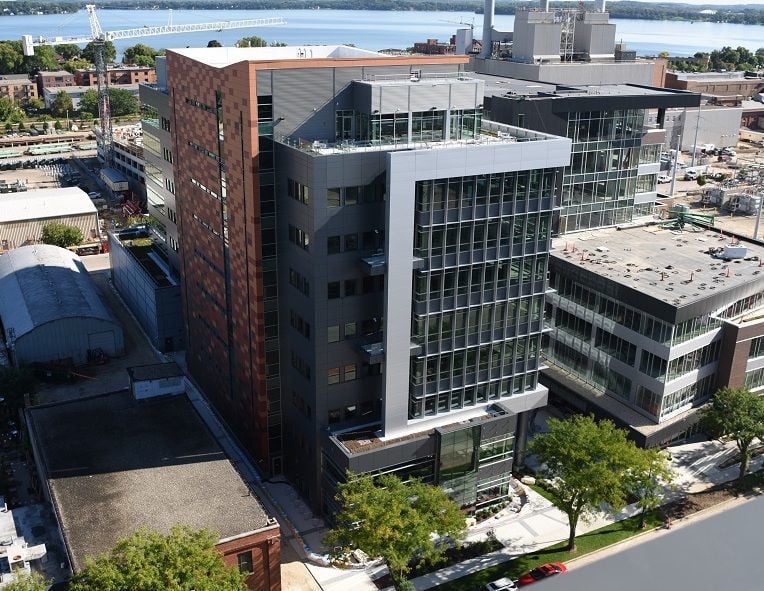 American Family Insurance says it plans to help solve the Madison area's social problems — as well as foster entrepreneurship — in its new building, Spark, on the Near East Side.
The Madison-based insurance company is creating The American Family Insurance Institute for Corporate and Social Impact "to strengthen our company while tackling some profound social issues facing our communities, schools and governments," chairman and CEO Jack Salzwedel said at grand opening ceremonies for Spark on Wednesday.
Spark, at 821 E. Washington Ave., has eight floors of offices and a ninth floor that houses the building's mechanical systems. Its special features include a 10,000-gallon rooftop container that will be used to collect rainwater and use it to help heat and cool the building, and sun shades that raise and lower automatically, depending on the amount of sunlight.
About 50 will be moved in by the end of this week, and 300 by the end of the year, spokesman Ken Muth said.
Spark offices will house American Family's venture capital and community investment efforts as well as employees adding digital tools to enhance the company's analytics.
American Family declined to disclose the price tag for Spark — "for proprietary reasons," Muth said. A check of city records shows building permits have estimated the total cost of the structure, including interior construction of the office space, at $55 million.
Social impact hub
American Family said its new institute will form public and private partnerships to delve into community issues. In particular, the initial efforts will focus on K-12 education — specifically, challenges among racial groups within schools; creating resilient communities; and providing economic opportunity for all.
Muth said the company already has formed a partnership with the Madison School District to work on an issue that has not yet been determined. "They will use innovation techniques we use at American Family, such as (educational) boot camps, coaching, use of data analytics, etc.," he said.
The institute will support young entrepreneurs, entrepreneurs of color and female business owners.
Muth declined to disclose the institute's cost. It is starting with six employees, including chief business development officer Peter Gunder.
"Our brand, our mission and our work directly intersect with building stronger communities," CEO Salzwedel said. "The institute is one more way to grow our company and make a positive community impact."
American Family, the nation's 13th largest property/casualty insurance group and one of Dane County's largest employers, has 8,600 employees, including about 3,200 at its national headquarters at 6000 American Parkway on the Far East Side, and 1,000 at other Madison locations.