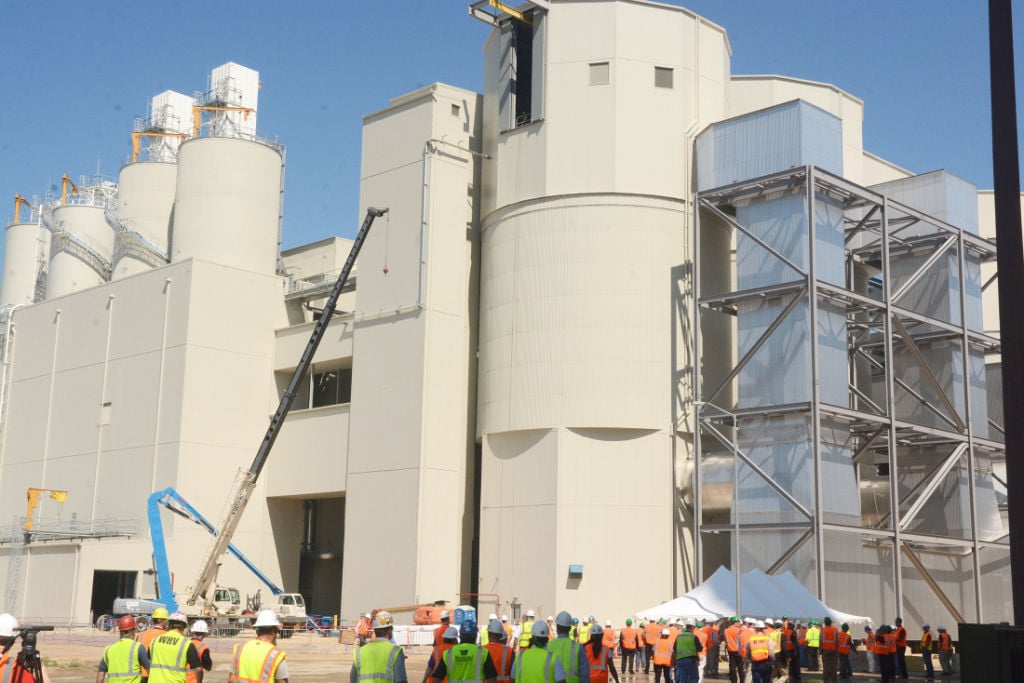 Alliant Energy says it will stop burning coal to generate electricity by 2050 and will reduce carbon emissions 80 percent by then, as well.
The Madison utility company, which serves customers in parts of Wisconsin and Iowa, said Thursday it plans to double the use of renewable energy sources by 2030, from the current 16 percent to 33 percent of its energy mix.
"Alliant Energy is acting today to create a better tomorrow for our customers and communities," chairman and CEO Patricia Kampling said. "We are transforming our energy fleet with an eye on customer cost, carbon reduction and providing cleaner and reliable power to the communities we serve."
The goals are outlined in Alliant's corporate sustainability report. Coal currently fuels 33 percent of its power supply. The report says by 2024, coal reliance will be cut to 23 percent of the utility's fuel and by 2050, it will be eliminated as a fuel source.
Alliant spokesman Scott Reigstad said most of the switch will be to wind energy. "That's where our large investment is right now," he said. Alliant is spending more than $2 billion on new renewable power sources from 2016 through 2020, and doubling the number of wind farms from six to 12.
But coal has been considered a baseload fuel, available 24 hours a day, seven days a week, while wind and solar power are not always accessible.
"The transition fuel is natural gas that you're going to use for your baseload as you phase the coal out," Reigstad said. "Eventually, you hope the technology gets there where you can find a way to store solar and wind (energy)."
Alliant is building a 700-megawatt, natural gas-fired power plant in the town of Beloit. It built a similar power plant in Iowa last year.
You have free articles remaining.
There is no timeline yet for shuttering the coal-fired Columbia power plant near Portage or the unit 5 generator at the Edgewater power plant in Sheboygan, Reigstad said. But he said by 2050, Edgewater will be 65 years old and the Columbia plant will have operated for more than 70 years.
"So they'd be beyond their useful lives" — considered to be about 50 to 60 years, Reigstad said.
Wisconsin Energy Group, of Milwaukee, also said this week it will reduce carbon dioxide emissions 80 percent below 2005 levels by 2050.
"We've entered an exciting tipping point in electricity where new wind and solar energy projects are now the most cost-effective way to generate power," said Tyler Huebner, executive director of RENEW Wisconsin.
"That's a big goal," said Tom Content, executive director of the Citizens Utility Board of Wisconsin. "It shows how quickly the energy world is changing."
Content said CUB will want to make sure Alliant's plans are "cost effective for ratepayers" and "build in energy efficiency."
The Sierra Club is not satisfied, though. "We are glad to see Alliant make a decisive commitment to transition away from coal towards clean energy, but 2050 is too little too late," deputy press secretary Renner Barsella said. "We will continue pushing Alliant to move more quickly."
Meanwhile, a plan for Alliant to freeze its base electric and natural gas rates through 2020 was approved by the Wisconsin Public Service Commission on Thursday in a unanimous, verbal vote.
Savings from the federal tax cut and reductions in operating costs are among the reasons the Madison utility said it could enact a freeze.
The move resulted from negotiations with consumer groups, including CUB and the Wisconsin Industrial Energy Group.