In many ways, Wayward Tattoo is like any tattoo shop. The walls are covered with the owners' artwork, bottles of colorful ink line shelves, and the buzz of the tattooing machines can be heard throughout the shop.
But Wayward Tattoo isn't the intimidating space that some picture when thinking about a tattoo shop. The small space on Madison's East Side is bright and airy, and instead of men covered in tattoos manning the shop, clients are met by the shop's three female owners, who do also happen to be covered in tattoos.
Audra Grosz, Gabe Joyner and Claire Warhus opened Wayward, 2332 Atwood Ave., in May and have been busy inking clients since. While female tattoo artists can be found at many area shops, Wayward is one of few tattoo shops in the state owned by women.
"The fact that people are so excited about a female-owned shop means that it was needed," Warhus said.
The shop's name comes from the Shakespeare play "Macbeth." The Wayward Sisters, also called the Weird Sisters or the Three Witches, provide the prophecy that Macbeth will become king of Scotland.
Joyner said she wanted a name for the shop that alluded to the three female owners but did not mark it as a women-only space.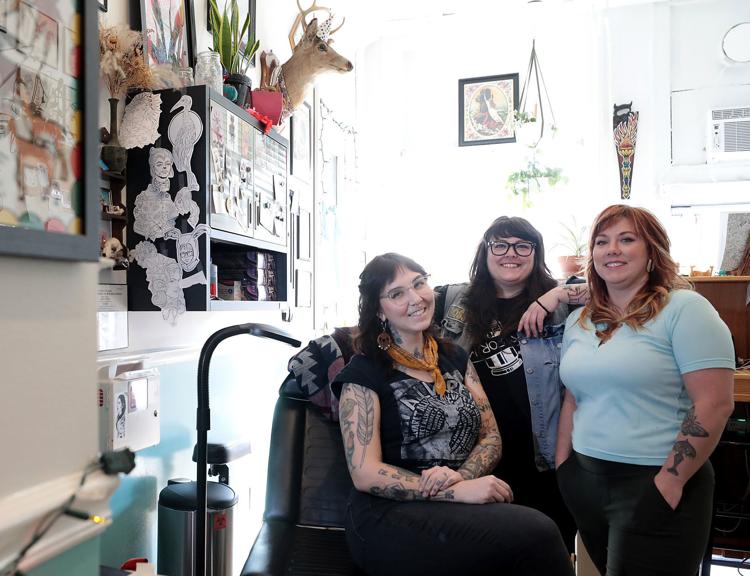 "We wanted a strong name that will last a long time and is memorable but a quiet nod toward us," Joyner said.
Grosz, Joyner and Warhus each began their careers as tattoo artists about five years ago. Grosz and Joyner both apprenticed at the same shop, and they met Warhus through mutual friends in the profession.
After years of managing their own schedules, marketing through social media and ordering their own supplies — which most tattoo artists do even when affiliated with a shop — taking the plunge into business ownership hasn't been as difficult as expected, Joyner said.
They've found a balance in workload, with each handling tasks they prefer. They own equal shares of the shop.
"Having a hierarchy of income or experience, that doesn't really foster the creative process," Grosz said.
Each of the owners brings a different style to the shop — Warhus does more illustrative pieces, Grosz's style is Art Deco inspired and colorful, and Joyner primarily does more traditional work with bold lines and solid colors.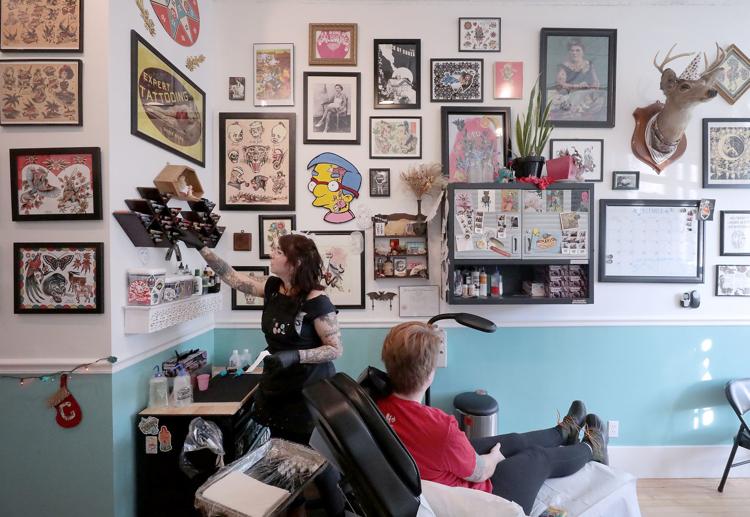 The owners have seen a steady stream of clients coming to the shop since opening, including many clients who followed them to the new shop to get another tattoo. Warhus said it's not just their distinctive styles as artists, but also their care for their clients that helps them fill their schedules.
"Right away we made that a top priority in all the other shops we worked at — clients always come first," Warhus said. "So walking in here, we already knew that we were going to have our loyal fans with us."
The shop also puts a focus on inclusivity of all people from all backgrounds, including a statement on the website saying "All bodies welcome."
Joyner said this focus came simply from wanting to "treat everyone like humans."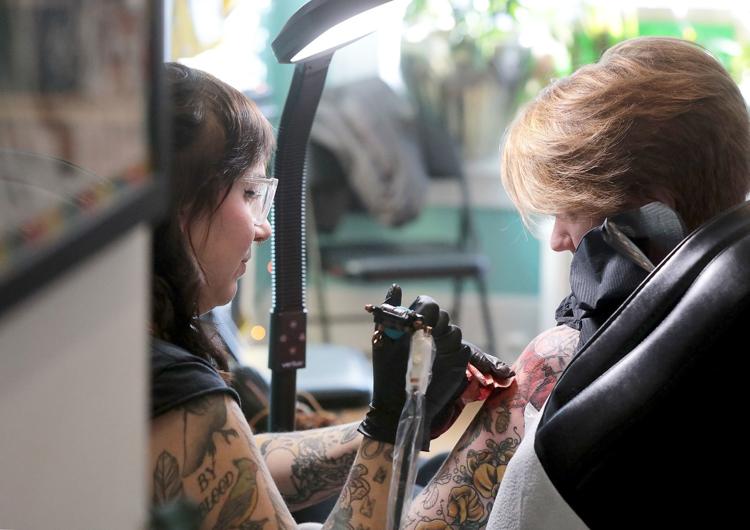 Some new clients have told the owners that when visiting other shops, they didn't feel as welcomed or as understood as they wanted. Grosz said some of her clients have told her other tattoo artists didn't listen to what the client wanted and tried to push different ideas.
Some clients also come in with more sensitive requests, such as scar cover-ups or memorial tattoos.
"We're not going to make judgement calls on where you want to put it or what you want to get," Warhus said. "We just want you to have a good tattoo."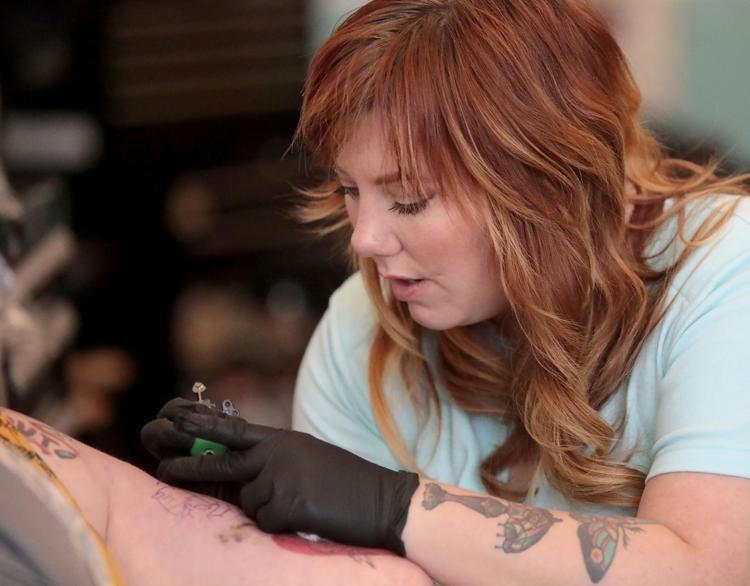 The owners have also found ways to give back to the community through fundraisers. Every few months, the shop will set up special promotions in which a portion of tattoo profits are given to local charities. So far, the shop has donated proceeds to a school lunch program, the Wisconsin Coalition Against Sexual Assault and Planned Parenthood.
"It's just a nice way to use what we do for our community," Warhus said.
The business news you need
With a weekly newsletter looking back at local history.