MIDDLETON — For the last 17 years, the routine for John and Christine Strobel has been working out of their Paoli studio and traveling to some of the most prestigious fine art shows in the country.
But with a building that needs upgrades and John's entry into retirement age but not retirement itself, the Strobels have entered a new phase of their careers.
Instead of showing John's high-end custom jewelry at 30 shows a year, only 12 shows are on the calendar for 2019.
And the former creamery building along the Sugar River they've used for a studio and gallery since 2002 has been swapped out for a more than 100-year-old space in one of Dane County's most vibrant downtowns.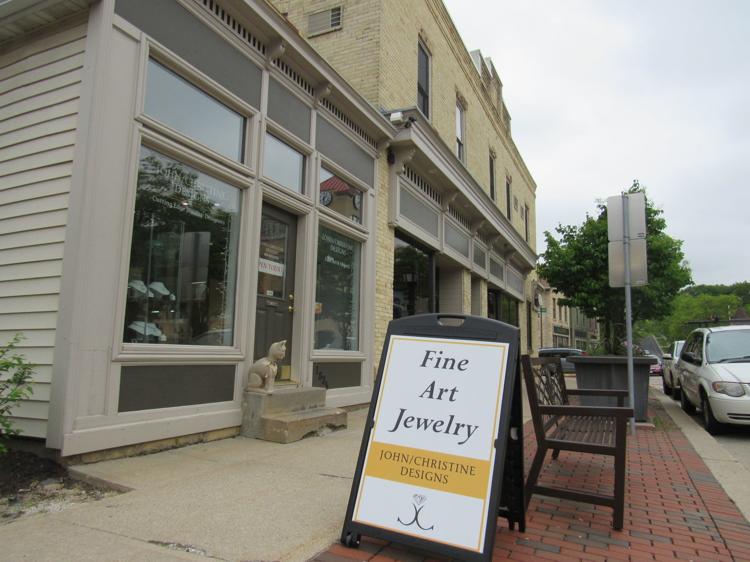 John/Christine Designs is located in downtown Middleton next to the old opera house that was built in 1855, destroyed by fire in 1900 and rebuilt in 1901. Sometime after the reconstruction of the opera house, which was home to the Elks Hotel, a saloon and dining room, a low slung annex was constructed that is now home to the Strobel's 800-square foot business that is a combination workshop and gallery.
The move is designed to set up the Strobels for a slower pace but still allow them to connect with their customers. They're also hoping to use the space to display and sell their personal collection of art and the work of other like-minded artists.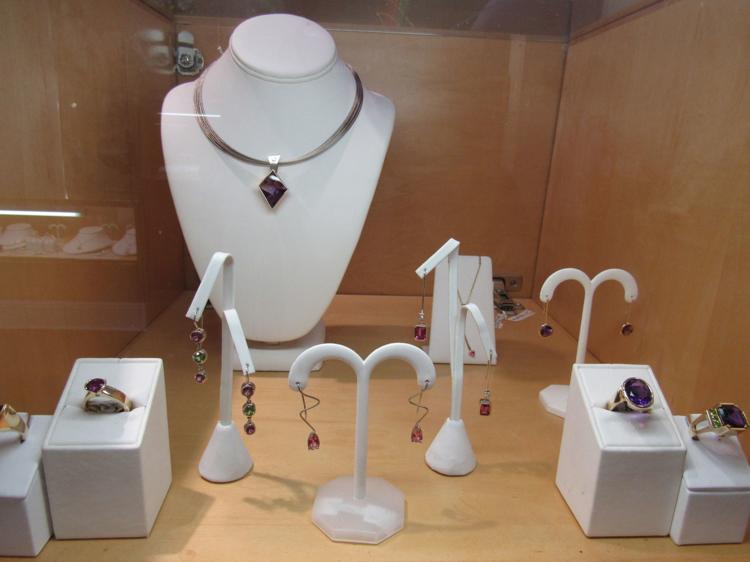 "We do high-end products," said John Strobel, as Misty, his 8-year-old rescue dog snoozed at his feet. "I want to make pieces that are heirloom quality. It would be great if they were found someday in an archaeological dig in like 3600."
Strobel, 65, has been making jewelry since middle school and favors opals in his work, 90 percent of which is gold, although he also works with platinum and a silver palladium alloy. His pieces include pendants, rings, earrings and necklaces that top out at about $15,000, but many that range in price from $2,500 to $6,000.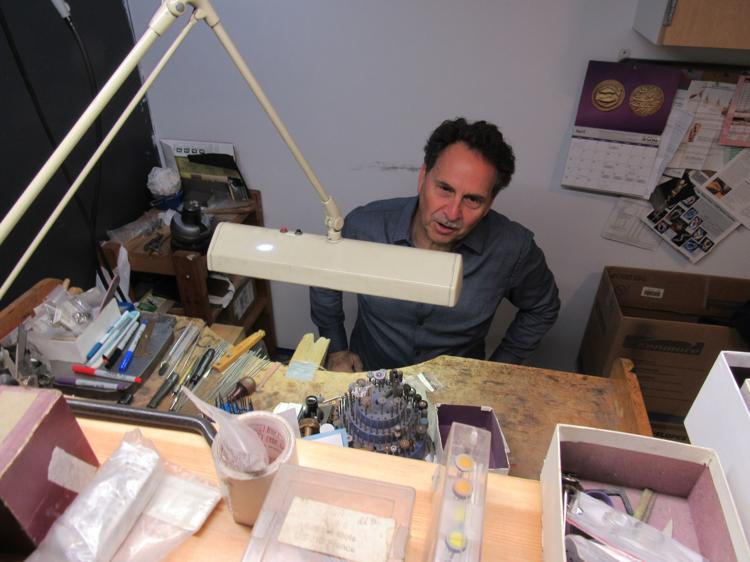 He grew up in Milwaukee where his middle school art teacher discouraged him from creating more art, came to Madison in 1972 to study geology and got heavily immersed not only in his art, but in the city's biking culture. That led to racing and triathlons and to a gig in the mid-1970s at Trek in Waterloo, which helped support his biking and art.
You have free articles remaining.
Register for more free articles
Stay logged in to skip the surveys
In 1980, he went full bore into the industry and studied at the Gemological Institute of America. He's worked at Condon Jewelers, set diamonds for a company in Chicago and did repairs for other jewelers before taking a position in 1990 with Custom Creations in Monona. In 1997, he opened his own shop and studio at Raymond Road and Whitney Way in Madison before moving to Paoli five years later.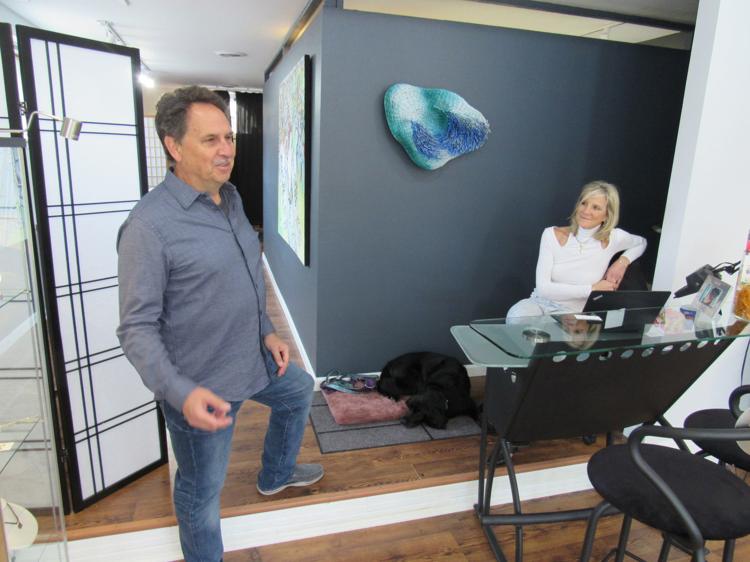 "We're not a jewelry store," Strobel said. "I'm trying to do things you're just not going to see mainstream. We're doing things with materials that unless you go to the Tuscon gem shows and do your due diligence and look for stuff, you'd never see some of this stuff."
It can include gold wrapped around iron pyrite in a slate or aquamarine gem stones. He also has pieces that include black and boulder opals both from Australia. None of his work is computer aided, designed or built on a 3-D printer. Instead, his wax molds are all carved by hand in his shop located behind the gallery but out of view from customers.
"It's tight, but it's right," Strobel said of his small space.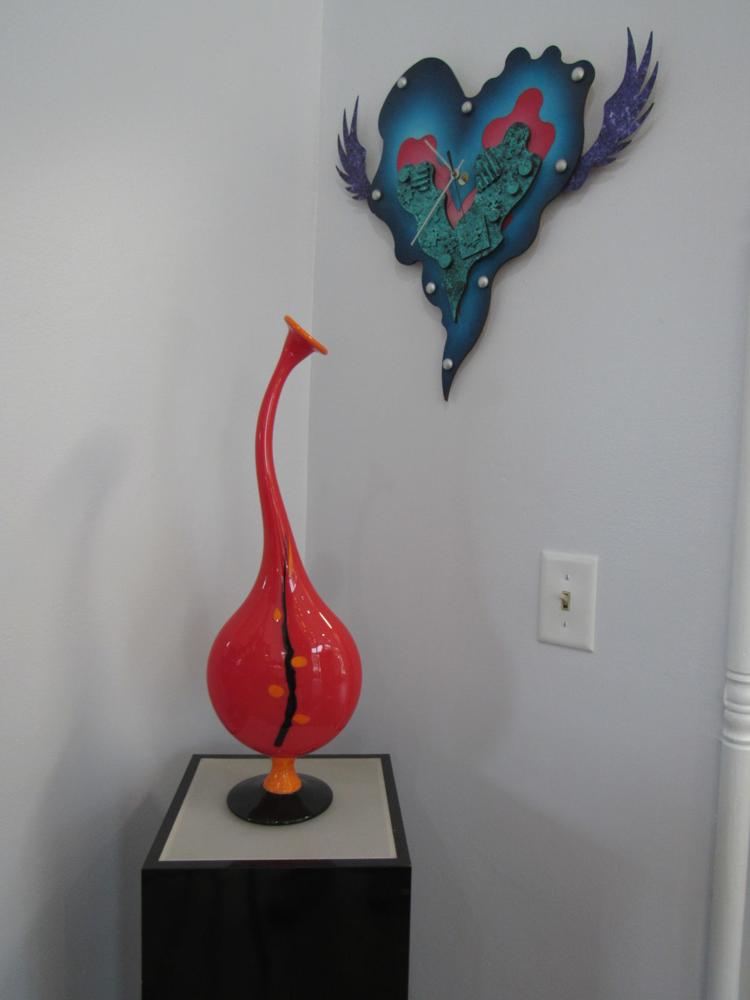 The Strobels, who have shown at Madison's Art Fair on the Square 15 times, will not appear at this year's event after not being selected by the jury. Instead, they'll spend that weekend at a prestigious show in St. Joseph's, Michigan.
But this year's schedule with fewer shows is allowing the Strobels to concentrate more on their gallery and take in Middleton's downtown that is undergoing rapid transformation thanks in part to Terrance Wall's Middleton Center, a 3-acre, three-phase development. Once completed, it will include more than 200 apartments, 50,000 square feet of office space and 35,000 square feet of retail.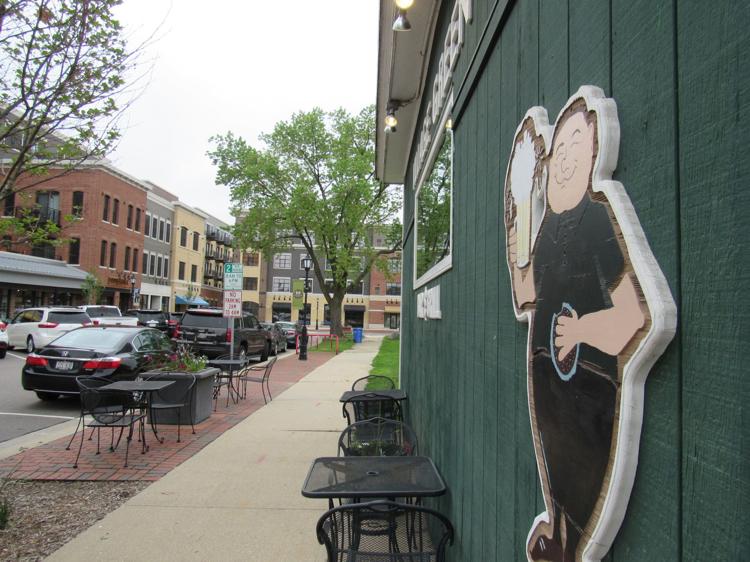 Tenants already include the dress shop Mes Amies Boutique, Longtable Beer Cafe, Journeyman Co., a men's clothing store, and most recently Helbachs Coffee Roasters + Kitchen, all across the street from the Village Green Bar & Grill. The downtown also includes a large mix of restaurants and other retailers like Chauette Home & Fashion; Tradition Children's Market; and The Regal Find, which has expanded into the former Bloom Bakery space with gifts, local goods and vintage finds and features over 130 artists from across the country.
But the move to Middleton by the Strobels, who live on Madison's Far West Side, also meant they had to part ways with Abel Contemporary Gallery, which shared space in Paoli with the Strobels but has since moved to an old tobacco warehouse in downtown Stoughton.
"It was a difficult departure when we moved out last year and we still miss them greatly," said Christine Strobel. "We had checked out some of the surrounding communities and just kept coming back to Middleton. It was really a no-brainer. We're really excited about what we have here."