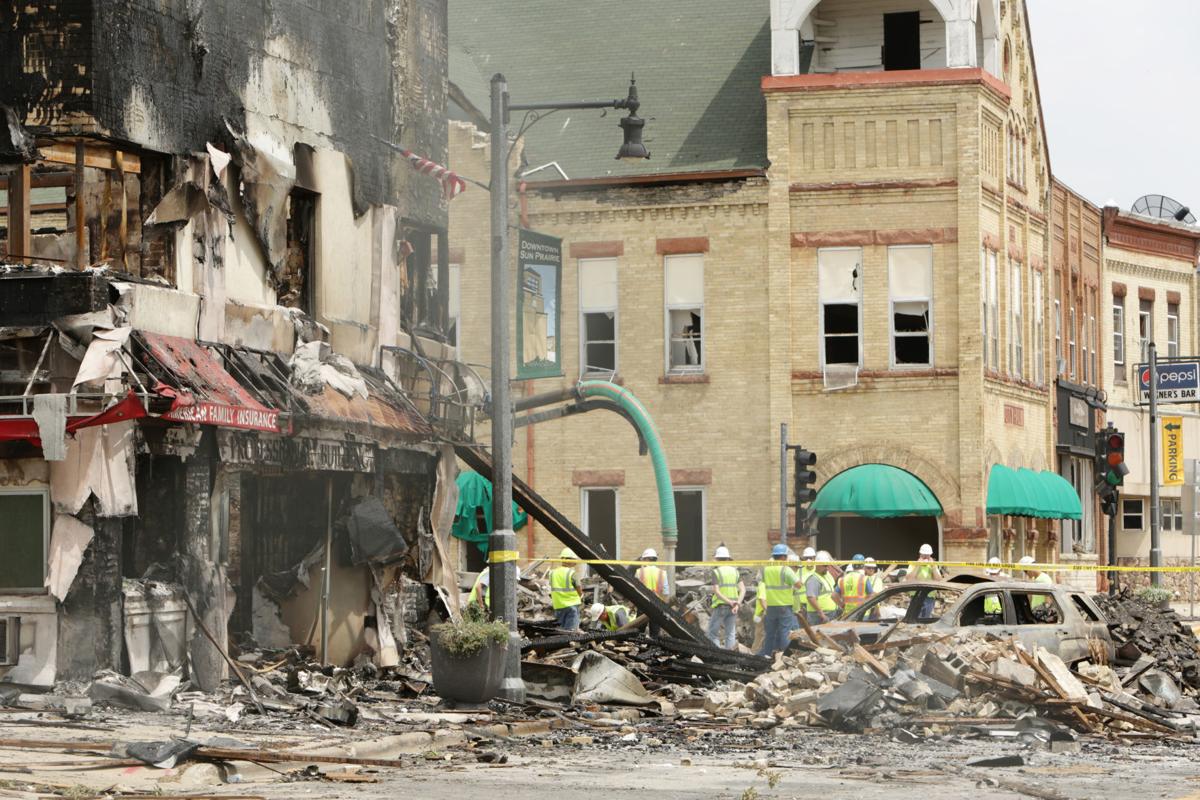 SUN PRAIRIE — Work crews armed with push brooms and shovels removed broken glass, and contractors filled window openings with plywood as this city's downtown took a step Thursday toward normalcy.
But while the 200 block of East Main Street was reopened to foot traffic, a one-block area around the epicenter of Tuesday's explosion remained closed as federal, state and city investigators continued their work into the scene where firefighter and business owner Cory Barr was killed and firefighter Ryan Welch was critically injured. The blast, which investigators say was caused by a contractor who struck a natural gas line, destroyed three buildings, damaged many others and has caused a major disruption in the city's historic business district.
It's unclear when all of East and West Main Street will be fully reopened but the partial reopening of the 200 block provided a bit of positive news for business owners who had been restricted from entering the area and covering gaping holes once filled by panes of glass.
"We're over the shock and the initial event but we have a lot of sadness for Cory, who was a great member of the downtown," said Dan Callies, who opened Eddie's Alehouse & Eatery in 2008 and is president of the downtown Business Improvement District. "We're going to roll up our sleeves and get cleaned up and get these businesses back open and be better than ever."
Workers spent much of Thursday installing sections of temporary cyclone fencing to create a perimeter around the immediate blast zone. Residences and businesses within that area remain off limits without special permission from the city, and officials have not said when the fencing will come down. Smoke could be seen still rising Thursday from the blast zone as scores of investigators in fluorescent green vests and white hard hats scoured the area within the perimeter.
Katrina Nerge, 35, had moved into her apartment next door to the Barr House, which Cory Barr owned with his wife, 10 days prior to the blast. She evacuated with her 13-year-old dog, Haley, but assumed she'd be able to return once the gas smell dissipated. Instead, her apartment, one of seven at 110 West Main St., is gone. She lost all but the clothing she was wearing. The losses include her birth certificate, a dress she had planned to wear to her sister's wedding and a jewelry box from her mother who died 10 years ago.
"I think I might have a safe left but everything else is gone," said Nerge, as she fought back tears. "I just thought we'd be right back in. I never thought this would happen."
At Salvatore's Tomato Pies, just down the street from Nerge's former apartment, tenants from six apartments above the restaurant have been displaced. In the restaurant, which is within the restricted perimeter, half-eaten pizzas, glasses of wine and appetizers remain as they were on tables when the evacuation order was given Tuesday evening. Earlier that day the restaurant had received a major food delivery from vendors which left the restaurant's coolers stuffed with perishable items, including 700 pounds of cheese, 100 pounds of sausage, 50 pounds of shrimp, 30 pounds of cod and boxes of fresh vegetables.
The building has been without electricity since the blast.
"It's all unusable," said Patrick DePula, who opened the location in 2016 after a $700,000 upgrade and endured a flood from an upstairs water pipe this spring. "I don't know when we'll be let back in. I have no income coming in. This is usually one of the busiest times of the year for us but we're forced to wait."
DePula spoke as crews pushed broken glass on the sidewalks in the 200 block of East Main Street into the street where it was then scooped up by a Bobcat and dumped into a city truck. That was followed with passes by a city street cleaner, which then allowed contractors to enter the area to begin boarding up windows with sheets of plywood. Miraculously, the Bank of Sun Prairie — in the middle of the block and with walls of glass facing the street — appeared to have no broken windows.
"Yeah, they got lucky with all of their windows," said Todd Lukens, a Sun Prairie police officer who provided a guided walk of the street Thursday morning. "As you can tell, look at all of these, not so lucky."
At Mr. Rudd's Barbershop, at the corner of Columbus and East Main streets, windows facing both streets were obliterated. So, too, were those at the neighboring tattoo shop, Public Enemy, and at J.J. Stitches & Co. where a mannequin appeared untouched by the blast. At Prairie Junction Needlework, a 6-foot-wide and 8-foot-tall window was gone but an adjacent 8-foot-wide and 8-foot-tall window was bowed out of its frame and ultimately removed before both openings were covered with plywood.
"The big thing is getting it done before it rains (Friday) because if it rains before they're boarded up you could have rain inside and water damage to drywall," said Rick Peterson, who was leading a crew of eight people for Certi-Dry, a Madison restoration company. "From what I'm seeing (the glass) blew out, which is good but you could have smoke damage because that thing burned for hours and hours."
At Collector's Choice Coins, 211 E. Main St., the front windows were just piles of glass on the sidewalk following Tuesday's explosion. The business, owned by John and Laurie Krueger, opened in 2002 as Forever Yours Jewelry and Collectors Choice Coins but the jewelry business is now located at the Shoppes at Prairie Lakes on Sun Prairie's west side and at a store in Portage.
Laurie Krueger said she and her husband were escorted to the building on Wednesday by police but had hoped for better lines of communication.
"I understand that at the very beginning people's lives are being saved. I get that," Laurie Krueger said. "But after that calmed down there's been no communication to us. And then when we did get here (Wednesday) we couldn't (initially) get in."
Callies, the owner of Eddie's Alehouse, a local craft beer bar, said his building, which was extensively remodeled in 2013 and included new windows, sustained no damage from the blast. He has faith that the downtown will ultimately be in a better position once traffic is allowed to freely flow downtown and the destroyed buildings are removed and replaced, maybe with more retail space and new apartments above.
"Our downtown has been very vibrant," Callies said "In the 10 years I've been down here I've seen the downtown grow immensely. I think we're a strong vibrant downtown and we'll survive this."