Metal printing in 3-D was a million-dollar idea with a million-dollar price tag. That is, until Bradley Woods invented a way for the average Joe to print metal on the average 3-D printer.
"This is a way of printing with hardware that's already available, it's as simple as that," said Woods, founder of The Virtual Foundry. "Printers that print in metal can cost a million dollars no problem and they're only owned by the largest companies."
Facilities for the foundry can be found in an unmarked building just off of Main Street in Stoughton. It's been flying under the radar, but gathering clients on a wide scale. They work with distributors worldwide in the United States, Canada, Australia and Europe.
According to Woods, the foundry was the first company selling metal filaments for standard 3-D printers, some of which sell for around $200.
Woods' invention, Filamet, is a plastic and metal based filament that can be fed into any 3-D printer. The Filamet is currently 8 percent plastic and 92 percent metal before firing in a kiln. After firing, according to Woods, the printed object is 99.9 percent metal as the kiln burns off the plastic.
Products printed with Filamet will behave like their origin metals too. For example, the copper pieces will patina if they're left outside, Woods said.
Right now, Filamet is sold in bronze and copper.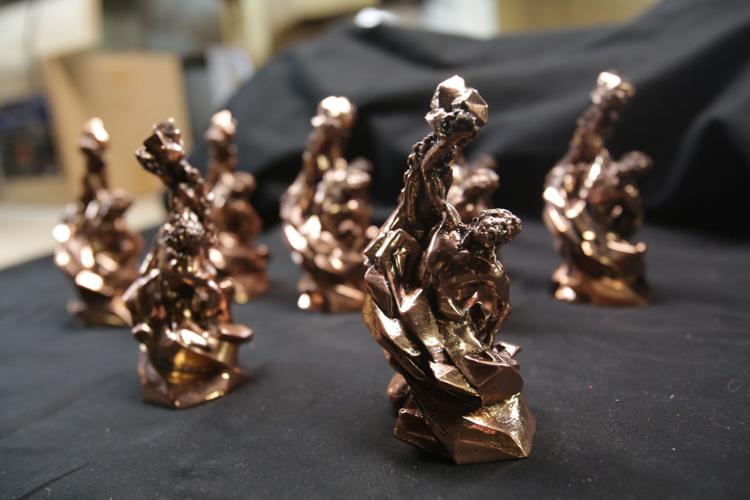 Virtual foundry's most requested metal is steel, which is in the final testing stages and will be for sale in the near future, according to Woods.
Working with NASA and other agencies
Though the process is only just shy of three years old, Woods said the foundry is already working with clients such as NASA, Lockheed Martin, Argonne Labs and the Department of Energy.
The foundry announced on Facebook in early July that they now are working with NASA to develop 3D printing capabilities for a fabrication lab (fab lab) at the International Space Station as their printing solution doesn't require gravity.
Bruce Starkey, initial foundry investor, said he and Woods were invited to speak at a symposium at Lockheed Martin in October 2015 and Woods was introduced with praise by one of the company's head engineers.
"Brad gets introduced by a head engineer who said, 'This is Brad Woods and he has the holy grail of 3D printing,' " Starkey said. "I still get chills when I say that."
Woods didn't think that the major companies with the 3D metal printers — like Lockheed Martin — would be interested in Filamet, but they have some of the greatest interest.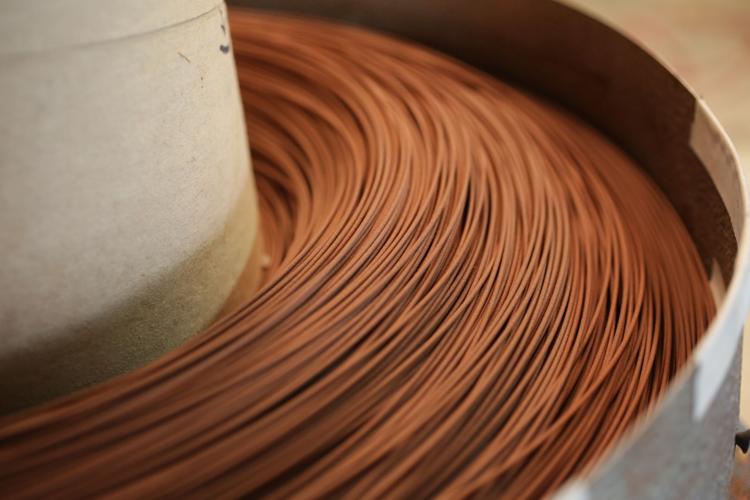 They like our product because it's easy and quick, he said.
Limitations
While the capability of printing metal on a standard 3D printer is a stepping stone, there is still more development needed, according to a UW-Madison engineer.
Benjamin Cox is an assistant engineer in the Morgridge Institute for Research fabrication lab at UW-Madison and a graduate student in the medical physics department who has been working in 3D printing for seven years. He said comparing printing Filamet on a home 3D printer to the larger metal printers is "a bit of a false comparison".
"The two processes are different," he said. "The million dollar printers are sintered metal powder printers and they're using titanium. That's why these printers are useful. You can make complex and durable parts out of titanium."
You have free articles remaining.
Register for more free articles
Stay logged in to skip the surveys
What the foundry has done, however, is still an important innovation and being able to print metal "is a big deal" and a "good step in the right direction," Cox added.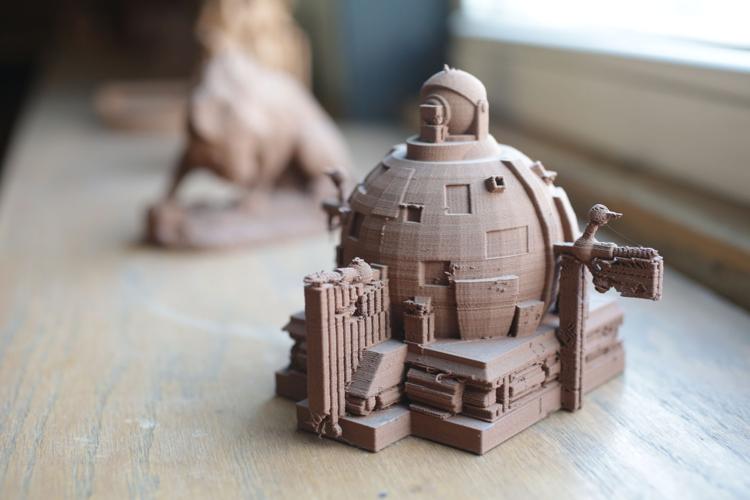 Cox said the difficult part about trying to make a filament for standard printers with a harder metal is that it would make the filaments too brittle to coil.
Determining the best ratio of steel to plastic to keep the filaments together and not crumble was something the foundry was working on when Woods was interviewed in June.
"The products we are shipping are improving every month," he said. "It's a constant process."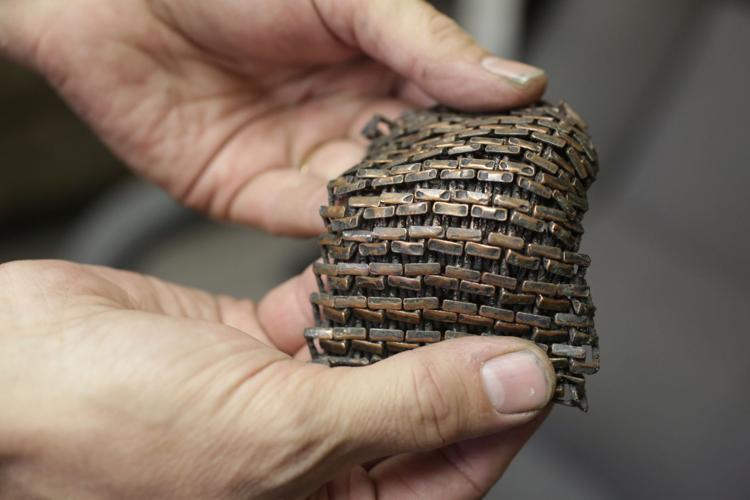 Experiments are also being done with bronze alloys in the filaments.
Expansion plans
Woods, a former career software engineer, has always been passionate about metals and sculpture which made for an easy segue into metal 3D printing.
Virtual Foundry in name predates what the company is today, he said.
He said Virtual Foundry was coined in 2000 when he came up with a method of manipulating certain metals without heat. He was using electrolysis and electroplating to sculpt copper without melting it.
Next on the agenda is a major upgrade for the foundry, which Woods said they are preparing for with some help from the Small Business Development Center at UW-Madison.
The upgrade will cost upward of $1.7 million, he said.
"We'll add another extruder (the machine that makes the Filamet), more staff, add more shipping capacity and improve our lab," Woods added.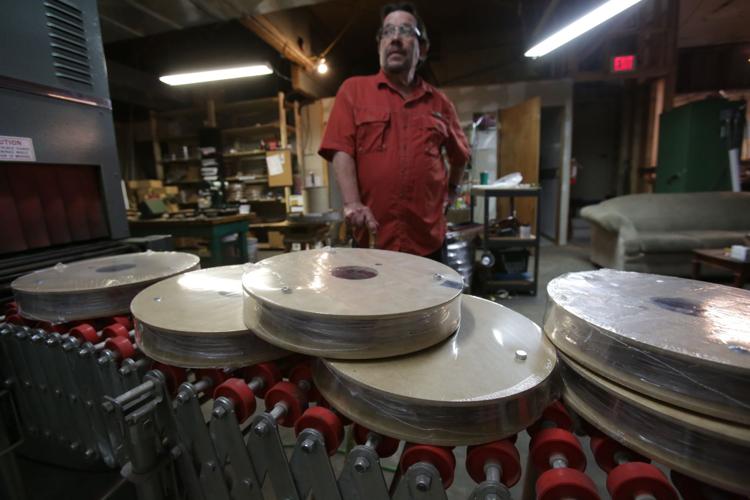 Right now the foundry is on the "friends and family strategy" as Woods calls it. In its entirety the company is made up of seven employees.
While 3D printing might not replace manufacturing because of how long it takes to print a piece, printing in metal is terrific for hobbyists or companies that want to print a complicated part that would take a machinist days to make, Cox said.
Metal printing also has unique medical applications as well because it makes it easier to create custom pieces which are important because "people are custom," he added.
So a business that grew out of Woods' basement could be one of the game changers in 3D printing, and all because he wanted to create something more durable than what could be done with his first printer.
"When I got my first 3D printer — Bruce (Starkey) got it for me — I tested it out, and it took me a few weeks to get it working," Woods said. "I printed a piece of plastic that felt like a Happy Meal toy and didn't seem very relevant. It started a quest to find a way to 3D print metal."
[Editor's note: This story has been updated to correct the spelling of Argonne Labs.]