Two well-established Wisconsin craft brewing companies have been purchased, but not by a macro brewing company looking to expand its portfolio.
Sand Creek Brewing Co. in Black River Falls, which in 2015 produced 9,990 barrels of beer, has acquired Furthermore Brewing Co. of Spring Green and Cross Plains Brewing Co. in Cross Plains.
Neither company had their own brewing facility but instead had their beer made on contract by other breweries.
Cross Plains had used Stevens Point Brewery until 2013 when it began using Sand Creek.
Furthermore has been brewed at Sand Creek since its inception in 2006.
"Each brewery has its unique take on its style of beers," Jim Wiesender and Todd Krueger, Sand Creek co-owners, said in a joint statement. "All three breweries together will complement each other's strengths."
Under the arrangement, finalized in October but announced Tuesday, Furthermore and Cross Plains will operate as subsidiaries of Sand Creek Brewing Co. and retain their names and distributor networks "for the time being." Both Wayne and Larry Esser of Cross Plains Brewing Co. and Aran Madden of Furthermore will continue as brewery representatives of Sand Creek and their respective brands, Wiesender and Krueger said.
Part of the deal would include the establishment of a tasting room and microbrewery in Cross Plains.
Scott Zellmer, Sand Creek's sales manager, said they would like to have the facility open by fall but a location has not yet been identified.
The facility would serve products from Sand Creek and include a three-barrel brewing system that would allow Madden to experiment with recipes.
"It would be a great asset to our community and certainly help the brands," Wayne Esser said.
Madden of Furthermore could not immediately be reached for comment Tuesday but Wiesender said the deals came along in September at about the same time and will allow the brands to expand their reach into the Minneapolis and Chicago markets.
"They didn't know they were talking about the same thing at the same time," Wiesender said. "It's a great way to continue to grow the brands. The economy of scales was the driving force."
In 2015, Furthermore produced about 1,500 barrels while Cross Plains produced about 2,000 barrels, Wiesender said.
Sand Creek was founded in 1999 in a dairy barn in Downing, about 40 miles northwest of Eau Claire.
In 2004, Wiesender joined forces with Krueger to buy Pioneer Brewing Co., founded in 1995 in Black River Falls in a building that was built for Oderbolz Brewing Co. in 1856.
Besides its own brands, Sand Creek also brews beer for Pangaea Beer Co., based in the Marquette County community of Neshkoro; Door County Brewing Co. in Baileys Harbor and Lake Monster Brewing Co. in St. Paul, Minnesota.
When Madden and his business partner, Chris Staples, came up with a plan for their Furthermore Brewing Co., they spent $60,000 to buy the former public works building from the village of Spring Green.
They later sold the building and purchased land in the village's industrial park.
"It has always been six months away," Madden told the State Journal in 2010. "We're always thinking about it."
In the beginning, Madden made the more than two-hour drive from Spring Green to Black River Falls to brew the beer and return on bottling day but later had Krueger, Sand Creek's brewmaster, brew his brands.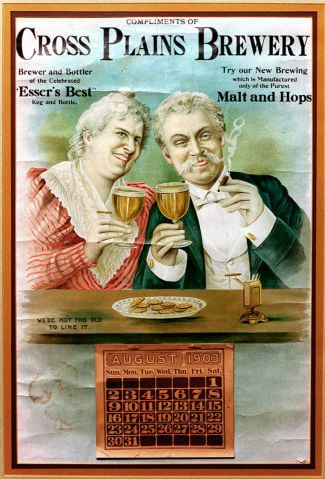 The Esser family in 1995 relaunched the Esser brand — produced in Cross Plains from 1863 until Prohibition in 1920 — and had the beer produced at Stevens Point Brewery. The company's brands include Esser's Best Original and Esser's Cross Plains Special.
George Esser came to Madison in 1852 from Ichendorf, Germany, and purchased a small brewery in Monroe for $1,500, where he produced lager. In 1863, he purchased 2.5 acres of land at what is now Church Street and Brewery Road in Cross Plains.
Wayne Esser said his family had approached a few other small breweries about buying their company before coming to an agreement with Sand Creek. The move will bring more stability to the brand and allow for the development of more beers, but it wasn't easy considering the family's roots to the company.
"It's a little bit difficult, but it keeps the name alive," Esser said. "We really have to look at what the big picture might be. This gives us stability so that we'll be around for a while."