SUN PRAIRIE — Four months after an explosion altered this city's downtown, glass companies are still at work.
Some businesses are gone, others have yet to reopen, a few have moved, and there's even a couple of new additions to the city's historic shopping district.
But even though a ceremonial ribbon was cut Wednesday with an oversize pair of scissors, the detour that has rerouted traffic around the immediate site of the July 10 blast remained in place. The street likely won't fully reopen until Friday or Saturday so that traffic lines can be painted.
It could be years before the downtown is once again whole.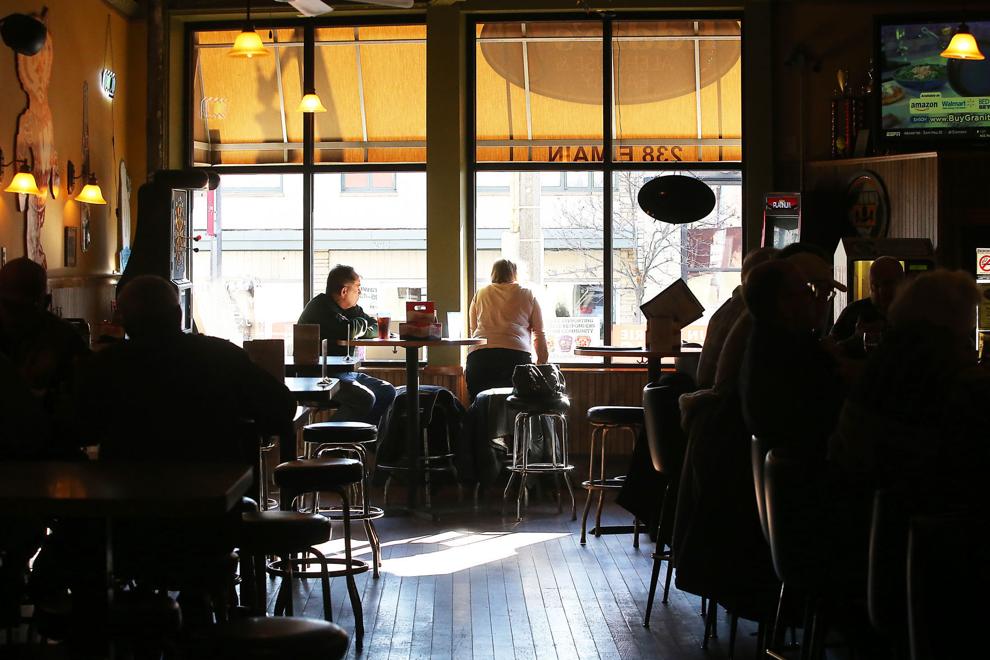 "Hopefully in the next few days we'll get back to somewhat normalcy," said Dan Callies, owner of Eddie's Alehouse. "The downtown's not going to be complete until there are new buildings built and new and old businesses coming back. At that point the downtown will be complete again but it's never going to be the way it was. My hope is that it will be better than ever."
The early evening explosion, caused by a punctured natural gas main, killed Sun Prairie Volunteer Fire Department captain and downtown business owner Cory Barr, severely injured firefighter Ryan Welch, destroyed five buildings, damaged several others and displaced dozens of residents.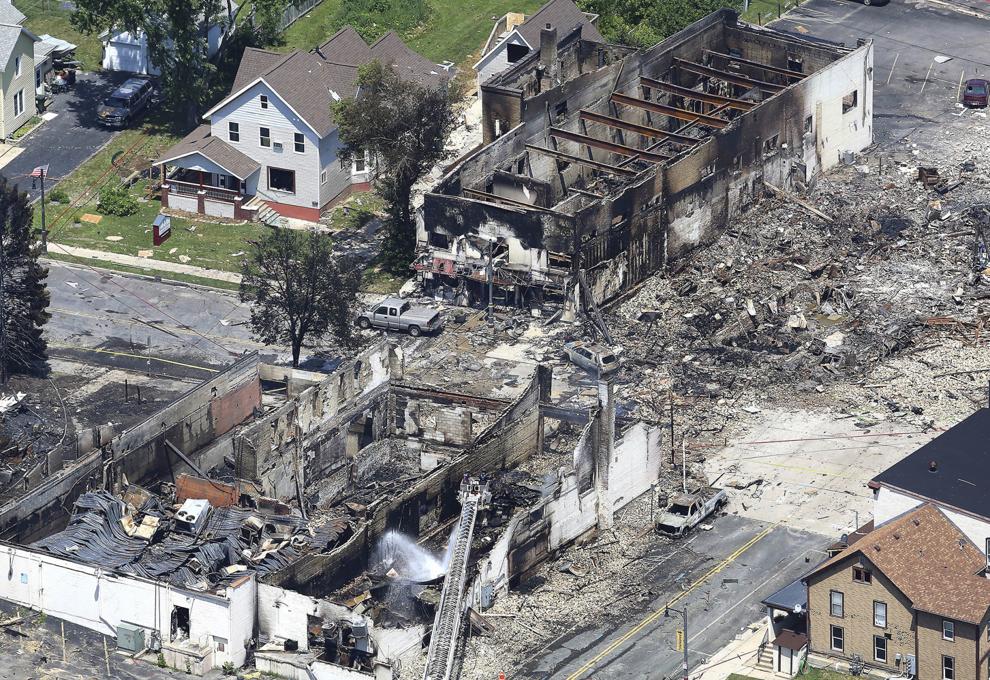 A contractor that specializes in locating and marking underground utilities to prevent accidents failed to properly mark the gas line that was struck by a communications construction firm, according to a search warrant unsealed in Dane County Circuit Court last month. The search warrant states that a Wisconsin-based worker for USIC, an Indiana company that has offices all over the U.S., failed to correctly mark the gas line in the street, where it was actually located, and instead marked a spot on a sidewalk about 25 feet away where there was no gas line.
Heat from the fire following the blast damaged the street and investigators spent days looking for clues to the cause of the explosion. Ten days after the explosion, more than two dozen businesses remained closed, while a two-block section of the downtown business district was open to foot traffic but closed to vehicles for nearly two weeks. However, a one-block section of West Main Street in front of the blast site has remained closed since. But that changes this week.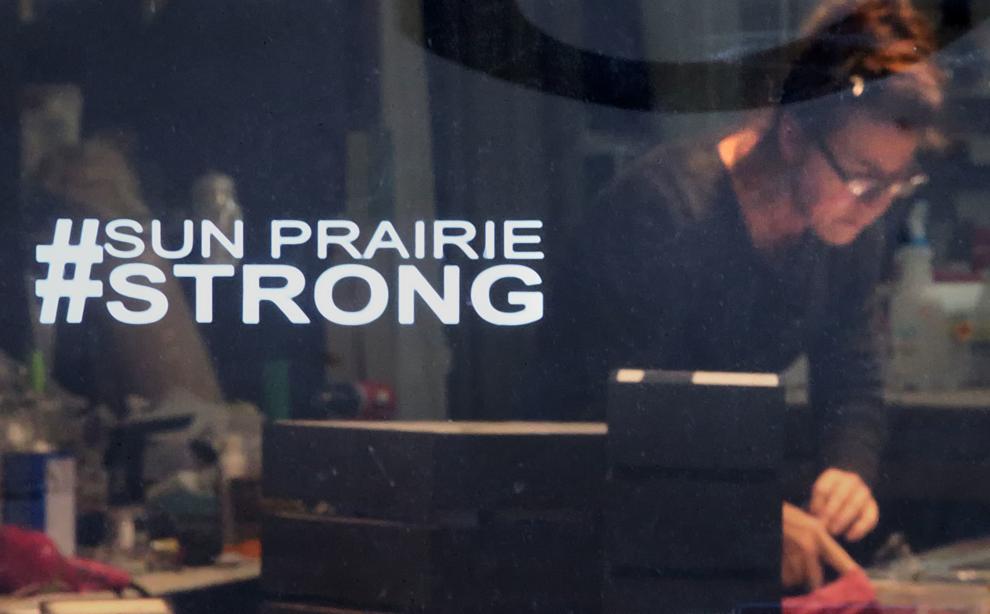 "The reopening of this highway is good for this community," Mayor Paul Esser said during Wednesday's ceremony on West Main Street near where Barr owned his tavern. "It shows we aren't allowing the horrific events from July 10th to define this community. What we are doing today celebrates the resiliency of this community."
The aftermath has left vacant lots at the intersection of South Bristol and West Main streets, while a $1 million emergency road construction project by the state has rebuilt the damaged street with new concrete pavement, curbs, gutters and sidewalks along with new traffic signals and decorative lighting.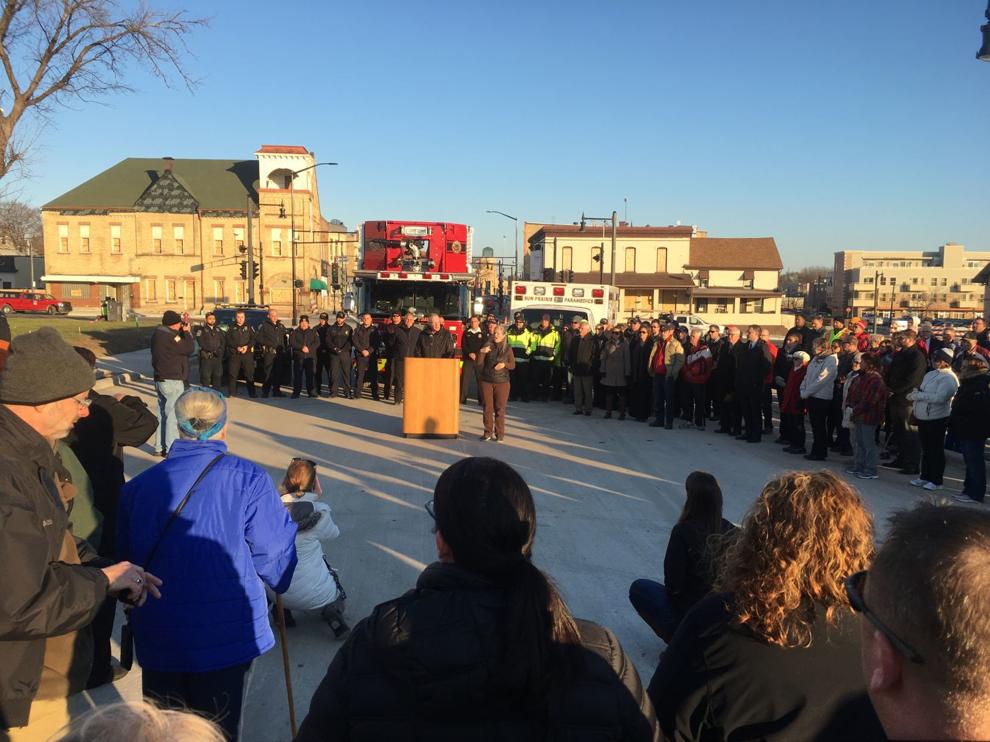 Wednesday's ceremony, under a bluebird sky punctuated by a half moon to the south, drew first responders, business owners, city and state officials and residents. They stood on the new pavement looking west with the Old City Hall in the background. The building, constructed in 1895, survived the blast but its windows and doors remained covered with plywood. The blast happened just across the street and only a block from a city fire station.
"We were devastated four months ago," Sun Prairie Fire Chief Christopher Garrison told the crowd. "We're back. We're back strong and we're back here to take care of you. We are here for you. We are strong and we will keep on serving."
The blast, cleanup, detours and disruptions have had a major impact on downtown businesses.
Rachel Beahr and her husband had hoped to open their seven-room Baehr Haus Boutique Hotel in September, but the opening has been delayed until at least next month. Their bed-and-breakfast, about 150 feet from the epicenter of the blast, is located in a historic home which had its windows blown out. The investigation and aftermath of the blast limited their restoration work as well. Rooms on the east side of the hotel now have clear views of the downtown since buildings, including the Barr House, were leveled.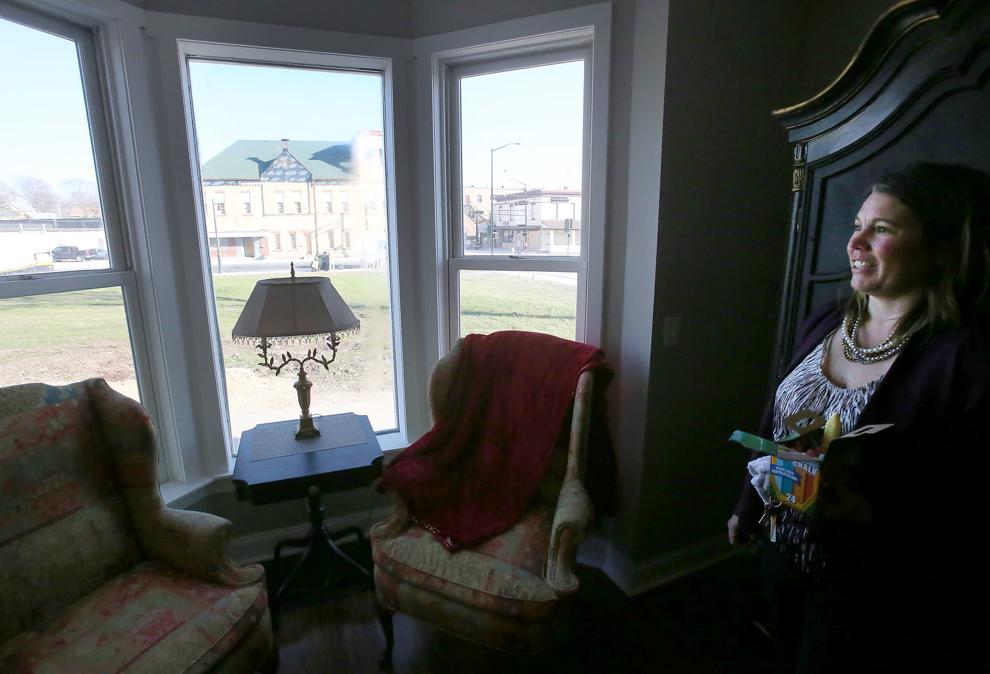 A healthy downtown is critical to the hotel's business model, and Baehr is hopeful that Chocolate Caper, which had been in the Old City Hall but which remains closed, will return.
"Within a two-block radius you can really hit up a lot of different places," Baehr said. "I'll be curious to see where development goes."
Steve Owen, 60, has owned Sun City Cyclery & Skates for 28 years. He lives upstairs from his business and was knocked off a stool when the blast occurred. One of the front bay windows of his bike shop, located in a 120-year-old building, was shattered and was replaced Wednesday by workers from Prairie Glass Co., which has been kept busy in and around the city's downtown. Owen was able to open his business 48 hours after the blast but said sales dropped and his insurance covered only $250 of the $5,000 window repair bill.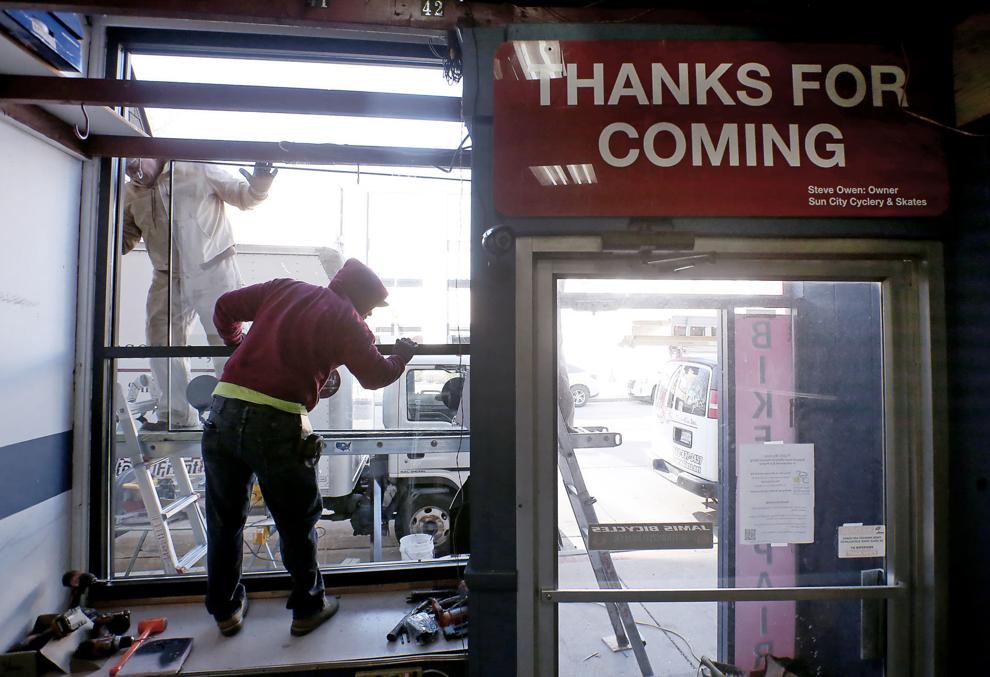 "Back in the day I had very few neighbors," Owen said of the early 1990s. "Now, having a lot more neighborhood activity going on and the new businesses, it's a totally different environment. And I think it's for the better all the way around."
Martin Glass Co. has been at work since Monday installing new front windows at Public Enemy Poke & Smoke, 208 E. Main St. Located about a block from the blast scene, the building now has roof and foundation damage, several windows were damaged and electronic signs were destroyed. Damages could top $100,000 for Jake and Margie Blumenthal, who have owned the business for 17 years. Remarkably, the more than 5,000 glass pipes that fill glass display cases escaped damage.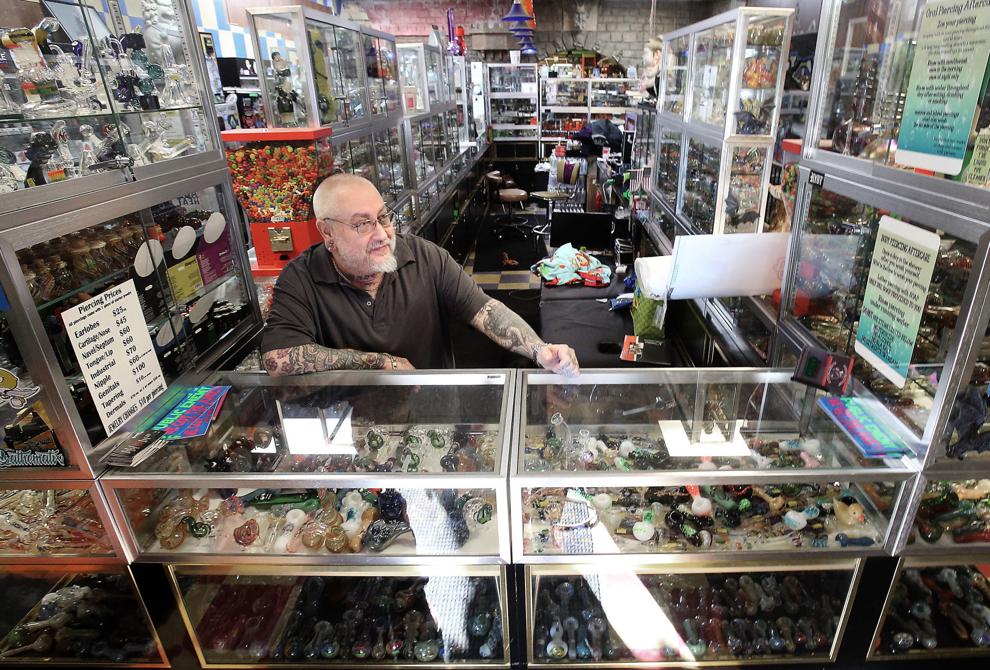 Repairs to the building have been delayed due to negotiations with their insurance company. The front windows alone cost $24,000 to replace.
"Business is probably down by a third to a half but I think we're doing better than a whole lot of others," Jake Bleumenthal said. "If they would open the road, it would make a big difference."