The rooms in Madison's newest hotel may not be for the old-school traveler.
There are no drawers to store clothing, or single-serve coffee pots. There are wood-looking laminate floors instead of carpeting, while USB ports dot each room to make charging phones, tablets and other devices more convenient. In each bathroom, wall dispensers above the sink and in the shower replace small bars of soap and travel-size bottles of shampoo, conditioner and body wash.
But one of the big amenities in the 106-room Tru by Hilton, which opened Wednesday at 8102 Watts Road, is its modern and spacious lobby, which challenges expectations for a mid-priced hotel. The design and offerings in the 2,880-square-foot lobby give it a downtown feel, even though it's located on the Far West Side a few blocks from Menards.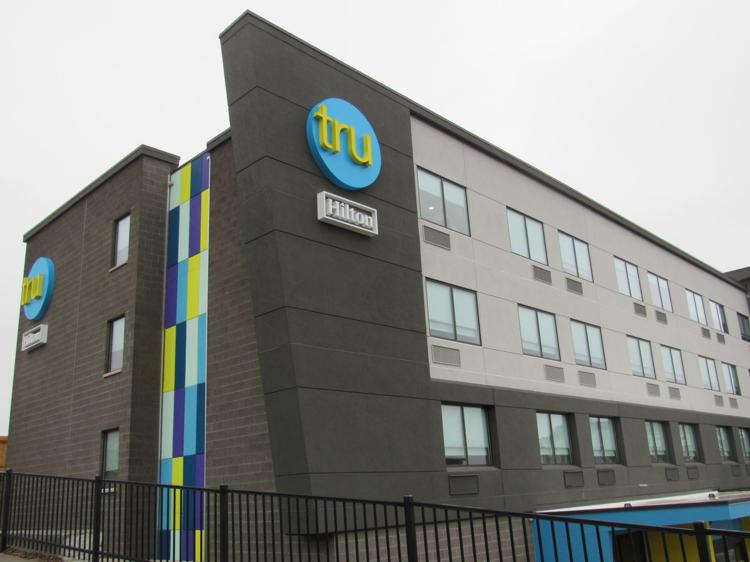 "There's nothing like this product in Madison," said Stephanie Bracken, Tru's general manager. "We are very unique, and it's going to be something really fun."
And she means that quite literally.
The lobby is equipped with a pool table, bubble hockey, board games and even Rock'em Sock'em Robots. The space also includes tables and nooks with power and USB ports, high-speed internet, two touch-screen public computers and a bright mural by Oconomowoc artist Alex Solis with images of the Memorial Union, Red Gym, Monona Terrace, the State Capitol and a grinning Bucky Badger.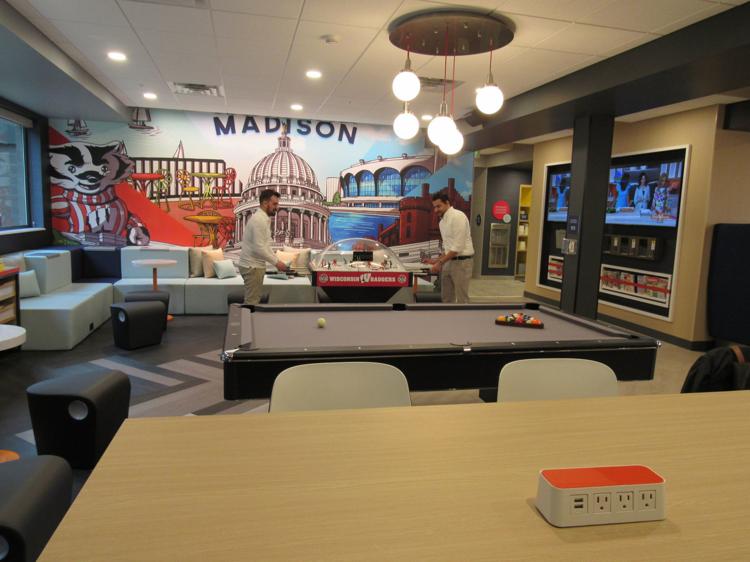 There are big-screen televisions and an open-air store to purchase snacks, bottles of craft beer and single-serving bottles of wine. In the morning, a complimentary breakfast bar offers bagels, oatmeal, cereal, granola, yogurt, hard-boiled eggs and donuts that can be topped with more than 30 different toppings. A nearby fitness area includes treadmills, an elliptical machine, free weights and TRX bands.
Outside, there are lounge areas with natural gas fire pits, giant Jenga, yard marbles and checkers and chess.
You have free articles remaining.
Register for more free articles
Stay logged in to skip the surveys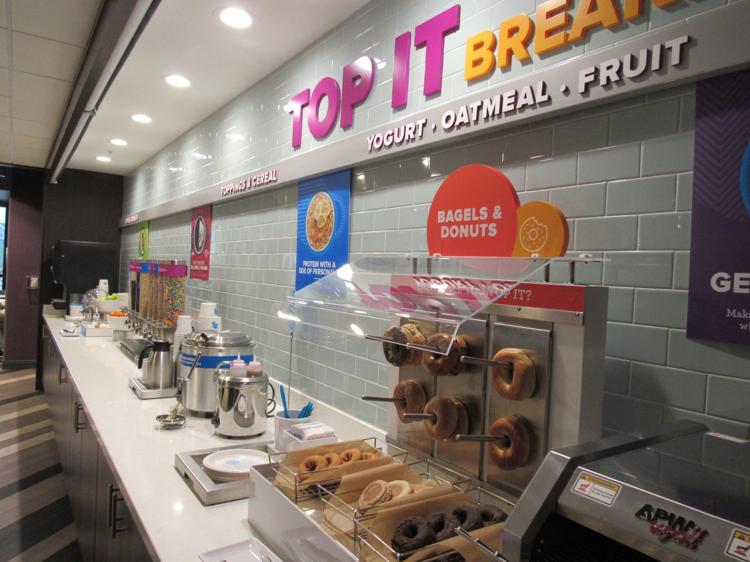 The $5.8 million Tru project is located next to the Hampton Inn & Suites and Homewood Suites. All three properties are operated by North Central Group, a Middleton-based development and hotel operations company that last year opened the 165-room AC Hotel by Marriott in Downtown Madison. NCG was founded in 1981 by David Lenz and has grown to 30 properties in Arizona, Illinois, Iowa, Minnesota, Nebraska and Wisconsin.
"Anybody coming to Madison, but especially (the Far West Side), these three hotels are going to complement each other," Bracken said. "We have something to offer every type of guest."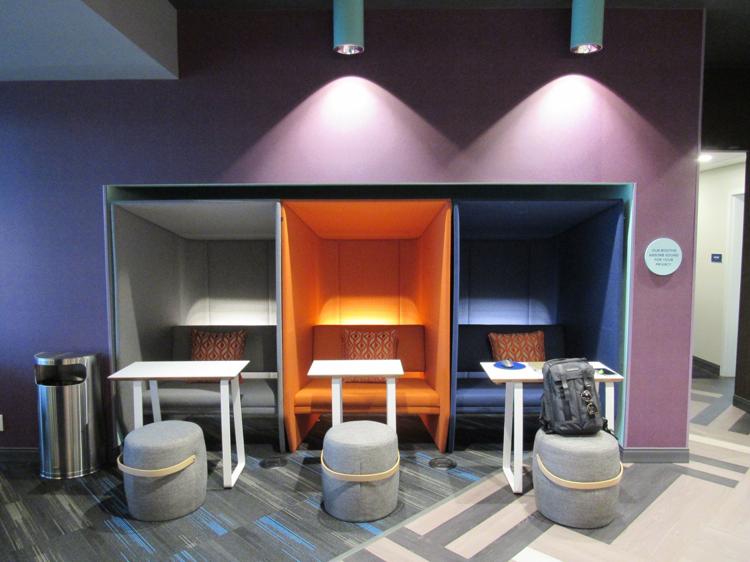 Tru is not only new for NCG, but also for Hilton, which unveiled the brand in early 2016 and has more than 200 projects in the works. One of those is in Stoughton where Forward Development Group wants to build a 93-room Tru near the intersection of Highways 51 and 138. The Verona company's plans call for an adjoining 10,769-square-foot conference center, capable of hosting up to 300 people for business meetings, weddings and other large events. The developer envisions the hotel, for which ground has not yet been broken, as drawing most of its business from the city's largest companies, including Stoughton Trailers, Cummins Filtration, Nelson Global Products and others, and would fill a void in the community, which has a Quality Inn & Suites and a Days Inn.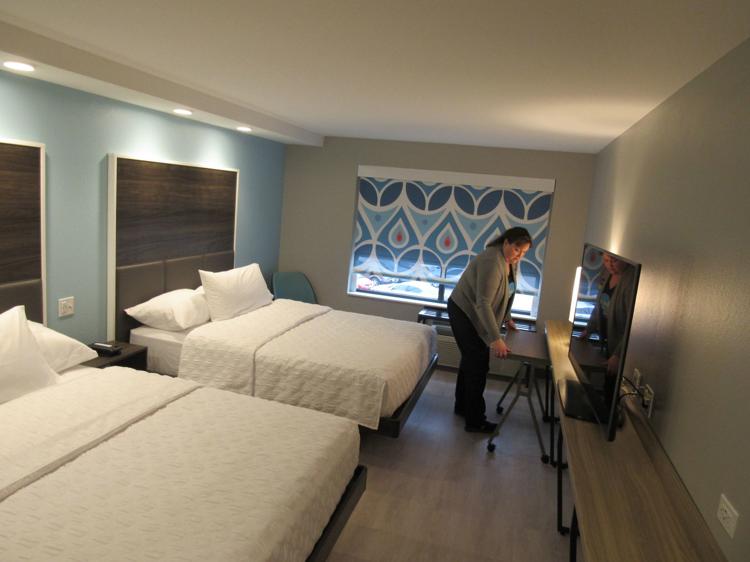 Hilton describes the Tru brand as a mid-scale hotel for business and leisure travelers, and designed to attract younger customers. Construction of the Tru in Madison, the 20th in the country and first in Wisconsin, started in June and is the latest entry into the growing hotel market of Dane County.
Recent additions have included a 136-room Hyatt Place in Verona and a $13 million, 100-room Staybridge Suites in the Orchard Pointe Shopping Center in Fitchburg. The Park Hotel, formerly known as the Inn on the Park and one of Madison's oldest businesses, completed a $12 million renovation in 2017, and there are plans for more hotels in the city.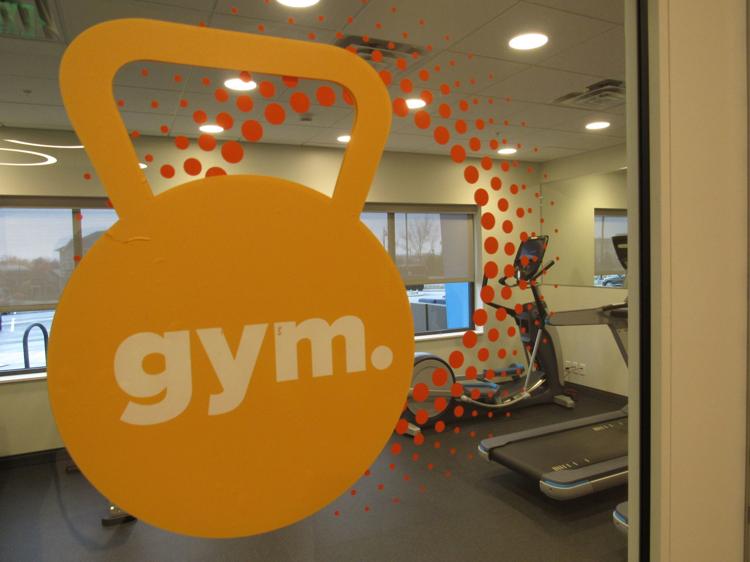 A 250-room hotel is part of the $170 million Judge Doyle Square redevelopment Downtown. In addition, other proposals include a $10 million boutique hotel on King Street and a 120-room hotel on State Street. An 11-room boutique hotel is under construction on South Baldwin Street, while Drury Southwest has revised plans to convert Madison Area Technical College's downtown campus building into a 315-room Drury Plaza Hotel.