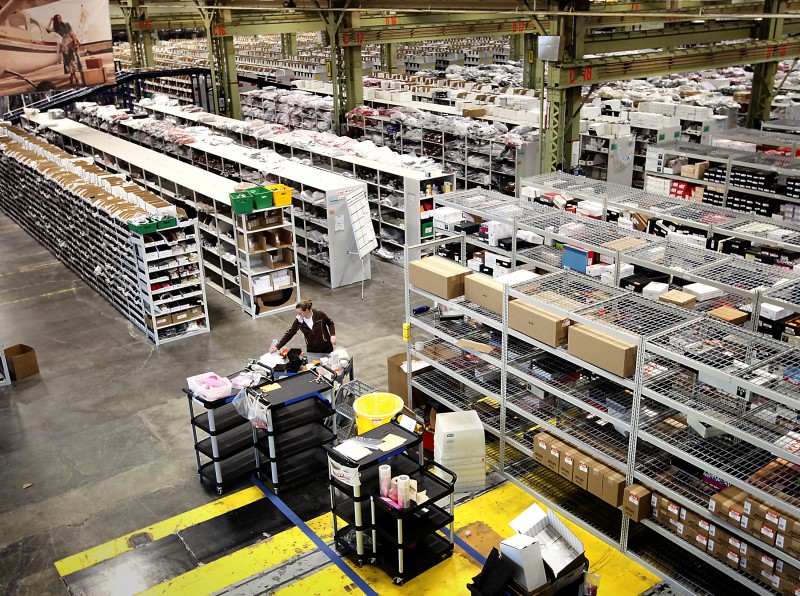 This article first appeared in Sunday's State Journal.
---
Since the late 1800s, a two-block stretch along East Washington Avenue was home to Gisholt Machine Co., one of the city's largest manufacturers.
When it closed in 1971, about 875 people lost their jobs. In later years, the Gisholt space hosted a number of small businesses and for a time, 450 employees of Marquip, which closed in 2000.
They owned homes, shopped in the area and, after a long day of factory work, would trek two blocks to the south for a cool one at Coughlin's Tavern at the corner of South Baldwin and Williamson streets.
Life has again returned to this 210,000-square-foot industrial stronghold.
Only now the employees are focused on designer women's clothing instead of machines, grab coffee at the EVP across the street, order noontime sandwiches at the Willy Street Co-op and unwind with local craft beers and music at what is now the Crystal Corner Bar.
Shopbop, an online, high-end fashion retailer started out of a downtown clothing store in 2000, has 300 employees and spent more than $5 million converting the former Gisholt space into its headquarters.
The company, which leases the space, expects to be at more than 400 employees by the end of 2012, could hit 650 by 2015 and is seen as a key spark to the redevelopment of the East Washington Avenue corridor.
"It shows that you can use these older buildings and that the older industrial part of the city can be rejuvenated," said Scott Thornton, president of the Marquette Neighborhood Association. "Hopefully the housing will come in fast enough so additional workers at Shopbop can live in the neighborhood."
Major redevelopment projects are in the works, including housing, retail and office space projects at the former Mautz Paint factory and the former Don Miller car dealership a few blocks to the west.
Shopbop also is adjacent to two business incubators. Common Wealth Development's Madison Enterprise Center is across the parking lot, while the 6,000-square-foot Metro Innovation Center is underneath Shopbop's corporate offices on the west side of South Baldwin Street.
"It's a terrific impact that Shopbop has on the whole economic development picture in Madison," said Mark Bugher, director of the University Research Park, which created the Innovation Center. "It's a great story and a great addition to the East Washington corridor."
Shopbop began from Bop, a women's clothing store at 222 W. Gorham St. Bop was founded in 1999. Online sales took off between 2001 and 2003 as the Internet became more popular for shopping. Shopbop also offered a collection of hundreds of brands available on one website.
Purchased by Amazon.com in 2006, Shopbop was spread out over three sites totaling about 112,000 square feet on East Badger, Rimrock and Holtzman roads on the South Side.
You have free articles remaining.
The move in July consolidated the company into one location.
An orange sign went up in the past few weeks to announce the company's presence, but Jeff Yurcisin, Shopbop's president and general manager, said to recruit more employees, the company needs to do a better job letting people know what it offers.
"Our culture is one where in some ways, we're soft-spoken. We've never really shouted locally about being here," said Yurcisin, who has 50 job openings. "What Madison offers is a great talent pool and great living for our employees."
When considering possible locations for the move, company officials wanted to be in the city of Madison and focused on the East Side, near where many of its employees live.
About 25 percent walk or bike to work, said Helen Boyne, director of operations.
"We wanted to give an urban experience to our employees," Boyne said. "There were few options, but we felt like the historic character of the building gave us a lot of opportunities architecturally."
An enclosed bridge over South Baldwin Street connects Shopbop's corporate offices with the main production area of the company.
The bridge was converted to a common area with couches, tables and even a room that includes a video game machine, game tables and dart boards.
But the real eye-opener is what the company did with what used to be 162,000 square feet of heavy industrial manufacturing space.
The majority was transformed into a warehouse and a shipping center that holds rows of shelving and racks filled with $800 dresses, $500 pairs of shoes and $400 handbags. What used to be offices staffed with foremen and others directly related to Gisholt and Marquip manufacturing is now home to a customer service department that uses translation equipment and translators to communicate with customers in eight languages in 160 countries. Others include information technology experts, photo image processors, copy writers and software engineers, such as Jason Samsa, an Appleton native who has been with Shopbop for about a year.
"People here are really motivated." Samsa said. "These are the nicest digs I've ever worked in. I really love it."
And then there is the south side of the building. From the outside, it looks like any other cream-colored brick factory. But behind the walls are dressing rooms, stylists and six photo bays where young women from New York, Chicago and beyond model the clothing sold to Shopbop's international audience.
Another room holds smaller photo bays where bags, watches and jewelry are photographed without models. The space also includes two video bays.
Music echoes through the 20-foot ceilings and it's easy to forget this is Madison, not New York or Milan, Italy.
Abel Berumen, a photographer who moved here from Chicago in 2008, said he stumbled across Shopbop while his girlfriend was looking at clothing on the Shopbop website.
He "was floored" by the quality of photography.
"I always thought they were in New York. I was pretty much speechless when I found out they were pretty much down the street," Berumen said. "Work is work. You go where the work is at and if the employer is top notch, you can't refuse."
Shopbop may take up more than 200,000 square feet of floor space along East Washington Avenue, but it got its start in a women's clothing store just off State Street.
Bob Lamey, who founded Active Endeavors, a sporting goods store specializing in climbing gear and high-end outdoors items, joined Martha Michelson and Ray Zemon to open Bop in 1999 after Lamey closed his sporting goods store. It was only a few months before the store began selling items on the relatively new Internet.
Bop, at 222 W. Gorham St., between Quaker Steak & Lube and Badger Liquor Shop, originally focused on denim but gradually changed to more high-end designer clothing. It now carries more than 400 brands but focuses on only a few items from each designer.
When the company was sold to Amazon.com in 2006, it had 80 employees but it could grow to more than 650 employees by 2015. Helen Boyne, director of operations at Shopbop, said there are no plans to add more brick and mortar stores. The company's focus is on growing its Internet business that reaches 160 countries.