Almost eight years after they started, members of the Solidarity Sing-Along are singing a new tune.
One day after former Gov. Scott Walker left office, chants of "Walker won't be governor" in the chorus of the group's opening anthem were replaced with shouts of "Walker is not governor today" reverberating through the Capitol rotunda.
More than 50 people gathered Tuesday to, in their own words, outlast the man who had brought them there in the first place. The daily number has fluctuated over time and often has included only a handful of singers.
"We committed to be here one day longer than Walker was here. Now Tony Evers is governor, Walker is gone, this is one day longer," said Cee Cee Cohen, a retired teacher who has sung in the Capitol intermittently since 2011.
Singers have gathered since March 11, 2011, to protest Walker's controversial Act 10 law, which mostly ended collective bargaining for most public employees. Those who sing insist they are not part of a group and don't have a leader, and have individual goals for participation.
Cohen said the goals of each person in the sing-along differ, but that hers was to ensure her voice was heard. She said her goal had been fulfilled.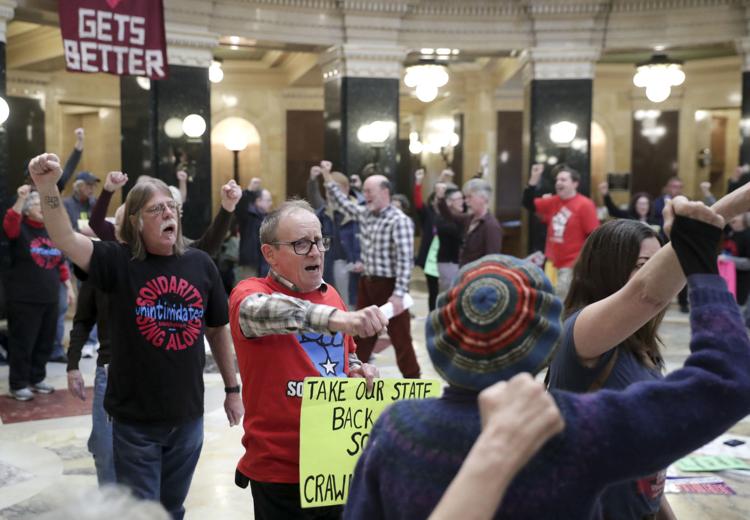 "The war is never over, but the battle is won," she said.
With that mantra in mind, Cohen, along with other singers interviewed by the Wisconsin State Journal, said Tuesday's sing-along won't be the last time the group's chants are heard in Capitol rotunda. Cohen said she plans to return Friday and possibly Wednesday.
Several singers, including retired lawyer David Rolnick, said they'll continue to show up to protest if the Legislature attempts to "obstruct" Evers or if the state Supreme Court rules in favor of business.
"They need to hear from us. So I think we're going to keep going, one day longer, one day stronger," said Rolnick, who committed to returning to sing Friday.
He said he started singing to protest "anti-democratic" actions taken by Walker and legislative Republicans.
Still, the election of Tony Evers as governor had some singers, such as retired psychiatric nurse Ellie Connolly, feeling bittersweet because the sing-along group had provided her structure in retirement.
"Now those darn Democrats took my job," she joked.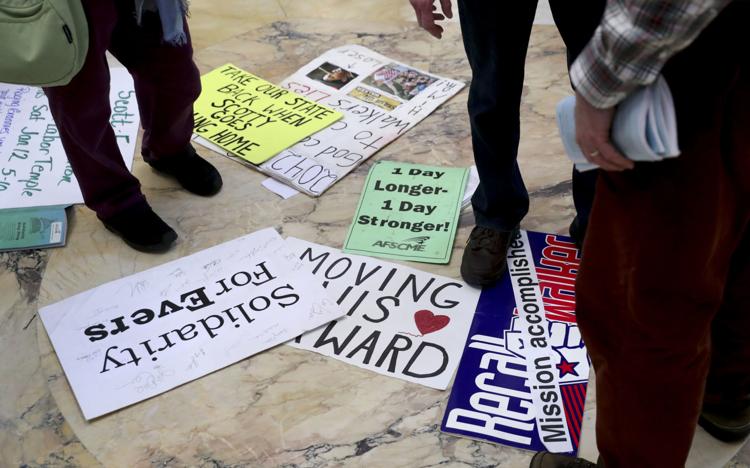 Connolly described the group as a "ready-to-go strike team" that kept close watch on state government and remained vocal when they were upset at what they saw.
Cohen has shown up to sing nearly every day for the past three years. Now, she only plans to return to sing on Fridays and as needed.
In a recent interview with the Associated Press, Walker said he intentionally avoided the singers and never heard a song they sang.
Rolnick said he doesn't believe it.
In another sign of a new era in state government, WISC-TV reported that wording on some of the state's welcome signs has been changed from the "Open for Business" slogan under Gov. Scott Walker to "Tony Evers Governor." Before Walker the signs included then-Gov. Jim Doyle's name.