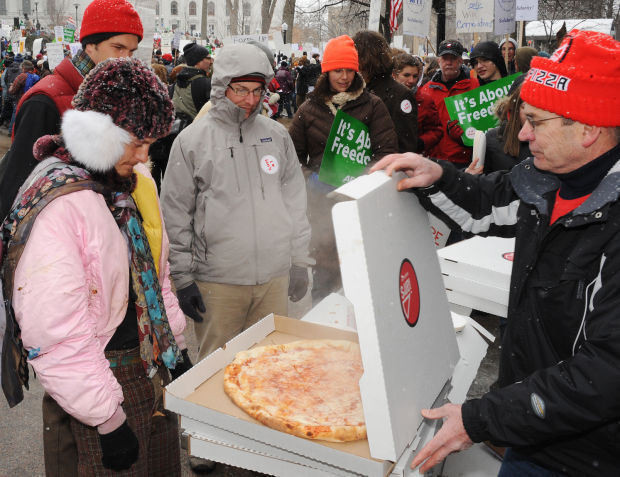 For Ian's Pizza, a staple of Madison's food scene that now has locations in Milwaukee, Denver and Seattle, feeding Act 10 protesters helped plant the business firmly on the map.
Ian's involvement in the Act 10 protests started early on, when an employee at the parlor's Downtown location gave out about eight leftover pizzas to protesters gathered at the Capitol at 3 a.m. on a cold February night.
Ian's received a small number of pizza orders for the protesters over the next couple of days, but after people started tweeting out the restaurant's phone number, the orders ballooned to the point of setting up a makeshift call center in the back of the restaurant to field orders for the protesters.
Pizza orders for protesters became almost the exclusive business of the next few weeks. It reached a point where, for nine days, the restaurant closed down in order to only handle protest pizza orders, on occasion purchasing supplies of food from neighboring restaurants to keep up with demand.
Ian's office manager Staci Fritz said she recalls the restaurant making 1,200 pizzas a day during the peak of the protests. That amounted to four times the sales of a normal February.
Ian's Pizza received orders from all 50 states and 72 countries, and got so many orders that the restaurant had to occasionally stop answering the phones and taking orders if they surpassed what they could realistically make in pizza.
Ian's role in feeding thousands of hungry protesters landed the company a story in the New York Times and mentions in other news outlets.
"It catapulted us in that location to a whole different level," said Ian's Pizza co-founder Ian Gurfield. "Obviously our name got out there. It definitely put us on the map for a lot of people who hadn't heard about us before."
Gurfield said after peak pizza orders during Act 10, the baseline level of business improved compared to pre-Act 10 levels. While expansions of the business likely would have happened in either event, Fritz added the increased level of recognition certainly didn't hurt such efforts.
Fritz and Gurfield said the rush of business during Act 10 did have its downsides, such as a perception that they had a partisan bent. Fritz said she received an email from a Republican concerned about whether or not they could come in and get a slice.
While Fritz and Gurfield said their politics were with the protesters, they firmly believed in the ability of their food to help unify people. People of any political stripe were, and are, welcome to come in for a slice.
"We're in the food business, it's a common adage that breaking bread is a good way to get people to sit down and talk," Gurfield said. "I want that to continue."
Editor's note: This story is part of a series marking the 10-year anniversary of Act 10. Click here for more stories from people who experienced the historic events firsthand. 
---
Act 10: Full Coverage 
---
Watch now: The Great Divide | 10 stories about Act 10
The most seismic political story of the last decade in Wisconsin began on Feb. 7, 2011, when Republican Gov. Scott Walker informed a gathering of cabinet members of plans to unilaterally roll back the power of public sector unions in the state. He "dropped the bomb," as Walker would describe it afterward, four days later.
The audacious proposal, to be known forever after as Act 10, required public employees to pay more for pension and health insurance benefits, but also banned most subjects of collective bargaining and placed obstacles to maintaining union membership.
The proposal laid bare the state's deep, at times intensely personal, political divisions as tens of thousands of protesters descended on the Capitol. The month-long, round-the-clock occupation drew international attention, but failed to stop the bill.
A decade later, the aftershocks of one of the biggest political earthquakes in Wisconsin history continue to be felt. Taxes have been held in check, and state finances have improved. But public unions are vastly diminished and the state is more politically divided than ever.
Here are 10 stories from people who experienced the historic events firsthand.