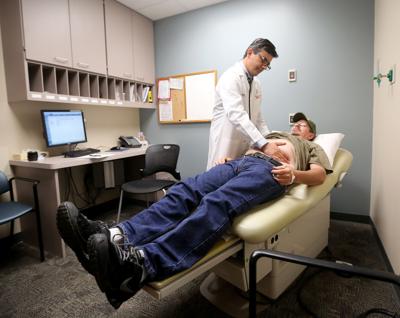 One of Madison's three major health care providers is opening its doctors' notes to patients, and the other two are moving in that direction.
Good for them. Now what I'd like to see are itemized bills showing what procedures, hospital stays, drugs and all the other American health care products actually cost.
Spokespeople for UW Health, SSM Health Dean Medical Group and UnityPoint Health-Meriter told me that price transparency is important to their employers, but mostly as it relates to what a patient pays out of pocket.
"Right now, when a patient has a scheduled admission or procedure at the hospital, we try to estimate their out-of-pocket cost in advance," said Leah Huibregtse of UnityPoint. Insurance plans are consulted, median charges for procedures considered and patients "receive a cost estimate letter and a phone call to talk through this and ensure they understand it."
UW Health uses a phone service called Priceline (not the William Shatner one), according to Lisa Brunette, which "patients can use to get an estimate or range of charges for an 'episode of care,' which ranges from a clinic visit to major, complex procedures."
She and Huibregtse also pointed to the Wisconsin Hospital Association's PricePoint website, which lists hospital-specific prices for a range of services.
Ben Klepzig of Dean said his employer provides out-of-pocket cost estimates by phone and online, and "what we have heard from members over time is that they don't want surprises when they open a bill for medical services."
I get that it's good to know what a product or service will cost your household specifically.
At the same time, I didn't feel very informed after digging out a few of the bills and explanation of benefits from my hospitalization last year. From what I can tell, six days in the hospital with viral meningitis either cost something close to my annual salary — the "total amount charged" — or about half that, which was mostly covered by my insurance.
It's considered crass to put a price on human health, but figuring out one for, say, a flu shot shouldn't be much more difficult than factoring in the cost to make the vaccine and the needle, and the time and expertise it took the nurse to administer it.
Not every medical product is as simple as a flu shot, said Justin Sydnor, who studies health insurance at UW-Madison, but "in general, it is possible for hospitals and clinics to generate itemized bills of their services, and generally the bills they send to the insurance company are broken down into pretty fine categories."
Barriers to itemization include the difficulty of figuring out the cost of more complicated procedures, a move toward "bundled payments" for treating specific illnesses, and insurers' and providers' desire to keep their negotiated prices confidential.
Sydnor says he doesn't favor the movement toward high-cost-sharing health insurance plans that put competitive pressures on providers by forcing patients to shop around for the best deals.
"But if we are going in that direction, it does not make much sense to do it without giving people better information," he said.