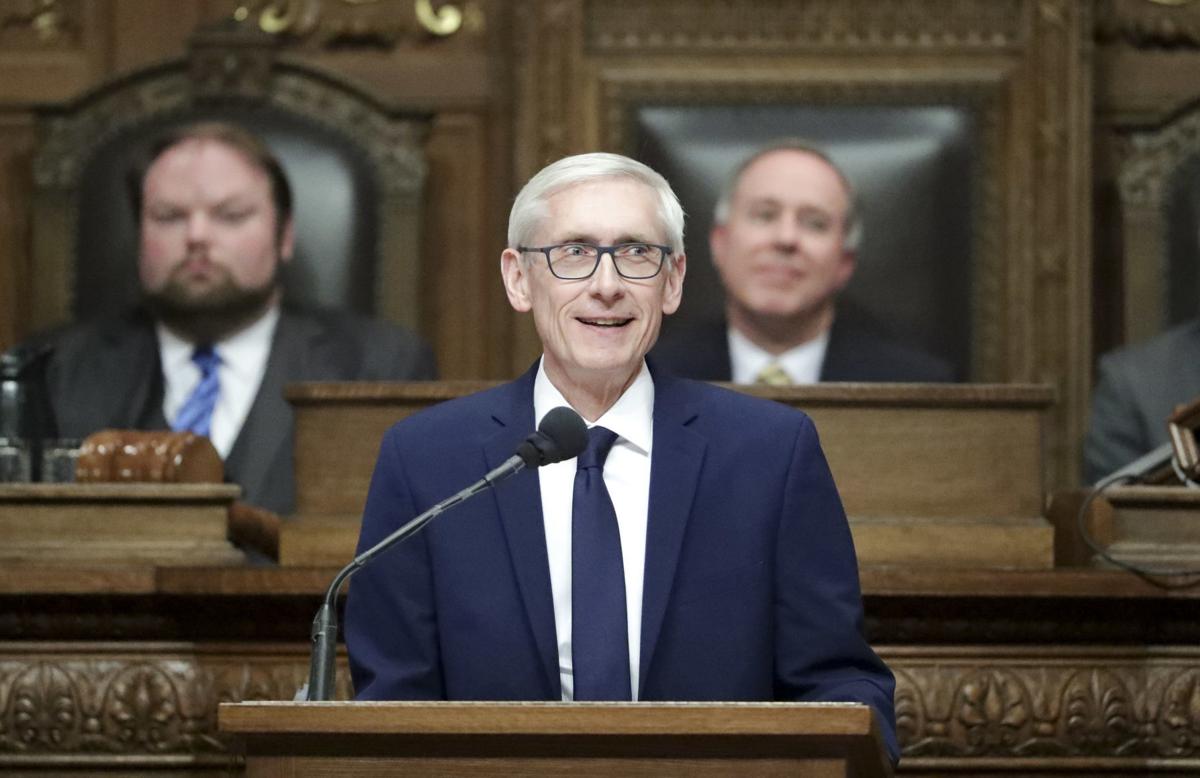 As the Legislature nears a crossroads in crafting the next state budget, Republicans who control the chamber and Gov. Tony Evers don't appear close to a consensus on how to fund K-12 schools.
What's more, GOP lawmakers and Evers, a Democrat, haven't been discussing what to do about it.
A linchpin of Evers' $83.5 billion plan for the next state budget is to give K-12 school districts a $1.4 billion increase in state aid, with much of it going to poorer districts and to serve children with special needs.
Republican lawmakers say they expect to increase school funding but by substantially less than Evers proposed.
The Legislature's budget-writing Joint Finance Committee is set to take up the schools budget Thursday. The 16-member committee typically builds the budget and sends it to the full Assembly and Senate for passage.
For now, GOP lawmakers say there is no agreement with each other, or with Evers, on what the schools budget will include — making it unclear if Evers would sign the measure into law.
Both sides acknowledge budget talks have been scarce and strained. Evers spokeswoman Melissa Baldauff said the lack of dialogue is concerning, and she faulted Republican leaders.
"These are missed opportunities," Baldauff said. "Republicans don't want to work with the governor."
Assembly Speaker Robin Vos, R-Rochester, pointed the finger at Evers in a recent press conference, saying the governor canceled "several" recent meetings with GOP lawmakers.
Baldauff said the most recent scheduled meeting between the governor and GOP leaders was in late April, and that it was canceled by Senate Majority Leader Scott Fitzgerald, R-Juneau.
Evers, Vos and Fitzgerald are scheduled to meet Wednesday, according to Baldauff.
GOP lawmakers repeatedly have said they expect to send Evers a budget before the June 30 deadline. The next two-year budget cycle starts July 1.
For now, Republican lawmakers still are trying to find consensus with each other on school funding. Sen. Howard Marklein, R-Spring Green, who sits on the Joint Finance Committee, acknowledged those discussions are ongoing.
"We've got to talk about it," Marklein said, adding that he expects those discussions to occur next week.
Fitzgerald said in a statement that the last state budget enacted in 2017, when schools got a state funding boost of $639 million over two years, showed Republicans' commitment to schools.
"I will continue to talk with other Republican senators and Speaker Vos as we head toward Thursday's committee meeting," Fitzgerald said.
'A lot of other needs'
Sen. Tom Tiffany, R-Hazelhurst, who sits on the finance committee, told the State Journal in a recent interview that he views the funding increase given to schools in the most recent 2017-19 state budget as a possible template for a similar increase in this budget.
Another finance committee member, Sen. Devin LeMahieu, R-Oostburg, questioned whether GOP lawmakers would be able to match the increase given two years ago.
You have free articles remaining.
"I'm not sure we'll get to that level, but we'll find out," LeMahieu said.
Tiffany said he wants state aid to schools to increase at a "steady, incremental pace" instead of the larger jump proposed by Evers. GOP lawmakers and former Gov. Scott Walker have gradually increased school funding after it was substantially cut in 2011 following the Great Recession.
"The last thing these school administrators want is for us to give a big increase, then ratchet them down," Tiffany said.
Republicans, in the budget enacted two years ago, provided new school funding through per-pupil aid, a flat amount that does not account for a school district's property tax base or how much they receive in other forms of aid.
The governor's plan is different. It would provide about $606 million in new funding for special education to address the gap between services districts are required to provide those students and the funding they get to do it, and direct $64 million more toward mental health services and programs.
Another $611 million in Evers' budget would go to general aid to districts, a type of equalization aid that uses a formula to send more funding to districts with less per-pupil property wealth.
Rep. John Nygren, R-Marinette, co-chairman of the Legislature's budget-writing committee, has said he wants most of any new funding provided to schools to come with few strings attached for districts, rather than be tied to a specific purpose such as special education.
"I understand it's on the wish list," Tiffany said of Evers' special-education funding plan. "But there's a lot of other needs out there."
Other sticking points could include Evers' proposals to suspend the expansion of independent charter schools and freeze enrollment in the Milwaukee, Racine and statewide private-school voucher programs. GOP lawmakers removed these among 131 provisions in Evers' budget that were scrapped earlier this month.
Also among the measures removed from Evers' budget were some that helped fund his K-12 aid increase. Evers proposed to expand Medicaid under the federal health care law, which would have saved the state $324 million over two years. He also wants to cap tax breaks for large manufacturers and capital gains for high earners, in a move that would collect more than $1 billion in new tax revenue in two years, while cutting income taxes for the middle class by $834 million.
Full budget never vetoed
Evers' plan to expand Medicaid eligibility to 82,000 Wisconsinites continues to be a huge sticking point, as the governor has vowed to not give up on it. Vos has said GOP lawmakers will "never" embrace it, though some rank-and-file Republicans have said they're open to it.
Last week, Vos said he wants to discuss the budget with Evers.
"But if it's going to be repeated discussion of things that we are never going to support, I would hope that he would re-think that strategy," Vos said.
Evers told the State Journal in April that he would not accept a budget that did not make progress in three crucial areas.
"We have to make sure we have affordable and accessible health care, we have to make sure we have increases in resources for our education system, and fix the damn roads," Evers said.
If lawmakers and the governor do not enact a budget by July 1, base spending levels from the previous year continue until they do.
On Wednesday, Vos noted that since 1931, when Wisconsin lawmakers began using their current budget process, no governor has vetoed an entire state budget passed by lawmakers.
That's in part because Wisconsin's governor has among the most expansive line-item veto powers of any state's chief executive. That allows the governor, with any budget bill, to effectively pick and choose what to retain and what to discard.
In 1991, then-Gov. Tommy Thompson vetoed much of the funding in the second year of the two-year budget, forcing lawmakers to reconvene later to once again take it up, according to the nonpartisan Legislative Fiscal Bureau.
Tiffany acknowledged there are plenty of unknowns about how the budget process will be resolved.
"I don't know what's going on between our leadership and the governor," Tiffany said. "All I know is we're going to create a good budget. ... I hope Governor Evers signs it."