GREEN BAY — Newlyweds Lynn and Dave Fraidenburg are aligned with different parties, though they settled on the same candidates when they cast ballots Wednesday at the city clerk's office in this Republican-leaning region where turnout could be critical in Tuesday's election.
She identifies as a Democrat and supports Sen. Tammy Baldwin over Republican state Sen. Leah Vukmir. He is an ardent supporter of Gov. Scott Walker, who's in a tight race with Democratic challenger Tony Evers.
Both are tired of the campaign rhetoric.
"There are so many lies," said Dave, 67, a retired engineer. "They just bash each other to death."
"To me, that's not good for America," added Lynn, 69, who delivers flowers.
In the end, they both went for the incumbents.
As campaigns focus on boosting turnout with rallies and an endless stream of ads, many voters in the Fox Valley say they're tired of partisan bickering and negativity.
The political fatigue could benefit Walker as voters like the Fraidenburgs stick with familiar faces in the voting booth on Tuesday. But it could also spell trouble for the two-term incumbent, who recent polls show is at risk of falling victim to a surging Democratic wave of young voters and suburban women unhappy with President Donald Trump.
Few voters up for grabs
Despite blue pockets in Green Bay and Appleton, the Fox Valley has been reliably red in recent years. In statewide races, the last Democrat to win Brown County was Barack Obama in 2008.
Republicans across the top of the ticket, particularly Walker, have led in Marquette Law School polls in the Green Bay media market since August, though poll director Charles Franklin cautioned their advantage is not huge.
The area is more in play than other traditionally red parts of the state, said David Canon, professor of political science at UW-Madison.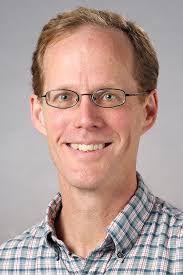 Earlier this year Caleb Frostman became the first Democrat in more than four decades to represent the state's 1st Senate District, which stretches from Lake Winnebago to the tip of Door County, where he defeated Rep. Andre Jacque in a special election.
Republicans are optimistic about Jacque's chances in Tuesday's rematch election, but they aren't taking any chances.
"Brown County is going to go Republican," said Marian Krumberger, chairwoman of the county GOP. "How much Republican? We have to push up the vote."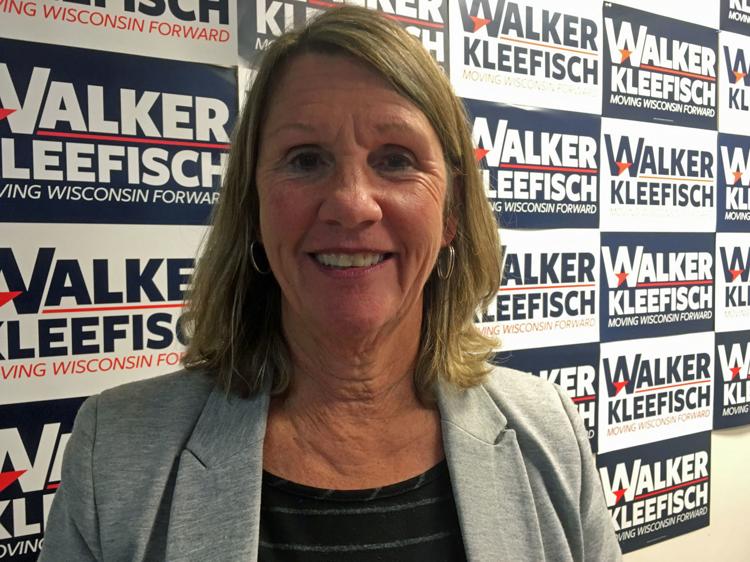 That looks to be the strategy for both parties this year as campaigns seek to maximize turnout among their bases.
"Because politics is so polarized today there just aren't as many people who are up for grabs in the middle," Canon said. "The parties are viewing this as a base election."
Canon noted the high-profile politicians who have come to stump for Wisconsin candidates have tended to stick to their party's home turf.
Vice President Mike Pence has been to Green Bay, Eau Claire and Hudson to rally support for Walker and Vukmir, while former Vice President Joe Biden headlined a rally in Madison for Baldwin and Evers. Obama went to fire up voters in deep blue Milwaukee, and Trump held a rally on friendlier ground in Mosinee.
Brown County Democratic Party chairwoman Mary Ginnebaugh said turnout in Milwaukee will be crucial for Evers and Baldwin, "but you need the Fox Valley too."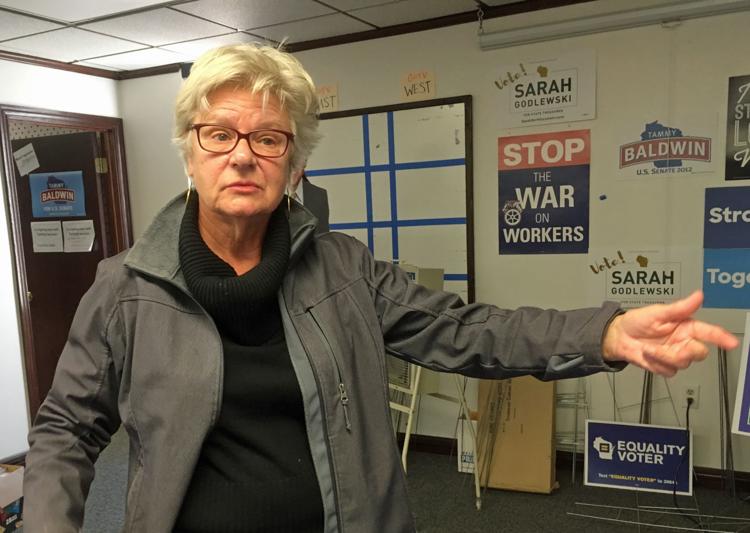 Trump on the ballot
Trump carried Brown County by 9 percentage points in 2016. In neighboring counties, he got as much as two-thirds of the votes.
He's not up for re-election until 2020, but Ginnebaugh said Trump has helped stoke enthusiasm on the left.
"I see a lot of energized people," she said. "People I've not seen before."
Judy Steffens, a retired social services worker, has been a regular campaign volunteer since the 2011 recall elections.
"I just stopped in one day and haven't stopped calling since," she said.
Among the base voters she was calling last week, Steffens said the top concerns were education and health care.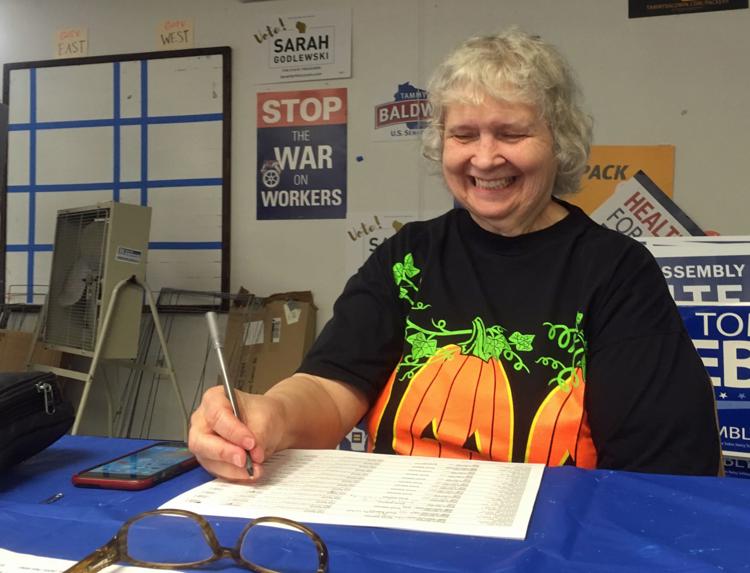 "I think it's motivated just as much by Scott Walker," she said. "It's more about Wisconsin. Having a new governor, I think that helps put some checks on the president."
Across town at the Republican party offices, volunteer Kathy Nassios worked the phones to mobilize GOP voters.
"I'm calling to see if we can count on your vote for Gov. Scott Walker?" she asked a registered voter on her list.
"Oh hell no!" the man responded before hanging up.
Nassios, 62, who signed up to volunteer just a week earlier after attending a Walker rally, shrugged and moved on to the next number.
A woman who answered said she'll probably vote straight Republican.
Nassios said most of those she talks to are focused on the governor's race, though Trump still lingers in the conversation.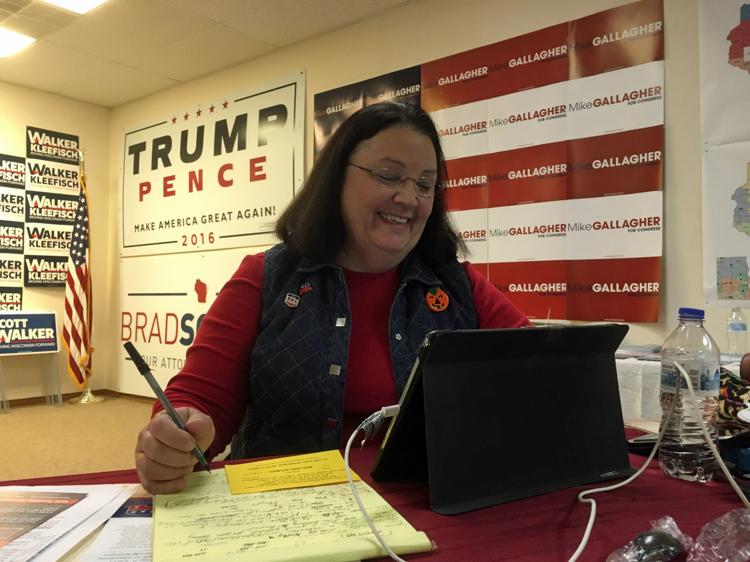 "I think he's worked his way into every state election," she said. "I'd say for the better."
"This is Trump country," Krumberger said. "Here he's not a liability."
At a diner in Bellevue, Bob Smith doesn't see Trump as a big factor.
"Not here," Smith said. "It's more local."
A 78-year-old tour director for Lamers Bus Lines who describes himself as a conservative independent, Smith said he dislikes Trump personally but thinks he's done good things for the country.
"I wouldn't have him as a friend," Smith said.
Smith likes Walker's accomplishments with jobs — the state unemployment rate has been at historic low levels this year — and worker training — "not everyone's fit for college."
Sick of the ads
In one corner of the Black Stone Family Restaurant, the Fox morning newscast is interrupted by blasts of back-to-back campaign ads, but the banter among counter regulars is more focused on sports, a recent police shooting and teasing the waitress as she refills their cups with "regular" and "pansy" coffee.
"I'm sick of the ads, one right after the other," grouses one man, who declines to provide his name. "You can almost predict what they're going to say.
"If everybody was as bad as they say, you wouldn't vote for anybody."
"They promise you all this stuff but they never say how they're going to do it," adds another who also doesn't want to be identified. "They're all a bunch of liars."
It's a common theme that crosses party lines: Voters are sick of politics.
"What voting for me has turned into is more voting against somebody," said Tom Duval, a 46-year-old truck driver who holds Congress in low esteem.
"It's hard to like either one of them," Duval said of politicians. "It drives everybody away."
Statewide, voter enthusiasm is down among Republicans and independents compared with 2014, but up among Democrats, according to the Marquette poll.
In the final week of the 2014 campaign, which Walker won by almost six points, 93 percent of Republicans said they had already voted or were absolutely certain to vote. In last week's poll, only 82 percent of Republicans said the same.
Among Democrats, 82 percent already voted or were certain to vote in 2014, compared with 86 percent this year. And among independents only 68 percent had voted or were certain to vote Tuesday, down from 75 percent four years ago.
Still, only 1 percent of respondents this year said they won't vote, down from 4 percent four years ago.
'No way to run a country'
For Doug Marquart, an independent from Green Bay who voted for Walker, the number one concern is the partisan divide, for which he blames Trump.
"There's so much division going on in the last years," said the 59-year-old groundskeeper. "I've never been for party politics. We just need to get back to people not being as divided."
Sonia Koehler, an 18-year-old college student from Green Bay, said she's tired of divisiveness on both sides, though she thinks Republicans are more to blame. She plans to vote for Evers and Baldwin.
"It's become like a war," Koehler said. "That's no way to run a country."
Dave Reimer, an 80-year-old retired electrician from Green Bay who supports Evers, recounts a favorite saying of his father, who was born in 1895.
"Don't get too excited. It'll change in four years," he said. "And it has."