With a week to go until Election Day, Wisconsinites unsure of how and where to vote may find themselves Googling search terms such as "Wisconsin voter registration" or "Wisconsin vote."
Those who do may find the top search result to be a Google ad encouraging them to vote for Republican Gov. Scott Walker. The link under the ad, however, isn't to Walker's campaign website.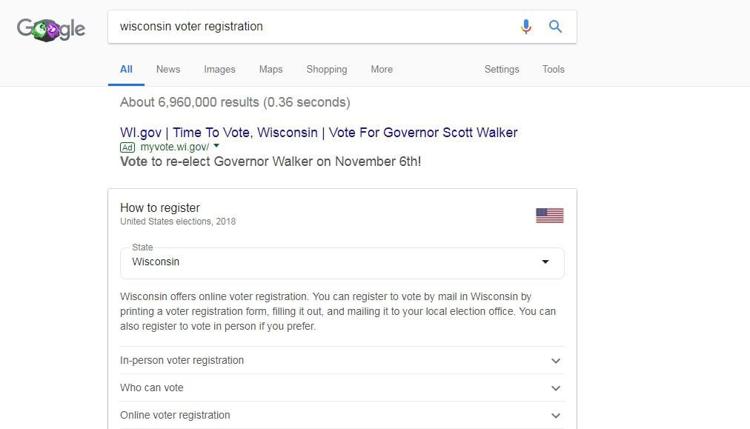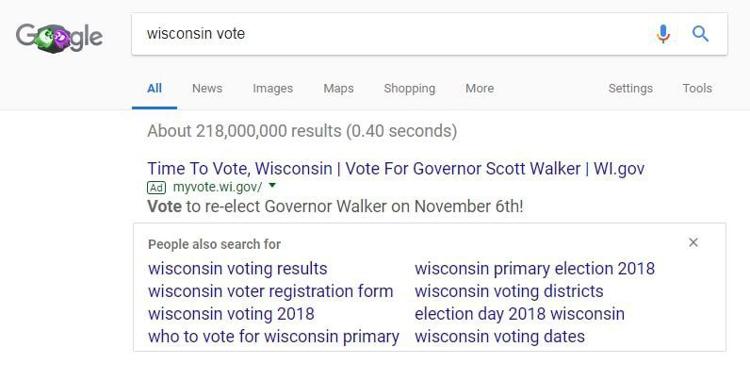 Instead, it directs users to the MyVote website, a taxpayer-funded website run by the state Elections Commission where people can learn when and where to vote, what's on the ballot and information on absentee voting and voter registration procedures.
Walker's campaign team referred questions to the Republican Party of Wisconsin.
"This is a technical issue with Google," state GOP spokesman Alec Zimmerman said in a statement Tuesday afternoon. "We are working with Google and conferring with the Elections Commission on the correct path forward to continue to ensure that voters are receiving accurate polling location information."
Early Tuesday evening, Zimmerman said the ads are still up, but now include this disclosure: Paid for by the Republican Party of Wisconsin as an in-kind to Friends of Scott Walker.

Walker, who is seeking a third term, faces Democratic gubernatorial candidate Tony Evers, the state's superintendent of public instruction, on Nov. 6.
Google's policy for political advertisements in state and local elections does not include a financial disclosure requirement like the one the state GOP added after inquiries from the Wisconsin State Journal.
The Wisconsin Elections Commission issued a statement saying any candidate, group or party is free to link to MyVote as a way of communicating accurate information to voters, but that does not imply any endorsement from the agency.
The commission "is an independent state agency, which does not endorse any candidate or political party," the statement read.
Significantly, the confusion involved clicking on a campaign link and being taken to a government website, and not the other way around.
Even so, the Wisconsin Elections Commission had received calls about the ad, spokesman Reid Magney said.
A Google representative said the company does not comment on specific ads and noted that advertisers can remove their own ads at any time.
Google's advertising policy on misleading content states that "falsely implying affiliation with, or endorsement by, another individual, organization, product, or service" is not allowed.
The policy cited "misleading use or mimicry of official government sites, stamps, seals, or agency names" as examples of prohibited advertisements.
To encourage more transparency in its political ads, Google enacted a policy in May requiring groups buying political ads for federal candidates to go through Google's verification process. All ads must include a disclosure noting what person or group bought the ad.
In four states — New Jersey, Nevada, Washington and Maryland — Google recently stopped accepting ads for ballot measures or candidates. Media reports indicate Google announced the policy change in the wake of some states' passing stricter ad transparency laws.