While his corn leaves fade to a pale "bleached-out green color" and his soil splits into deep dry cracks, Doug Rebout keeps his eyes trained on the sky.
"Every day they are looking worse and worse," Rebout said, adding his plants are "just really dry. I got no other way of describing it."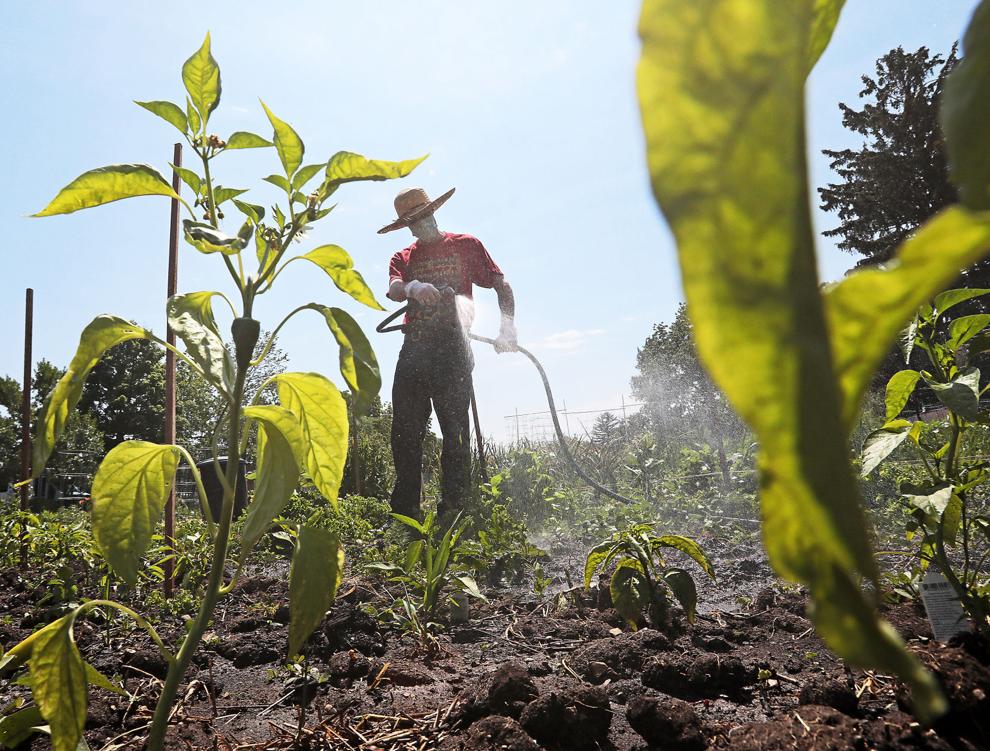 Rebout, who farms 4,000 acres of primarily corn and soybeans outside Janesville, said earlier in the season he was excited as corn prices were high and he was able to plant in some low-lying fields that are normally too wet. But as the dry spring continues, Rebout and other famers throughout southern Wisconsin are growing concerned, even with rain in the forecast Thursday night.
"We kept thinking we were due for (a drought), but we didn't think it would be quite like this," said Mark Hoffman, who farms about 18,000 acres of corn and soybeans in Whitewater. "All of my land is in that extreme drought circle right now."
The latest map produced by the U.S. Drought Monitor, a collaboration of government and university scientists monitoring moisture levels throughout the country, shows that the majority of Wisconsin is experiencing a moderate drought, mostly concentrated in the southern and central part of the state. There has been even less rain closer to the Illinois border, which is experiencing extreme and severe drought conditions.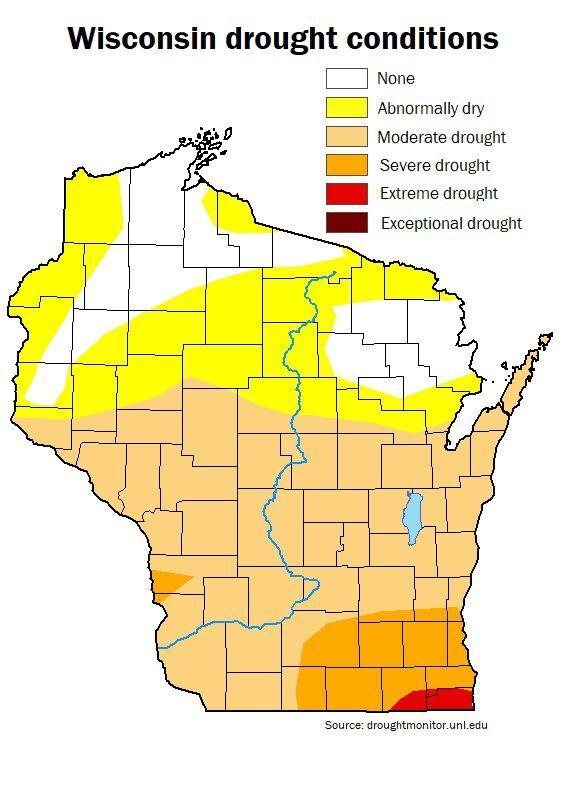 "It would take a soaking rainfall that would last over Wisconsin for a couple of days to reverse the drought," said John Young, director of the Wisconsin state climatology office.
The current drought didn't happen overnight, Young said. Low precipitation levels began last fall and continued into the winter and early spring, leaving little stored water in the soil. That dry period was followed by an early summer heat wave that increased evaporation.
"When plants aren't finding a lot of moisture in the topsoil they'll start putting roots deeper and deeper," said Chris Kucharik, UW-Madison agronomy department chair. "There's not a lot stored in the soil deeper in the profile right now .... Growth will be limited if they cannot find any water."
No panic — yet
Despite the dry conditions, reports show the majority of crops still doing well. Joe Lauer, an agronomist at UW-Madison, said it's early enough in the season that most plants aren't using very much water anyway. However, as they move closer to the pollination stage of growth, in mid-July, their water intake needs will greatly increase.
"We're not really in dire straights yet," Lauer said. "But talk to me in about seven to 10 days."
Wisconsin would need an inch of rain a week for the next month to get crops back on track and turn the drought around, Young said. Forecasts show a 38% chance of above-normal precipitation rates in the next six to 10 days for the Madison area. Forecasts also show a break in the heat, although cooler weather may not necessarily be a good thing.
"The cool spell will probably be a dry spell," Young said. "Cooler spells are cooler air from Canada, which tends to be dry air because cool air holds less water."
But even a small amount of rain would allow crops to "bounce back" quickly, Iowa County Extension agent Gene Schriefer said.
"I wasn't pushing the panic button back in March or April," Schriefer said. "Right now I'm finding the panic button, but I'm not pushing it yet. I just want to know where it is."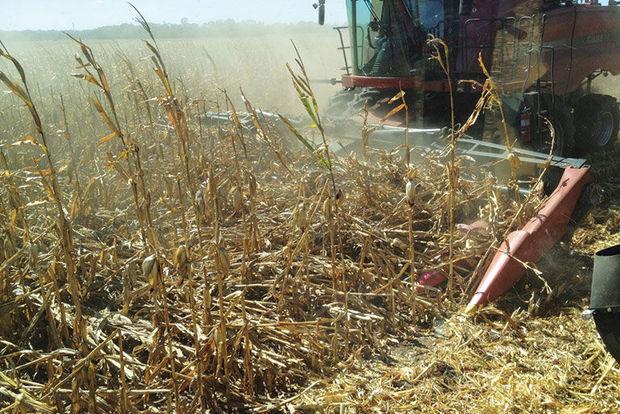 This waiting game can be particularly stressful for farmers who are under contract, as they are expected to deliver a certain yield. Rebout, who usually contracts between 25% and 40% of his crops, said high corn prices made expanding those contracts "tempting" earlier in the season.
Those high prices were largely the result of feed exports to China, said Paul Mitchell, a UW-Madison professor of agriculture and applied economics. China has been using U.S. corn to rebuild its hog herd after much of it was decimated by African swine fever, causing corn prices to double. The increase was welcome news to farmers, if they could meet demand, Mitchell said.
"The best thing for farmers is for your neighbor to have a drought because prices go up but you still have supply," Mitchell said. "But I'm not worried about meeting demand yet. The season's long."
No rutabagas?
For farmers who provide customers with boxes of produce each week through community supported agriculture, or CSA, programs, the drought has meant a season full of surprises.
"I can't tell my customers what's going to be in the bag every week because if I go out to the field and I don't have as many as whatever is out there, they're not going to get that," said Wendy Landau of Small Potato Farm, who farms 2 acres in McFarland.
Landau said trying to till her dry soil is like "trying to get into cement," though the mulching she did earlier in the year has helped it retain some water. Land management choices like mulching can be key during drought years, Lafayette County Extension agent Josh Kamps said. Practicing no-till farming, using cover crops when fields are bare and rotationally grazing cattle herds can build up the organic matter in soil, allowing it to "harvest rain and not trigger runoff," Kamps said.
Richard de Wilde, who runs Harmony Valley Farm in Viroqua, uses compost to promote this soil fertility. But with a year this dry, that rich soil can only hold so much water without irrigation, de Wilde said.
"Our crops look beautiful where we can irrigate," said de Wilde, who is currently waiting on two pending irrigation permits. "If we can't irrigate, we may not have any turnips or rutabagas this year. Can you imagine a year without rutabagas?"
De Wilde said there isn't much else he can do without the new permits.
"It couldn't hurt to pray for rain," de Wilde said.
Most years, farmers in southern Wisconsin have no need for irrigation. Rebout said he has thought about setting up irrigation, but with Wisconsin's changing weather, he decided the expensive equipment required wouldn't be worth the investment.
"Our philosophy here is every year is different so you don't want to overreact to one year because this year is the complete opposite of the last couple of years," Rebout said. "It's what makes farming interesting, knowing that you never have two years identical."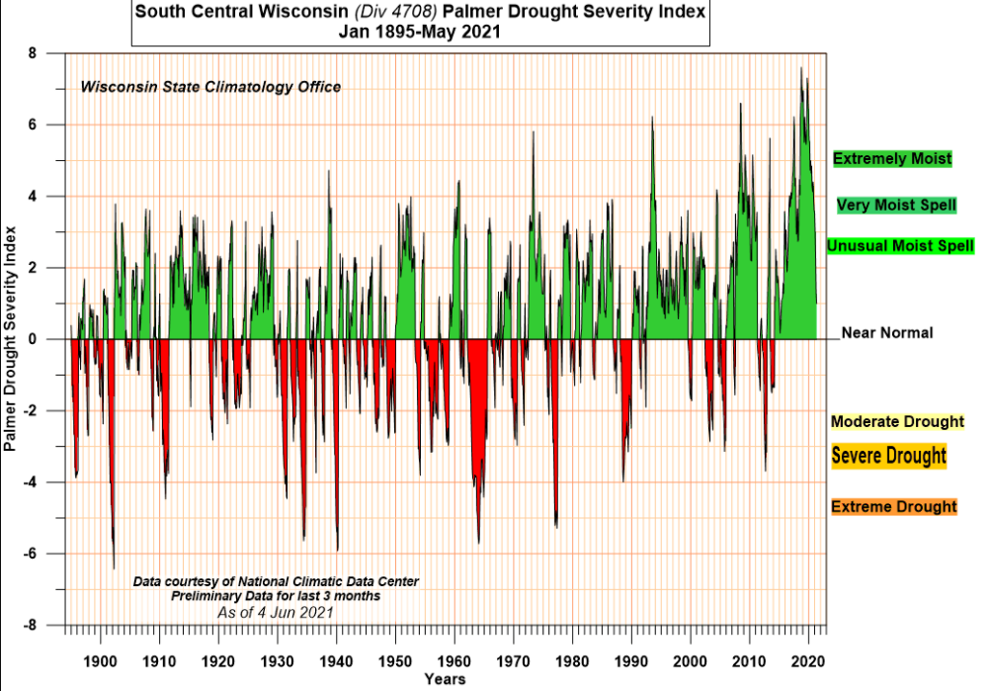 Assistant State Climatologist Ed Hopkins said overall the state has been "extremely moist," including flooding in 2018 and 2019. Wisconsin's last drought came in 2012, starting about a month later into the season. Such dramatic shifts can be unpredictable, Hopkins said, as they are a mixture of random weather patterns and increasing extremes brought on by the changing climate.
That unpredictability leaves farmers with few options, especially at this point in the season.
"You don't want to be like the person in the movie theater screaming fire right now because we're not to that point," Kucharik said. "But ... when you're only dealing with basically ... three months of growth that all add up and factor into what you start harvesting in September, there's not a lot of room for error."