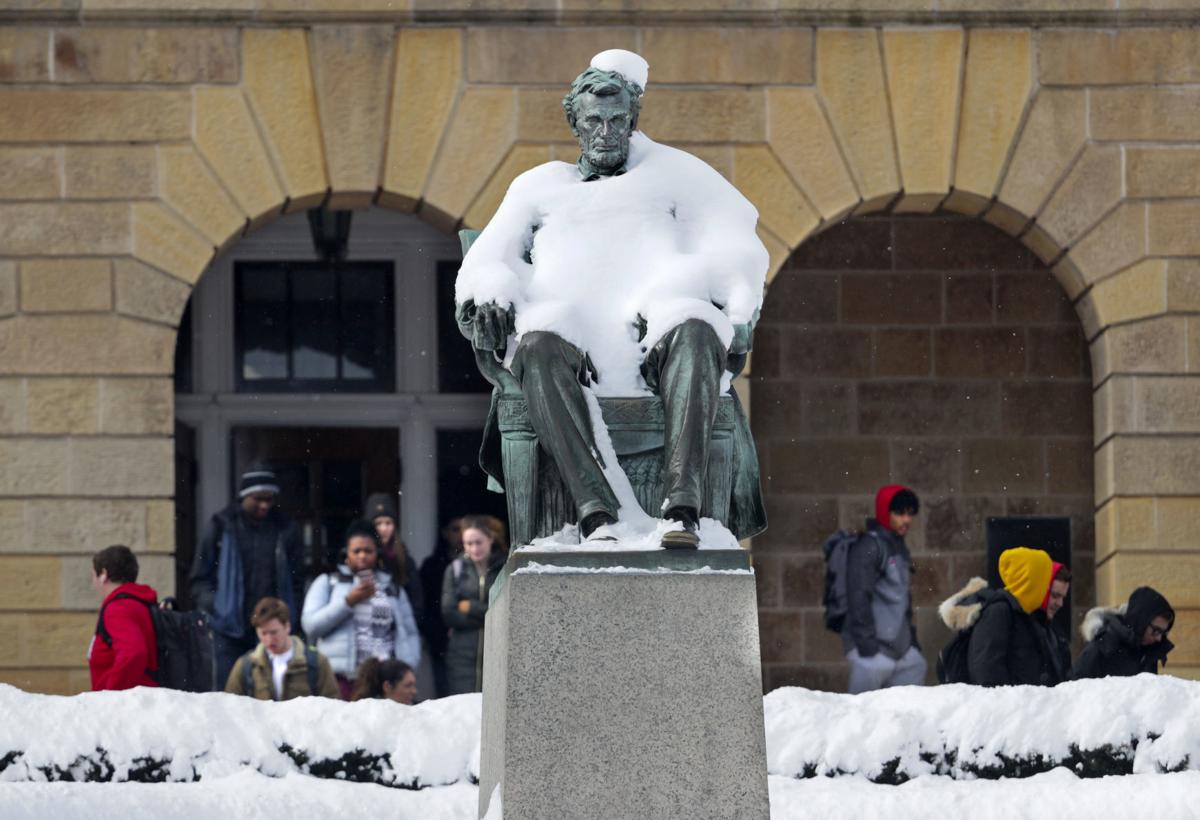 As potentially life-threatening temperatures settle into south-central Wisconsin, it's a safe bet that just about anything you had planned to do outside the home Wednesday and Thursday has been canceled or delayed.
Beginning Tuesday morning, a cascade of closing announcements began appearing from schools — including UW-Madison, Madison Area Technical College and Edgewood College, as well as most private and public school districts — government offices, banks, shopping malls, theaters and restaurants. Even the Ice Castle in Lake Geneva has closed, citing the health and safety of guests and staff.
The U.S. Postal Service said it was suspending regular mail delivery Wednesday in several Midwestern states, including Madison and surrounding areas, due to the severe weather. Express mail delivery in metropolitan areas will be available, though, and post offices were expected to be open, said USPS spokesman Sean Hargadon.
Officials suggest calling ahead to see if your destination is open rather than risk being stranded in the cold. Most of the closures are through noon on Thursday, when the worst of the cold wave is expected to pass.
Most state, county and city offices will be closed Wednesday, when the wind chill is forecast to be as low as minus 40 to minus 55 degrees throughout the day. Madison city offices will also be closed on Thursday.
"It's critically important that we're ensuring the people of Wisconsin and our public employees are safe in these dangerous weather conditions," Gov. Tony Evers said in directing most state agencies to suspend operations. "I am urging people to prepare for this severe weather and to exercise caution when traveling or going outdoors."
State employees involved in emergency response, public safety and public health whose absence would compromise safety are required to work but may be released "based on operational needs," Evers said.
The state Capitol, often a shelter of last resort, will remain open.
Evers' order allows employees to request Wednesday off due to the weather and use leave time. It also directs agencies to offer employees the ability to work from home or use alternative work hours or days.
You have free articles remaining.
City employees can still come to work, work from home or take leave, Soglin said.
Metro Transit buses will continue to run Wednesday, with some limitations, and will offer free fares. Soglin urged bus patrons to check Metro's website first to see which routes are in operation. City officials recommend those with disabilities who use the buses' hydraulic ramps stay home during the cold snap, since the ramps can have trouble operating in the sub-zero temperatures.
Metro will be providing warming buses at transfer points when available.
The announcement to cancel classes at UW-Madison came after thousands of students signed an online petition calling for the university to shut down Tuesday and Wednesday because of the dangerously cold temperatures.
"It is the coldest time in 40 years, and even 10 minutes outdoors without appropriate protection will be very risky for frostbite," said Hairu Zheng, who started the petition Monday night after the university announced classes would be held on Tuesday.
Essential campus services will remain open. Some of those functions include university housing and dining, life and safety, essential research and animal care, and physical building maintenance.
Most public school districts and private schools in the region called off school Tuesday, and the majority also canceled school for Wednesday.
That makes three days in a row for Madison schools to be shut down, and four days in a row for students not having to go to class, since no classes were held last Friday for a teacher planning day. The closings are starting to cause some logistical problems for high schoolers, since it's the time of year when final exams are scheduled.
"The district will also continue monitoring the cold temperatures for Thursday, and communicate a decision as early as possible," the district said in a statement.
Area school districts also closed on Wednesday include Sun Prairie, Verona, Waunakee, Stoughton, Monona Grove, Middleton-Cross Plains, McFarland and DeForest, along with dozens of smaller districts throughout southern Wisconsin.
Madison's Overture Center announced it would also close, canceling Wednesday's performances of "PAW Patrol Live!" and Forward Theater Company's "Heisenberg." The Wailers Wednesday show at the Barrymore Theatre has also been postponed, the theater's management said.