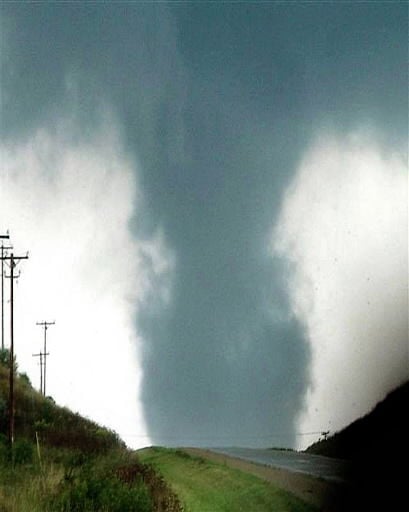 Tornadoes reportedly touched down in Grant and Rock Counties on Saturday, with the National Weather Service issuing a tornado warning near Janesville. 
Around 5:30 p.m., a tornado warning was issued for the Janesville area, meaning a tornado had been sighted or indicated by weather radar and there was "imminent danger to life and property," according to the National Weather Service. The warning expired shortly after it was issued. 
The tornado was reported by the interchange of Highway 90 and Interstate 43, near Beloit in southern Rock County, said Kevin Wagner, a meteorologist at the NWS' Milwaukee/Sullivan office.
A flash flood warning was in effect for southeastern Rock County through 8:30 p.m. Saturday, as several thunderstorms in the area produced 2 to 4 inches of rain, according to the NWS. 
No injuries or damage to property had been reported in the Janesville area, Wagner said, adding that the severe weather would subside as the evening progresses. 
Dane County was one of 11 counties under a tornado watch until 8 p.m. on Saturday as the National Weather Service warned of severe thunderstorms, large hail and damaging wind gusting up to 60 mph in the area.
"Scattered thunderstorms will continue to move east-northeast through southern Wisconsin into this evening," according to a NWS forecast.
The counties under a tornado watch included Dane, Grant, Green, Iowa, Jefferson, Kenosha, Lafayette, Milwaukee, Racine, Rock, Walworth and Waukesha. 
In Grant County, the Lancaster Fire Department reported in a Facebook post witnessing "a funnel cloud or possible tornado" south of town. 
Wagner confirmed multiple reports of a tornado in Grant County. 
More scattered thunderstorms are in the forecast for south and central Wisconsin through Memorial Day weekend. 
Local Weather
Get the daily forecast and severe weather alerts in your inbox!