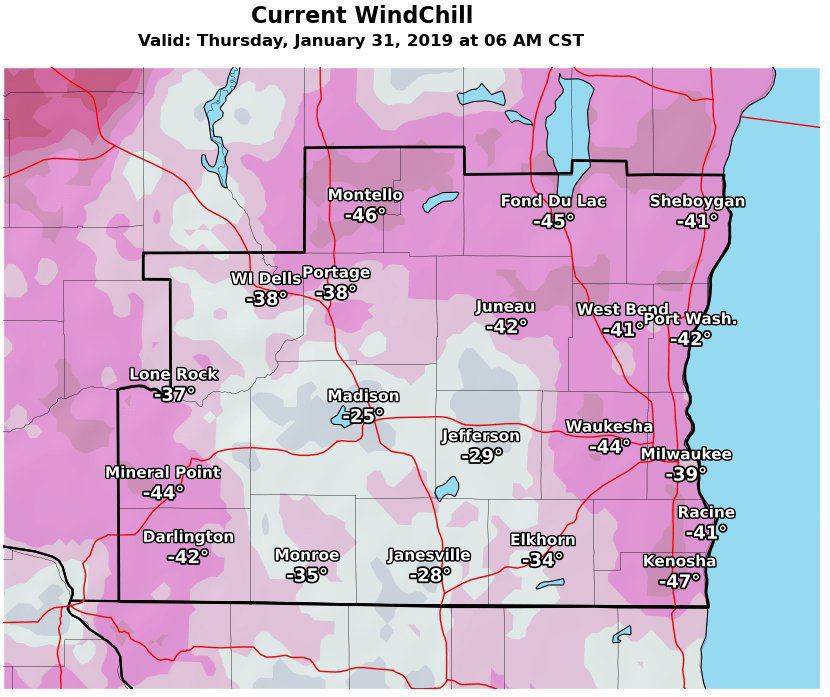 If there is an arctic cold version of "out of the frying pan into the fire" it would apply to southern Wisconsin: From snow to cold to snow to arctic cold to snow again.
The wind chill warning ends for southern Wisconsin by noon on Thursday, and a wind chill advisory by 3 p.m., but some accumulating snow is expected in the afternoon and evening, according to forecasters.
It will only amount to 1 to 2 inches, with the most along and south of a line from Mineral Point to Burlington to Kenosha, but that could be enough to make for a tricky afternoon commute, especially with temperatures so cold that road salt is ineffective, the National Weather Service said. For the latest travel conditions, call 511 or go to the state's 511 road conditions website.
On Thursday in Madison, it was 26 below at 5:53 a.m., according to the official reading at the Dane County Regional Airport, easily breaking the prior record for Jan. 31 of 22 below set in 1985.
And many spots around the region were reporting even lower lows, with the National Weather Service forecasting lows to bottom out at 25 below to 35 below.
Thankfully, winds were light so wind chills weren't threatening record levels: Madison's worst wind chill ever was 54 below on Jan. 20, 1985.
But even without horrendous wind chills, frostbite can occur in minutes in temperatures that cold,
Still to be determined is if the first polar vortex to hit the area in five winters keeps actual temperatures below zero until Friday, as is forecast, possibly setting a record for longest time below zero. Such a stretch would be historically rare for Madison: In records dating back to 1869 there have been just 13 times that Madison went three straight days staying below zero, according to data from the Midwestern Regional Climate Center. The last time was February 1996, when that 29 below reading was recorded.
The good news is that the wind child warning the area has been under since 6 p.m. Tuesday will end on Thursday: at 10 a.m. for Dane, Iowa, Sauk, Green and Lafayette counties, and at noon for Dodge, Columbia and Jefferson counties.
At mid-morning Thursday, the Weather Service added a wind chill advisory through 3 p.m. as wind chills were expected to stay under 20 below through then. 
It's expected to hit the teens (above zero) on Friday, with the true warmth coming over the weekend, when highs will reach the 30s and 40s.
Unfortunately, with that warmth there could be a period of light freezing rain or drizzle Saturday afternoon and Saturday night, and fog that could become dense at times Saturday night into Sunday night.
The threat for ice jams and possible localized river flooding will increase this weekend into early next week, the Weather Service said.
The blast of polar air that enveloped much of the Midwest on Wednesday closed schools and businesses and strained infrastructure with some of the lowest temperatures in a generation. The deep freeze snapped rail lines, burst water pipes, canceled hundreds of flights and strained utilities.
The bitter cold was the result of a split in the polar vortex, a mass of cold air that normally stays bottled up in the Arctic. The split allowed the air to spill much farther south than usual.
Officials in dozens of cities focused on protecting vulnerable people from the cold, including the homeless, seniors and those living in substandard housing.
At least eight deaths were linked to the system, including an elderly Illinois man who was found several hours after he fell trying to get into his home and a University of Iowa student found behind an academic hall several hours before dawn. Elsewhere, a man was struck by a snowplow in the Chicago area, a young couple's SUV struck another on a snowy road in northern Indiana and a Milwaukee man froze to death in a garage, authorities said.
The Weather Service said that in Madison on Thursday, there is a 60 percent chance for snow, mainly after 5 p.m., with accumulation of less than a half-inch possible, increasing clouds, a high near 3 below, and west wind at 5 to 10 miles per hour turning out of the south in the afternoon and producing wind chill values of 40 below to 50 below.
Overnight, there's a 90 percent chance for snow, mainly before 11 p.m., with accumulation of less than an inch possible, a low around 3 below, and southeast winds around 10 mph producing wind chill values of 15 below to 20 below.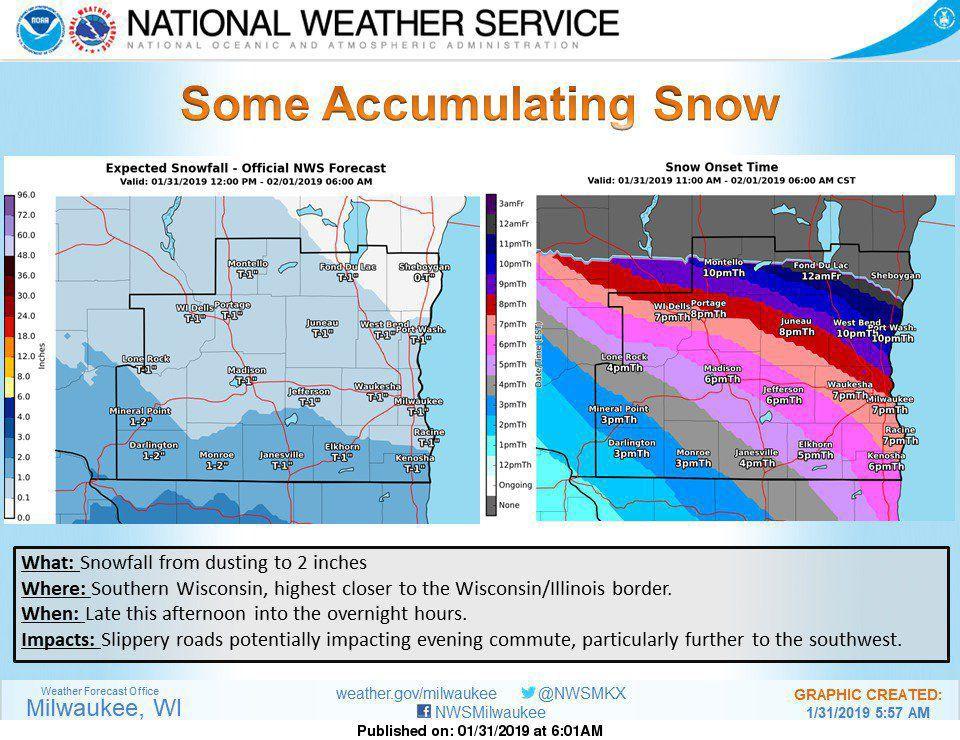 Friday should be partly sunny, with a high near 18 and wind chill values of 10 below to zero as southeast winds blow around 5 mph and turn out of the south in the morning.
The warming trend continues overnight Friday into Saturday, with temperatures hitting 26 by 5 a.m. on their way to a high near 38, with mostly cloudy skies and a slight chance of drizzle or freezing drizzle after noon.
Chances for precipitation are 50 percent Saturday night in the form of rain or freezing rain; 30 percent Sunday in the form of rain, mainly before noon; 70 percent Sunday night, in the form of rain, with a tenth to a quarter of an inch possible; 80 percent Monday in the form of rain, mainly before noon; 40 percent Tuesday in the form of snow; 60 percent Tuesday night in the form of snow; and 30 percent Wednesday in the form of snow.
Skies over Madison should be mostly cloudy Sunday through Wednesday, with highs near 45, falling to 39, 30 and 25, and lows Saturday night through Tuesday night around 34, 40, 19 and 19.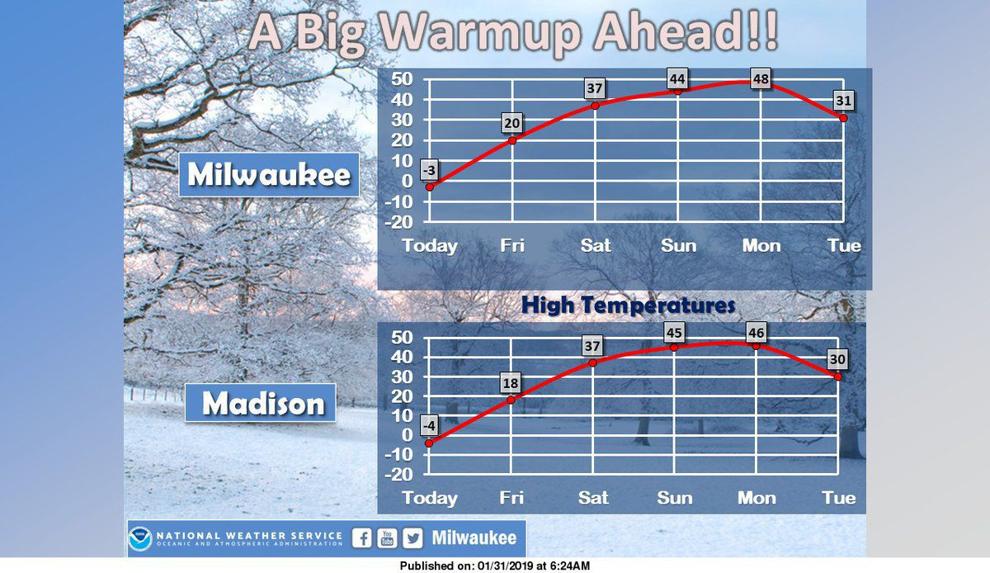 27 Storm Track meteorologist Branden Borremans forecasts dangerous cold Thursday morning easing in the afternoon; a dusting to an inch of snow for most, up to 2 inches south of Madison Thursday afternoon and evening; a warming trend to follow; freezing drizzle possible Saturday afternoon; light freezing rain Saturday night; drizzle or light rain Sunday; light rain Sunday night; light rain showers ending as a little light snow Monday; light snow by the afternoon on Tuesday; and light snow showers Wednesday.
Borremans said skies over Madison should be sunny with increasing clouds Thursday, partly sunny Friday, mostly cloudy Saturday, cloudy Sunday and Monday, mostly cloudy Tuesday, cloudy Wednesday, with highs Thursday through next Thursday near 4 below, 18, 36, 44, 45, 28, 25 and 10, and overnight lows around 4 below, 14, 35, 40, 18, 19, 1 and 7 below.
Wednesday's high in Madison was 10 below at 3:23 p.m., 37 degrees below the normal high and 57 degrees below the record high of 47 for Jan. 30, set in 1974. The 10 below broke the record for lowest high for Jan. 30 that was 1 below, set in 1951.
Wednesday's low in Madison was 26 below at 8:30 a.m., 38 degrees below the normal low and 11 degrees above the record low of 37 below for Jan. 30, set in 1951.
Officially, a trace of precipitation was recorded at the Dane County Regional Airport on Wednesday, leaving Madison's January and 2019 total at 2.54 inches, 1.35 inches above normal. The meteorological winter (December through February) precipitation total (rain plus snow converted to liquid) stayed at 4.64 inches, 1.71 inches above normal.
Madison's record precipitation for Jan. 30 is 0.65 inches, set in 1947.
Officially, 0.1 inches of snow was recorded at the Dane County Regional Airport on Wednesday, boosting Madison's January and 2019 snow total to 19.2 inches, 6.7 inches above normal. For meteorological winter, Madison has received 25.1 inches, 0.9 inches below normal. For the snow season (since July 1), Madison has received 28.5 inches, 1.6 inches below normal.
Madison's record snowfall for Jan. 30 is 5.8 inches, set in 2013.
Madison's official snow depth is 9 inches.