A storm system could wallop southern Wisconsin with the first significant snow of the season Friday night into Saturday, or it might deliver nothing, according to forecasters.
"The uncertainty with this system remains high," National Weather Service meteorologist Chris Stumpf said in a statement. "The track/strength of the system and the exact snowfall amounts and impacts across the area are still in question. The range of possibilities across southern Wisconsin continues to be anything from little/no snow to several inches."
Stump said there likely will be a strong cutoff of snow on the northern edge of wherever the system sets up, meaning not many miles could mean big differences in storm impact. He said there also is greater uncertainty for snow in far southeastern Wisconsin due the impact of Lake Michigan, which remains above freezing, with any snow that occurs near Lake Michigan would be of the wet/heavier variety.
AccuWeather said the storm won't reach blockbuster status, but it will deliver wintry precipitation across about a 2,000-mile-long corridor from the southern Rockies to southern Canada, straddling the major metro areas of Chicago and Milwaukee.
AccuWeather map forecasts show the Madison area possibly getting 3 to 6 inches of snow and southeastern Wisconsin in the area that could get 6 to 12 inches.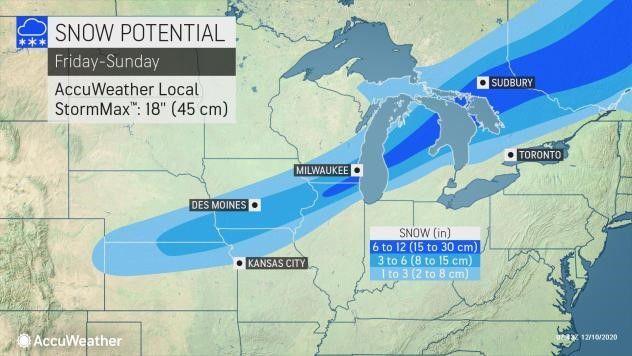 In Madison on Thursday, look for a second straight un-December-like day, with sunny skies, a high near 50, and light south winds increasing to 5 to 10 miles per hour in the morning, the Weather Service said.
After an overnight low around 32, there's a 30% chance for rain and snow after 1 p.m., with cloudy skies, a high near 39 and northeast winds at 10 to 15 mph.
Precipitation chances are 60% Friday night, and 70% Saturday and Saturday night, in the form of rain and snow Friday night into Saturday, becoming all snow after 4 p.m. Saturday and mainly ending by 7 p.m.
The Weather Service said possible snow accumulation is less than an inch Friday night, 1 to 2 inches Saturday, and less than half an inch Saturday night, making for a maximum of 3 inches to a little more.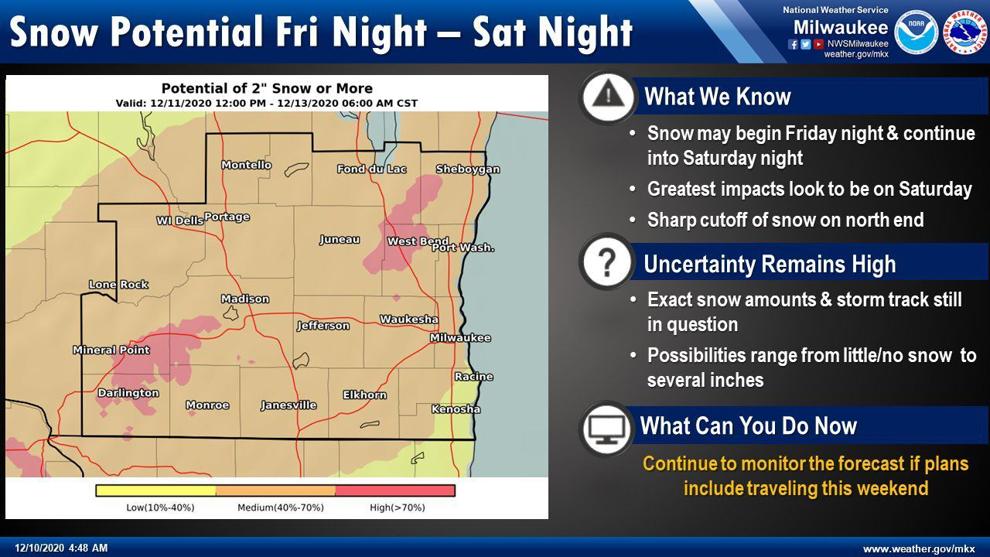 Skies over Madison should be cloudy Saturday, mostly sunny Sunday and Monday, mostly cloudy Tuesday and partly sunny Wednesday, with highs near 35, 31, 30, 30 and 28, and lows Friday night through Tuesday night around 32, 24, 17, 20 and 18.
27 Storm Track meteorologist Max Tsaparis forecasts a possible rain/snow mix starting late Friday, a snow mix Friday night, snow showers Saturday, and possible flurries on Tuesday.
Tsaparis said highs for Madison Thursday through Wednesday should be near 50, 38, 33, 31, 31, 32 and 32, and overnight lows around 30, 25, 29, 20, 17, 22 and 21.
Wednesday's high in Madison was 52 at 2:04 p.m., 20 degrees above the normal high and 8 degrees below the record high of 60 for Dec. 9, set in 1946.
Wednesday's low in Madison was 25 at 6:45 a.m., 7 degrees above the normal low and 47 degrees above the record low of 22 below for Dec. 9, set in 1876.
No precipitation was recorded at the Dane County Regional Airport on Wednesday, leaving Madison's December and meteorological winter (December through February) precipitation total (rain plus snow converted to liquid) at a trace, 0.63 inches below normal. For the year, Madison has received 37.79 inches of precipitation, 4.42 inches above normal.
Madison's record precipitation for Dec. 9 is 0.73 inches, set in 1879.
With no snow on Wednesday, Madison's December and meteorological winter total stayed at zero, 3.7 inches below normal. For the snow season (since July 1), Madison's total stayed at 2.3 inches, 5.5 inches below normal.
Madison's record snowfall for Dec. 9 is 7 inches, set in 2009.
---
Photos: Remembering 2008 blizzard that shut down area, stranded cars on interstate
Photos: Remembering 2008 blizzard that shut down area, stranded cars on interstate
Stranded on interstate, Feb. 6, 2008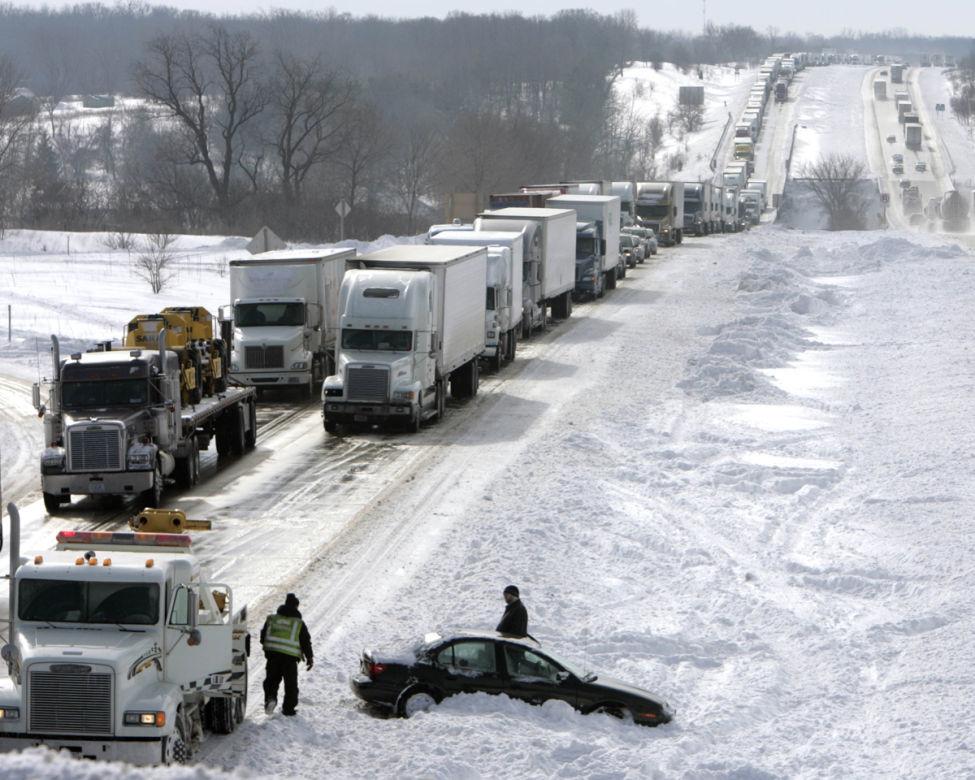 Cow in a blizzard, Feb. 6, 2008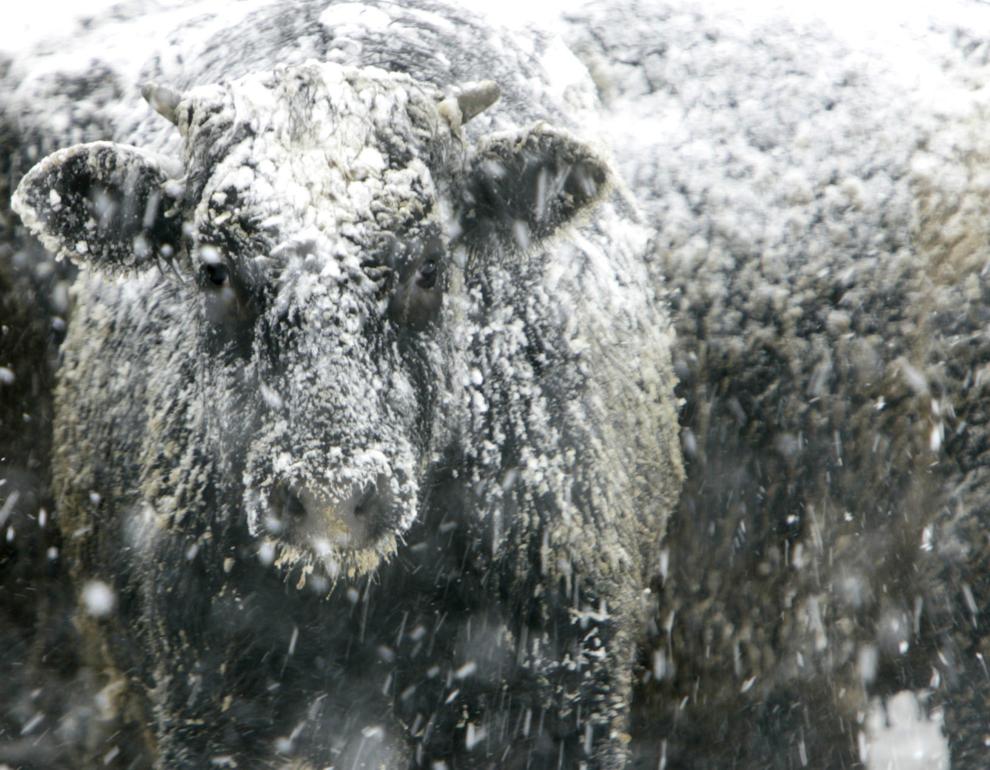 Crossing Parmenter, Feb. 6, 2008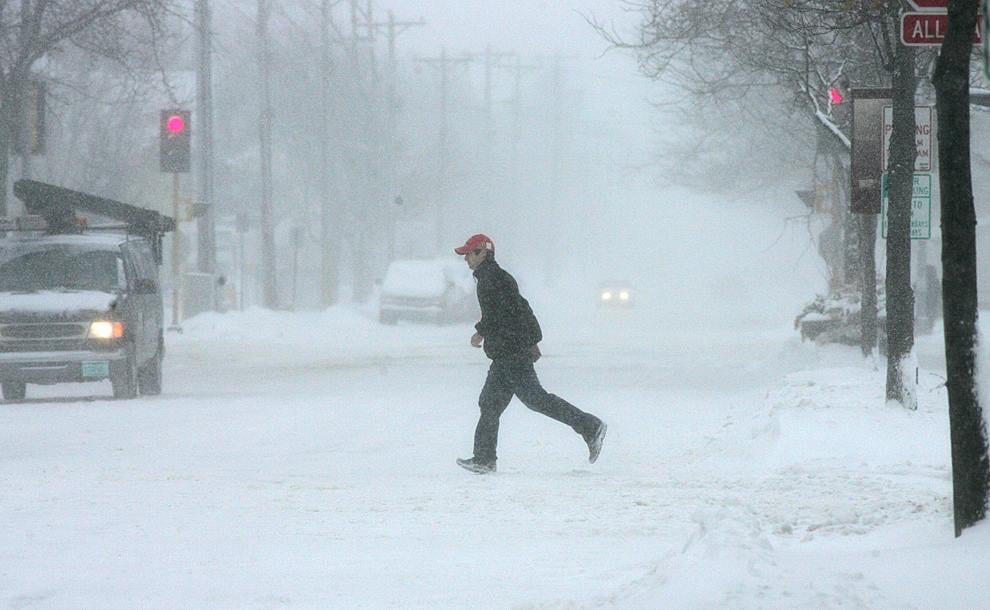 Snowy freight train, Feb. 6, 2008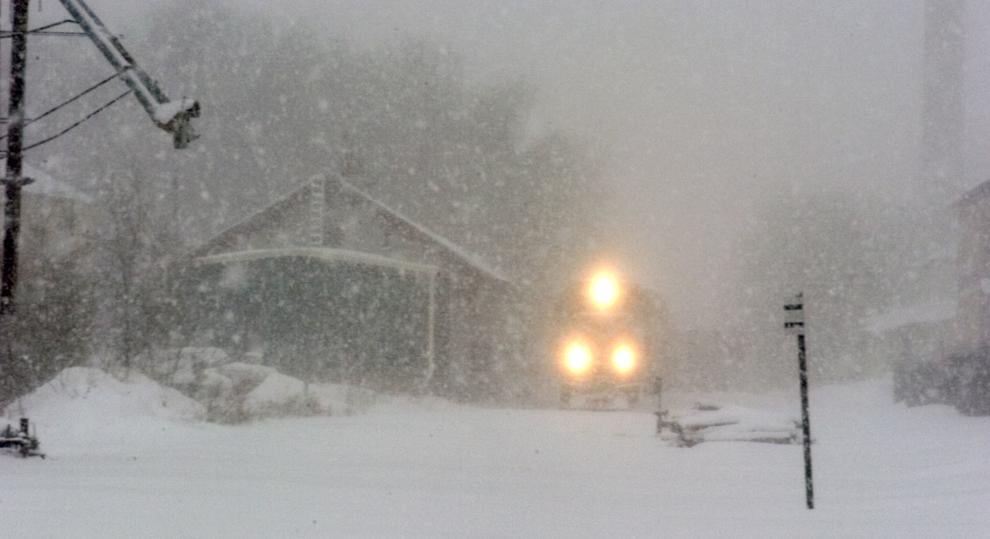 No respite from snow, Feb. 6, 2008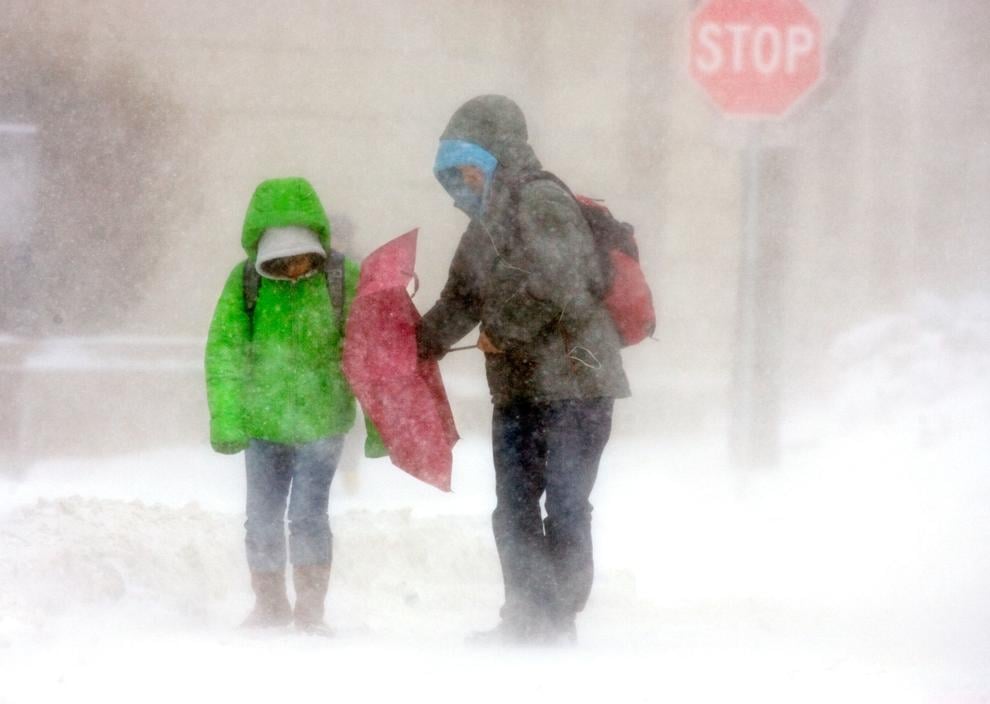 Vehicles slide off road, Feb. 6, 2008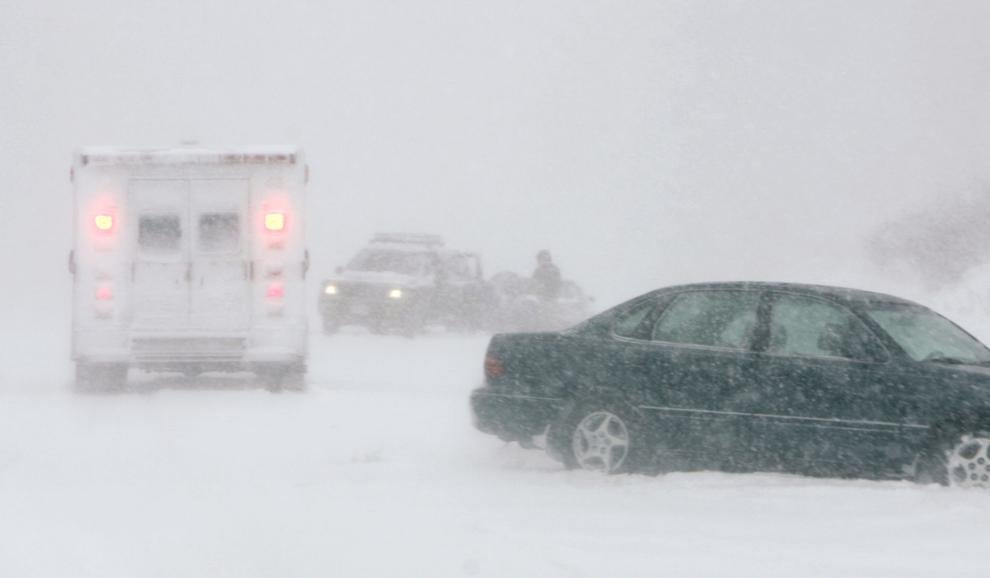 Traversing Park Street, Feb. 6, 2008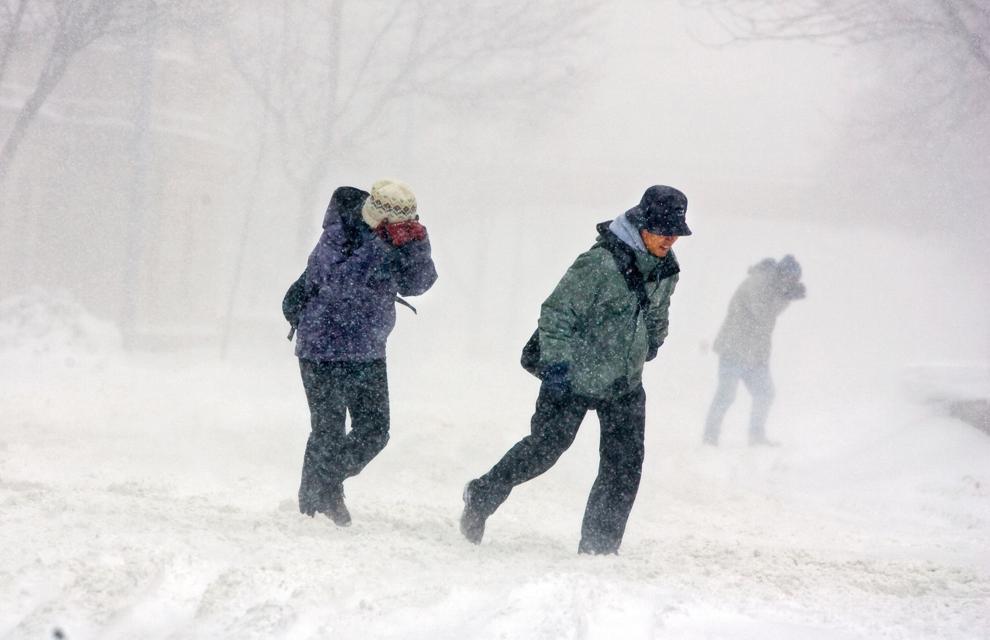 Braving conditions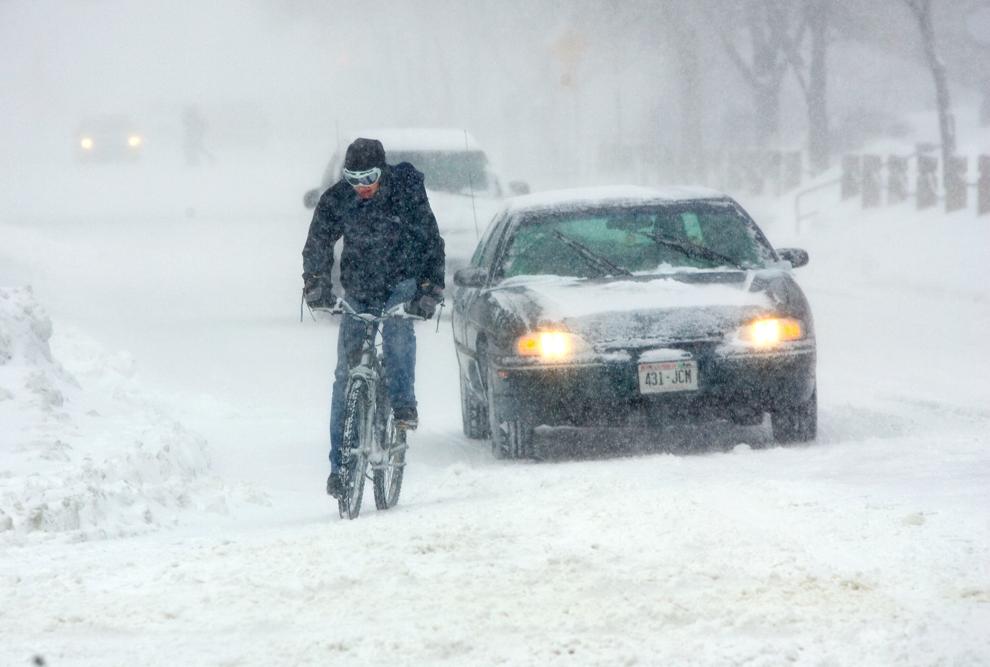 Crossing University Avenue
Going to work, Feb. 6, 2008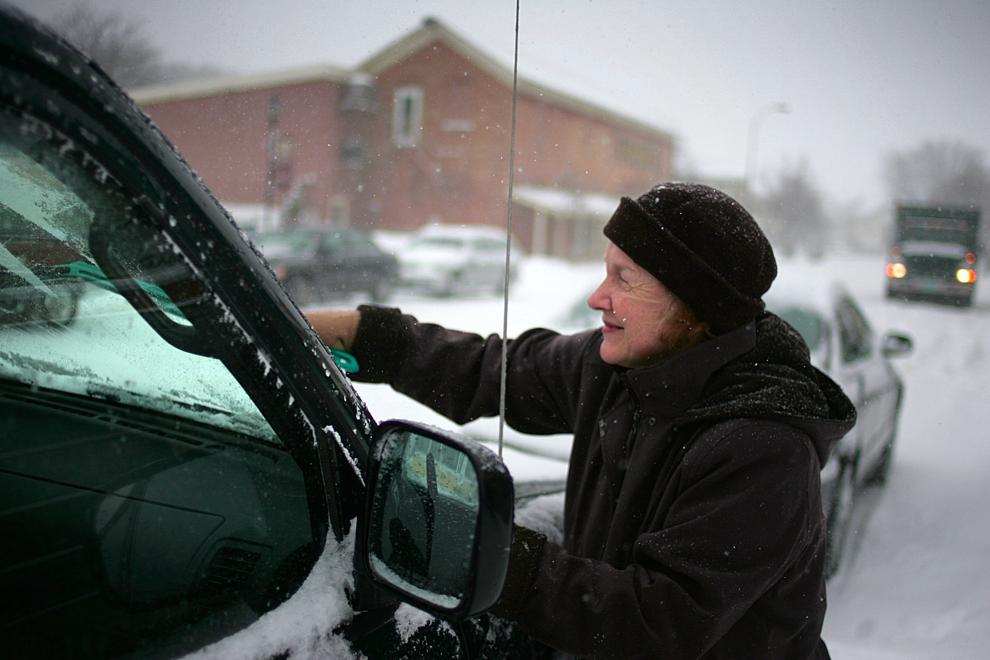 Blowing out, Feb. 7, 2008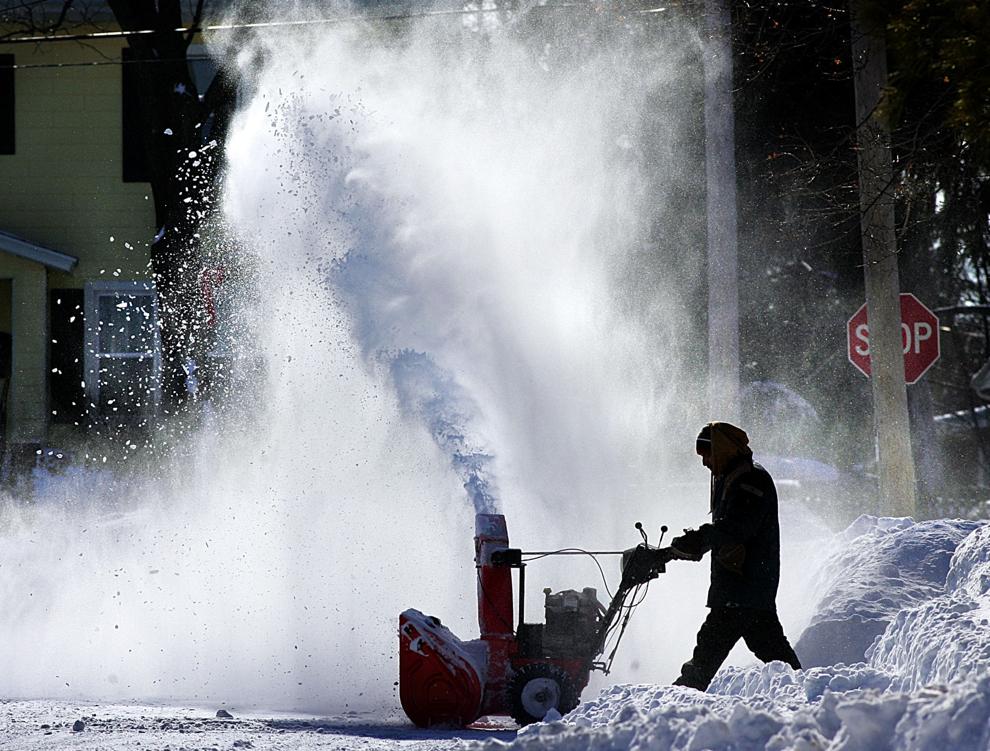 Feb. 7, 2008, front page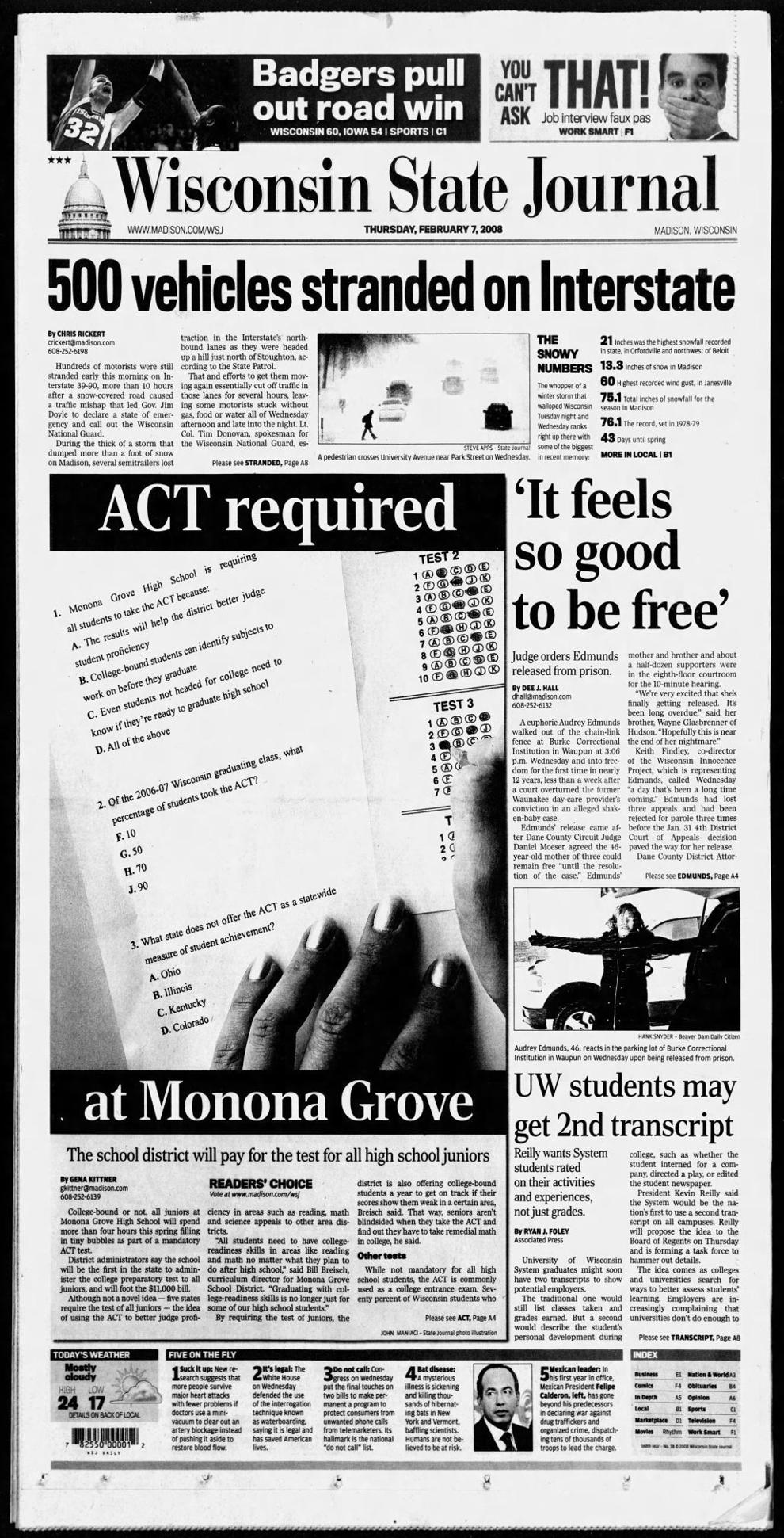 Local section from Feb. 7, 2008