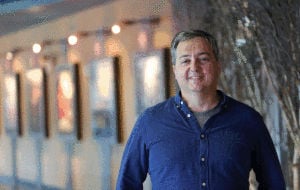 Rob Thomas
Bio

Rob Thomas is the features editor and social media editor for the Capital Times, as well as its film critic. He joined the Cap Times in 1999 and has written about movies, music, food and books.
Jenifer Street Market on Madison's east side has been getting national attention for brats cooked in Lake Louie Oktoberfest beer and dotted with candy corn.
"The Rescue" is a gripping and inspiring account of the massive 2018 operation to rescue 12 boys and their soccer coach trapped in a flooded cave in northern Thailand. It's not a movie for the claustrophobic.
On Friday, Oct. 15 (National Cheese Curd Day), every Culver's location nationwide will serve CurderBurgers for as long as they last.
Marisa Silver is delighted that the UW-Madison Cinematheque program will show the films of her late mother, Joan Micklin Silver, including "Hester Street" tonight.
"No Time To Die" works as a fitting sendoff to Daniel Craig's Bond films, which took big risks with an iconic character that, for the most part, paid off. "James Bond Will Return," as the closing credits promise. But he'll never be the same.
"Ema" kicks off the fall Spotlight Cinema series at the Madison Museum of Contemporary Art, 227 State St., at 7 p.m. Wednesday.
Let's once again transform the Bingeworthy column into "Cringeworthy" and run down what the screaming — er, streaming — services have in store for Halloween.
His latest project is the series "Trafficked with Mariana van Zeller," an Emmy-nominated National Geographic show which looks into different aspects of the international criminal underworld.
Journalist Mariana van Zeller hosts "Trafficked," an Emmy-nominated National Geographic show which looks into different aspects of the interna…
View all