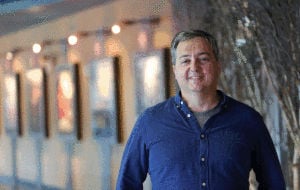 Rob Thomas
Bio

Rob Thomas is the features editor and social media editor for the Capital Times, as well as its film critic. He joined the Cap Times in 1999 and has written about movies, music, food and books.
John Cusack stars in this violent, stylish Amazon Prime show about a mysterious comic book that may predict the end of the world. 
Phillippa Lowthorpe's "Misbehaviour" is a based-on-a-true-story comedy-drama about rebellion and feminist anger that also wants to win the Miss Congeniality award.
Pete Souza, who now lives in Madison, served as White House photographer under President Barack Obama. He is the subject of a new documentary, "The Way I See It."
Martha Shane's entertaining documentary, about how a town in upstate New York was swindled by a mobster-turned-actor, has its Madison premiere this week through UW Cinematheque. 
"Nomadland" is the centerpiece film in this year's New York Film Festival, and can be rented online Saturday night. It will open in theaters in December. 
Filmed in Milwaukee, "Small Town Wisconsin" will have its U.S. premiere at the Boston Film Festival this Thursday. Audiences in Wisconsin can watch the film online for $10 during the festival.
Susan Sarandon and Kate Winslet lead a great cast in a family drama about a woman who has gathered her family together for one last time before she dies. 
Former American Players Theatre actress Carrie Coon stars with Jude Law in a powerful drama from writer-director Sean Durkin, his first film since 2011's "Marcia Martha May Marlene."
The filmmakers have started a crowdfunding campaign to raise money to make the short film, which stars James DeVita and Marcus Truschinski as eloquent 19th-century grave robbers.
Stacey Abrams appears in (and produced) this documentary about the long history of voter suppression in American politics. It premieres Friday on Amazon Prime. 
View all