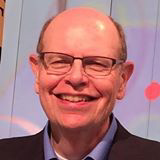 Paul Fanlund
Bio

Paul Fanlund is editor and publisher of The Capital Times. A longtime Madisonian, he was a State Journal reporter and editor before becoming a vice president of Madison Newspapers. He joined the Cap Times in 2006.
Our big annual fall event at the University of Wisconsin-Madison has wrapped up its sessions for 2021, but its topics remain timely and online videos are accessible. We'd like your ideas on how to make it better moving forward.
The New York Times columnist and PBS commentator talks about political dysfunction, Wisconsin and former Republican Gov. Scott Walker in advance of Brooks' October visit to the University of Wisconsin-Madison.
As we tiptoe back to in-person events, Idea Fest — with its top-notch speakers, provocative topics and commitment to safety — is a terrific re-entry option.
In 2018, the Democratic governor's election stanched Wisconsin's lurch towards far-right autocracy. As Evers faces re-election in 2022, the stakes appear to be even higher.
After last year's all-virtual event, Cap Times Idea Fest roars back with many in-person speakers on subjects local, national and global. In-person sessions will take place at UW-Madison's Memorial Union. 
From lying about House Speaker Nancy Pelosi to distorting the conversation about race in America, Republican leaders lean into the politics of division.
Milwaukee's triumph in the NBA finals soothed Wisconsin sports disappointments and shined a positive national spotlight on the city and the state.
The dishonest, racially inspired assaults on "The 1619 Project" and "critical race theory" remind us of how different the world must look based on our skin color.
In his new book, author George Packer argues that Americans have polarized into four groups. Madison is dominated by two of them, but the state is well-represented across all four.
From planning a hybrid Cap Times Ideas Fest, to staffing turnover, to an upcoming change in our digital experience, much is changing and we need your support.
View all