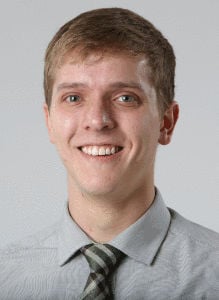 Logan Wroge
Bio

Logan Wroge is the K-12 education reporter for the Wisconsin State Journal. He has been with the newspaper since 2015.
The Madison community center cut back the number of volunteers to distribute 4,000 free Thanksgiving dinners Saturday through Monday to better space out as the annual event adapts to the constraints of the pandemic.
Madison organizations were in full swing Thursday preparing for annual free Thanksgiving meal events that have been complicated by and adapted for the pandemic.
Urban Land Interests' $125 million redevelopment on Capitol Square won approval Tuesday, while the City Council also passed a slate of changes to local cannabis laws.
The council adopted Wednesday a $349.5 million operating budget and $166.4 million capital budget that will raise taxes on an average-value home by $43.
After more than five hours of public comment Tuesday largely about whether to accept a federal grant to hire four officers, the City Council decided to wait until Wednesday before voting on changes to the 2021 capital and operating budgets.
A small crowd Downtown Saturday morning before the race was called turned into hundreds of people honking horns, cheering and waving signs after Biden was declared the winner, while some Trump supporters turned out in protest.
Trump supporters at the rally were quick to suggest that Biden's lead was proof of something untoward, but offered no solid examples of fraud.
The Parks Commission on Wednesday backed a revised proposal on homeless encampments that would no longer seek to end city-authorized camps.
Voters approved a $317 million capital referendum to overhaul the high schools and a $33 million operating referendum by more than 50 percentage points.
The two victims, ages 17 and 18, who were taken to a local hospital, suffered significant injuries but were expected to survive, acting Police Chief Vic Wahl said Saturday night.
View all