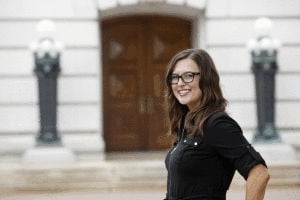 Jessie Opoien
Bio

Jessie Opoien joined The Cap Times in 2013, primarily covering government and politics. She served as opinion editor from 2019 to 2021, then returned to political reporting.
Former state Rep. Adam Jarchow is running for attorney general — and he's hoping he won't be the only conservative candidate to challenge Fond du Lac District Attorney Eric Toney in the Republican primary.
Wisconsin Republicans waited less than one business day between their deadline for public proposals on redistricting and submitting their request for draft legislative maps to the Legislative Reference Bureau.
The case involves a man whose job offer was rescinded after the company learned of 8 previous convictions for sexual assault, strangulation and battery. 
A slate of bills that would further regulate and restrict access to abortion continues to make its way through the Wisconsin Legislature.
A new package of bills is designed to expand gun rights and opportunities for hunting, fishing and trapping, including the ability to hunt sandhill cranes, which Ted Nugent called "the ribeye of the sky." 
Wisconsin's stark racial disparities in maternal and infant health can be measured for at least three decades.
Starting in 1819, the U.S. ran Indian boarding schools throughout the country, forcibly relocating hundreds of thousands of Indigenous children.
A Dane County judge directed the Wisconsin Assembly to release records related to an investigation into the state's 2020 election.
The mayor's comments followed the news that former Wisconsin Supreme Court Justice Michael Gableman has backed off on subpoenas in five cities. 
State lawmakers are reviving an effort to allow Wisconsin pharmacists to prescribe some forms of contraception.
View all