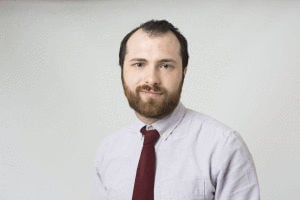 E. Lorenzsonn
Bio

Erik Lorenzsonn is the Capital Times' tech and culture reporter. He joined the team in 2016, after having served as an online editor for Wisconsin Public Radio and having written for publications like The Progressive Magazine and The Poughkeepsie Journal.
As a fellow with the Innocence Network, and now as the executive director of the Center for Integrity in the Forensic Sciences, Kate Judson has long tried to educate lawyers, courts and others on shaky relationship between science and criminal justice.
Gov. Tony Evers has declared next Monday to be Indigenous Peoples' Day — the first time a Wisconsin governor has issued an executive order to rename the holiday traditionally known as Columbus Day.
On "Derailed," a Wisconsin Public Radio limited-run podcast, two reporters take a deep dive into the history of the high-speed rail project that Gov. Scott Walker stalled in 2010. 
A Madison company that was once a luxury chauffeur service is now helping people with long-term or managed care plans get rides to work or medical appointments through an online app.
Madison residents will have 30 more days to weigh in on a draft environmental impact statement assessing an Air Force plan to base a squadron of F-35 fighter jets at Truax Field.
Eleven years after the city first approved a plan laying the blueprints for urban renewal along the East Washington corridor, a 200-acre stretch of the Madison isthmus is seeing a transformation to its skyline, and to its population.
Activists and local politicians are still speaking out against a plan to base F-35 fighter jets at Truax Field, and on Monday brought a leader of a similar fight in Burlington, Vermont, to weigh in.
Judy Faulkner gave a rare public address at Cap Times Idea Fest to mark Epic's 40th anniversary.
A prevailing theme at a Cap Times Idea Fest panel on juvenile justice in Wisconsin was the distinction between reform and transformation.
A few hundred Dane County residents flooded the Alliant Energy Center on Thursday night to share feedback on a draft environmental impact statement regarding the basing of 18 F-35 fighter jets at Truax Air Field.
View all