OSHKOSH -- The annual July pilgrimage draws aviation enthusiasts from around the world.
About 600,000 visitors make their way to AirVenture, the yearly, seven-day convention of the Experimental Aircraft Association that concludes Sunday and this year is celebrating 50 years in Oshkosh.
The fly-in, with its astronauts, fighter pilots, exhibitors and wide array of aircraft, is the main draw to the 1,500-acre complex that includes space for thousands of campers and airplanes. But the EAA's Aviation Museum, adjacent to the EAA headquarters along Interstate 41 on the south side of Oshkosh, is also pilgrimage worthy and offers a year-round experience that is filled with exhibits, special programs and a growing speaker series.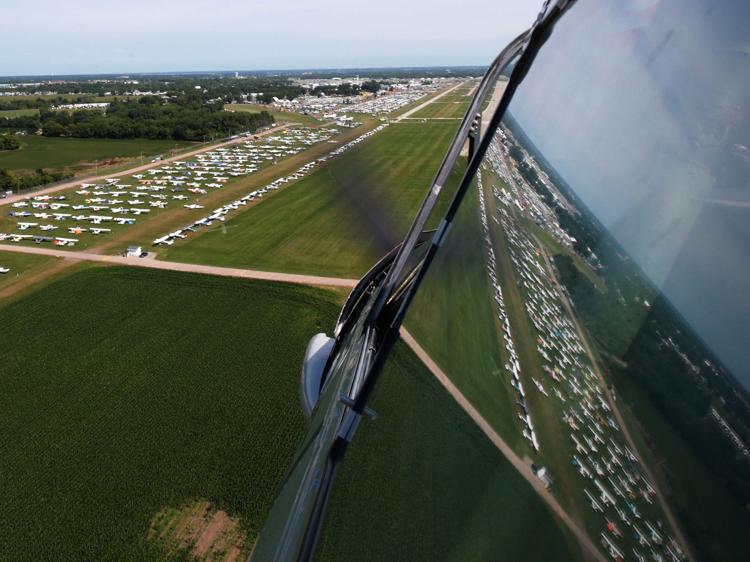 Considered to hold one of the largest private collections of aircraft in the world, the 150,000-square-foot museum that opened in 1983 draws more than 100,000 visitors a year who immerse themselves in all aspects of aviation. The offerings include a meticulous replica of Charles Lindbergh's Spirit of St. Louis that was built in 1977 in the EAA's Aviation Foundation's restoration shop in Hales Corners. A year later, the foundation commissioned an exact replica of Orville and Wilbur Wright's Flyer. It was constructed at Blackhawk Technical School in Janesville and is now one of the centerpieces of the EAA's museum.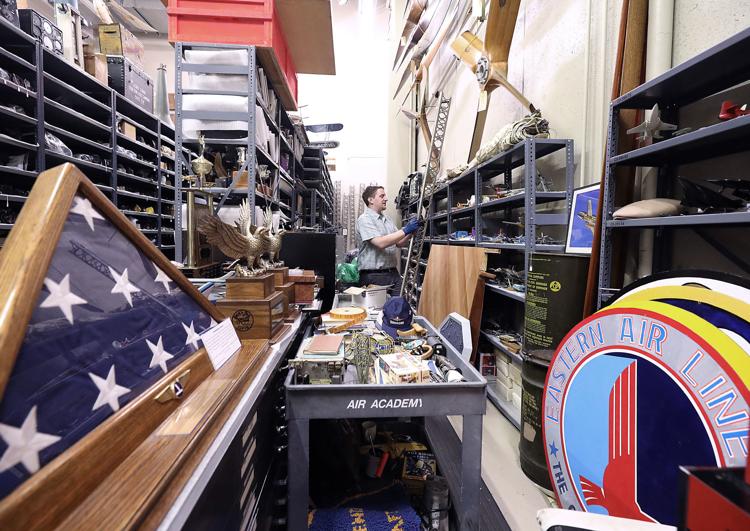 The space also holds one of the actual ultra-light planes used over the last 25 years to help guide whooping cranes on their migrations, a 1918 Curtis Jenny bi-plane and a full-scale model of Burt Rutan's Voyager that in 1986 completed the first nonstop, non-refueled flight around the world by an airplane.
Nearby is a 1991 Cirrus, manufactured by the company now based in Duluth, Minnesota, but founded in Baraboo. And hanging from the ceiling is a D-12 Bonzo, built in 1934 by by Steve Wittman, who moved here in 1931 to operate the Oshkosh Airport, now known as Wittman Regional Airport.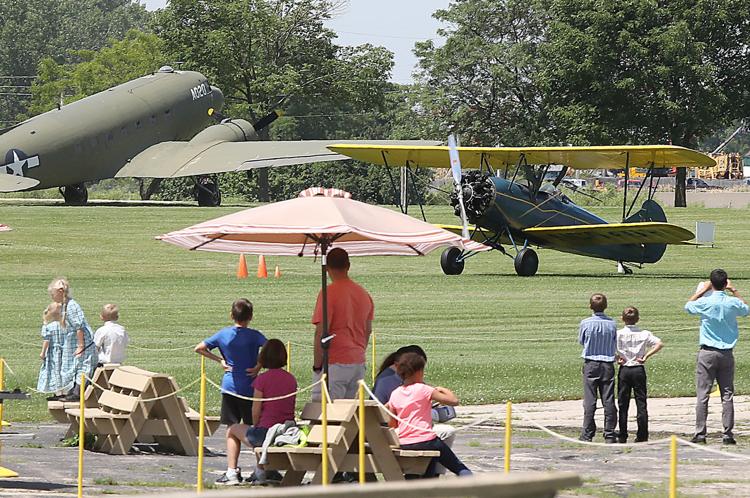 "There is so much here that talks not just about the history of aviation but our history as Americans and who we are and the innovation and imagination within average people, " Dick Knapinski, the EAA's director of communications said during a tour of the museum. "Every time I come out here I learn something new. You would figure that after 27 years (of working at EAA) you wouldn't."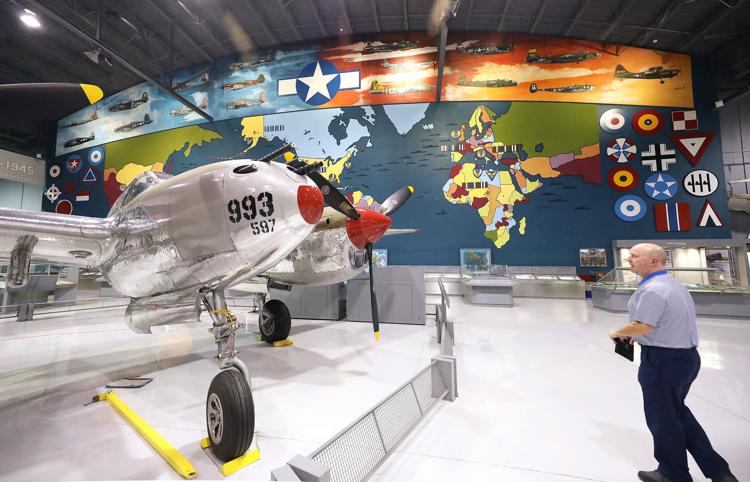 The 40,000-square-foot Eagle Hangar that opened in 1989 adjacent to the original museum space is home to aircraft from the World War II era, including a P-38 Lightening, which is the type of plane flown by Richard Bong, a decorated fighter pilot who grew up in Poplar just south of Superior.
The hangar also includes a collection of art work from the nose of World War II aircraft. The 30 pieces from the Commemorative Air Force headquarters in Dallas, Texas, made their debut in November 2015 but the exhibit is scheduled to close in spring 2020. The artifacts had never before been loaned to a museum and have been designated by the National Trust for Historical Preservation as an official project of Save America's Treasures, which seeks to preserve historic structures, art, and published works throughout the nation.
The nose art, some of which is sequestered due it's risque imagery, is joined by D-Day Plus 75, an exhibit that commemorates the 75th anniversary of D-Day with artifacts, images and even a Willy's Army Jeep, a recording of General Dwight Eisenhower's address to the troops storming the beach and weapons used during the war effort such as the M-1 Garand, Thompson machine.
A repository of aviation history
The EAA was founded in 1953 in Milwaukee as a local club for those who built and restored their own aircraft. Over the last five years, the EAA has added 40,000 members to grow its roster to 220,000 members in more than 100 countries and is hoping to hit 300,000 members in the next 10 years, according to Jack Pelton, the EAA's CEO since 2015.
The first headquarters for EAA was in the basement of its founder and longtime president Paul Poberenzy. The EAA's first permanent facility opened in 1964 in the Milwaukee suburb of Franklin but moved to Oshkosh in 1983 where it now employs 175 people and has 900 chapters around the world that promote local aviation with events like fly-ins, breakfasts and youth education programs.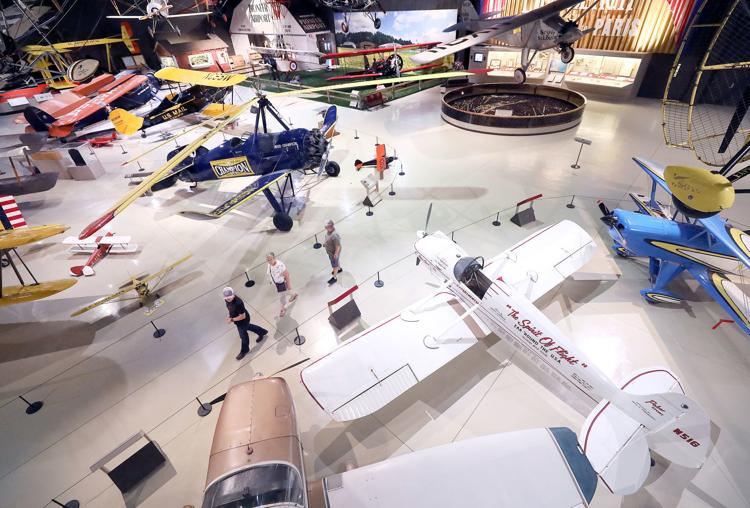 The annual gathering of the EAA was originally known as the Milwaukee Air Pageant and first held in 1953 at Curtiss-Wright Airport (now Timmerman Airport) and drew only 21 aircraft and about 150 visitors. After out-growing the location, the event moved in 1959 to the municipal airport in Rockford, Illinois, but as the convention grew, Rockford officials said they could no longer accommodate the event and it forced the EAA to begin searching for a new site. That led Wittman, in 1969, to offer up the airport he was running in Oshkosh because it had the space and two runways. The first EAA convention in Oshkosh was held in 1970, and, along with the museum, the site has become one of the state's tourism, cultural and economic treasurers.
"We have over 200 airplanes here and that's a pretty cool amount," said Chris Henry, the museum's program manager. "But it's the people and the stories behind those aircraft, the stories behind the artifacts, that really makes it special."
Astronaut makes a sizable donation
One of the stories came to life last April when Henry drove a van to Montana to retrieve part of the personal collection of astronaut Frank Borman, who had been a part of past EAA events and didn't want to see his memorabilia get lost among the vast amount of space memorabilia at the Smithsonian in Washington, D.C.  However, when Henry arrived with a van, Borman had a change of heart and decided to donate all of his memorabilia. It forced Henry and a co-worker to rent a box truck to get the collection back to Oshkosh.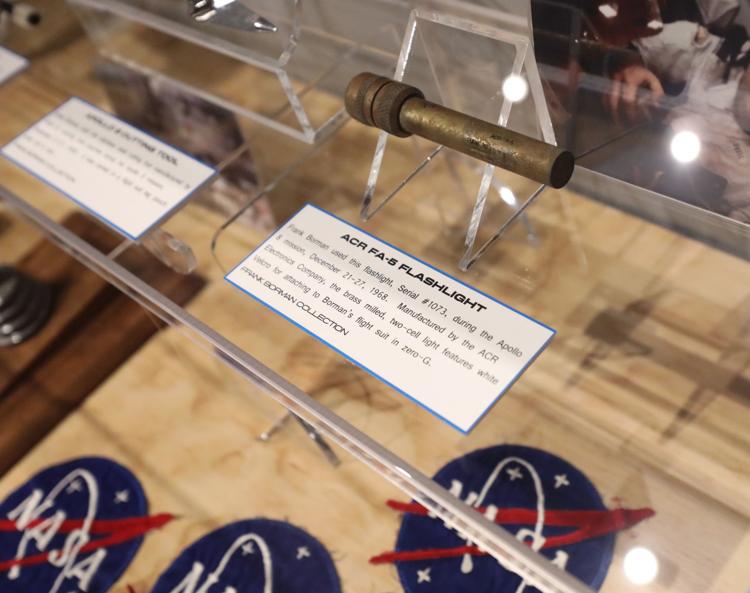 A portion of those items were unveiled on Dec. 7 in a new exhibit called "The Borman Collection: An EAA Member's Space Odyssey." Borman, now 91, and his wife, Susan, have been longtime EAA members and wanted the collection to go to the EAA so it could be properly displayed.  The exhibit features dozens of the more than 1,000 items donated to EAA, some of which traveled in space.
In 1965, Borman, along with Milwaukee native Jim Lovell, set an endurance record of 14 days in space as they orbited the earth and tested systems that would ultimately be used for the Apollo missions.
In late 1968, Borman joined Lovell and William Anders on Apollo 8, the first manned spacecraft to successfully orbit the Moon and return to Earth. The men were also the first to witness and photograph an earthrise.
The EAA exhibit includes a cutting tool, helmet, flashlight, clothing, manuals, patches and even Borman's Distinguished Flying Cross. There is also a wall of telegrams that Borman received following the Apollo 8 mission. One of the telegrams is from President Nixon.  Another called the crew's efforts "a wisely courageously and perfectly executed accomplishment." It was sent by Charles and Anne Lindbergh.
"They're priceless treasurers," Henry said of Borman's donation. "They're important pieces of our space history, they're important pieces of our American history." 
Children, space travel and vintage
The museum also has offerings for children. Its KidVenture Gallery has a hands-on area where children can take a crack at using a joystick for a helicopter, simulate flying an airplane and sit in the cockpit of a half-scale model of an F-22 Raptor fighter jet.
In other sections of the sprawling museum, there are exhibits on SpaceShipOne, that won the $10 million X Prize for launching a reusable manned spacecraft twice in two weeks; another on Van's Aircraft, which became the most successful kit plane manufacturer in the world; while "Timeless Voices of Aviation" is an exhibit that contains hundreds of oral histories from some the most well-known personalities in the industry and those less known but who may have been instrumental to aviation in manufacturing, the military or their local community.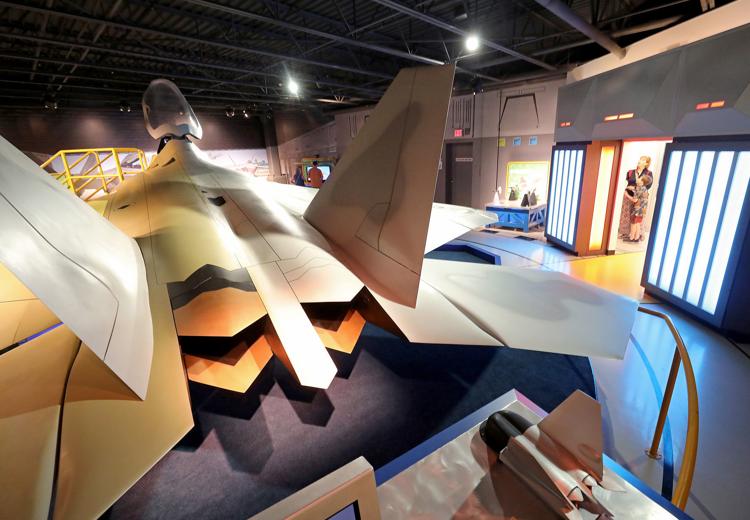 One of those in the exhibit is William Milliken who started designing a plane at the age of 16. He used only hand tools to build the airplane he dubbed the M-1 and then in 1933 flew the aircraft when he was just 22 years old. It would be the first home-built plane in Maine to take to the sky.
"I got a hold of two very good textbooks," Milliken explained in his 2006 video interview. "Those were pretty helpful but at that time I really didn't have much of a mathematical background."
Milliken, who died in 2012 at the age of 101, went on to an esteemed aeronautical career that included working as an engineer during World War II. According to his obituary in the Washington Post, Milliken conducted perilous high-altitude flight tests aboard the B-17 bomber and also helped develop the B-29, later used to drop the atomic bombs over Hiroshima and Nagasaki.
But the museum becomes an even larger experience between May and October when Pioneer Airport is open and offers a peek into the early years of aviation. One hangar replicates what Steve Wittman's fixed-base operator business looked like in the 1930s. There's a beacon light that in the 1930s and 1940s was affixed atop the 37-story Palmolive Building in Chicago and small sheds that were used in Mauston and Lone Rock to store beacons and low-frequency radio transmitters.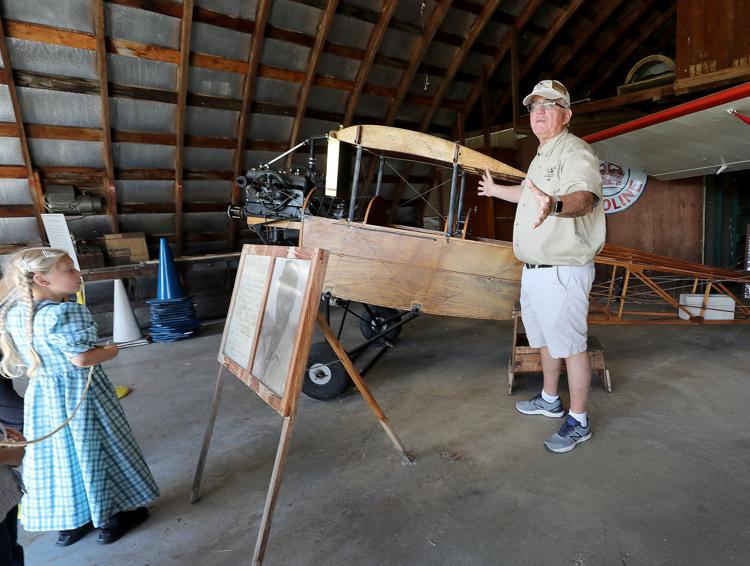 Another hangar, constructed by Bernard Pietenpol in the 1940s, was moved in 1984 from rural Cherry Grove, Minnesota, to Oshkosh and tells the story of Pietenpol building the Air Camper, one of the first, relatively simple airplane kits to be developed.
"There are hundreds of these all around the world. Why? Because he was the first person to ever publish a set of plans in a magazine," John Ross, a tour guide at Pioneer Field said as he pointed out a boxy-looking plane in the hangar.  "I get chills when in walk in here. This is where experimental aircraft started."